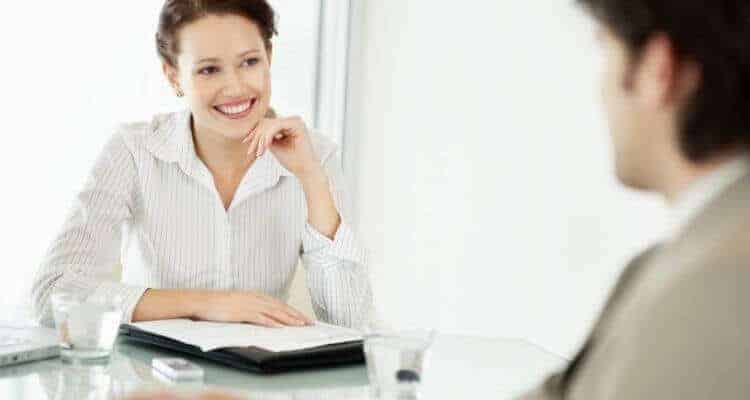 In this article, we're going to talk about how to dress for a nursing interview. Because we know how hard it can be getting ready for that very important interview.
When trying to figure out what to wear for a nursing interview nurses get confused. For a good reason, they get conflicting messages.
If you ask multiple nurses what to wear for a nursing interview, you're bound to get a multitude of answers.
Some nurses will say your nursing interview outfit

doesn't matter.

Some will say for a nursing interview it's ok to wear scrubs.
Others will say for a nursing interview you need to wear business attire.
If you look at each statement, you'll notice something.
All the statements are conflicting with one another. All three can't be right. Which means somebody is wrong.
What we're going to do next is tackle each statement one by one. You'll see where we stand and why we think the way we do.
Here are the other articles in our interview series for nurses:
*disclosure: some of the links on this site may be affiliate links.
Does What You Wear for a Nursing Interview Matter?
The short and simple answer is
"yes"
What you wear for your interview absolutely matters.
On top of that, it could be the deciding factor between whether or not you get the job. For starters, it makes a difference when it comes to first impressions.
First Impression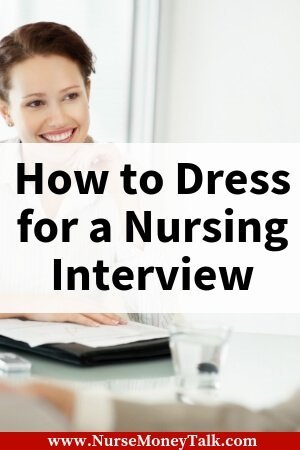 What you wear is the first impression your future hiring manager makes about you.
Think about this.
What happens when you first meet someone you don't know. Within seconds you're forming your thoughts and opinions about that person.
You use all sorts of visual cues to create your view of the person.
Visual cues like the way they look, talk, walk and how they dress is all used to form an opinion.
Once those opinions are formed, you'll use those viewpoints to create a conclusion about the person.
What I mean is at times we assume that just because a person is dressed like a slob, they might not be very competent or take themselves seriously.
We all do this whether intentional or not it just happens. What this means is the nurse manager that's interviewing you is also doing the same thing.
They're going to be forming opinions of you before they even talk to you.
One of the things they're going to use to develop their opinion is how you're dressed.
In other words, your presentation.
Have you dressed appropriately?
Do you look well groomed?
Do you smell? And so forth.
All those things can say a lot about yourself.
Are you professional?
Are you confident?
Are you detail oriented?
Do you take yourself seriously? (Which means you're going to take this job seriously.)
Can a Nurse Wear Scrubs to an Interview?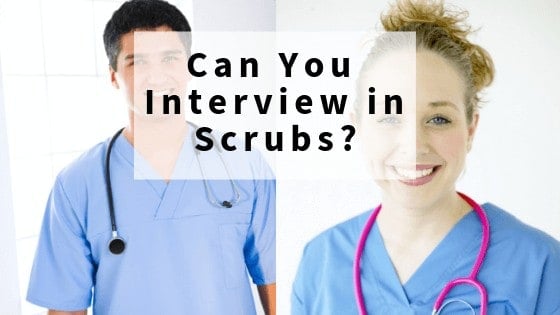 Alright, so the next thing you're probably wondering is about scrubs.
Can nurses interview in Scrubs?
You could, but you probably shouldn't. I know you're going to hear advice different from this.
Even though many nurses have lowered the standard attire when it comes to nursing interviews, your scrubs really should not be worn for your job interview.
There's a lot of competition out in the workforce.
Even with a nursing shortage in some areas the sought-after facilities or departments are still hard to get into.
Because so many nurses choose to not dress in business attire, it's an opportunity for you to stand out from all the other nurses your future employer is going to interview.
When you're dressed in professional attire, there's a seriousness about you that you're not going to get with scrubs.
Let's say they interview 10 nurses.
If 3 of the 10 nurses were dressed professionally while the other 7 were dressed like it's just another day on the job.
Guess who's going to stand out positively?
Does it mean you won't get the job wearing scrubs or being a slouch?
No.
There's a lot of variables that go into interviewing and hiring the right nurse.
If it's about keeping score what it does mean is that dressing in a business attire adds extra points to your column that you might not have had.
In a tough hiring process, one point could be the difference. Another thing I've heard that might not work for you.
"I'm going to be interviewed by a nurse, so they'll understand."
My response to that is, first of all, you don't know who's going to interview you.
Or how many people.
It could be a panel of your soon to be nurse peers.
It could be the nurse manager.
It could be a member of human resource.
Or any combination of the three.
If you have a non-clinical member interviewing you they're used to being around people who are professionally dressed.
Their expectations will probably reflect as such.
Even if you're interviewed by your nursing manager, guess what at least half their time is spent doing.
Being around people who were business attire.
What to NOT to Wear to a Nursing Interview?
At this point, all you've probably heard me say is:
What you wear matters.
Don't wear scrubs.
Wear business attire.
That pretty much sums it all up so far.
If you're like many nurses (especially new grad nurses) you're probably thinking what is business attire.
In this next part, I'm going to lay out the different parts of your nursing interview outfit.
Before I get to that, let's start with what to avoid for your nursing interview.
Poorly fitting clothes

(so too tight or too loose)

Revealing clothes

(save it for the weekend)

Very high heeled shoes

(also save it for the weekend)

Tennis shoes or sneakers
Excessive makeup
Excessive cologne or perfume

(they shouldn't still be able to smell you after you leave)

Dirty clothes

(wash your clothes)

Wrinkled clothes

(iron your shirt and pants)

Not Being Groomed

(bathe, comb your hair, put on deodorant)
Next up your nursing interview attire…
What to Wear to a Nursing Interview?
You don't have to completely change up how you dress just to make a good impression.
At the same time remember that your primary objective is to make a good first impression and to get the job.
Clothes
Men
A dress shirt (make sure it's not wrinkled)
Slacks
Fitted jacket or blazer
Necktie
Women
A blouse (make sure it's not too tight or too low of a cut)
A skirt that's not too short or long
Slacks would also be appropriate
Be mindful of the colors you're wearing.
It's safer to go with the traditional black slacks/skirt with the white shirt.
For the guys, the necktie can be patterned, or you can go with a necktie that has solid colors.
I've always been a fan of red.
My go-to tie is a red tie with a blue stripe.
While women tend to have a little bit more freedom in terms of style selection and color, you shouldn't go overboard.
You want the colors you pick to be muted.
You don't want the colors to be screaming at you but be a little bit softer.
For example, a soft pink instead of bright bubblegum pink.
If you're wanting some more options, you can check out this interview attire for women here.
Shoes
Men
Dark colored dress shoes.
Or at least shoes that look like dress shoes.
Socks should be dark-colored plain and simple (leave your Christmas socks at home).
When you sit down, there's a high likelihood your socks will be seen. You don't want your socks being the most memorable part of your nurse interview.
Women
Polished and clean pumps or flats.
Any hose worn should be nude colored.
The shoes you wear don't have to be "see your reflection" shiny, but shoes that are overly scuffed will be obvious.
It also won't give a good presentation.
You would be surprised at how often people's eyes will go to your feet. Go for the dark colored shoes.
This is another area where women may have a little bit more flexibility in color but once again keep it simple and a little understated.
What if I Can't Afford a Professional Interview Attire?
This is one of the common complaints I hear when this subject gets brought up. The truth is you don't need anything expensive. You just need something that looks professional.
You could go to Walmart and pick up some dress shirts.
We've picked out some men's dress shirts, men's suit and men's dress shoes you can take a look at.
Here are also some women's dress clothes, and women's dress shoes also to take a look at.
Hair
Men
Should look clean, well-kept and combed.
Think about going to the barber a day or two before to make sure you have a fresh look.
If you have facial hair make sure it looks clean and well-kept also.
Women
Should also be well kept, combed and professional looking.
Whether you go with the ponytail, pinning one side back, short, or braids be mindful of the presentation.
Miscellaneous Accessories
Men
If wearing a watch, which you should.
Keep it simple and go for the classy look.
If you're going to use a briefcase, make sure it's not something overly big.
Something like this…
Portfolio Folder
【Stylish and functional】Make a great impression with this stylish modern portfolio,the portfolio is high capacity and still with a slim design.It come with 8.5 x 11 notebook paper with bold black...
【Premium PU Leather Portfolio On Both Side】The portfolio folder was made by 100% PU leather, which provide outstanding waterproof performance and better visual sense in an omnibearing,while it...
【Large interior pocket】A large interior pocket in this resume portfolio organizer can be used to store notebooks & other documents of similar sizes. It can also be used as a tablet pocket for most...
Personally, I'm more of a fan of padfolios
Sale
Business Padfolio/Executive Portfolio
Timeless Upscale Look – Make life's accessories functional and attractive with the minimalist design and traditional styling with upscale features, such as hand-stitched edges and brass hardware...
Convenient Organization – This executive document organizer gives you an easy way to store all your important business and personal documents together with other essentials, like business cards,...
Slim Design – This writing padfolio is less than half an inch thick and includes 8.5-inch x11-inch lined writing pad that helps you carry it everywhere and take quick notes during meetings or...
Check out this padfolio on Amazon.com.
Regardless of which one you pick.
The briefcase or a padfolio the only thing they really should be carrying is copies of your resume.
Business cards if you have any and a pen. Jewelry and piercings should be kept at a minimum.
Remember the goal is to get a job. You should also check the company culture as well.
If their policy doesn't allow a certain look than it would probably be looked as a negative during the interview.
Women
Keep jewelry to a minimum.
Make sure your jewelry does not take away attention from you.
Avoid overly noisy and flashy jewelry. If using a purse go for a tasteful looking purse. Maybe something like this.
Sale
Leather Handbag Tote
Size: 12.2"W x 8.3"H x 5.1"D, Handle Drop Height: 5.9"(Please refer to this size carefully before you buy the bag). This bag can hold an iPad mini, phone, umbrella, wallet and some small stuff.
Features: This bag has an adjustable and removable shoulder strap and decoration as picture shows. It can be used as shoulder bag/purse/cross body bag.
Structure: Outside: 1 small back zipper pocket. Inside: top zipper closure; 1 middle zipper pocket and 2 big open compartments devidided by it; 2 side compartments and 1 small side zipper pocket.
You can check out this purse here also on Amazon.
Final Thoughts
As stated earlier the goal is to make a good first impression.
What you wear to your nursing interview does matter. And yes, you should avoid wearing scrubs to your interview.
Stick with business attire.
There're other things related to applying for a nursing job and getting one. The outfit you wear to the interview is just one of many different things.
Below are other resources you should look at when applying for an RN, LPN, or APRN position.
How do you dress for a nursing interview?
Please take a moment to share this article so we can educate others on how to dress for a nurse interview.
Other Nurse Career Articles