#000: Introduction | Show Formalities | What to Expect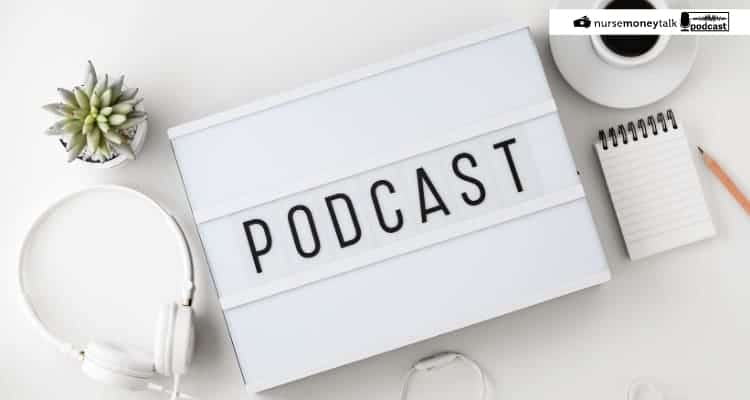 In This Episode
I'm introducing you to The Nurse Money Talk Podcast. I'm going to cover what this podcast will be about, the topics I'm going to cover, and what you can expect from me. I'm going to go over a little bit about who I am, my interests, and my background as a nurse. Learn more at nursemoneytalk.com/podcast/0
You'll Learn
Who I am.
What my background as a nurse is.
What The Nurse Money Talk Podcast is all about.
What the podcast will focus on.
The format of the podcast.
How long the podcast will be.
You can download the podcast to your computer or listen to it here on the blog. Click here to subscribe to Itunes.
Resources
Please note: Some of the resources below may be affiliate links. If you click and make a purchase, I may receive a commission. For more info, please see my disclaimer.
Podcast Transcript
Welcome to Episode 00 of the Nurse Money Talk Podcast.
My name is Thomas Uzuegbunem, and I will be your host for this podcast. Now, if you found us on Apple podcast, Stitcher, Spotify.
Whichever your podcast player of choice is, you might be wondering what exactly is this nursing podcast gonna be about?
Well, in this particular episode, I actually want to go over that real quick and just kind of highlight what exactly you can expect from this podcast.
Because at the end of it, I hope you will be able to see if this will be the podcast for you. And if you're going to be interested in the topics that I'm going to cover.
So first things first.
Who am I?
Well, I am a BSN, licensed registered nurse, and I've been out of school and practicing in the clinical setting for years.
Some of the areas I have practiced in have been mental health covering anywhere from pediatrics to adolescence to adult and geriatrics.
Along the mental health nursing subspecialty lines, I've also worked as a nurse in the STAR Program (pediatric sexual trauma unit).
That's the mental health side of things. I was also briefly in the ICU.
On top of those floor nursing positions, I've done some leadership positions as well.
Some places might call it an RN Administrative Supervisor others might call it a House Supervisor. I've also done a little bit of case management with making phone calls to insurance companies.
So I've kind of done a little bit of everything.
If you're wondering what my personal interests are outside of nursing, it would be tech (I'm a huge tech nerd).
I'm always interested in the latest gadget and gizmo. I watch a lot of different tech reviews and like to stay up to date on what's going on in the tech world.
As a side note, I've dabbled a little bit in some web design.
Besides tech, I'm also very interested in personal finance.
I have several podcasts I'll listen to regularly that have to deal with personal finance, money management, looking at stocks, and things of that nature.
When people ask me what I would have done if it wasn't nursing, I would usually say computer science or finance (I also have a business degree) would have been my two backups.
I hope this gives you some idea of what my experiences are like. As for Nurse Money talk, this podcast is an extension of the website, which is NurseMoneyTalk.com.
We cover many different topics on the website, but we're going to focus on the pain points practicing nurses have for the podcast.
So when I say practicing nurses, I'm referring to nurses who have already passed boards and are working (or about to start working).
Let me give you an example of something that we won't cover because we're not really going to deal with the medical aspect of things.
For example, I'm not going to talk about the signs and symptoms of heart failure? That's just not what we're going to cover about.
There are excellent resources out there that cover that, but that's just not really what this podcast will be about.
Let me give you an example of some of the topics that I am going to cover.
This one is actually going to be the next episode.
"Should New Nurses Always Start in Med-Surg?"
There's also…
So those kinds of topics.
Topics I don't think get as much coverage as:
"How to Put in a Foley Catheter"
"What Are the Signs and Symptoms of Heart Failure?"
"Pulmonary Edema"
And so forth.
I'm not going to sit here and pretend like I have all the answers. I'm not even also going to sit and act like my way is the best.
In many cases, there will be several ways to do something, and they all could be right for some people and wrong for others.
In some instances, I'll look out and see what other nurses or "experts" are saying and doing and just chime in my two cents on that.
The other thing to keep in mind is that just hearing another perspective can help you figure out how you want to do something.
For example, let's say we're discussing how to stay awake on night shift.
My way of doing it might not be the best way of doing it, but hearing my thoughts on it might help you figure out a way that works for you.
As for the actual format of the show, like how long each episode will be? It will most likely average between 10-30 minutes just depending on the topic.
I won't add fluff just for the sake of making it longer. But I also won't shorten an episode if the time is needed.
If that takes five minutes, then fine. If it takes 30 or 60 minutes, that's fine also.
I think I've covered pretty much all I wanted to.
Don't forget to subscribe, so you don't miss any new episodes.
Please give it a positive rating on your podcast platform of choice.
You can catch the show notes at nursemoneytalk.com/podcast/0.
Thanks for listening, and I'll catch you in the next episode.