5 Best Fitbit for Nurses with Buying Guide
This article is going to discuss the best Fitbit for nurses. Because we know how hard it can be to find the perfect fitness tracker for your nursing shift.
*disclosure some of the links on this site are affiliate links.
Below you'll find our top Fitbit picks for nurses. While we know you're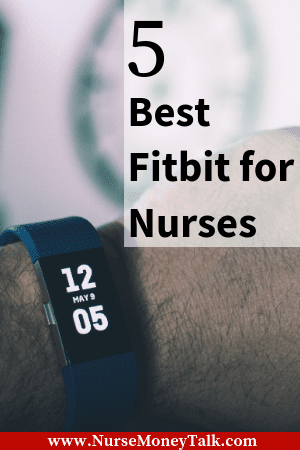 looking for something for work we also know you want something that you can use to track your fitness and move towards a healthier life.
One of the nice things about the Fitbits we're going to mention is their ability to function as a normal watch. You might be wondering why that's important.
There are many reasons why nurses should wear a watch. I talk about some of those reasons in the articles best watch for nurses and the best smartwatch for nurses.
To recap, some of those reasons are:
➡ Counting patient's respirations
➡ Checking the patient's pulse manually
➡ Clocks in patient's rooms don't always work.
➡ For time management purposes
➡ To make sure patient medications are given on time
The list could literally go on…and on…and on. But nobody has time for that.
The thing is Fitbits are a little different. While they do serve the functions of a watch they do other things. Fitbits as fitness trackers can help nurses monitor their health throughout their shift.
Metrics like heart rate, steps, and calories burned are all some of the fitness metrics Fitbits can monitor. Chances are you probably already knew that, which leads us to why you're reading this article.
You're looking for the best Fitbit for nurses. Well, we have several picks and you can read our reviews of them below.
Regardless of which one of our picks you decide to get they're all good choices it's just a matter of finding one that looks and has just what you need.
Don't forget it also needs to be within your price range.
With that said if you're in a hurry then you should really take a look at our top pick which is the Fitbit Versa.
We're a fan of watches around here and the Fitbit Versa gives you the capability and look of a watch with the fitness and GPS tracking capabilities we know and love from Fitbit.
It's received many positive reviews and is considered by many as the best smart watch-style tracker Fitbit has made.
Make sure to check out the reviews of the Versa on Amazon. If the Fitbit Versa doesn't suit your need then here's our line up of our other top Fitbits for nurses.
Top Fitbit for Nurses
1. Fitbit Charge 3
Lets start with the Fitbit Charge 3. The Charge 3 is a versatile device that's a good fit for any nursing professional. With the Charge 3, you're able to track much more than just your daily step count.
The Charge 3 will also track your heart rate, calories burned, sleep stages, and the number of flights of stairs you climb each day.
The Fitbit Charge 3 is water resistant up to 50 meters. This means you can use it to keep track of how long or far you have gone while swimming.
This is also a great feature for nurses since it's almost certain your Fitbit will get wet over the course of your duties on any given shift.
The Charge 3 can help you maximize the time you have in your busy schedule. For example, you can set up goals for various forms of exercise.
The Charge 3 can give you real-time statistics about how you're progressing towards meeting your goals.
If you happen to be able to squeeze in an unscheduled power walk, you won't need to worry about setting anything on your Fitbit to log your workout.
The Charge 3 will automatically recognize that you're exercising and record the information about the type of exercise you completed and how long you worked out in the Fitbit app.
The Charge 3 allows you to receive notifications so you won't have to pull your phone out all the time. This allows you to glance down at your wrist to determine if something is worth your time at the moment.
If you're expecting an urgent phone call or message, you don't have to pull out your phone in front of patients or coworkers to see who it is.
The Charge 3 will also let you view some apps directly on the Fitbit without having to pull out your phone. Apps easily accessible through the Fitbit itself include staples such as weather and calendar.
You can customize the format of the watch face on the Charge 3. If you would like to use it to take a patient's pulse, there is a traditional analog clock you can choose.
The battery on the Charge 3 will last up to 7 days, so you won't need to worry about remembering to charge it as frequently as some of the other Fitbits.
2. Fitbit Versa
The Versa is one of Fitbit's smartwatches, and definitely one of our favorites. With the Versa, you'll have access to a wide array of features right on your wrist. The Versa allows you to monitor your exercise, sleep, and heart rate, like many of the other Fitbit models.
The Versa is also water resistant so it can get wet on the job or if you choose to swim in it without any worries.
If you're looking for a Fitbit that is good for helping you work out, then you should consider the Versa. It has 15 different exercise modes that you can use.
When you're exercising and have the Versa set to one of these modes, you'll be able to check on your progress and view stats related to your workout.
A unique feature about the Versa is that it offers on-screen workouts. You can pull up different exercises on the screen and be guided through how to perform them.
While you are exercising, the Fitbit will monitor your heart rate. It will keep track of your resting heart rate as well as your heart rate zones while you're working out.
The Fitbit Versa allows you to download up to 300 songs onto it. You can use a pair of Bluetooth headphones to listen to your downloaded songs when you're working out, or if you just need to unwind.
After an especially tough day (or in the middle of one), you can use your Fitbit Versa to help you relax. The Versa can walk you through a personalized guided breathing session.
With the Fitbit Versa, you'll also be able to receive notifications, such as texts and app alerts, on your wrist. This will make it easier to quickly glance at your wrist and determine if something is urgent.
You can personalize your Fitbit Versa. You'll be able to download some of your favorite apps and will be able to access them directly from your watch.
Plus, there are hundreds of clock faces for you to choose from. You'll be able to find the perfect watch face to match your personality, while also giving you the functions you'll need to complete your job.
3. Fitbit Versa Lite
The Fitbit Versa Lite, as its name suggests, is a more basic version of the Fitbit Versa. It has many of the same features as the Versa, but some of the more elite features have been removed.
With the Fitbit Versa Lite, you're still able to monitor your steps, calories, sleep and heart rate. The Versa Lite is also water resistant, and it will still show you notifications from your smartphone.
Additionally, with the Versa Lite, you're still able to customize the watch face so it will best meet your needs.
Unlike the Versa, with the Versa Lite you're not able to keep track of the number of flights of stairs you climbed or the number of laps you swam.
The Versa Lite also does not allow you to download songs to your watch and play them through Bluetooth headphones.
With the Versa Lite, you won't be able to play workouts directly on your wrist either.
4. Fitbit Ionic
The Ionic is another smartwatch option that is available from Fitbit. The Ionic features a durable design, so it'll hold up well with all that is involved in being a nurse.
The Ionic is water resistant and is constructed using durable materials. It's constructed from aerospace-grade aluminum, so you know it is built to last. The screen on the Ionic is also damage-resistant, which makes it hard to crack.
The Ionic has a lot of bells and whistles which could make it a great asset to have both on the job and during your free time.
The watch's touchscreen is hi-res so your apps and notifications will look crisp and clear.
The Fitbit Ionic is designed to be your workout partner and to help you reach your exercise goals.
In addition to tracking your steps and heart rate, the Ionic will also provide you personalized coaching. It also has a built-in GPS, which helps in providing more accurate data about your workout.
You can also use the Ionic to monitor other factors related to your overall health. It will help you keep track of your sleep stages so you can make sure you're getting enough restful sleep.
Additionally, it monitors your resting heart rate, fitness level during cardio.
With the Fitbit Ionic, you can play music using Bluetooth headphones. You can download songs directly to the Ionic, and you can also play music from a Pandora playlist.
You can access many of your favorite apps using the Ionic. Additionally, you can even pay for items using your phone with Fitbit Pay.
You just need to input your credit card information, then you'll be able to use your phone to pay at any establishments that accept wallet-free payments.
There is a wide variety of accessories available for the Ionic so you can customize it to match your personality and work attire.
5. Fitbit Blaze
The Fitbit Blaze is another smartwatch option for you to consider. The Blaze is another excellent option if you're looking for a smartwatch to help you stay on top of your workouts.
With the Blaze, you can access FitStar which will display workouts on the screen and coach you through completing them.
The Blaze is also connected to GPS. This allows you to view more accurate information about the exercises you completed while wearing the watch.
With the SmartTrack feature, the Blaze will detect and record your workouts for you, even if you forget to log them.
The Fitbit Blaze will also track how many flights of stairs you climb each day. Additionally, it will give you reminders to move each hour if you seem to be lacking in steps.
You can set weekly workout goals and monitor your progress towards reaching your goals using the Fitbit app.
The Fitbit Blaze will also display text, app, and calendar alerts directly on your wrist, this will help you stay focused on what you need to accomplish without pulling out your phone. You can use your Fitbit Blaze to control and play music. This can help you relax and unwind, or motivate you to complete a workout.
With the Fitbit Blaze, like Fitbit's other smartwatches, you can customize the clock face. This allows you to choose a clock face that will work best for all you need to do every day.
Frequently Asked Questions
Can Nurses Wear Fitbits?
You might be wondering if nurses can wear Fitbits. The answer to that question is yes.
Absolutely!
Unless there's some facility policy there's nothing wrong with wearing a Fitbit for your nursing shifts.
Actually, I would encourage it. I've already stated above some of the benefits of nurses wearing a watch. A Fitbit serves that purpose plus it has health monitoring functions you're not going to get with a normal watch.
What is the Best Fitness Tracker for Nurses?
Apple Watch or Fitbit for nurses? This is probably one of the questions asked a lot when it comes to this topic.
Which is the best fitness tracker for nurses?
When it comes to deciding between an Apple Watch or a Fitbit nurses struggle to decide which is the right fitness tracker for them.
While this decision can be difficult, I'm going to give you a couple of things to think about to help you find your perfect fitness tracker.
There are 3 criteria you should use to make a decision. Those criteria are:
The price of the fitness tracker

How the fitness tracker fits

The functions you're looking for in a fitness tracker.
If you're price sensitive i.e not wanting to spend a lot of money a Fitbit
will be your best bet. They have a lot of different options starting at below $100.
If you're looking for a fitness tracker that has a lot of bells and whistles than an Apple watch is what you need to buy.
As for how it fits. You probably won't have much of a problem either way you go.
Conclusion
Hopefully, you found this article helpful. If you have any questions or comments to leave feel free to use the comment box below.
Also here's the table again just in case if you missed it.
Related Articles on Fitbit for Nurses