5+ Good Side Hustles for Nurses
While nursing can be a time-consuming job, you might have a few extra hours in the week that you'd like to fill with supplemental income.
Depending on your specific line of work, you could have time for a part-time job or just a couple of hours here and there throughout your week.
If you need some extra cash and have already tried asking for a raise or moving up to a higher-paying position, then a side hustle might be on your radar.
Here are some of the top side hustles for nurses that you might be interested in.
So, what are some good side hustles for nurses?
Blogging
Content Writer
Transcriptionist
Seasonal Flu Clinic Nurse
CPR Teacher
Tutor
Lyft or Uber Driver
Let's dive a little deeper into each one.
Side Hustle Ideas for Nurses
1. Blogging
No, you don't need to be a website designer or even that good of a writer to make money blogging. What you need to do is provide content that other people on the Internet want to read.
Think about the topics that you're most passionate about, because odds are you can start a blog about them.
Maybe you want to create a blog about the life of a nurse, full of tips and advice on time management and self-care. Or, you could focus your blog on something unrelated to your career.
People make money from blogs about cars, tech, lifestyle, food, travel, and more. The possibilities are endless.
All that being said, don't expect to start earning cash from your blog right off the bat. It does take a lot of grit, and you will benefit from a bit of research and maybe even a small investment so you can have your own domain name.
Results don't happen overnight, and most people fall off the blogging bandwagon before they can see actual earnings. If you've got the drive and a passion for writing, then you just might be able to make this side hustle work.
2. Content Writer
On a related note, you might prefer to become a content writer. There are many different clients out there, and you can find people who are looking for articles on nursing, health, and just about any other topic.
Content writing can be a great project to do on the side because it's not as time-consuming as having your own blog. Instead, you can help contribute to other blogs and websites on the Web. While it can be a bit challenging to get your foot in the door, once you secure some clients, you can count on a steady workflow.
3. Transcriptionist
Another fun side hustle is working as a transcriptionist. These people listen in on recordings of conversations, interviews, focus groups, and more. Then they transcribe what everyone is saying (source).
It's sort of like being a fly on the wall, and it's a great way to make a pretty penny in your spare time, especially if you're a fast typist.
There are lots of companies online that will hire you as a transcriptionist, even if you don't have any experience in the field. When you apply, they may have you submit a trial transcription to gauge your skills. The cool thing is that you will get better at the role as time goes on.
Transcription work can take place on your schedule, too. Many companies offer a pool of recordings for transcriptionists to choose from at their leisure.
You can work in the early mornings, late at night, or on the weekends. As long as you're a good listener and have decent English skills, you should be good to go.
4. Seasonal Flu Clinic Aide
Not all side hustles need to take place at home, though. You might want to consider helping out at a community health center or public clinic during the cold and flu season.
Over 131,000,000 people in the United States get a flu shot every year, which means that clinics are going to be busy come wintertime (source).
This is especially true for public clinics and health centers that offer discounted or free vaccinations. You could make some extra money (just in time for the holidays, too!) by working part-time at one of these centers or offices.
As a nurse, you will already have the expertise necessary for educating patients and administering vaccinations, plus you'll be making a positive contribution to your community.
5. CPR Teacher
Your nursing background can give you another advantage in terms of finding a side hustle. Consider working as a CPR instructor at your local YMCA, Red Cross, or community health clinic.
Administering CPR is one of the most basic duties of any nursing professional, so it's not like it will require extra schooling or research on your part.
On average, a CPR instructor makes anywhere between $10 and $20 an hour. This might not be much, but it's just supplemental income in addition to your full-time nursing job. Considering that it's a low-stress side hustle, that's not a bad compensation.
Besides CPR, you may be able to teach classes in nutrition, fire safety, diabetes, or any other number of health-related areas.
It will depend on your exact background, degrees, and certifications, but organizations such as the YMCA and Red Cross are always looking for healthcare professionals who are willing to instruct simple classes for the public.
It can be a rewarding way to spend your time while also making some extra money.
6. Tutor
Along the same lines, you could also think about becoming a tutor. There are all kinds of subjects that people are willing to pay a tutor for.
Given that nursing isn't always the easiest degree to obtain (I don't think it's ever), you could make some extra cash helping out student nurses.
Sure, someone in college or grad school probably won't be able to pay you big bucks, but you would be surprised at what individuals are actually willing to pay for a tutor.
A tutor could make anywhere from $10 to $40 an hour, which can pay off if you stick with it. Plus, you will feel good knowing that you are helping out some up and coming nursing students. Talk about paying it forward!
7. Uber or Lyft Driver
Here is a side hustle that doesn't even require any physical exertion. The process for becoming an Uber or Lyft driver is straightforward, and the training process is brief, so you won't need to commit to learning a new skill or line or work.
As long as you have a valid driver's license and a good driving record, you should be good to go.
Best of all, Uber and Lyft allow you to make your own schedule, so you work when you want to. Using the Uber or Lyft app is simple, and the companies take plenty of precautions to make sure that their drivers remain safe.
Working as an Uber or Lyft driver can be especially nice for a nurse because they can find work at all hours of the day and night.
Early morning rides are great for people commuting to work, while late-night drivers pick up lots of individuals who are on their way to parties or bars.
No matter when you work, you're bound to find passengers to transport around town. You get to choose how far you're willing to travel, and you almost always get a tip from your rider.
Final Thoughts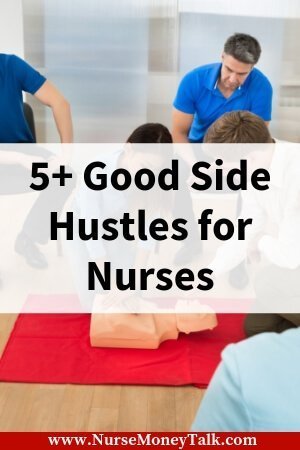 Hopefully, one of these 7 side hustles piqued your interest! If you're looking for more ways to make some extra cash, we wrote an article on making more money as a nurse you should check out.
Lastly, let us know what you think below.
Are there some other ideas you've heard of that we should add to the list? Comment below.