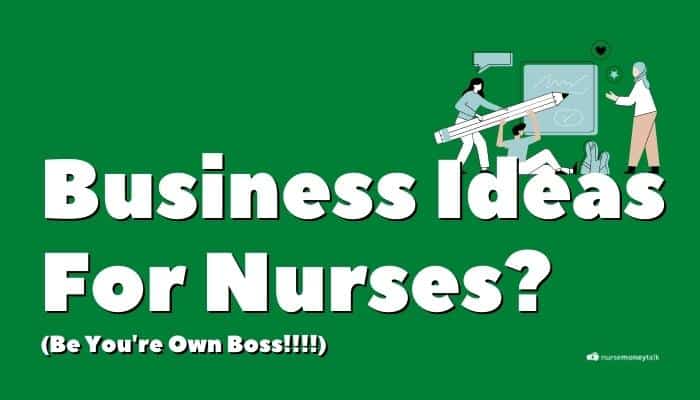 Even though it might not seem obvious, there are a lot of nurse entrepreneurs out there.
And if you think about it, it makes sense.
Because of a nurse's training and on the job work, nurses develop skill sets that mirror many of the traits needed of successful entrepreneurs.
Business Ideas For Nurses
If you've been thinking about breaking out on your own and working for yourself, I'll get you started.
Below are some business ideas I've either heard of or have seen other nurses doing.
1. Start a Legal Nurse Consulting Service
If you're detail-oriented and have a lot of nursing experience under your belt, starting a legal nurse consulting service could be ideal.
As a legal nurse consultant, you'll be charged with offering expert advice for legal cases.
You might be wondering why an attorney would want to talk to you.
Well, here's the thing.
Attorneys are good about understanding the law, but they don't know what should or shouldn't happen regarding the medical care required for a patient.
That's where you come in.
The benefits of this business are that you get to choose who you work with and when you work.
Find Your Next Nursing Job
Use the NurseMoneyTalk job board to look for and apply to great nursing jobs near you.
2. Start a Blog
Many people turn to the internet when trying to figure out what they should do to make more money.
In just about every how to make extra money online article, starting a blog will always be on there.
But is it actually a viable option?
It is a viable option.
There are a lot of successful blogs run by nurses out there that are doing well and making money.
Some nurses start a nurse blog where they blog about nursing-related topics. Others create a blog and talk about something completely different.
How to Get Started
I do have articles I've written on this topic, so make sure to check out the article on how to start a nurse blog and common mistakes made by new nurse bloggers for more information.
If you would prefer a course you can check out this course to learn how to create a successful blog.
3. Start a YouTube Channel
Just like the start a blog option, starting a YouTube channel is becoming a great option for aspiring entrepreneurs.
Your business could be centered entirely around YouTube as a platform, or you could have a company where YouTube is used to enhance your reach.
How to Get Started
If you want to learn how to start a successful YouTube channel check out this course.
Related: How to Make More Money as a Nurse
4. Start an NCLEX Prep Business
There's a lot of NCLEX prep business out there. From the big players like nursing.com and nurse plus to even small players where just one nurse is running the show.
What I have learned from looking at and reviewing many NCLEX prep courses out there is that there's room for someone to start their own and carve out their market.
Keep in mind that this business will have a lot of upfront work and cost.
The NCLEX material isn't exactly static, so you'll need to constantly stay up to date with the latest changes and update your material accordingly.
How to Get Started
While there's not a "how to start an NCLEX prep business" I can send you to I do think what's important is learning sound business principles. I think this course could help get you started.
5. Start a Freelance Writing Business
Content writing can be a great job to do on the side because it's not as time-consuming as having your blog. Or you can go full steam into it as a full-time gig.
As a freelance writer, you contribute to other blogs and websites on the web.
While it can be challenging to get your foot in the door, once you secure some clients, you can usually count on a steady workflow.
If you don't like writing, this is probably not the business to try to get into. Pay can vary significantly based on many factors.
To give you an idea, the typical pay for freelance writers, based on people I've talked to, can vary anywhere from $0.02 a word to $2.00 a word.
How to Get Started
To get started, check out this course to start learning how to become a freelance writer.
6. Become a Nurse Influencer
A nurse influencer is a nurse who's gained a following of followers who trust them for recommendations.
This could be someone who's deemed an expert in their field. But it could easily just be someone who people like and trust.
An influencer could be someone who has a blog or a YouTube channel, but it could also be someone who has a large social media following (Twitter, Tiktok, etc.).
An example of this would be your favorite blogger, a media personality, and even professional athletes.
How to Get Started
While there are courses on how to become an influencer (such as this one).
There's a lot that goes into it and the first thing you'll need to do is to figure out which platform you're going to focus on.
7. Nurse Health Coach
A health coach functions as a guide and cheerleader to their clients.
Your goal is to partner with clients to help them make positive health and lifestyle changes in their lives to improve their overall health.
There are so many bad health coaches who don't really know what they are doing.
As a nurse, you are medically trained and can leverage that as credibility to carve out a market for yourself in a sea of bad health coaches.
How to Get Started
To get started check out this course on health coaching that over 10,000 students have taken.
8. Etsy Shop Owner
Etsy.com is an online marketplace for goods and services. Somewhat like Amazon.com, except Etsy caters more to handmade products and services.
For example, if you need a nursing resume or a nurse CV, you can get that service through Etsy. What about a personalized badge reel? That's also on Etsy.
If you have a skill, a trade, or talent, opening up an Etsy shop is worth considering.
Here are some examples of goods and services you could sell on Etsy:
Handmade clothes and jewelry
Crafty type items
Nurse resume or other writing services
Proofreading services
The above list is just scratching the surface of what you could sell on Etsy.
How to Get Started
To get started you'll need to start learning the ins and outs of how Etsy actually works from the seller's side of things.
Check out this course to start learning how to become an Etsy seller.
9. A Proofreading Service
Proofreading is when you review written content such as articles, books, and blog posts for others.
When you do that, you're looking for spelling and grammatical errors and making sure the writing reads and flows well.
I never realized you could make good money doing this, but you can. While I would think of this more as a nursing side hustle, some people do this full time and make a pretty good living.
The main thing I like about this job is that it's very flexible. You can dictate your hours and work when and where you want.
It can be a pain to get started, and for most of these projects, especially if it's a high-profile project, there could be strict deadlines that need to be met.
How to Get Started
If that sounds interesting to you, check out this course to learn how to start proofreading.
There's also a FREE Proofreading webinar you could check out also.
10. Home Health Agency
The home health sector is a fast-growing industry. As the older population ages, they need more healthcare.
On top of that, there has been more of a push to have care provided in a person's home if possible.
As a home health agency, you'll be helping to provide the staff with these services. You'll need a diverse range of business skills ranging from good management and organizational skills to needing sales skills.
You will be dealing with insurance companies, so patience will be needed.
How to Get Started
To get started check out this course over starting and growing your very own staffing and recruitment agency.
11. Nurse Staffing Agency
A nurse staffing agency shares many similarities with the home health agency.
The key difference is that you're recruiting nurses to join your agency, and your agency then provides staff to hospitals or other organizations.
Similar skills to the home health agency will be needed.
To get started check out this course over starting and growing your very own staffing and recruitment agency.
12. Start an Online Course Business
An online course business is pretty self-explanatory. You build out a course, and you sell that course to others.
The beauty of this business is that online courses similar to starting a nurse blog are that it scales well.
What I mean by that is that once you spend the time or money to build out the course, whether you have
1 student
100 students
1,000 students
10,000 students
100,000 students
Your costs will hardly change, if any.
That might sound like a dream, but I think it's important to mention that this business has very challenging parts.
Finding a good idea.
Outlining and building out the course.
Marketing and selling the course.
Those are really big hurdles.
How to Get Started
If designing a course interests you, check out this course (ironic, I know) that will teach you how to create a course.
13. Start a Childcare Service
When it comes to creating a business, you need to find a business idea proven to be successful and has a big demand.
Childcare services, aka daycares, fall into this category. It's similar to starting your own gym.
Many people have done it. Many people have been successful at it, and there are a lot of resources out there for starting your own.
With that said, many people don't succeed at running a daycare.
Like all businesses, it's not easy, and there's a lot of work and planning that goes into it.
How to Get Started
To get started, check out this course on how to start a home daycare business and then go from there.
14. Start Your Own Gym
For the health-conscious, this is not a bad idea.
As I've stated above in the start a childcare service section, many people have tried this already, and there are a lot of resources out there for starting your own.
How to Get Started
To get started, check out this course on how to start a profitable gym business.
15. Start a Meal Prep/Delivery Business
If you had mentioned this to me two years ago, I would have told you this was a bad idea and probably wouldn't work.
Many of the big companies, your Blue Aprons and HelloFresh of the world, are trying to do this at scale and are struggling with this.
I wouldn't think one or two people could do this themself and be successful at it, except I've now met several people who are.
Here's the big difference.
They don't ship the food to you. You have to come and pick it up yourself, or they drop it off to you (for an extra fee). Those changes alone mean their profit margins are so much better.
I've used a couple of these mom-and-pop food prep businesses, and I didn't notice a dip in quality compared to the bigger companies.
If anything, I think the smaller ones had slightly better quality, especially when it came to their veggie selection.
How to Get Started
While there's not really a start a meal prep business course I do think that there are some things that are important for this business.
The first is getting a good handle on how to meal prep (check out this course for that). If you can't meal prep this business becomes hard to do.
The second thing is to make sure you have a firm foundation of good business principles (check out this course).
Find Your Next Nursing Job
Use the NurseMoneyTalk job board to look for and apply to great nursing jobs near you.
Key Takeaways
I hope I was able to help you gain an understanding of the many different ways you can use your nursing skills and training for entrepreneurial ventures!
If you have any questions about starting your own business, please ask away in the comments section.
Related Articles
Frequently Asked Questions
Here are some frequently asked questions related to business ideas for nurses.