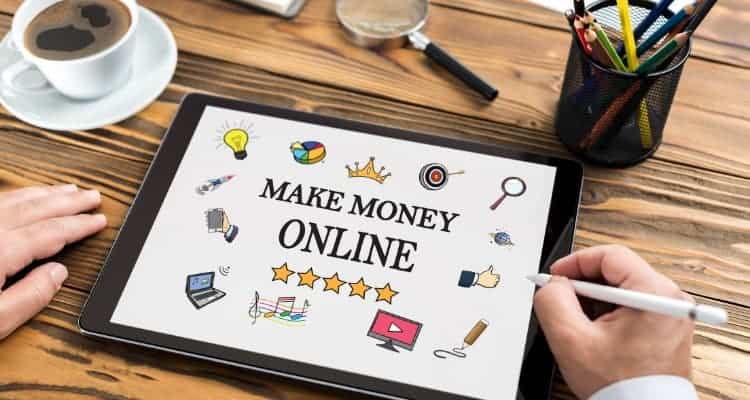 As a nurse, there are so many different ways you can start earning more money.
If you found this article then it's clear you're wanting to make more money without burning yourself out by just picking up over-time after over-time…after over-time.
Rest assured because of the internet there are now so many legit ways you can start making extra money online as a nurse, and we're going to list some of them for you.
*Disclosure: This article on how to make extra money online as a nurse may contain affiliate links. If you click and make a purchase, I may receive a commission. For more info, please see my disclaimer.
How to Make Money Online as a Nurse
Please note that the earning potential of the opportunities we're going to list will vary.
Some like online surveys earn very little, but require very little effort to do.
Others like starting a blog has a big earning potential, but it takes longer and requires a lot more effort.
Either way, pick the one or two that resonates with you and get started, TODAY.
1. Online Surveys
A very popular way many nurses can make money online is by filling out online survey.
Now, to be 100% honest with you, you're not going to get rich of filling out surveys.
For a few minutes of your time you're probably looking at a couple of bucks. In some occasion you might find a survey worth even more here and there.
I like it because it's painless, and the amount of effort involved is very minimal.
You could be watching tv and filling out those surveys.
Here are some good options:
For surveys, you'll probably want to sign-up to as many as possible.

The surveys come sporadically and many of the survey sites (like Inbox Dollars) will give you a bonus just for signing up.

For example, My Points will give you a $10 bonus just for signing up.
2. Start a Nurse Blog
Despite what many "online market gurus" want to tell you this is not an easy option.
While the "gurus" want to make you feel like you can just put up a random site and then the money will start rolling in, nothing could be further from the truth.
If you search you'll see many statements such as:
While the potential to earn a lot of money is there it can be a complicated process and it can take a good while before you see any revenue…let alone any profits.
Here's how to get started:
Figure out what you want to blog about.
You'll need to get your domain name and hosting for your blog, you can do that through BigScoots or Siteground (these are hosts that I have actually used).
Start creating and start learning.
Also read my how to start a nurse blog post. That article will give you the foundation you need to get your blog off the ground.
3. Tutor Nursing Students Online
If you really enjoyed school and can see yourself educating the next generation of nurses than you really should consider this.
As a tutor you get all the benefits of teaching and celebrating with your student as they pass a test or course they've been dreading.
Without the headaches of grading papers or lecturing.
Here's how to get started:
You can get started by looking at nursing job boards online. It's kind of a hit or miss because sometimes tutoring positions don't get posted on online job boards. But it's also one of the best places to start.
You can apply to online tutoring platforms like Wyzant.
Or you can just talk to your local nursing school and see what options are available there.
4. Online Teaching
Maybe you don't want to just tutor but you actually want to teach.
That's also an option nowadays and it can also make a great online side gig for nurses.
How to get started:
There are several different options, but I'm only going to name a few of them.
For starters, you can teach online nursing programs.
As more and more of higher education moves online more teachers (especially tech-savvy teachers) are going to be needed.
Typically you can find those positions on a job board.
If you want something that's different than nursing than another teaching gig I recently found out about was teaching English as a second language online.
The platforms to use for that would be:
5. Freelance Nurse Writer/Medical Writer
If you like to write then this is probably one of the best options out there. You could get assignments with bloggers or media companies to write articles for them based on your expertise.
This can be a flexible gig since you're usually just given an assignment and you're free to write it when and where you feel like it as long as it's done within the deadline.
Here's how to get started:
Check out online nursing job boards. Many times bigger companies will post job openings there.
If you consume a lot of online media see if they have a hiring page.
If you're looking for a gig with smaller website owners you can check out platforms like:

iWriter
Textbroker
Writer Access (just to name a few)
6. Proofreading Articles and Written Content
Proofreading is when you review written material for others. When you're reviewing your looking for spelling, puctuation and grammatical errors.
On top of that you could be tasked with making sure the article reads and flows well.
Because of the increase of digital marketing and eCommerce there's a a big need for those who are able to proofread.
Because you're dealing with digital clients you can do this job in the comfort of your own home…in your pajamas even.
Here's how you can get started.
Sign up for this FREE webinar for Proofreading Anywhere.
Proofread Anywhere is one of the leading courses that will teach you what you need to know to start proofreading. Get started TODAY.
7. Doing Small Tasks
If you're a handyman (or woman) you can definitely make money online by using a service call TaskRabbit.
Taskrabbit is an online platform that connects people who need "random tasks" done such as:
Assembling a desk
Mounting a tv
Moving boxes
Cleaning bathroom or kitchen
Planting flowers
With people who are willing to do it.
I'm amazed at some of the random small tasks that are on there, that I never would have thought you could hire out.
8. Get a Work From Home Nurse Jobs
Did you know there are nursing jobs you can do from home? If you didn't know you're not the only one.
Many nurses still don't know that there are a lot jobs in the digital age that need a nurses training and certification but doesn't require you to ever set foot in a hospital.
I go through those jobs in my work from home nurse job article but just to give you an idea:
Telephone Triage Nurse
Nurse Auditor
Nurse Case Manager
Are just some of the jobs nurses can do at home.
How do I get started:
You can start searching for work from home nursing jobs on our job board.
9. Learn to Budget Your Money
While not immediately obvious, budgeting is a good way to earn extra money by managing the money you already have better.
Are you spending hundreds of dollars a month extra on coffee, eating out or on subscriptions that you're not even using.
There's so many different online software nowadays you can use to monitor where your money is going.
Related: How to Save Money as a Nurse: My Top Tips
How do I get started:
Learning to budget might seem scary but it's doable. You just have to take it one step at a time.
Either one of these options will get you started.
1. Reading the Total Money Makeover Book from Dave Ramsey.
Sale
2. Checking out our blog post about How Nurses Can Budget Their Money.
3. Downloading the Empower Finance app. It's an app that automates the saving process for you.
You tell it how much you want to save a week, and the app does the rest.
To get started take the "What's your money personality quiz?"
10. Launch Your Own Startup
Have you ever had a dream about running your own business one day? I think many of us do. But very few of us actually move past the "dream" stage.
I'm here to encourage you that if you've had thoughts of starting a business but have just been scared to do it, now might be a good time.
With so many resources on the internet, it's easier now than ever to do it.
You don't even have to quit your nursing day job. You can just take it one small step at a time.
How do I get started:
Getting started can be as simple as thinking about a problem people have.
Once you think about that problem next think about what a solution to that problem could be.
After that, it's about focusing on coming up with a way to implement that solution and turn it into a business.
I know I just simplified what can be a very complex process, but if you've seen shows such as Shark Tank then you know that many of the best companies out there started from trying to solve a simple problem.
One of the iconic books on starting a business is Tim Feririss's The 4-Hour Workweek(on Amazon), I would encourage you to read it.
Sale
Watch Out for Scams
In this day and age "make money online scams are rampant."
If something is promising to make you a lot of money with you putting no work in…it's probably a scam.
With everything please make sure to put in your due diligence before getting involved in "a get rich quick" idea.
Final Thoughts
I hope you've found these helpful. I'll update these ideas as I hear about other opportunities.