9 Best Work From Home Nursing Jobs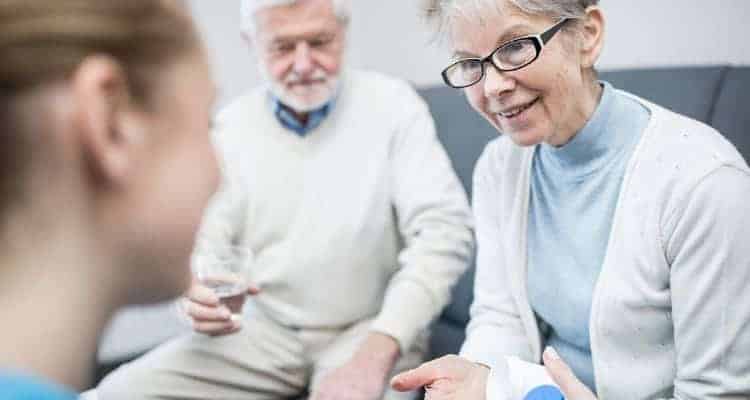 Long hours, no bathroom breaks, inhaling food, poor staffing ratios.
Sound familiar?
Every year, nurses step away from the bedside and choose to work from home.
Thinking about taking the leap?
Here are 9 awesome work from home jobs you can do as a nurse.
*Disclosure: This post may contain affiliate links. If you click and make a purchase, I may receive a commission. For more info, please see my disclaimer.
 Work From Home Nursing Jobs
1. Telephone Triage Nurse
This job entails talking with the patient over the phone to determine if they'll need to be seen in an office setting or not.
Due to the nature of the job it can be very difficult to decide if a patient needs to go to the ER or doctor's office, so it can require quite a bit of experience with direct patient care.
Gathering basic information, documenting symptoms, and narrowing down what could be the cause is the major role of a Triage Nurse.
Pro Tip:
If you're searching for a job like this, you should also check under "Telehealth" or "Telepathology" listings.
License and Certification
The Ambulatory Care Nurse certification is a great addition to a nursing license and can help you secure a job, but it isn't mandatory.
This certification requires 2,000 hours of clinical nursing to be eligible to sit for the exam.
An LPN or RN license is mandatory, and the level of education varies by the employer's requirements.
Salary
The expected pay for this position is $63,000 per year.
Find telephone triage nurse jobs on the nurse job board.
Find Your Next Nursing Job
Use our nursing job board to start looking for and applying to great nursing jobs near you.
2. Utilization Review Nurse
As a Utilization Review Nurse, you will work directly with insurance companies or hospitals to review patient charts.
In doing this you will be a key player in determining if:
The patient received adequate care.
If they were kept in the hospital longer than necessary.
If there were any unnecessary treatments or tests ran on the patient.
This helps protect patients from any frivolous hospital expenses and keeps insurance costs down.
They also help patients determine which treatments are covered by insurance.
License and Certification
The basic qualification for a Utilization Review Nurse is a valid RN license with on the job training provided.
Salary
The average pay for a Utilization Review Nurse is $72,338 per year.
Find utilization review nurse jobs on the Nurse Money Talk job board.
3. Nurse Case Manager
An extension of the Utilization Review Nurse, a Nurse Case Manager:
Reviews patient charts to determine if the appropriate level of care was given.
Recommend improvements to care.
Communicate between the patient, insurance provider, and healthcare team, and obtain comprehensive assessment data (just to name a few roles).
This position is ideal for those who are detail-oriented, have 2 years of experience working directly with patients, and have the desire to ensure that the patient is being properly cared for.
Licensure and Certification
The Commission for Case Manager Certification is the agency that provides certifications to become a Nurse Case Manager.
They require a nursing license or bachelor's degree as well as 12-24 months of work experience as a case manager to be eligible for the exam. CCM is not mandatory, simply recommended, therefore you can obtain this position with a Bachelor's Degree in Nursing.
Salary
The average income for a Nurse Case Manager is $64,000 per year.
Find nurse case manager jobs on the nurse job board.
4. Nurse Auditor
Nurse Auditors have the task of looking over patient files to ensure that proper care is being performed and no unnecessary procedures were carried out.
In addition, coding is one of the many duties a Nurse Auditor has to take on.
You will also be reviewing and giving your professional opinion on any treatment denials and what to do if a patient chooses to appeal the decision.
Finally, you will summarize your findings in a way that your employer can utilize to ensure proper care and billing has taken place within the legal scope.
Licensure and Certification
A valid RN or LPN license is required for this position, and many employers want you to have 2 or more years in auditing in order to be considered for the job.
Related Article: If you're looking for more non-traditional nursing jobs check 15 Unique Non-Bedside Nursing Jobs.
If you have experience with private and public insurance, this will definitely give you a leg up in the interview process.
A proficient understanding of coding is also required.
Additionally, you will act as a "go-between" for managers, nurses, and insurance companies. 
Salary
As a Nurse Auditor, you can expect an average salary of approximately $70,000, with room for a raise.
This is slightly higher than the average salary for a floor nurse.
Find nurse auditor jobs on the job board.
5. Nursing Instructor
This is one of the most important positions in the nursing field.
As a nursing instructor, it's your job to guide new nurses through school and into the field of nursing.
Fundamentals:
Med-Surg
Psychiatric nursing
Obstetrics and gynecology
Pediatrics
Pharmacology
Are all classes taught by nursing instructors.
Pro Tip:
While there are nursing instructors who teach in traditional classrooms, what we're referring to in this article are nursing educators who teach in online programs.

For example, when I was enrolled in an online RN-DNP program some of the faculty members I had where living in various different cities around the country.
Many educators also spend part of their week working as a floor nurse in order to keep up with current trends and practices.
Licensure and Certification
The requirements for a Nursing Instructor are more strict than most of the other positions listed here.
You must have a Bachelor's Degree in Nursing (BSN), and many states require you to hold a Master's Degree in Nursing (MSN).
Pro Tip:
Keep in mind that many programs are requiring their instructors to have either a doctorate of nursing practice (DNP) or a PhD in nursing.
There is a one-year requirement as a floor nurse before moving into the position of an educator.
Salary
With higher education comes higher pay.
Nursing Instructors average around $72,456 per year which is a very lucrative salary for those wanting to get away from the bedside and into the classroom.
Find nurse instructor jobs on the nurse job board.
6. Freelance Nursing Writers
This is a great gig to do full-time, or just as supplemental income to any of the employment opportunities listed here.
As a freelance writer, you will provide quality content to individuals who need an experienced professional to write for their business, draft insurance plans, compose care plans for patients, and more.
A huge bonus to working as a freelance writer is the flexibility in both time and location.
As long as you meet your deadlines, it doesn't matter when or where you work!
Licensure and Certification
Many companies will require an RN license for more technical areas and you will likely need some proven writing skills under your belt.
If you're trying to get your foot in the door for blogging and articles, you need a byline.
Some companies will allow you to write for them in exchange for a byline, which will drastically improve your chances of getting work down the road.
Salary
With this position, you get out what you put in.
You can make as much or little as you want to make, depending on what clients you pick up and the quality/speed of your work.
Some sites list a freelance writer (in general) to make anywhere between $24,000 and $115,000 per year.
Find nurse freelance writer jobs on the job board.
Find Your Next Nursing Job
Use our nursing job board to start looking for and applying to great nursing jobs near you.
7. Health Care IT/ Nurse Informatics
Are you a nurse and a techy? 
Nurse informatics is definitely for you!
This role combines your experience with patients and your knowledge of technology to help optimize patient care and ensure a safe, productive work environment.
As a Nurse Informatics professional, it's your job to monitor the electronic medical record (EMR) for errors, communicate between floor nurse and IT support, suggest new technology, and write policies for businesses.
Licensure and Certification
The qualifications are higher for this position and require at least a BSN and then a Masters in Nursing Informatics.
Salary
As with a nursing educator, the more training you have the more you get paid. 
Nurse informatics employees make around $88,270 per year with almost half of employees making over $100,000.
Find healthcare IT/nurse informatics jobs on the nurse job board.
8. Quality Assurance
This one is pretty straight to the point.
As a Quality Assurance Nurse, you make sure that patients are receiving the highest quality of care.
To do this you must analyze current policies and propose changes to improve or maintain them.
You'll also provide training on any new procedures, and verify that the facility is following state and federal laws.
Licensure and Certification
Most Quality Assurance Nurses hold a valid RN license, while some choose to obtain a Master's degree in order to expand their employment potential and increase their pay rate.
Salary
The average yearly pay for a Quality Assurance Nurse is $71,092.
Find nurse quality assurance jobs on the job board.
9. Clinical Appeals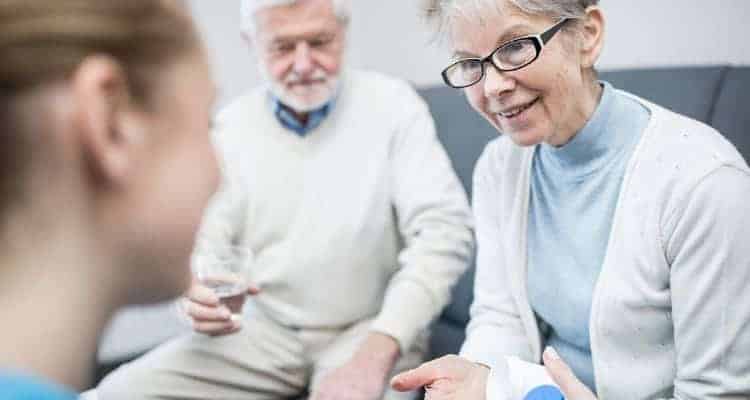 In the event that an insurance company denies a claim and the patient appeals their decision, it's your job as a Clinical Appeals Nurse to evaluate the situation at hand.
After reviewing the patient chart, coding data, talking with healthcare professionals who were directly involved in the patient's care, and analyzing any pre-existing conditions, it's now up to you to make the choice on whether to deny or approve the appeal.
Licensure and Certification
National Quality Assurance Standards knowledge and coding experience are often required for this position, but no further education other than an ADN or BSN is required.
Salary
Clinical Appeals Nurses average $74,379 per year.
Find clinical appeals nursing jobs.
Remote Nursing: What Do You Think?
It's often said that once you become a nurse, you can work anywhere in the world and that includes the comfort of your own home.
Are you a nursing student who wants to work from home in the future? A clinical nurse that's burnt out at the bedside?
Let us know your ideal remote nursing job in the comments below!
Related Article to Remote Nursing Jobs