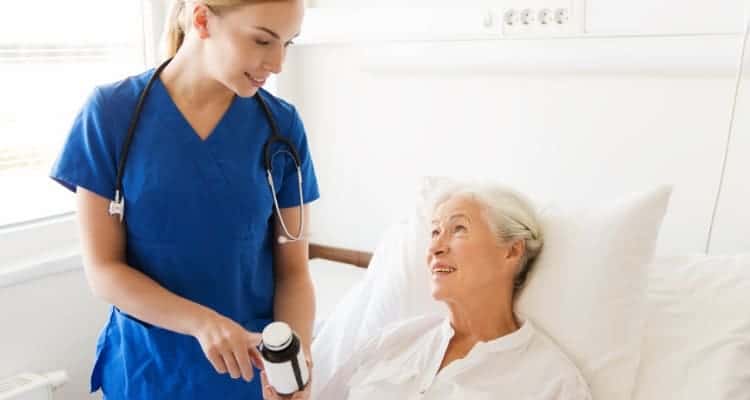 Aside from being able to care for patients, flexibility makes nursing one of the best jobs you can have (especially if you have a family).
Whether you want to work in a doctor's office, from home, in an elementary school, or in different areas of the country, you'll find plenty of jobs that are available to fit your needs.
Here are six of the best flexible nursing jobs you can find.
*Disclosure: This article on the best nursing jobs for flexibility may contain affiliate links. If you click and make a purchase, I may receive a commission. For more info, please see my disclaimer.
Best Flexible Nursing Jobs
1. School Nurse
School nurses have an amazing opportunity to be able to interact with students, provide care, and assist in cultivating a healthy childhood for their patients.
The average school nurse salary is between $48,000 and $66,000 per year.
Pros
School nurses work only when school is in session. This means a very flexible schedule with no nights, weekends, holidays, or summers and allows you to be home with your family.
Many nurses work with minimal oversight, which means you have more control over your workday and the care you provide for your patients.
Cons
If you need a schedule that keeps you busy throughout the year to support your family, this may not be the job for you.
Those who want a large volume of patients may be disappointed, as some days can be busier than others depending on what is going on with students at the time.
Pro-Tip
This is a good job for nurses with a family who really want their work schedule to mirror their kid's school schedule.
Find school nurse jobs on the nursing job board.
Related Article: 10 Best Nursing Jobs Working with Kids
2. Doctor's Office Nurse
If you're planning on entering into a doctor's office to work, you'll be taking vitals, documenting care, educating patients on their condition, and more.
Pros
Doctor's offices have typical schedules that are Monday through Friday from 9-5. If you want a standard work schedule that goes year-round, this is a good choice.
You may find you can get off early some days if patients do not schedule into the afternoon, which takes a lot of stress off of school pick-ups and ensures no missed date nights with your significant other!
Cons
Working in a doctor's office can be monotonous for some nurses who desire more excitement in their workday.
You're scheduled in accordance with your doctor's schedule, which could mean working on days you would rather be enjoying time with your family.
Find doctor's office nursing jobs on the nursing job board.
Find Your Next Nursing Job
Use our nursing job board to start looking for and applying to great nursing jobs near you.
3. Freelance Nurse Writer
Freelance nurse writers have one of the most flexible positions available.
And, with a variety of clients and topics to write on, boredom is rarely an issue!
Pros
Freelance nurse writers set their own schedules. As long as you meet your client's deadlines, you can work when and where you want which allows you to make more time for your kids and significant other.
Unlike other positions, there are no income limits to what you can make as a nurse freelance writer. Once you build your business, you can charge your own rates and work as much as you need in order to make the money you require.
Cons
Setting your own schedule and workday can be difficult. If you want the flexibility of a freelance nurse writer, it's important to be a self-starter and stay motivated.
As with any business, the startup can be difficult. If you haven't started freelance writing yet, it's normal to have a slow start while you build up your clientele.
Find freelance nurse writer jobs on the nursing job board.
Pro Tip:
This is one of the best nursing jobs with flexible hours.

The money can be really good.

The downside is it requires a lot of discipline and you might not initially make a lot of money until you build up your clientele.
Related Article: 9 Best Nursing Jobs You Can Do At Home
4. Home Health Nurse
This career is not only flexible, but it's also highly rewarding.
Home health nurses can help to improve their patient's day-to-day life without the constraints of a hectic hospital schedule.
And, making an average of $33 an hour, you'll have enough income to support your family.
Pros
Home health nurses are able to work on their own, which is ideal for nurses who want to maintain control over their nursing practices (within reason).
Many home health agencies will allow you to set your schedule with your patients, which assists with greater schedule flexibility.
Cons
As a home health nurse, you are often visiting patients who are chronically ill. This can become tiresome after a while for those who are not cut out for this type of job and unless caution is used, you could find work stress spilling over into your personal and family life.
Some patients may require very strict or set schedules, which can impact the flexibility of this position.
Find home health nurse jobs on the job board.
Related: Can Introverts Make Good Nurses?
5. Hospice Nurse
Hospice nurses are a special breed, and they enjoy a large amount of flexibility in their job.
As a hospice nurse, your job is to provide end-of-life care to both patients and their families.
Pros
Very few positions are as rewarding to someone who is geared toward hospice nursing. You will be able to maintain flexibility while guiding someone through their last days and ensuring that their comfort is maintained as much as possible.
Many hospice nurses are able to set their own schedule or work with patients who are able to fit their desired work schedule.
Cons
End-of-life care can be traumatic, devastating, and highly emotional for patients, their family members, and nurses. Many nurses find that this type of stress is not something that they are willing or able to handle.
Due to the situation surrounding the job, family members can become hostile, angry, or require a lot of emotional care during this time. Before taking on this role, be sure that you can handle a wide range of intense emotions from the family.
Find hospice nurse jobs on the nursing job board.
Related Article: 15 Non-Hospital Nursing Jobs
Find Your Next Nursing Job
Use our nursing job board to start looking for and applying to great nursing jobs near you.
6. Travel Nurse
This is a position that makes nursing truly unique.
The ability to travel the country (or the world) and get paid to do so makes it highly flexible and sought after.
The average travel nurse makes between $79,000-$108,000 per year.
Pros
Travel nursing allows you to work all over the country, which is about as flexible as it gets! This provides excellent experiences for those who are not ready to settle down yet but are still looking for a place to call home.
As a travel nurse, you 'll be able to experience different cultures from state to state, as well as interact with different patient population types.
Cons
This position can be difficult if you have a family, but there are ways to handle travel nursing with a family on board!
Keep in mind that many agencies require a set contract. Once you enter into your contract, plan on staying in the same place for as long as this dictates (often 6 months to 1 year or to meet census needs). Those who are travel nursing with a family in tow can find this lack of stability to be a challenge.
Find travel nursing jobs on the job board.
Pro-Tip
Travel nursing may or may not be a good flexible nursing job option depending on your circumstances.

While the contracts might lock you into a place for 8 or more weeks, the real flexibility is in between the contracts.

For example, you might decide to work for 8 weeks in Texas than be off for a couple of weeks and then work another contract in another state.
Final Thoughts
If you're a nurse (or getting ready to become one), there is no shortage in flexible nursing positions available.
Do you work in a flexible position as a nurse? Fill us in on what you love (or hate) about your job in the comments below!
If you're looking for a good nursing job board for applying to jobs, make sure to check out the Nurse Money Talk job board.
Frequently Asked Questions R/T Flexible Nursing Jobs
What kind of nursing jobs can I do from home?

What are the highest paying RN jobs?
Related Article