5+ Best Nursing Jobs While Pregnant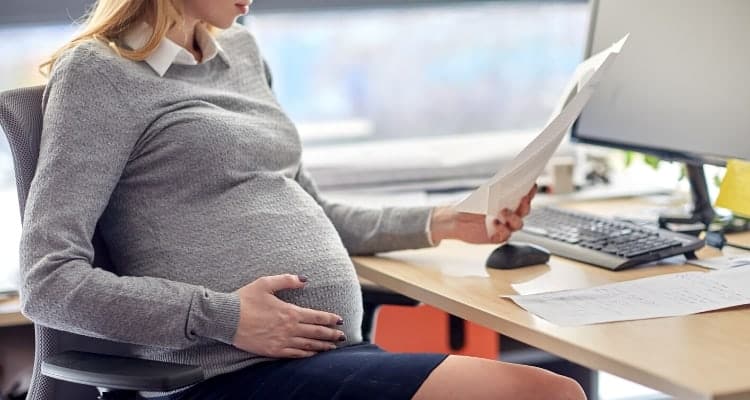 While pregnancy may be one of the most miraculous experiences a woman will go through, working while pregnant isn't easy.
If you're pregnant (or planning on becoming pregnant) it's important to find the right job that will protect both you and baby and allow you to stay comfortable.
Here are the top 7 nursing jobs to have while you go through pregnancy.
*Disclosure: This article on the best nursing jobs while pregnant may contain affiliate links. If you click and make a purchase, I may receive a commission. For more info, please see my disclaimer.
Best Nursing Jobs While Pregnant
1. School Nursing
School nurses are tasked with providing care to students.
This could be in the form of assisting with insulin injections, checking blood sugars, tending to ill children, and more.
Pros
As a school nurse, you can work a standard workweek with holidays and summers off. This is ideal during pregnancy because it reduces your day-to-day stress and also ensures you can find an open daycare after you have your baby.
Unlike in a hospital, most of your patients will be stable and not require invasive, high-stress medical interventions.
With a 16% job growth expectation throughout 2024, school nurses are being continuously sought out. With a new baby on the way, this provides the reassurance you'll be able to maintain financial stability in an in-demand field.
Apply to Available Nursing Jobs for Pregnant Nurses
If any of the jobs on this list interest you, or you just want to see what else is out there check out our nursing job board.
Cons
The schedule limitations of a school nurse can be financially difficult for some pregnant nurses.
Those who enjoy the adrenaline rush of a more high-stress nursing position may not find a school nurse position rewarding.
Schools can be breeding grounds for viruses and bacteria, which may not be ideal for all pregnant nurses.
Find school nursing jobs on the nursing job board.
Related Article: 5+ Best Nursing Jobs Working with Kids
2. Freelance Nurse Writer
Nurses also have the ability to cross over into freelance writing. (→See 5 Best Jobs for ADN Nurses)
As a freelance nurse writer, you'll be responsible for meeting your client's needs and deadlines as well as writing content that is both engaging and informative.
Pros
Freelance writers can work from home, which is great if you're experiencing a high-risk or high-stress pregnancy.
The sky is the limit for freelance nurse writers, as you're able to work as much or as little as you please which directly impacts your income.
If you decide to work from home, you decrease your exposure to pathogens that could harm you and your baby during pregnancy.
Cons
For those just starting out, work can be sporadic which can hurt your income.
If you have a hard time getting motivated on your own, you might find some difficulty meeting your client's deadlines.
In most situations, there are no health insurance benefits which can create problems if you depend on employee benefits.
Find freelance nurse writer jobs on the nursing job board.
3. Nurse Case Manager
Nurse Case Managers coordinate patient care and ensure protocols are being followed and patients are being properly cared for.
Pros
In some positions, a nurse case manager can work from home. This is great if you're wanting to skip the commute and reduce your risk of getting sick.
Being on your feet all day can be hard as a nurse, especially when you're pregnant. Nurse case managers have more options for desk work that keeps them off their feet.
Cons
One of your responsibilities will be dealing with insurance and making sure your patients are receiving the best, most affordable care. This can pose some difficulties and create stress.
Often times, you may find your patient load overwhelming as nurse case managers deal with a high volume of patients.
Find nurse case manager jobs on the nursing job board.
Related: Is this the Most Dangerous Nursing Job?
4. Nurse Educator
This position typically requires a master's degree (or at least an RN license with a long-standing work history).
Once you get past that requirement it can be a great position for those who want to help teach nursing students to be the best nurses they can be (while staying away from sick patients!)
Pros
As with a school nurse, nurse educators are generally able to keep a schedule similar to their student's school schedule (with some extra paperwork).
Nurse educators make around $75,000 per year, which can be very lucrative (especially with a new baby on the way!)
Pro Tip:
Like a lot of teaching positions, the first couple of years tend to be the hardest.

After you've been teaching for a while and you have your general lesson plans developed, things become a lot easier.
Cons
Even though you'll be in class at the same time your students will be, it's important to realize that you'll still have to grade papers and create lesson plans which can be stressful.
As a faculty member, you may be required to take part in faculty events that can eat into your personal schedule.
Find nurse educator positions on the nursing job board.
Related Article: 10 Highest Paying Registered Nurse Jobs
5. Utilization Review Nurse
Utilization review nurses have the ability to work for a variety of companies and at different locations (including remotely).
This job requires you to review charts to ensure appropriate services are being utilized by patients and providers in order to reduce costs to both the facility and the payer of the medical bill.
Pros
As a utilization review nurse, you may have the opportunity to work from the comfort of your own home. Check with your potential employer before embarking on this journey!
Income for a utilization review nurse ranges from $26-$36 per hour, which is a great income for someone who is expanding their family.
Cons
There is a ton of paperwork involved with this position, so if you're suffering from the notorious "pregnancy brain" it may not be a good fit for you.
If reducing your chances of getting sick is important, make sure you find the right employer. Some require you to work in the hospital around patients and other faculty.
Find utilization review nursing jobs on the job board.
6. Doctor's Office Nurse
Working in a doctor's office can be ideal for pregnant nurses.
Here, you'll ensure your care is thoroughly documented, advocate for your patients, take vitals, and provide education to your patient's on their medical conditions.
Pros
Most doctor's offices follow a typical Monday-Friday, 9-5 schedule. This is great if you're tired often during your pregnancy and don't want to deal with nights, weekends, and holidays.
While many patients who enter a doctor's office are sick, most of them are not experiencing immediate life-threatening situations which can help decrease your stress levels.
Cons
Although the patients may not be experiencing emergent symptoms, a large patient load can be taxing on a pregnant nurse.
Unlike other positions that give you the option to sit, there is a lot of standing and walking at a doctor's office which can become tiring toward the end of your pregnancy.
Find doctor's office nursing jobs on the nursing job board.
Apply to Available Nursing Jobs for Pregnant Nurses
If any of the jobs on this list interest you, or you just want to see what else is out there check out one of the best nursing job boards out there.
Related Article: 5 Best Nursing Jobs for Moms
7. Public Health Nurse
For pregnant nurses who get tired easily of the day in and day out of bedside nursing, a public health nurse can be an excellent position to choose.
Here, you'll be working in the community both educating and treating your patients.
Pros
Public health nurses get the opportunity each day to work with patients and educate them on becoming or staying healthy, instead of intervening after they're already sick.
If you aren't the type of person who wants to be around the same people every day, public health nursing can be a great way to keep things interesting and fresh.
Cons
Since you do a lot of solo work as a public health nurse, you can expect a large amount of paperwork to have to be done each day.
For those trying to stay off the roads to increase their safety during pregnancy, a public health nurse may not be the greatest position as you may find yourself driving more than usual.
Find public health nursing jobs on the nurse job board.
Final Thoughts
No matter what area of nursing you choose to go into, there will always be pros and cons. The trick is to finding the perfect position that works for you!
Are you working as a nurse throughout your pregnancy and would like to share what area you are employed in?
Let us know in the comments!
Frequently Asked Questions
Can a nurse work while pregnant?

Yes, a nurse can work while pregnant. They should look at taking some precautions but in many specialties, a nurse can work well into their pregnancy.

How much maternity leave does a nurse get?

The Family Medical Leave Act requires qualified employers to allow their employees to take up to 12 weeks of unpaid maternity leave. Check with your HR department for more detail.

How long should pregnant nurses work?

Each pregnancy is different. Some nurses may work up to days before they deliver while some may need to stop working months before birth. Don't compare yourself to others and consult your physician for how best to manage your pregnancy.

When should a nurse start maternity leave?

Consult with your HR to see how early you can start your maternity leave. Keep in mind that you're typically guaranteed 12 weeks of unpaid maternity leave by federal law.

Do nurses get paid maternity?

No, generally nurses are not given paid maternity leave. There are exceptions. But based on federal law qualified employers are only required to give 12 weeks of unpaid maternity leave. Check with your HR dept. for more detail.
Related Articles on Nursing Jobs While Pregnant