Do Nurses Get Benefits? – 10+ Nurse Benefits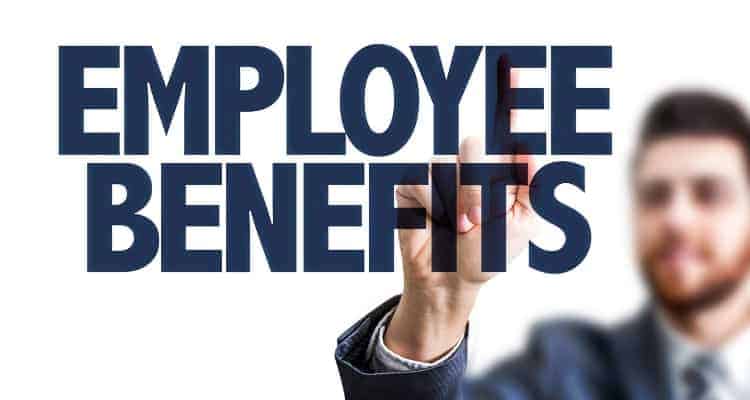 As a career choice, being a nurse provides a number of great benefits.
Some are material in nature, while others are emotional.
For those passionate nurses, being a nurse can become more of a lifestyle than a job.
Even if you're not one of the "passionate" nurses the good news is that you're still eligible for a range of great benefits.
Do nurses get paid benefits? Yes, nurses do get paid benefits. Some of the employer benefits a registered nurse or a licensed practical or vocational nurse would receive may include tuition reimbursements, sick, and personal leave.
*Disclosure: This article on "do nurses get good paid benefits" may contain affiliate links. If you click and make a purchase, I may receive a commission. For more info, please see my disclaimer.
Why Are Benefits Good?
They say:
While the quote is very meaningful it doesn't change the fact that but for most people, their work benefits can make or break their job satisfaction.
Paid benefits are those little extras in a job that can make a solid job even more attractive as a career choice.
For example, many employers provide health and dental plans as part of their employment packages.
Some provide tuition reimbursement if you're going back to school.
While some of these benefits might not overtly translate to money flowing into your bank account there's still some monetary value to them.
Because it will still translate to you having to spend less money yourself.
Related: Are Nurses in the Working Class?
What Paid Benefits Do Nurses Get?
Here are some of the major paid benefits that nurses receive and have access to:
1. Sign-On Bonuses
Due to the fact that nurses are in high demand, some organizations choose to offer a sign-on bonus to individual nurses if they commit to a job contract for a specified amount of time.
These bonuses can be as little as a couple thousand dollars, to as much as $25,000.
Pro Tip:
Your sign-on bonus will vary greatly based on facility location and the number of years you commit to the facility.
In addition, some employers offer a yearly performance bonus as a way to retain nursing staff.
As of a couple of years ago, some hospitals were so desperate for nursing staff that they were prepared to pay large sign-on bonuses as well as provide free housing and tuition for college for their children.
Related: We just touched on nurse sign-on bonuses. There are other types of nursing bonuses.

Shift bonuses, critical bonuses just to name a few. You can see all the differences in our deep dive on nurse bonuses.
2. Paid Travel Benefits
Many registered nurses work as travel nurses. This means they need to travel to different locations to perform their role.
Many employers as part of their contract will pay nurses travel bonuses or per-diem to come work at their facility.
3. Paid Benefits for Study and Training
Nursing is a career that never stands still.
There is always more to learn, and all nurses need to attend training and some may even be required to do continuing education (CEs) as part of their licensure.
There are some hospitals that will pay/reimburse you for some or all of your tuition payments. 
Pro Tip:
This is one of the great ways to pay for nursing school if you're wanting to become a nurse, or if you're wanting to further your education as a nurse and get your RN, BSN, or become an advance practice registered nurse.
4. Maternity Leave
While it's not very common some nursing jobs do offer paid maternity leave.
One of the most common nurses with this benefit are VA nurses who may be eligible for paid maternity leave (source).
Find Nursing Programs
Search our school database to find schools and get information on the right programs for you. (Don't worry, it's fast and free!)
5. Health Insurance
Dental, optical, and health insurance packages are paid benefits that nurses also receive.
Please Note:
Some travel nurses who work with an agency may not have health insurance available through their employer.
6. Other Insurance Plans
Besides health insurance nurses might be eligible for other insurance plans such as:
Life Insurance
Accidental Insurance
Malpractice Insurance
Check with your human resource to be sure of what insurance benefits are available to you.
7. Sick Leave, Annual Leave, Holiday
Sick leave and paid time off (also called PTO, PPL, or AL) is also a common benefit for nurses.
Typically sick leave and personal leave slowly accrues each month based on the company guidelines.
Pro Tip:
Different facilities will have different sick and annual leave benefits.

The time-off benefits such as rate of accrual and the amount you can max out may also vary even within the same company based on seniority and worker classification.

Ex. LPNs might get different benefits than RNS and nurse aides. Managers might have different benefits than non-managers.
8. Retirement Plans
A retirement plan is a benefit many nurses will have. Now, the quality of your retirement plan may vary dramaticaly from company to company.
Some of your retirement options maybe:
and their Roth derivatives.
For some nurses, they might even have a pension plan available to them. For more information on this check out our article on nurse pension plans.
Is It Worth Becoming a Registered Nurse?
The pros of becoming a nurse are many and varied, and they don't all translate into monetary value.
Now that we've discussed some of the "monetary benefits of being a nurse" here are some of the other compelling reasons to strongly consider a career as a nurse.
1. Great Job Security
If you want a career that offers a lot of job security, nursing is a very good choice indeed.
According to the Bureau of Labor Statistics, nursing is a career that is expected to continue to grow well into the future.
There were over three million nursing jobs last year, and this number is expected to grow as the health care sector grows.
2. Plenty of Career Pathways
When you become a registered nurse, you also have many opportunities to move into other roles and specialties.
Apart from specializing in areas such as geriatrics, pediatrics, and mental health, there is also the possibility to do extra training or studying and become a nurse attorney, nurse anesthetist, and much more.
For those who desire a career with many included career pathways, nursing is a fine choice.
3. Excellent Salaries
Salaries can vary widely for nurses, depending on where they work and what their role is.
Having said this, being a registered nurse boasts a solid salary with a median rate of about $65,000 per year.
This, combined with great career pathways and growth in the health and nursing sector makes nursing an excellent choice for anyone looking for a long-term career.
Find Nursing Programs
Search our school database to find schools and get information on the right programs for you. (Don't worry, it's fast and free!)
4. Job Satisfaction
For those who enjoy building rapport with patients and caring for others, nursing offers many opportunities for job satisfaction.
There are many emotional benefits to nursing, whether it's nursing a patient to good health or helping in the maternity ward.
Many nurses feel an emotional depth to their nursing career that is absent in so many other careers, whether through good times or bad.
5. Job Flexibility
Shift work is certainly not for everyone, but nursing is built on the back of the flexibility that shift work offers.
Hospitals and many other clinical facilities are open all the time, and this necessitates around the clock shift work.
Many nurses find that being able to choose their shift hours suits them if they have young children or other commitments.
This provides a lot of flexibility and offers great work and life balance.
Conclusion
Nursing can be an incredibly rewarding career both in financial terms, paid benefits, and emotional well-being.
There are few other careers that offer such flexibility combined with many extra perks and bonuses.
Did we miss any other benefits you've heard nurses recieving that we missed? Let us know in the comment section below.
Frequently Asked Questions
Do nurses get good benefits?

Yes, nurses do get good benefits. Some of those benefits may include tuition reimbursement, holiday pay and more.

Do nurses get life insurance?

Yes, many employers as part of their benefit package do offer life insurance. Some financial advisors do suggest to get life insurance independent of your employer.

How much do nurses pay for health benefits?

This will vary greatly from employer to employer, and your chosen health plan. Some nurses may pay nothing for health insurance while others may pay 100s of dollars a month for health coverage.

Do nurses have retirement benefits?

Yes, many nurses do have options for a retirement plan. Such options may include a 401K or a pension plan.

Do nurses get good medical or health benefits?

Yes, many nurses do have good medical and health benefits. It will vary from employer to employer.

Do float nurses get benefits?

Yes, some float nurses at a certain facilities may be eligible for company benefits. Check with your employer to be sure.

Do agency/travel nurses get benefits?

Yes, some agency/travel nurses do get benefits through the agency they're working with. Double check with the agency you're wanting to work before committing to make sure you're getting what you need.

What kind of benefits do registered nurses get?

Typical benefits for a registered nurse could include: sign-on bonuses, paid travel benefits, insurance, retirement plans, and more.

Do part-time nurses get benefits?

Yes, many employers do give part-time nurses benefits. Many times the benefits part-time nurses receive are limited compared to what's offered to full-time nurses.

Do per diem nurses get benefits?

No, generally per diem nurses do not get any benefits. Typically they're paid a higher base rate than staff nurses which for many can more than compensate for the lack of benefits.
Related Articles