Nurse Anesthetist: Education & Certification Requirements, Job Duties & Salary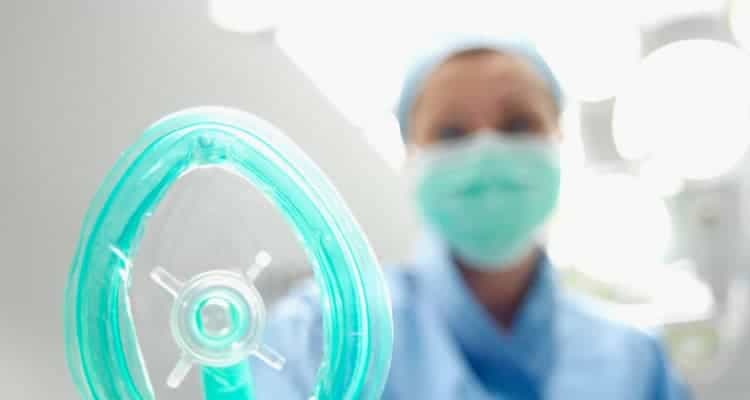 Registered nurses have opportunities to engage in a wide range of extended training and education to move into new career paths.
Becoming a nurse anesthetist is one path and requires extended training and experience.
So, what does a nurse anesthetist do and how do you become one?
*Disclosure: This article on Nurse Anesthetist may contain affiliate links. If you click and make a purchase, I may receive a commission. For more info, please see my disclaimer.
What's a Nurse Anesthetist (CRNA)?
A nurse anesthetist is an advanced practice registered nurse who is trained to administer anesthetic and paralytic medications during medical procedures such as surgery.
A nurse anesthetist – or CRNA (certified registered nurse anesthetist) – is a registered nurse who has completed additional education and certification in anesthesiology.
They work as part of a team of doctors, surgeons, and other nurses and administer sedation as one of their main duties.
The history of the nurse anesthetist is long and illustrious.
The first practicing nurse anesthetists administered sedative drugs to wounded soldiers during the American civil war (source).
These days, a registered nurse can study anesthesiology to become a specialist in this area and qualify as a nurse anesthetist.
Who Should Become a Nurse Anesthetist?
Nurses by nature need to be caring and compassionate, and it is no different for nurse anesthetists.
In many ways, specializing in anesthesiology is an extension of registered nursing, and anyone wishing to move into this area should possess the following characteristics and personal capacities:
A strong sense of duty to patients
Calm and collected demeanor
The ability to show empathy, care, and compassion to patients, family members, and friends
Strong attention to detail for the purposes of administering sedative drugs at correct dosages
The ability to closely monitor patient vital signs
Interest in medical procedures
Registered nurses who have a strong attention to detail and enjoy working under pressure and in a surgical team may find that studying anesthesiology comes naturally to them.
Nurse anesthetists are expected to work under pressure, pay close attention to anesthetic medication and dosages, and react calmly in emergency situations.
Education Requirements and Certifications Needed
Apart from the education required to become a registered nurse, anyone wanting to become a nurse anesthetist needs at least 1-3 years of critical care or emergency room experience before they can apply to CRNA school.
Having said that, getting into CRNA school is competitive.
To help, registered nurses wanting to get into CRNA school should consider one of the certifications from the American Association of Critical-Care Nurses.
The master's degree to become a nurse anesthetist is usually a two-year progam, and also includes some clinical practice in a large hospital for practical experience.
After this has been successfully completed, the nurse will need to successfully complete a National Certification Exam (NCE).
Even when a person has completed all education, training, and certification to become a nurse anesthetist, there is regular recertification and testing done to maintain standards within the healthcare system.
It's worth noting again there is often a lot of competition for nurse anesthetist education programs.
Many educational institutions have strict criteria for acceptance, including high average GPA scores and other educational prerequisites.
Some educational institutions may also require applicants to write an essay on why they want to become a nurse anesthetist and their goals.
Note: Many programs are now changing to a 3-4 year DNP or doctor of nursing practice degree.
Where Do Nurse Anesthetists Work?
The health sector is wide and varied, and nurse anesthetists are in high demand in both the public and private sectors.
Generally, nurse anesthetists will work in the following areas:
Dental practices
Hospital operating rooms and obstetrics
Other clinical settings, such as plastic surgery and pain management
Outpatient settings (for example GI clinics)
In remote rural areas where anesthesiologists may not be available, local nurse anesthetists may be called upon to fulfil a more senior role.
The Duties and Responsibilities of a Nurse Anesthetist
A nurse anesthetist typically has the following duties and responsibilities:
Build good rapport with patients before and after surgery and treatments
Advise patients of any possible risks and side effects of the surgery and anesthetic drugs
Evaluate patients before a procedure and after a procedure, and also provide care in recovery
Evaluate the health of a patient before a procedure and report on existing health conditions and allergies
Advise the anesthesiologists and the rest of the surgical team on the patient's health condition and allergies
Work with a surgical team closely and follow the instructions of an anesthesiologist in relation to administration of sedatives in the correct dosages
Monitor patient's vital signs before, during, and after procedures
Intubate critical patients as needed
Ensure the patient is provided health care and advice during their recovery period
Salaries and Employment Stats
As of 2016, there were nearly 40,000 nurse anesthetists practicing in the United States according to the Bureau of Labor Statistics.
Furthermore, a nurse anesthetist had an average annual salary of just over $160,000 at this time. This translates to roughly $75 per hour.
In this context, specializing in anesthesiology is a solid career choice for a registered nurse who wishes to extend their learning, work as part of a team, and earn significantly more money as a nurse.
The Bureau of Labor Statistics makes the point the average annual salary of a nurse anesthetist is over three times the mean salary for all other occupations.
Conclusion
Being a registered nurse is a rewarding role with many career paths. Nurse anesthetists are well-paid and are required to complete rigorous study and certification.
Often, the competition for the required coursework is high, and this is why it's a career choice that typically suits a registered nurse who has had a lot of experience in critical care across different settings.
As a job, being a nurse anesthetist is highly challenging, but also rewarding.
Nurses who have strong attention to detail and can build strong relationships within a team will often do very well in such a role.
Additionally, the higher salary often attracts registered nurses who both want a new challenge and wish to earn more money for their important work.
What do you think? Does being a nurse anesthetists sound like something you want to do? Let us know your thoughts in the comment section.
Frequently Asked Questions
What's a Nurse Anesthetist (CRNA)?
A nurse anesthetist is an advanced practice registered nurse who is trained to administer anesthetic and paralytic medications during medical procedures such as surgery.
How Long Does It Take to Become a Nurse Anesthetist?
In most cases, a registered nurse can expect to become a practicing nurse anesthetist in six or seven years. This will depend on the education and training requirements of the state.
Is being a nurse anesthetist stressful?
Yes, being a nurse anesthetist can be stressful. The CRNAs that I know love their job and wouldn't trade it for anything.
How difficult is nurse anesthetist program?
CRNA school is very difficult but if you're determined to become a nurse anesthetist it's doable.
Related Articles on How to Become a Nurse Anesthetist
Other Resources