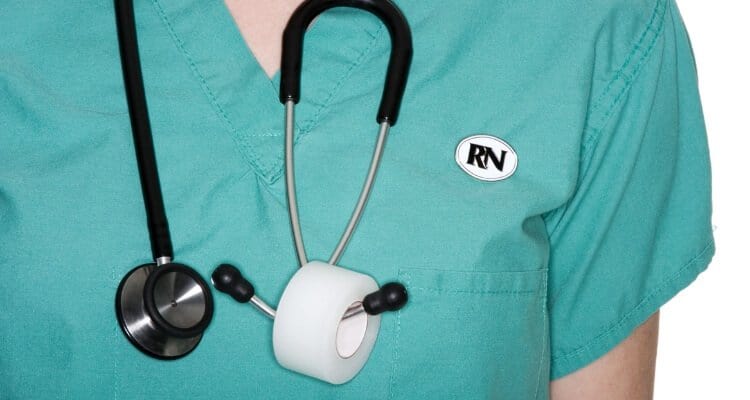 As a registered nurse, I get a lot of questions about being a nurse.
Part of the reason is that there's a lot of fragmentation when it comes to nursing.
Between nurses assistants, licensed practical nurses (LPN), licensed vocational nurses (LVN), and advanced practice nurses, it can be confusing.
In this article, I'm going to dive into what is a registered nurse and how to become a registered nurse.
*disclosure: this post may contain affiliate links. If you click and make a purchase, I may receive a commission. Please see my disclaimer.
What is a Nurse
A nurse is a healthcare professional who is trained to help those who are sick or hurting. While more commonly known for being in a hospital, a nurse's practice area can also include other areas such as a patient's home or an office. 
A Nurse is a healthcare professional who is trained to help those who are sick or hurting, typically in a hospital.
It's important to note that a nurse's working area can extend beyond the hospital. For example, home healthcare, and telemedicine.
Nurses can practice independently, and in order to practice nursing, a person has to study at an accredited school of nursing and take and pass the state licensing board National Council Licensure Examination also called the NCLEX.
What is a Registered Nurse
A registered nurse is a nurse who has passed the National Council Licensure Examination-Registered Nurse (NCLEX-RN) licensure test.
A registered nurse (RN) is a nurse who has gone through and passed an accredited nursing program.
On top of going through an accredited school, the nurse must also pass the state licensure NCLEX-RN.
The NCLEX-RN is administered by the National Council of the State Boards of Nursing to become a registered nurse.
How to Become a Registered Nurse
To become a registered nurse, you need to get into and pass an accredited nursing school. Then apply for and pass the NCLEX licensure test. 
Below I'm going to run through the steps on what it takes to become an RN.
Step 1: Ask yourself why you want to be a nurse.
This is an essential step because the road to being a nurse is hard. Many times there's some misconception on what a nurse is and what they do.
Before going on that journey, make sure you have thoroughly looked at the pros of being a nurse as well as the cons of being a nurse.
Also, make sure you understand what a nurse does on a regular basis.
Step 2: Pick a school and talk to the pre-nursing advisor
This next step is about deciding which program you want to go into to get your RN. Are you wanting to go into the ADN route or the BSN route?
If you already have a bachelor's degree, would you rather do the accelerated RN program?
After figuring that out and you have picked a school make sure to schedule an appointment with the pre-nursing advisor.
They're going to tell you what classes or courses you need to take before you can apply to the program.
If you already have a college degree, they can also help you figure out if your credit is going to transfer.
Step 3: Make sure your school is accredited.
I have met some people who learned this lesson the hard way.
You can check the NCSBN website or ask the dean of the nursing college (or somebody like that) to make sure they're accredited.
You might be wondering why is this a problem?
It's because if they're not accredited it becomes a problem when you're trying to get approved to sit for your nursing boards.
Step 4: Take your prerequisite courses if needed.
Remember I had mentioned you're probably going to have to take some prerequisite courses before you can apply to the program.
The number of classes and the hours are going to vary based on the program and your state. Some example of courses you're going to take is:
Biology & Microbiology
Human Anatomy & Human Physiology
Nutrition
Statistics
English
Psychology
Step 5: Apply to a nursing program.
Apply to the program you selected and make sure to get all the required information by the due date.
If you haven't already started planning for how you're going to pay for nursing school, this is when you really need to.
Related Article: What Does BSN Mean in Nursing?
Step 6: Complete nursing school.
Finish all your requirement for nursing school. That's going to include both the classroom hours and the clinical hours.
As a side note, we also have some good articles on succeeding in nursing school.
For example, we have one on staying motivated in nursing school and another one on learning how to take good notes in nursing school.
Related Articles: Do Nurses Get Paid for Clinicals?
Step 7: Apply for and take the NCLEX-RN
I'm not going to bother to go too much into this section.
The reason, because when it gets closer to the end of your nursing school career, your school is going to give you more information on when to apply and how to apply.
After you apply and get approval than your going to schedule when you're going to take the NCLEX-RN.
We have another article where we talk more about the NCLEX licensure exam and how to pass the NCLEX the first time. Check out one of those articles.
Step 8: Celebrate
The last step is to celebrate life after graduating from nursing school. You've worked hard to get to this point.
Job Duties of a Registered Nurse
The job duty of a registered nurse is going to vary based on their actual RN specialty (i.e., are they an ICU nurse or an OR nurse, etc.) and their scope of practice which is determined by the state they're in.
In general, some of the job description for an RN could include:
Obtaining patient vital signs
Documenting and maintaining an accurate patient medical history
Administering medications to patients as needed
Monitoring patient for medication or procedure side-effects
Carrying out appropriate doctor's orders
Educating patients
Educating patient's caregivers or family members
Starting intravenous catheters
Performing sterile procedures such as the placing of foley catheters
Performing routine procedures such as dressing/wound changes
Management/supervision of unlicensed assistive personal such as nurse's assistant
Advocating for the patient and family care and well-being
Collaborating with the care team to ensure positive patient outcomes
Find RN Programs Near You
Use our school search to find schools and get information on the programs that's right for you. (Don't worry it's fast and free!)
Helpful Resources
If you're thinking about becoming a registered nurse and you're looking for more helpful resources, check out some of these resources.
The American Nurses Association (this is the leading organization/lobbying group for nurses)
The National League for Nursing (this organization provides professional development and networking opportunities for nurses. They do primarily focus on nurse faculty and nurse leaders, but they are still a great resource.)
Sigma (An honor society for nurses. You have to be invited in. Based on grades in nursing school or leadership in your nursing career)
In general, nursing organizations are really good for networking and staying connected in what's going on in nursing.
If you're looking for some good books for nurses or those thinking about becoming a nurse, check out some of these books on Amazon.
"I Wasn't Strong Like This When I Started Out: True Stories of Becoming a Nurse"-by Lee GutKind
(This is one of the books I recommend for new nurses and for nursing students.)
It's also on my list of gifts for new grad nurses, and for a good reason.
This inspirational book goes through a narrative of what nurses felt like during their "firsts."
For example, their first stick, birth, death, and so on. "I Wasn't Strong Like This When I Started Out" also captures what nurses are going through in the different stages of their career.
"Notes on Nursing: What it is, and What it is Not"-by Florence Nightingale
(This is a book written by the first nurse Florence Nightingale.
In the book, she goes over different topics such as home health and the expectations of nurses.
It's not the easiest to read, but it is another good one.
Frequently Asked Questions about Registered Nursing
Below are some frequently asked questions related to being a registered nurse or. About how to become a registered nurse.
1. How many years of college to be a registered nurse?
How long it will take you to become a registered nurse will depend on the nursing degree track.
Prerequisites
The first thing you will need to do before applying to a nursing program is to get your prerequisites done.
It will take you roughly about 2 years to get your prerequisites done before you can apply to a program.
Associates Degree in Nursing (ADN)
After prerequisites, one of the more popular nursing routes is to get an associates degree in nursing or ADN.
One of the reasons why it's one of the popular options is because it's the quickest route to an RN licensure.
ADN programs usually take about 2-3 years to complete.
Bachelors of Science in Nursing (BSN)
After prerequisites, an aspiring nurse can apply to a BSN program. It usually takes about 2-3 years, depending on the program to complete.
Accelerated BSN Program
Another option in the BSN route is the accelerated BSN program.
This is for aspiring nurses who already hold a bachelor's degree.
This program is an intensive fast pace program that takes about a year to a year and a half to complete.
2. What are the different types of registered nurses?
Another way this might be reworded is "what are the different nursing specialties?"
There are a lot of different types of nurses. Or in this case, nursing specialties.
There are over 50 of them. We're in the works of an article that's going to cover all the different types of nurses.
Just to give you an example of the different areas:
Ambulatory care nursing
Mental health nursing
Labor & Delivery nursing
Forensics nursing
The list goes on and on.
3. Can I get an online registered nursing degree?
Yes, online nursing programs are becoming more popular as they give the non-traditional student the flexibility to work, take care of their family, and go to school.
4. How much do registered nurses make?
According to the United States Bureau of Labor Statistics, the median pay for a registered nurse is $71,730 per year or $34.48 per hour (source).
5. Is there a demand for registered nurses?
Yes, according to the United States Bureau of Labor Statistics, the demand for nurses is supposed to grow by 15% through 2026.
For comparison, the growth rate for all other jobs is only about 7% (source).
Final Thoughts
Being a registered nurse is a great profession. Check out some of our other articles to see what it's like being a nurse.
Related Articles