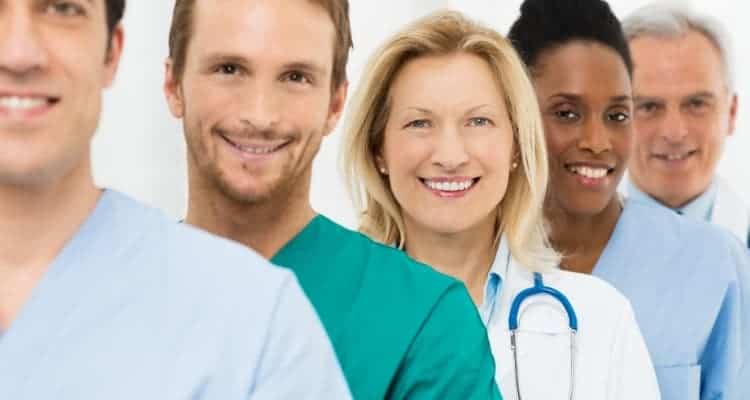 If you're considering going into the field of nursing, you may be just as confused by the myriads of acronyms as I once was.
Where do you fit into the field based on your job title? What degree do you need? Read on for guidance in making your decision.
*Disclosure: This article on CNA vs LPN vs ADN vs BSN vs RN may contain affiliate links. If you click and make a purchase, I may receive a commission. For more info, please see my disclaimer.
What Is a CNA?
A quick perusal of any nursing unit will show you that working as a CNA is typically a starting position in nursing and is often viewed as a great way to make money while you are in school.
Although I have certainly seen individuals who make careers out of CNA roles or who use this position as a second job, many people choose to further their education, using their CNA positions as stepping stones to increased responsibilities.
A CNA is a certified nursing assistant and may even be called a nurse aide, patient care assistant or state registered nurse aide (STNA) depending on the state and the facility. These individuals perform many of the most common hands-on tasks for patients in all types of environments and are often seen as the hands and feet of the busy LPNs or RNs.
Some of the most common tasks that they handle every day include the following:
Transporting patients
Bathing and feeding patients
Assisting with ambulation and patient mobility
Assisting the nurse with medical tasks
Monitoring vital signs
Reporting patient statuses
Answering call lights
In my RN jobs, I have found that I rely on CNAs to help me get many of my tasks done on almost any shift. From assisting with a medical procedure that requires more than two hands to helping turn patients for bed baths, their help is invaluable.
Although they do not have the licensure or education to perform medical procedures, such as inserting a foley catheter or changing sterile dressings, they can help with patient positioning, procure supplies and follow the directions of the RN or LPN.
It does not take long to become a CNA as most classes last no more than 12 weeks. In some very fast formats, classes last only four weeks, and individuals may be able to begin working at a nursing home or other facility while they are still in training there.
Most training programs require applicants to have a high school diploma or a GED. The program will include both classroom and hands-on work.
Upon program completion, students will need to take a state examination for certification in order to be placed on the state's official CNA register and to work at a health care facility legally.
As of 2019, CNAs made an average annual salary of $29,640 in the United States or $14.25 per hour. With over 1.5 million individuals currently working as CNAs in the United States, the field is expected to grow by 9% by 2028, reflecting the growing needs of the aging American population.
Find CNA Programs Near You
Use our school search to find schools and get information on the programs that's right for you. (Don't worry, it's fast and free!)
What Is an LPN?
An LPN is a licensed practical nurse who works under the guidance of the registered nurse while also overseeing CNAs.
This is another option for a starting career in the health care field, and I have seen numerous LPNs choose to further their careers later in life by following an LPN-to-RN training program.
However, many nurses are perfectly happy and fulfilled continuing to work in the LPN role.
While work as an LPN cannot be completed totally independently, these professionals are able to perform many of the most important nursing tasks on their own. These tasks often include the following:
Monitoring vital signs and basic patient health statuses
Providing basic health care, including dressing changes
Helping patients with ambulation and activities of daily living
Charting patient assessments
Reporting to RNs and doctors
Consulting with other members of the health care team to come up with care plans
Because of these extra skills and responsibilities, LPNs clearly need longer and more in-depth education than CNAs do.
The majority of LPN programs last approximately two years although you can find fast-track programs that speed up this process. I have even seen some people become licensed and take jobs as LPNs as they are going through their RN programs.
This can be a great way to make money while going through college. LPN courses are known far and wide as one of the fastest nursing degrees to complete, and you can sit for the NCLEX-PN examination at the end of your classes.
Pro Tip:
I was also one of the ones who took my LPN licensure exam half-way through RN school.

There are definitely pros and cons of doing this (which you can read more about in the linked article), but just know that this will vary from state to state.

So make sure to check with your state's board of nursing.
As of 2019, LPNs made an average annual salary of $47,480 or $22.83 per hour. Of course, pay ranges differ based on the nurse's tenure as well as on the location in the country.
While only 728,900 people are currently employed as LPNs in the United States today, this number is expected to increase by 11% by 2028 with the field adding well over 70,000 jobs in that time.
The places showing the most need for LPNs these days are rural areas where LPNs are called on to perform the majority of job duties in smaller hospitals and skilled nursing facilities. In addition, LPNs who have additional certifications, such as in IV therapy, are in the most demand today.
Find LPN/LVN Programs Near You
Use our school search to find schools and get information on the programs that's right for you. (Don't worry it's fast and free!)
What Is an RN?
An RN is a registered nurse who performs independent nursing tasks, such as creating care plans and managing daily care for patients. In fact, working as a registered nurse is often seen as more of a managerial role with the nurse reporting directly to physicians.
As I found out, there is also a lot more paperwork associated with this role than you might expect, and some nurses end up feeling discouraged by how limited they are in the amount of time they can spend with patients at their bedsides.
However, this is definitely an exciting career path that has many benefits. RNs can perform many tasks that LPNs cannot, including a variety of in-depth medical procedures in certain cases.
In addition, as technology continues to advance in the area of health care, RNs are expected to be knowledgeable in all areas of their field and to take continuing education courses regularly.
Some of the most common tasks for RNs include the following:
Administering medications
Monitoring patients
Setting up and monitoring IV medications
Performing in-depth wound and skin care
Operating life-supporting equipment
Providing diagnostic tests
Uncovering new health problems
Maintaining accurate medical records
Creating nursing care plans
Supervising LPNs and CNAs
Educating patients
Most RNs choose to get four-year degrees although there are still some fast-track RN programs in place. In addition, LPNs can choose LPN-to-RN degrees, another type of fast-track plan that builds on the knowledge that the LPN already has.
Once the individual graduates from an approved nursing program, she can sit for the NCLEX-RN examination to become licensed in her state.
RNs make an average annual salary of $73,300 in the United States with those working for government-owned health care facilities making even more.
Today, there are well over 3 million individuals working as RNs, and the field is expected to continue growing as knowledgeable professionals will be required to care for the growing number of people with chronic conditions in the country.
Over 300,000 RN jobs are expected to be added by 2028 with many of them expected in rehabilitation centers, outpatient care centers, and ambulatory clinics.
What Is an ADN?
Unlike CNA, LPN, and RN, the acronym ADN stands for a degree rather than a career path. An ADN is an associate's degree in nursing, and it typically takes two years to complete.
In some instances, you may be able to find a fast-track program that lasts only 12 to 18 months. Individuals following this path will still get the same core courses found in any program for RNs and will certainly still be required to take the NCLEX-RN examination before licensure.
At face value, individuals with ADN degrees work as RNs alongside their cohorts. They perform the same tasks and often work in the same settings.
However, because they cannot typically specialize to the same level that an RN with a four-year bachelor's degree can, they usually make less. Those with an ADN make an average of $69,349 per year across the United States.
Find RN Programs Near You
Use our school search to find schools and get information on the programs that's right for you. (Don't worry it's fast and free!)
What Is a BSN?
A BSN is a bachelor's degree in nursing, and it is the most common option for individuals interested in nursing to follow. This is a four-year degree offered at many public and private universities.
Nurses who already have an ADN may also choose to earn a BSN with an additional year or so of school while working. This is called an RN-to-BSN program.
Although this degree is not a requirement for becoming an RN, it is increasingly being seen as the preferred method, especially in certain states.
RNs with BSN degrees make more than their ADN-educated nurse counterparts do. The average annual pay is $84,274, which is a clear advantage.
Similarities Among CNA, LPN and RN Positions
To determine the best job for you, you will need to consider the similarities and differences among positions to see where you would best fit into the health care field.
CNAs, LPNs and RNs surprisingly have several similarities that make each one a smart choice.
Work Environment
All three job positions are needed in a variety of health care settings and even in private homes. From high-acuity hospitals to home health and hospice systems, CNAs, LPNs and RNs provide hands-on care to individuals with acute and chronic conditions.
Some of the top work locations include the following:
Hospitals
Outpatient clinics
Surgery centers
Skilled nursing facilities
Assisted living facilities
Memory care facilities
Patient homes
Public health centers
Schools
Correctional facilities
Of course, the need for RNs is going to be far greater in acute care facilities, such as in critical care settings, than it is in long-term care facilities while the opposite is true for CNAs.
Daily Work
While the specifics of job responsibilities can certainly vary as CNAs and LPNs work far less independently than RNs do, the overall daily work of hands-on patient care is somewhat similar across the board.
Each of these individuals are called on to work face-to-face with acutely and chronically ill patients and to communicate with patients' family members as well as other members of the health care team. The work is typically fast-paced.
Skills and Character Qualities
CNAs, LPNs and RNs all typically demonstrate similar character qualities that make them fit in well in these health care positions. Some of the personality traits and characteristics most frequently seen among these professionals include the following:
Assertive
Curious
Critical thinkers
Decisive
Excellent communicators
Detail-oriented
Physically strong
Emotionally stable
Empathetic
Lifelong learners
Flexible
Job Outlook
Another similarity among these positions is that they are all in high demand. Each position is growing at a faster-than-average rate in the United States, ensuring that there will be plenty of job openings throughout the coming years for anyone interested in entering the field.
This is mainly due to the aging American population but can also be traced back to the increased need for the highly individualized and sometimes technical care called for these days.
Differences Among CNA, LPN and RN Positions
While there are certainly some similarities to be found in these three positions, there are also a number of differences, especially when it comes to what you can do with your career and how much money you can make.
If you are like me, these differences will really help you decide what career path is the best one for you right now.
Educational Requirements
If you have the money and the time to spare, getting the education you need to become an RN might be the smartest solution. However, not everyone can take four years before getting a well-paying job.
Those looking for a quick option for making cash may prefer to start down the CNA path before eventually using bridge programs to get to their goal.
Licensure
CNAs, LPNs and RNs are all required to take tests after completing their educational requirements before they can begin work. However, the CNA examination is really seen as a certification process while the examinations for LPNs and RNs are for licensure.
Annual Pay
The largest difference in these three career paths is the amount of pay as you can see in the table below.
With the average annual pay across all industries in the United States currently at $39,810, working as a CNA may not bring in the income you need to live comfortably unless you are following this career path for only a short time or as a second income source.
On the other hand, RNs bring in a healthy income and have far more opportunities to advance their careers and make even more over time. For example, neonatal nurses and certified nurse anesthetists frequently make more than $100,000 annually.
Career Advancement
CNAs, LPNs and RNs can all choose to specialize. Of course, due to the higher educational level of RNs, the most options exist for these professionals by far.
However, CNAs can choose to work as cardiology aides, psychiatry aides, and home health aides among several other specialty routes. Wherever a CNA chooses to work, she will have to follow strict specifications for what she is allowed to do.
LPNs also have specialization options. Many of these require additional education or on-the-job experience followed by certification tests. Some of the most common certification options are in the following areas.
IV therapy
Pharmacology
Wound care
Hospice
Breastfeeding
RNs have far more career possibilities and additional certification options than even LPNs do. Many go on to receive additional certifications in their specific area of interest, such as the following:
Telemetry
Critical care
Pediatrics
Geriatrics
HIV/AIDS
Oncology
Clinical research
Clearly, there are many career paths for dedicated RNs, allowing individuals to advance toward their specialty areas more than they could in practical nursing fields. Some popular options for RNs who are willing to obtain masters' degrees include the following:
Certified nurse anesthetist
Certified nurse-midwife
Nurse administrator
Nurse educator
Clinical nurse leader
Pros and Cons of Each Nursing Position
Of course, every nursing position has its pros and cons. As a CNA, you will not have to worry about being in charge of the nursing care for your patients but can instead rest easy knowing that an LPN or RN will guide the care you provide.
In addition, you can immediately get out into the workforce and start making money. However, you will have to give up your hope of gaining a high salary as CNAs generally cap out their salaries far below the national average.
In addition, you may dislike doing the grunt work that nurses do not want to do. In my experience, I have found that individuals who love to help and who have positive personalities make the best CNAs.
As an LPN, you will love being able to work a bit more independently while still getting plenty of face-to-face time with each of your patients. Although schooling takes longer than it does for a CNA, this is a fairly easy career path to start, and it comes with plenty of growth opportunities and even a flexible schedule.
However, you may feel a bit harried as you rush from patient to patient while still needing to complete charting. In addition, you will lack complete authority over the nursing care for your patients and may resent the lack of recognition you receive from others in the health care field.
As an RN, you will have much more independence and will love the recognition you get from being in one of America's most trusted professions.
The pay is great and increases the more years you spend in the field. You will have plenty of options for career advancement and may even be able to opt for 12-hour shifts, which will let you work only three days each week.
However, these same 12-hours shifts can be incredibly draining, and the physical demands of this job are great. Although there is plenty of variety, many RN positions are quite stressful as you must pay careful attention to detail.
Comparing and Contrasting ADN and BSN Degrees
If you have decided that working as an RN is best for you, you will want to consider whether the ADN or BSN route is ideal for your circumstances.
What Are the Similarities in ADN and BSN Degrees?
Of course, both of these degrees will put you on the right track to becoming an RN, and you will be eligible to sit for the NCLEX-RN examination after either of them. At the beginning of your career, you will typically be presented with similar job opportunities for either educational route.
What Are the Differences in ADN and BSN Degrees?
The largest difference that you will notice immediately between the ADN and BSN degree is the length of time it takes to complete them. If you are eager to get into your field, the ADN will seem like the obvious choice because you can complete it in only two years.
However, over time, you will generally be able to earn far more with a bachelor's degree.
In addition, keep in mind that you will not be able to advance as much in your career with an ADN. BSN-educated nurses are able to perform more complex procedures and are able to be placed in leadership roles more easily than their counterparts.
Because these nurses spent more time in training, they are seen as better educated and better prepared when compared to ADN-educated nurses.
In fact, research even shows that nurses with higher educations create better patient outcomes. In some areas of the country, laws now state that every nurse must have a bachelor's degree within 10 years of becoming an RN.
Pros and Cons of Each Degree Path
If you want to get into the field quickly, you should definitely consider the ADN path. However, you should have a clear idea of how and when you will earn your bachelor's degree because it seems as if it will only be a matter of time before this is a requirement for all registered nurses across the United States.
Because an ADN will only take you so far, the BSN is often seen as far more advantageous. While you can make more money over the length of your career with a BSN, you must also consider how much more you will spend on your education.
One of the best solutions that I have seen fellow nurses use is the RN-to-BSN bridge program that gives you the extra credits you need to earn a bachelor's degree following an associate's degree program.
Comparing Nursing Careers and Degrees
| | CNA | LPN | RN | ADN | BSN |
| --- | --- | --- | --- | --- | --- |
| Education Required | CNA Training Program Completion | Postsecondary non-degree award | Associate's or Bachelor's Degree | Associate's Degree | Bachelor's Degree |
| Length of Education | 4-12 Weeks | 1-2 Years | 2-4 Years | 2 Years | 3-4 Years |
| Annual Salary | $29,640 | $47,480 | $73,300 | $69,349 | $84,274 |
| Number Employed in US | 1,513,200 | 728,900 | 3,059,800 | — | — |
| Potential for Job Growth Through 2028 | 9% | 11% | 12% | — | — |
| Nursing Practice | Work Under LPNs and RNs | Work Under RNs | Work Independently | Work Independently | Work Independently |
Information based on sources already linked to in the article. The primary source being U.S. Bureau of Labor Statistics.
Which Position or Degree Should You Consider?
After reading this article, you may still have some questions about which career path or nursing degree is right for you. You must consider both your goals and your current circumstances to make the right decision for yourself.
If money is an issue, you might want to jump right into nursing as a CNA and consider going to school for further nursing education as you work.
However, if you have the time and the resources for a longer educational period, following a career path to become an LPN or RN will take you much farther.
Of course, all of these job possibilities have one thing in common. In all nursing fields, you can rest assured you will be helping your fellow man and providing the physical and emotional care that suffering individuals require.
Final Thoughts
No matter where you start in the health care field, you always have plenty of options for growing in your career or changing career tracks.
Check out our job board for open positions in each of these fields, or search for schools here if you are ready to get started.
Frequently Asked Questions
Is ADN or BSN better?
A BSN is more likely to open up better career advancement, but the schooling is longer and tends to be more expensive than the ADN route.
What is the difference between LPN and ADN?
LPN or licensed practical nurse is a licensure while ADN or associates degree in nursing is a degree.
Are BSN nurses safer than ADN?
Research has shown that a nurse with higher education leads to better patient outcomes.
Do hospitals prefer ADN or BSN?
Generally speaking, BSN is the preferred degree for nurses.
Should I go for my LPN or RN?
The RN school route will give you more career opportunities along with a higher salary. RN schooling will cost more money and will take longer to complete, so if you don't have the time or the money than starting out as a n LPN would be the better option.
Related Articles to LPN vs BSN vs ADN vs RN vs CNA