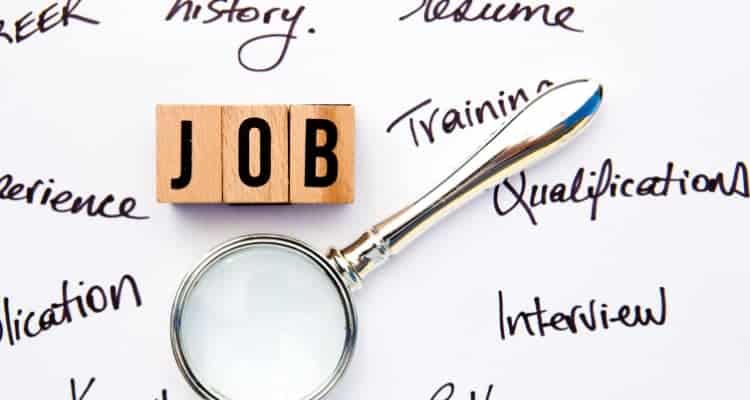 Finding employment in the medical field while you're finishing up your nursing prerequisites has a multitude of benefits.
It gives you learning experience, allows you to make connections within the medical community, and could even land you your first job after school if you're lucky.
Below is our list of some of the best jobs for pre-nursing students.
*Disclosure: This article on the best jobs for pre-nursing students may contain affiliate links. If you click and make a purchase, I may receive a commission. For more info, please see my disclaimer.
Best Jobs for Nursing Students
1. Phlebotomist
Job Description
A phlebotomist is an individual who is trained to perform a blood draw and then sends that blood specimen off to a laboratory to be tested.
Phlebotomists can also be employed in plasma donation centers, where life-saving plasma is donated in order to make medications for those who need it most.
If you're in prenursing school, a phlebotomist is a great job because it gives you plenty of experience with patient care, maintaining a professional level of cleanliness or sterility when needed, and gives you plenty of opportunities to learn how to properly place a needle.
Job Responsibility
As a phlebotomist, your job responsibilities may include
Draw blood for samples
Properly identify patients and label vials accordingly
Determine the most appropriate avenue for a blood draw
Bring specimens to the lab
Centrifuge (depending on the state you are in)
Maintain a clean and hygienic work environment
Comfort and reassure patients if necessary
Pay Range
The pay range for a phlebotomist can vary from state to state, but on average you can expect to make roughly 16 dollars per hour.
The lowest-paid phlebotomists made approximately 9 dollars an hour while the highest-paid made approximately 21 dollars per hour.
Search for phlebotomist jobs in your area on the nursing job board.
2. Hospital Transporter
Job Description
The job of a hospital transporter is a vital one, and a great way to get learning experience and first-hand knowledge of the workflow that a hospital has on a day-to-day basis. .
If you choose to work as a hospital transporter, you will be assisting nurses, doctors, and other professionals in navigating the patient from one area of the hospital to another as well as completing other important tasks.
The hospital transporter is able to expertly navigate wheelchairs and hospital beds throughout the hallways and elevators of busy hospitals. In addition to this, you may be asked to deliver specimens to the laboratory, run mail between floors, or move medical equipment.
Job responsibility
A hospital transporter's daily activities may differ slightly, but overall your job responsibilities would include
Transport patients, both inside and outside the hospital
Maintain clear and open communication with all members of the healthcare team, including the patient
Transport medical equipment as needed
Maintains a clean and safe working environment as dictated by law and the healthcare facility
Help the patient move from bed to a wheelchair, if indicated
Follow all hospital dictated protocols for patient safety and transportation
Pay Range
The average pay range for a Hospital Transporter is between $12-$16 per hour.
Search for hospital transporter jobs in your area on our job board.
Find Your Job
Use our job board to start looking for and applying to jobs near you.
3. CNA/Nurse Tech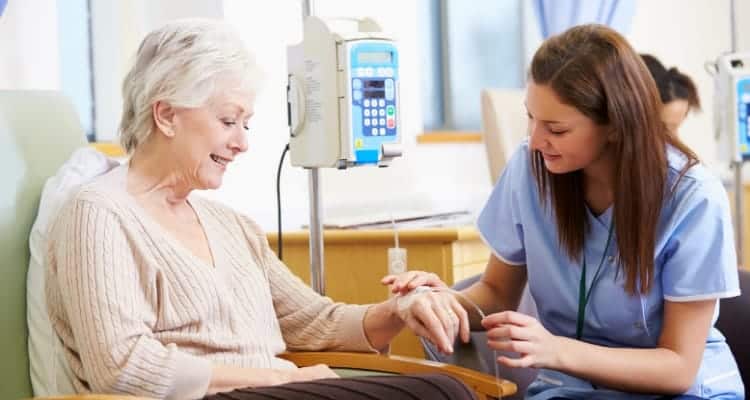 Job Description
I believe working as a CNA is one of the most beneficial jobs you can take before starting nursing school, as it gives you first-hand experience and hands-on learning as you work under your assigned nurse.
A CNAs main job is to assist the nursing staff. This can be by ambulating the patient, assisting the patient with Activities of Daily Living (ADLs) which include toileting, ambulating, and assisting the patient with showering or brushing their teeth.
You may also be required to obtain vital signs, remove IVs, record urine output, and more.
Job responsibility
The job responsibilities of a CNA can seem endless, but these are some standard activities in this role.
Ambulate the patient
Assist patient with Activities of Daily Living
Accurately obtain and record vital signs
Assist with transporting patient if needed
Provide food and drink to the patient, assisting them with eating if necessary
Keep up on required certifications, such as CPR
Pay Range
The average pay for a CNA depends on the state, but on a national level, they average approximately $24,000 annually.
Search for CNA or nurse tech jobs in your area on our nursing job board.
4. Undergraduate Tutor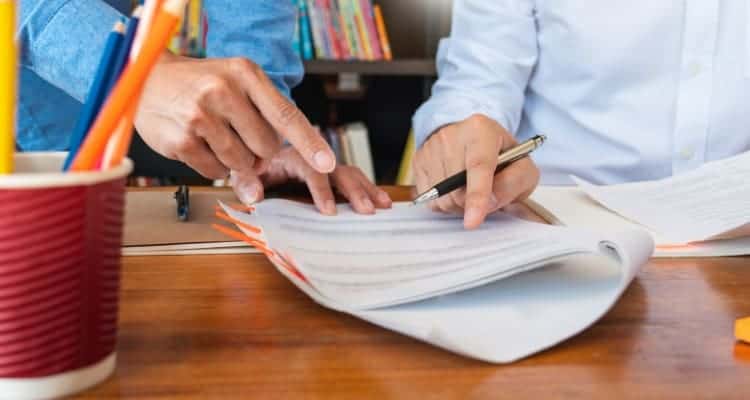 Job Description
As an undergraduate tutor, you may be employed through your school or an outside facility (and can even work for yourself if you want!)
I find this to be a valuable position because it lets you reinforce and refresh your knowledge so that by the time nursing school arrives, you haven't brain dumped it.
Your overall job responsibilities are to help other students in classes you have already excelled in, both with studying and explaining concepts and materials as needed.
Job responsibility
The job responsibilities of a tutor are relatively basic but require a lot of knowledge on the subject before you begin.
Assist your client with studying
Help clarify confusing material and explain concepts
Be available for questions at certain hours throughout the week
Pay Range
An Undergrad Tutor's pay can vary depending on where and who work for, but overall they make $55,000 per year if they are employed full-time.
Search for undergraduate teaching assistant positions on our job board.
5. Research Assistant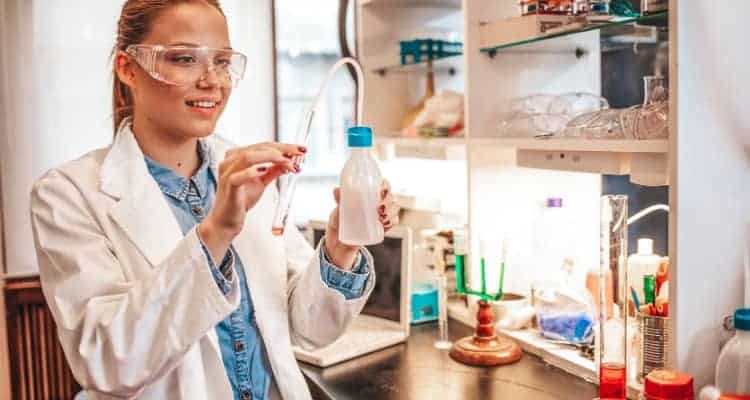 Job Description
Research assistants play vital roles in the lab, and they often choose this role because it helps them deepen their knowledge on whichever subject they choose to work in.
As a research assistant, you will assist with data collection and analysis, at the direction of a scientist or other professor.
In doing so, you will be part of vital and important research, while being able to gain more knowledge or solidify your current understanding.
Job responsibility
Research assistants are busy people, most of their job responsibilities include
Collecting data
Analyzing data
Reporting findings from all experiments
Manage emails as needed
Prepare articles and journals as indicated
Pay Range
The pay range for a Research Assistant varies from position to position, but overall the average Research Assistant is reported to make approximately $42,000 per year.
The lowest-paid Research Assistants made $18,000 while the highest-paid made $67,500.
Search for research assistant jobs in your area on our job board.
Tips for Finding Employment
Finding employment as a pre-nursing student is a great way to get ahead of the game, but you want to make sure you keep a few things in mind.
1. Obtaining Certificates/Where to Find Work
You will first need to decide what it is that you would like to do, and find out if the position requires any certifications (for example, a CNA or Phlebotomist). You can find training programs on our school search platform.
After you have settled on the job you want, start seeking it out. Your school may have various resources on where to find work, or the nursing faculty may know of hospitals or facilities in the area that are looking for help from pre-nursing students.
Job boards such as our nurse job board are another great tool to find facilities hiring in your area as well.
Find Your Job
Use our job board to start looking for and applying to jobs near you.
2. Be Selective
Once you have obtained needed certifications and have settled on the perfect job, it's time to build your resume.
Be sure to include that you are currently in school for pre-nursing as this may help increase your chances of employment. It's also advisable to find a job that offers tuition reimbursement, since this can save you thousands of dollars throughout your nursing career.
Many hospitals, in an effort to employ more BSN nurses, will also help pay for your bachelors when you're ready. All of these should be factored into your decision on finding employment.
3. Navigating your Schedule
You've probably heard it a million times but when you're in nursing school (and even pre-nursing school to an extent) your schedule is absolute craziness
Most employers you interview with will have first-hand knowledge of the busy schedule of a nursing or pre-nursing student, which can give you a leg up over having to explain yourself in non-medical interviews.
If possible, try to take some classes online so you have a more open schedule at the beginning of your employment, and then tweak your schedule with HR as you make your way throughout your program.
Final Thoughts
Are you working in any of the above positions and have some experience you'd like to share? Let us know in the comment section below.
Frequently Asked Questions
What job can you get with a pre nursing degree?

Jobs you can get with a pre-nursing degree include: phlebotomist, hospital transporter, nurse tech, and undergraduate tutor.

Can you work while going to nursing school?

Yes, you can work while going to nursing school. In some ways, students who work while in nursing school might have an easier time finding jobs and getting acclimated to life after nursing school.
Related Articles to Jobs for Pre-Nursing Students