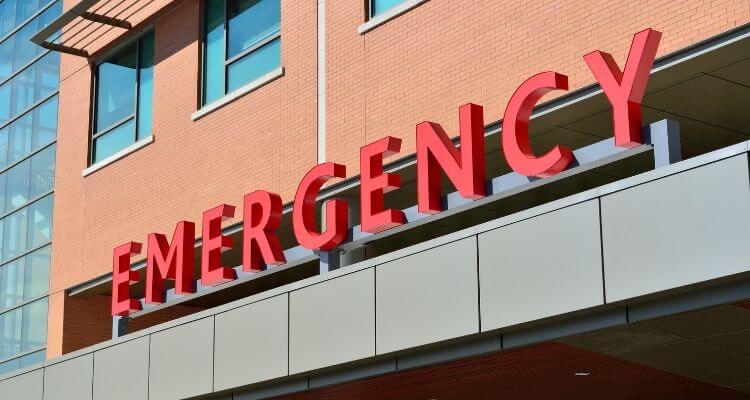 If you think that you've got what it takes to become an ER nurse, then your next step is to learn more about how to make that goal a reality.
As with any nursing job, it takes a lot of education and hands-on training to prepare for the role.
Besides education, ER nursing requires a certain temperament, and these professionals need to be adaptable and calm under pressure.
Read on to learn the basic steps involved in becoming an ER nurse including degrees, credentials, and possible job locations.
How do you become an ER nurse?
To become an emergency room nurse, you need to get a degree in nursing. Afterward, you need to pass the nursing licensure exam. After passing your nursing boards, you might be able to start in the ER as a new nurse. If not many nurses find it easier to get experience elsewhere first before applying to the ER.
Education and Licensure
Some employers are okay with an associate's degree, while others prefer their nurses to have a bachelor's degree.
You will need to get your degree in nursing before you can start doing anything else.
During your time in school, you will learn about how to identify different diseases and conditions as well as how to check vitals, draw blood, and report on a patient's medical history and current status.
There are plenty of other things that you'll learn during these years, and every experience and class will bring something new to your nursing arsenal.
They say that knowledge is power, and this couldn't be truer for those in the medical field (especially nurses).
Find Nursing Programs
Find a nursing program that's right for you.
Pass the NCLEX-RN
Once you finish your schooling, you will need to study for and pass the NCLEX-RN, or the National Council Licensure Examination in Registered Nursing.
Passing this exam means that you are ready to enter the medical field as an entry-level nurse.
There are 265 questions, most of them multiple choice, but you have to answer a minimum of 75 questions and answer an appropriate number correctly to show your competency level in order to pass (source).
The maximum timeframe for taking the exam is six hours, and nursing students usually study for months in preparation.
Some of the general topics that the NCLEX-RN covers are safe and effective care environment, health promotion and maintenance, and physiological and psychosocial integrity.
Related Article: How to Become a Registered Nurse
Get Some Hands-on Experience
While nursing school has its share of experiential learning, you can start working in the field and getting actual hands-on experience once you pass the NCLEX-RN.
Typically, new nurses do not go directly into a job as an ER nurse. Rather, they work as a nurse in another healthcare setting such as med-surg.
If you want to go into emergency department nursing, then your best bet is to choose a work environment that is similar to the ER.
Urgent care facilities and other units in the hospital can help with giving you exposure to acute medical conditions and serious illnesses.
You might consider working in the ICU or critical care unit.
This will give you the kind of adaptive attitude and experience that you will need in order to break into ER nursing.
Related Article: Can a New Grad Nurse Work in the ER?
Obtain Some Extra Certifications
You probably don't want to hear this, but getting some extra certifications under your belt will be a huge help in solidifying a job as an ER nurse.
Credentials related to critical care will make a positive impact on your future employer.
For instance, many ER nurses have their RN degrees as well as certifications such as BLS (Basic Life Support), ACLS (Advanced Cardiac Life Support), and PALS (Pediatric Advanced Life Support).
In fact, some employers require their ER nurses to have all of these certifications.
In addition, CCRN (Critical Care Nursing) specialty certification will definitely come in handy as well as the TNCC (Trauma Nursing Core Course) certificate.
CCRN is offered by the American Association of Critical-Care Nurses (AACN) (source). TNCC is offered by the Emergency Nurses Association (source).
Decide Where You Want to Work
We mentioned before that you'll get the most out of an experience working in a critical care unit or ICU. Yet did you know that ER nurses don't have to work just in the emergency room?
They may also be flight nurses who work on board medical aircraft. A Certified Flight Registered Nurse (CFRN) is an RN who obtained proper flight nursing education and wants to work on trauma aircraft that transports patients to hospitals and medical facilities.
He or she is responsible for providing efficient, quality care to patients as they are taken by helicopter to a nearby hospital or medical unit.
Flight nurses assess the patient's condition, administer first-aid procedures if applicable, and ensure that the patient gurney is safely secured on the aircraft.
These nurses may also have additional credentials to help them on the job, such as the TPATC (Transport Professional Advanced Trauma Course) (source).
If this is the path that you want to take, it is best to make that decision early on so you can plan on getting these certificates and enrolling in these courses in a timely manner.
Besides working in an emergency department or aboard a medical transport flight, ER nurses can work in several other locations.
They might prefer to work in a more specialized area, such as poison control center or crisis intervention facility (source).
Other possibilities include correctional facilities, state governmental agencies, or the military.
Find Credible Resources
Becoming an ER nurse can take time, not to mention a whole lot of hard work. It's a huge help to have some professional resources that you can lean on.
Not only will these sources give you a better idea of what to expect, but they can hook you up with different nursing groups or communities.
Who knows, this could lead to employment or at least like-minded people who you can share experiences and questions with.
Some professional organizations that ER nurses might find useful include the American Association of Critical-Care Nurses, the Emergency Nurses Association, and the Emergency Nurses Association Foundation.
There are also some publications that can keep you in the loop and assist you during your studies and certification programs.
These include the American Journal of Critical Care, Accident & Emergency Nursing Journal, and the Journal of Emergency Nursing.
Find Nursing Programs
Find a nursing program that's right for you.
Never Stop Learning
Even when you've got all of your education degrees, you've completed your certifications, and you've snagged a good job as an ER nurse, you should still be learning.
Some people say that we remain students all our lives, and this is definitely true for nurses and other medical practitioners.
Things such as healthcare and medicine are constantly changing as scientists and researchers make new discoveries and develop more advanced medications and tests.
Therefore, anyone who works in the healthcare industry should keep up with his or her field of expertise.
This means regularly reading up on current publications and attending conferences when you can.
This ensures that you're always providing the best care for your patients as well as educating them on how to properly recover, safely take medication, and prevent complications in the future.
You should also be aware that some certifications only last for a few years so you will have to retake exams to prove your knowledge and expertise in the field.
It's all part of being an efficient, dedicated nurse.
In addition, some ER nurses choose to further their education by obtaining a Master's of Science in Nursing (MSN) degree.
While it's not necessary, some individuals find that it aligns with their career goals, such as wanting to move into leadership.
Final Thoughts
At the end of the day, know what you're getting into and do your research before jumping into your first nursing degree program.
Let us know your thoughts below in the comments section.
If you want to learn more about ER nursing, check out some of our other articles.
Update: This post was originally posted on June 16, 2019. This article has been updated to reflect CCRN stands for "critical care nurse" and is offered by the American Association of Critical-Care Nurses (AACN).