5 Meaningful Benefits of Being a Nurse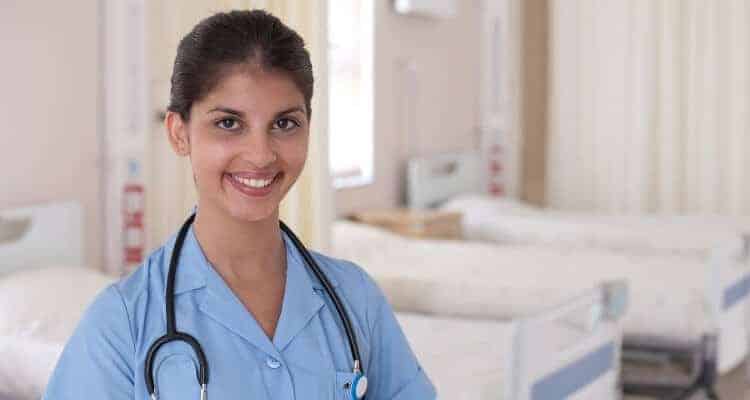 If you're looking for a job where you can leave a mark on other people's lives, while also having great benefits, nursing can provide you with both.
It's one of the noblest professions, where you have the privilege of helping other people and providing service for the community every day (source).
Moreover, it's an extremely beneficial job that's highly regarded and needed.
If you're considering this career, these are some of the benefits of becoming a nurse.
*disclosure: some of the links on this site are affiliate links. If you click on it and make a purchase we may get a commission. For more info please see our disclaimer.
Benefits of Being a Nurse
Below are the benefits of becoming a registered nurse.
1. Job Impact
The most important benefits of working as a nurse are personal gratification and satisfaction, rather than the monetary advantages.
Nursing is one of the most crucial jobs in the world, which is taking care of people and even saving lives.
Providing comfort and relief for patients and easing their pain, whether it's physical, mental, or emotional, is an extremely rewarding experience.
Nurses find that helping others, through attending to the patients' needs or supporting their families, gives them a high sense of fulfillment.
Even with the physical and emotional stress and exhaustion that comes with nursing, making a meaningful difference in the lives of others brings great happiness to nurses.
Find Nursing Programs
Find a nursing program that's right for you.
2. Salary and Benefits Packages
One of the other perks of being a nurse is the above average wage of a nurse. You see nursing is an occupation that can offer some pretty good financial outcome.
According to the US Bureau of Labor Statistics (BLS), registered nurses with nursing diplomas, associate's or bachelor's degrees had an annual median wage of $71,730 in 2018, earning a mean hourly pay of $34.48.
The annual earnings for the lowest 10% were less than $50,800, while the highest 10% earned more than $106,530 (source).
Nurse practitioners with master's degrees, certifications, and more specialized skills have higher wages. Their 2018 median wage was $113,930 per year, earning a mean of $54.78 per hour. The lowest 10% had earnings of less than $80,670, and the highest 10% made more than $182,750 (source).
Nurses can even earn more by working on weekends, especially filling the night shifts. It's also easy to increase your outcome by working some overtime hours.
Additionally, most healthcare employers provide resourceful benefits packages and coverages.
In most cases, health insurance for you and your family is offered, covering dental and vision insurance, as well as, life insurance. Paid time-off is also included, whether it's for sick leave, vacation, or maternity leave.
Some health facilities also have good tax saving plans, retirement plans, and discounts for a variety of services.
Another great advantage is that depending on where you work, you might be able to get some, or all your student loans paid for. Also, some employers will help pay for furthering your education.
This way you can easily reduce the amount of nursing student loans you have to take out for school or the amount you have to pay out of pocket if you decide to pursue a higher degree in nursing.
3. Job Opportunities and Job Security
Being one of the most vital occupations, the demand for nurses will always be substantial. There will always be the need for nurses to care for patients and children.
As the average age of the population keeps increasing, the need for more nurses will also arise to take care of the aging baby boomers.
Healthcare systems will remain dependent on them in order to function correctly and provide care for patients.
The BLS states the number of registered nurses in 2016 was 2,955,200, while the number of nurse practitioners was 203,800.
It's also expected that there will be a shortage of 800,000 nurses by 2020. Hence, the possibility of losing your job is small.
Nursing also has a much faster growth rate than the 7% average for all occupations. Registered nurses' employment is expected to grow by 15% from 2016 to 2026, providing 438,100 additional positions.
The growth rate for nurse practitioners is even higher at 31% with 64,200 more jobs by 2026.
Employers will also be looking to replace retired workers over the next few years, and some could offer high sign-on bonuses.
Despite all these opportunities and promising numbers, you might be worried about the upcoming wave of AI and automation, which will affect almost 800 million of the current working forces in the world across all occupations.
You can rest assured that nursing is one of the jobs most safe from being replaced by robots.
According to researchers from Oxford, healthcare jobs have a very low probability of being taken by automation, because they require emotional intelligence and having social connections with people (source).
4. Job Flexibility and Diversity
Depending on your situation, like having children, going to college or working a second job, you can take nursing as a full-time, part-time, or even a temporary job. It's easy for you as a nurse to choose the most suitable schedule for you.
Related Article: Is Nursing a Good Career for Moms?
As an hourly-based job, you have the flexibility to choose between 4, 8, 10, or 12-hours shifts. You can work on weekdays or weekends, taking on day shifts or working night shifts. This provides you with the ability to achieve a good work-life balance.
For example, you could be working full-time having shifts for 3 days and then taking 4 days off. Overtime shifts are also always available due to shortages.
Related Article: 10 Pros and Cons of 12-Hour Nursing Shifts
Another awesome aspect of being a nurse is the opportunity to travel to all sorts of locations around the world. Healthcare services are needed everywhere, so you're guaranteed to find a job wherever you go.
You can choose to be a traveling nurse who gets to visit and work in new locations every few weeks or months.
One more nice perk is the diversity of the nursing work. There are more than 200 nursing specialties you can pursue (source).
Different fields are present like trauma care nursing, wound care nursing, psychiatric care nursing, dermatology, forensics, labor and delivery nursing, and many, many more.
You can even get into a specialty like flight nursing as well. You get the opportunity to provide care for people of all ages, from newborn babies all the way to the elderly.
The job mobility is also high. Nurses are needed in lots of places other than hospitals. Jobs are available in nursing homes, clinics, home health care, and schools. There are nurse consultants, military nurses, teachers, and researchers at universities.
Find Nursing Programs
Find a nursing program that's right for you.
5. Career Advancement
Over time, it's possible for nurses to move up the ranks to nurse leader positions like a floor manager or a director of nursing, by accumulating experience and acquiring higher education degrees and certifications.
Related Articles: 9 Essential Qualities of a Good Nurse Leader
Final Thoughts
Nursing will not only provide you with a secure job and good pay for you and your family, but it will give you the opportunity to make a difference and impact other people's lives.
If you found this article helpful, please take a moment to share it on your favorite social media outlet. Also, let us know what your comments are below.
Related Articles on Rewards of Being a Nurse