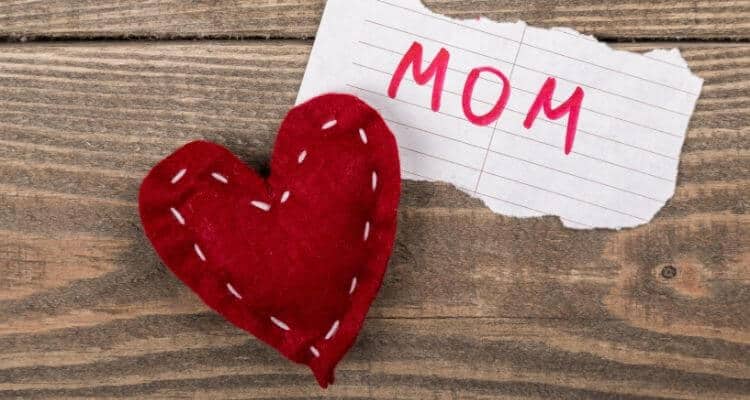 While some moms find fulfillment in being a stay-at-home mom, others are looking for a job (or career) outside the home.
For those moms having a family shouldn't take away from that dream. Yet, many devoted moms find themselves struggling to balance their home lives with a more fulfilling professional life.
They're not alone in their endeavor, even though it can feel like they have to choose between their family or a career.
It's a challenge that working moms have faced for decades. So, if that's the case, is there a way to make it work?
*Disclosure: This article on is nursing a good career choice for busy moms may contain affiliate links. If you click and make a purchase, I may receive a commission. For more info, please see my disclaimer.
Is Nursing a Good Career for Moms?
Yes, nursing can be a very good career for moms. A nursing career pays well and can give busy moms the flexibility they need to be able to excel in both their career and home life.
Right up front, we do want to mention we don't know if you're thinking about becoming a nurse's assistant (NA), a Licensed Practical Nurse (LPN) in some states it's a Licensed Vocational Nurse (LVN), maybe even a Registered Nurse (RN).
For those reasons, we're going to touch on all 3 of them.
Related: 10 Best Healthcare Jobs for Moms
A Day in the Life of a Nurse
First of all, each day is a bit different for a nurse or nurse assistant. They see a variety of clients each day, and every individual has their unique problems and personality.
Secondly, there are different kinds of nurses. In fact, the list of nursing certifications and degrees is an astounding 183 items long.
Entry-level positions include a Nursing Assistant (CNA). More education will allow you to become a Licensed Practical Nurse (LPN), and even more education will get you a Registered Nurse (RN) licensure.
Here's an overview of each one's education, credentials, and typical workload.
Use this as a general guideline. Depending on your state becoming a CNA, LPN or RN will vary. Their scope of practice will also vary as well.
Certified Nursing Assistant (CNA)
A Nursing Assistant certification takes just a few weeks, with Certified Nursing Assistants (CNAs) needing 75 additional hours of on-the-job training before passing an exam.
Most CNAs work in nursing homes and care for elderly patients who need assistance with daily tasks.
They may also work at doctor's offices and hospitals. CNAs can perform simple patient care tasks such as taking vital signs, bed baths, patient paperwork and so much more.
They work under the guidance and supervision of licensed nurses or doctors.
Unlike the other nursing positions mentioned a CNA generally is not required to have a college degree (source).
Find CNA Programs Near You
Use our school search to find schools and get information on the programs that's right for you. (Don't worry, it's fast and free!)
Licensed Practical Nurse (LPN)
An LPN usually gets an associate's degree after about a year of education and training. There are Board-Approved LPN programs all over the country.
There are two different ways to achieve an LPN licensure. You can go the diploma route which would be more of a vocational study.
In other words, you're not taking general college courses. The classes are hyper-focused on what you'll need as an LPN. It could take you a little over 12 months to be able to sit for the LPN licensure test.
The other route is a more traditional associate program. A typical LPN Associate's program consists of 30 to 40 hours of clinical hours that gets credited to the degree.
This gives students real-life experience into the day-to-day activities of an LPN.
Then, it's time for examinations to receive an LPN license. Because you're earning an associate's degree and taking extra classes this route makes it much easier to become an RN if you decide to later.
LPNs professionals work in hospitals, doctor's offices, private practices, nursing homes, or in-home care.
Regardless of the track, you choose an LPN certification can serve as a stepping stone for an RN degree if you so choose.
Find LPN/LVN Programs Near You
Use our school search to find schools and get information on the programs that's right for you. (Don't worry it's fast and free!)
A Registered Nurse (RN)
Becoming an RN follows the typical 4-year college education. In order to apply to an RN program, it will take you 2 years to get your prerequisites (assuming full-time study).
An example of the required classes you would have to take before applying to RN school is biology, human anatomy and physiology and so forth. If excepted into an RN program it takes about two years of full-time study.
Registered Nurses learn how to perform advanced level nursing assessments, care, and procedures.
Procedures such as giving blood, inserting catheters, administering medications, running diagnostic tests, and more.
Part of their training includes clinical rotations at hospitals and doctors' offices. Upon completion of the licensure exam, they can work in many different healthcare settings.
Find RN Programs Near You
Use our school search to find schools and get information on the programs that's right for you. (Don't worry it's fast and free!)
Pros to a Nursing Career
A Flexible Career Path
It's obvious that nursing encompasses many different paths. That's a good thing because it gives moms a chance to find the option that best suits their interests and schedule.
Someone looking for a more solidified career may prefer to go for an RN degree, while a mom looking for more flexible hours and maybe less schooling may consider becoming a CNA.
One of the nice things about nursing is that there are all types of shifts available.
A mom might prefer to work the day shift, typically from seven in the morning until three in the afternoon.
That way, she's at work while the kids are at school. She gets fulfillment from her career without sacrificing family time in the evenings.
Moreover, working in a doctor's office is a great choice because these places are usually open during normal working hours. That means that mothers can be home in the early mornings, as well as the evenings, for their kids.
Every single day nurses help countless patients and play a role in how their day goes.
Depending on the workplace, they may develop relationships with their patients, such as elderly men and women at a nursing home or pediatric patients in a pediatric medical floor.
Nursing is also a job that allows people to continue learning as healthcare is forever changing as new research makes former practices obsolete.
Downsides to a Nursing Career
Becoming a nurse is amazing, but it doesn't come without its disadvantages.
Moms need to consider their own capabilities, grit, and skills. If they become squeamish at the sight of blood or they value regular routines, they might have a hard time transitioning into a nursing job.
Being a nurse is one of those careers that can be incredibly rewarding, but it comes at the price of working hard every single day.
There isn't time to slack off or take it easy; nurses need to be committed to their responsibilities.
It's also very hard for working moms to slip out of the office or hospital if their child gets sick at school or has some other circumstance.
Nurses need to be reliable and on the ball, and sometimes there's barely time for a lunch break.
Time and Cost of Education
There's also the education aspect to think about. Some families just aren't in a financial scenario to be able to afford for mom to go back to school.
Clearly, this is something that mom and dad and even the kids need to discuss and plan for.
The family dynamic is going to change a bit while mom spends evenings or weekends in classes.
Other Job Opportunities
Here are some of the top jobs for moms (not related to a nursing career) who want to balance work and life while earning an income.
Many mothers work as administrative assistants and find themselves naturally good at the job. The position requires flexibility and multitasking, two traits that any mom will be strong in.
Besides that, administrative assistants tend to have a good relationship with management and clients.
Accounting is another career possibility for working moms. The industry offers work-from-home options, and the average salary is $82,000 a year.
Likewise, telecommunications boasted higher wages and a flexible working schedule, a winning combination for mothers.
Along the same vein, a virtual assistant can rack up $15 per hour and provide the added convenience of working from home.
For those who are into health and exercise, becoming a group fitness instructor is a possibility.
These jobs pay an average of $20 per hour, and it's a fantastic way to meet new people and socialize.
Gyms are all over the place, making the commute easy. Plus, many fitness instructors can make their own schedule so working moms can get their workout on while the kiddos are at school.
Moms who tend to be natural teachers or nurturers can make some extra money by working as a tutor or nanny. They can choose whether they travel to clients or the clients come to them, so there's lots of flexibility.
There are website communities, such as WyzAnt and Care.com, that can help moms create a profile and find new gigs.
Plus, they can work on their schedule so that the job doesn't interfere with their family life.
Gigs and side hustles are nice, but some of them might not be as high paying as one would like. For single mothers, they need more than some supplemental income to support themselves and their children.
Other Things Working Moms Should Consider
Each mom has their own unique personality that comes with strengths and weaknesses.
Just because nursing might not be the perfect fit, that doesn't mean that moms can't delve into another career field. Maybe they would do better with clerical duties or as a tutor.
It's all about finding natural talents and interests and transferring them to something that can generate income.
As a general rule of thumb, it's not a good idea to jump into a career that has nothing to do with one's skills, natural talents, or interests. It may only lead to resentment, frustration, and wasted time and money.
Frequently Asked Questions
What is the Best Nursing Shift for Moms?
The best nursing shift for moms is really going to vary based on what your family needs are.
One of the things that makes nursing one of the best professions for moms is the flexibility of nursing shifts.
Sure don't get me wrong you have plenty of hospital nursing positions that aren't flexible. But you have plenty that are.
You can find nursing jobs that are 8-hour shifts. Typically those would be…
7am-3pm,
3pm-11pm,
11pm-7am.
For this shift, you're usually doing 5 shifts a week.
While there are 8-hour nursing shifts, nursing is primarily known for their 12-hour shifts.
Nursing 12-hour shifts are usually 7am-7pm and 7pm-7am. For these shifts typically you're doing 3 shifts a week. Some jobs will make you work that extra 4 hours to get your 40 hours a week. Others won't care.
You can find other nursing jobs that have different shifts available. For example, 10-hour shifts (working 4 days a week) or working 16 hour days.
With so many options there's potential for a lot of flexibility. Once you figure out what your family needs you can probably find a job and a shift that can fit around it.
Meet the Moms Who Rock Work Life and Home Life
Yes! These days there are all kinds of career paths that moms can explore.
Depending on their skills and abilities, they may delve into accounting or clerical jobs, or perhaps they want to tutor others or work with kids.
We're going to touch on some other job opportunities for moms at the end of this article. For now, let's focus on the primary question that brought you here in the first place which is…
Conclusion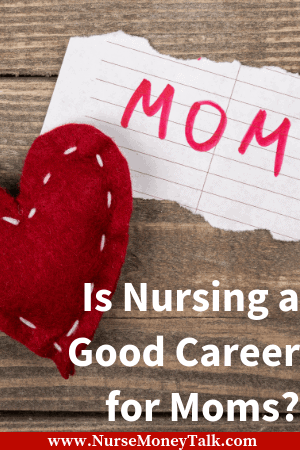 Ultimately nursing can be a good career for moms looking to make a change.
Depending on which nursing track you choose will ultimately determine how many hoops you have to jump to get there.
What your scope of practice will be, and what your monetary compensation will be.
Do you have any questions about becoming a nurse?
Related Articles on Is Nursing a Good Career for Moms?