10 Best Healthcare Jobs for Moms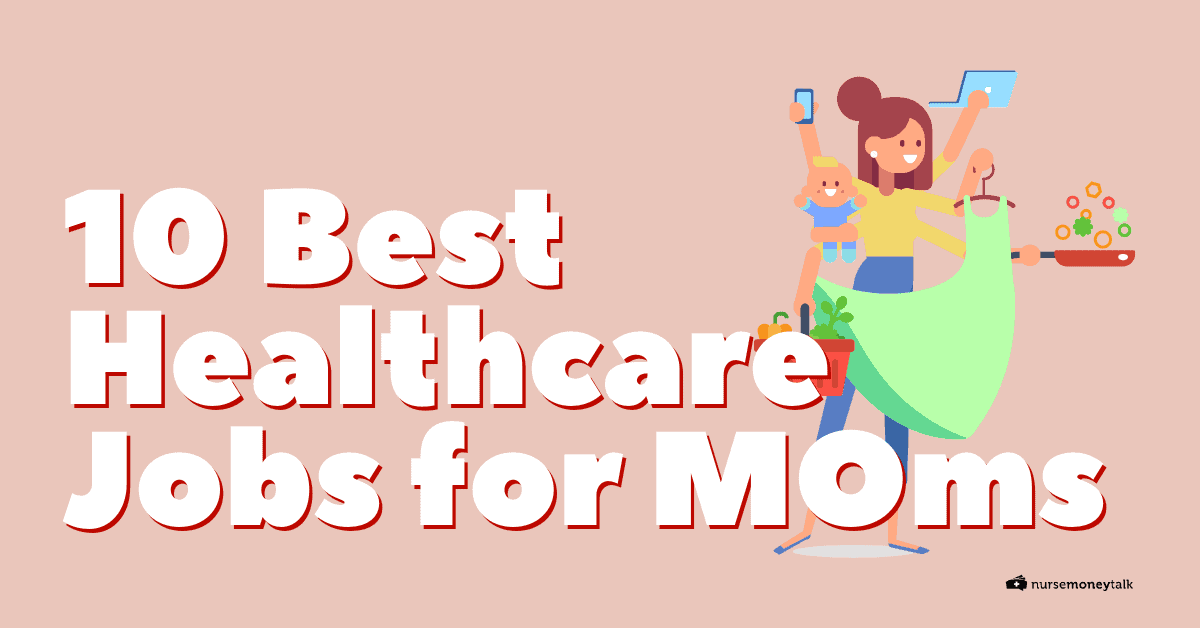 Moms these days are busy, juggling careers and parenting along with plenty of stress.
Although a job in health care may seem like the last thing a harried mother needs, statistics prove otherwise with 80% of [health care workers] workers being female.
These 10 job titles are among the best for busy mothers.
*Disclosure: This article on the best medical jobs for moms may contain affiliate links. If you click and make a purchase, I may receive a commission. For more info, please see my disclaimer.
Best Healthcare Jobs for Moms
Take the quiz.
If you want some help picking a good healthcare related career take our quiz below to help you narrow down your search.
1. Registered Nurse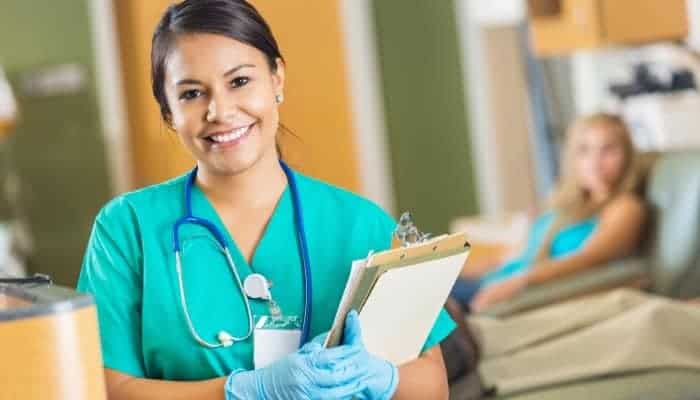 Working as a registered nurse or RN is a great healthcare job for mothers because you'll never be bored and because there is plenty of flexibility in hours and job descriptions.
Job Description and Duties
Registered nurses provide hands-on patient care in a variety of environments, including hospitals, clinics, long-term care facilities, home health agencies, surgery centers and more.
Their job duties include assessing patients' symptoms, providing treatments based on physician orders, giving medications, creating nursing care plans, running and monitoring patient equipment, and providing patient and family education.
The RN is a major part of the overall patient care plan, working closely with physicians, licensed practical nurses, nurse aides, and other ancillary personnel to improve every aspect of a patient's physical and mental health.
There are many areas in which RNs can specialize, such as geriatrics, pediatrics, cardiovascular health and critical care.
Benefits of This Job for Moms
Many women become registered nurses before they have children while others choose it as a second career.
Registered nursing usually depends on shift work. However, most nurses can request certain days off or can choose to work only nights or weekends to ensure a parent is always at home with the children.
School and clinic nursing are two of the best options for moms because the hours mesh well with typical school hours. As your children grow and your interests change, it's quite simple to shift to a different career track.
Wage-Earning Potential
As of 2019, the average annual salary for registered nurses was $73,300. Those working in government facilities may make more as may those who live in the Pacific Northwest or New England.
Find a registered nurse program in your area or online.
Side Note

Getting your bachelor's degree in nursing will allow you to go to a master's or doctorate nursing program and become a nurse practitioner (NP) or a nurse anesthetist (CRNA).

Becoming an NP or a CRNA will open even more job opportunities for you.
2. Licensed Practical Nurse | Licensed Vocational Nurse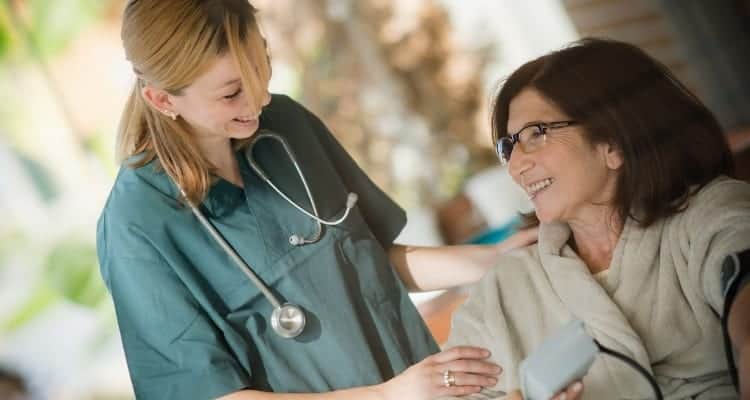 Working as a licensed practical nurse is another good option that does not require quite as much schooling as registered nursing does.
Job Description and Duties
The job duties of an LPN can vary dramatically based on the state in which she works. However, most provide hands-on care to patients, perform basic treatments, educate patients and monitor patient's vital signs and health status. They generally work under RNs who delegate tasks.
Benefits of This Job for Moms
Moms who are looking for new careers will appreciate the LPN educational track because it can take only a year or two to complete depending on how quickly they work.
Once again, this nursing job gives busy moms plenty of flexibility in choosing where they want to work, how many hours they want to work each week, and when they want to take a vacation.
If you need to move to a new state or tire of your current job location, it's easy to find plenty of job openings almost anywhere.
Wage-Earning Potential
Because LPNs do not have the same number of responsibilities that RNs do, their average annual pay is lower at $47,480 as of 2019. However, those working in residential care facilities as charge nurses make far more than do those working in physician offices.
Find nursing programs for LPNs/LVNs near you or online.
Side Note
Some of your highest earning career opportunities when it comes to being an LPN or LVN will be in nursing homes and long-term acute care facilities (LTACs).

One other thing I want to mention. I do know plenty of moms who are either a nursing assistant or a medical assistant.

There's nothing wrong with either one of those jobs they did not make the list because of the earning potential and career opportunities relative to some of the other careers on this list.

Pay is a lot lower at about $29,640 and $34,800 (respectively) a year. Pay is lower but so is the training time needed and the responsibilities you have with the job.

Find medical and nurse assistant schools near you.
3. Medical Writing Jobs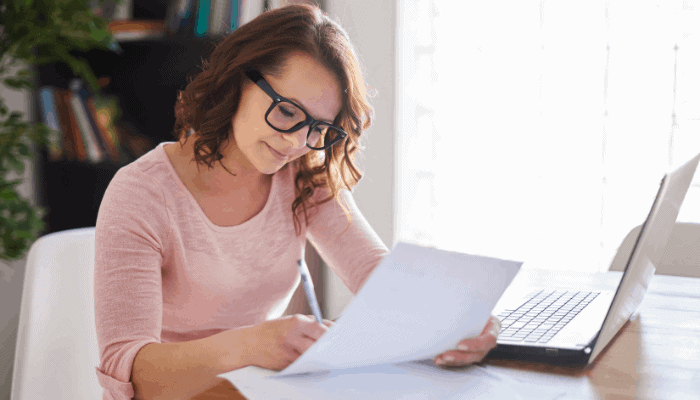 If you do not want to pursue a bedside nursing job or do not like blood and needles, a medical writing job could be perfect for you.
Job Description and Duties
While medical transcription is a growing area in the health care field, you may not know much about medical writing.
As a medical writer, you will parse together information about up-and-coming pharmaceuticals, new medical treatments, and similar information.
This writing is used to communicate between researchers and the hands-on medical providers working at patient bedsides.
You would need to be able to write clearly and succinctly while also using appropriate medical terminology.
Benefits of This Job for Moms
Most medical writers are able to work from home either full-time or part-time. This type of schedule will let you choose your own hours and be there for your children when they need you.
You may opt to work during nap times or while your children are at school. You would not have to worry about missing important school events or skipping work if your child is home sick from school.
Wage-Earning Potential
While you need to be at the top of your writing game to take a job as a medical writer, you can make good money in this field.
As of 2019, full-time medical writers made $107,000 per year. You may be able to make even more if you work as a freelance writer.
Find medical writing jobs on our job board.
4. Dental Hygienist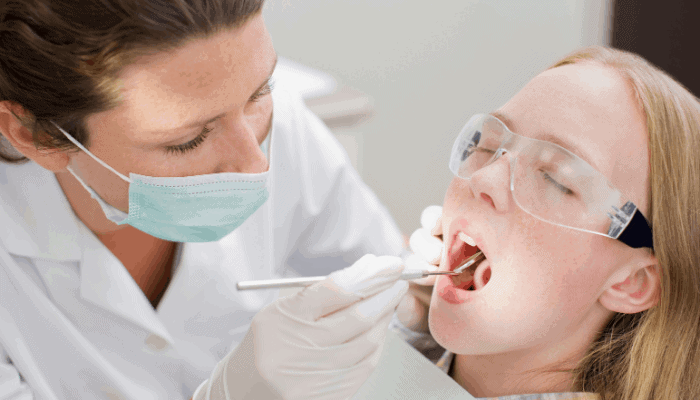 A dental hygienist gets the opportunity to interact directly with patients but does not have to deal with the same stressors that nurses do.
Job Description and Duties
Dental hygienists work alongside dentists in caring for patients' teeth. They clean the teeth, take oral X-rays, apply sealants, document dental health assessments and assist dentists with their treatments.
They also have an important role in educating their patients on good oral care.
Benefits of This Job for Moms
You will appreciate how quickly you can become a dental hygienist with most associate degree programs taking two years or less.
Plus, most dental offices have ideal hours for mothers who want to be home with their children in the early mornings and during the evenings.
Getting weekends off is also a cinch because most offices are only open for a few hours on Saturdays and are closed on Sundays.
Wage-Earning Potential
Although you only need an associate's degree to work as a dental hygienist, you can make a very healthy salary. The average pay currently stands at $76,220 annually.
However, many hygienists choose to work part-time hours only and may not get the same benefits as their full-time counterparts do.
Find Dental Hygienist Programs.
5. Physical Therapist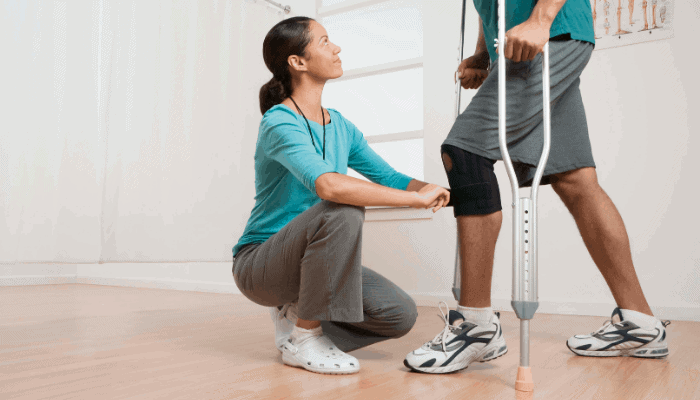 If you do not want the pressures of being a physician, a career as a physical therapist might be right for you.
Job Description and Duties
Physical therapists have an important role to play in patient comfort and recovery, helping patients improve mobility following accidents, injuries and surgeries and helping them find relief from pain and chronic discomfort.
They create individualized care plans after reviewing a patient's history, diagnose mobility issues, and design stretches and exercises to improve comfort and quality of life.
They work alongside physicians and surgeons and delegate some tasks to physical therapy assistants.
Benefits of This Job for Moms
Most physical therapists have far more normal hours than physicians do with very little if any on-call hours. They usually work in clinics or stand-alone facilities and may even be able to set their own hours.
As a busy mom, this gives you a great deal of flexibility while still letting you provide the compassionate care at which you are so good.
However, it can take from five to seven years to complete the physical therapy educational track.
If you do not have the time or inclination to follow such a long educational track, you may instead want to opt for a physical therapy assistant role, which is in high demand and is projected to grow exponentially in the coming years.
Side Note:

While I'm at it becoming a physical therapy assistant may not be a bad idea either.

Unfortunately, you'll make about $30,000 less a year compared to a physical therapist, but you can become a PT assistant a lot quicker (about 2 years). Which can be a huge advantage depending on your circumstance.

Find physical therapy assistant programs.
Wage-Earning Potential
Physical therapists make an average annual salary of $89,400 with those in the top 10% making well over $120,000 annually.
Find Physical Therapy Programs.
6. Physician Assistant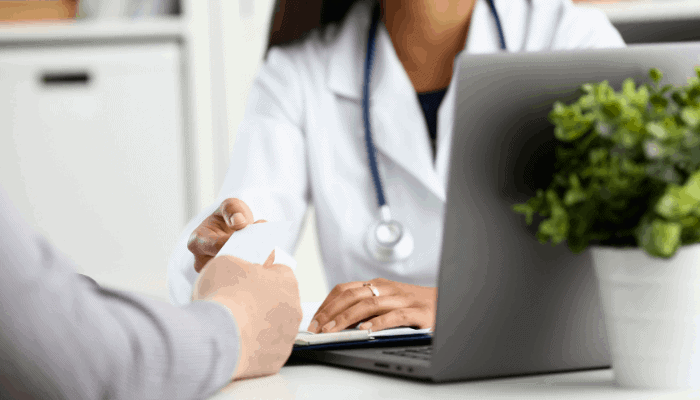 The physician assistant does not have the same stressful responsibilities as a physician does, making this a great option for moms looking to decrease stress on the job.
Job Description and Duties
Each physician assistant works beneath a physician and often provides a great deal of the bedside assessment and care.
As a physician assistant, you may find yourself interviewing patients, ordering certain tests and treatments, providing diagnoses, and even prescribing medications.
However, there are certain medications that physician assistants may not be allowed to prescribe depending on the state, such as narcotics.
Benefits of This Job for Moms
As you can imagine, a physician assistant (generally speaking) has a far better work/life balance than the physician does.
Some of the stress would be taken off you as you would answer to your supervising physician. To some extent, you can control your working hours.
Plus, you will love the general autonomy you have on most of your shifts. After getting your undergraduate degree, you will only need to complete two to three years of further education.
Wage-Earning Potential
The great wage combined with amazing job satisfaction is what draws many mothers into this career.
The average annual salary for physician assistants currently stands at $112,260 with the potential to earn far more than that depending on geographical location and other variables.
Find Physician Assistant Programs.
7. Speech-Language Pathologist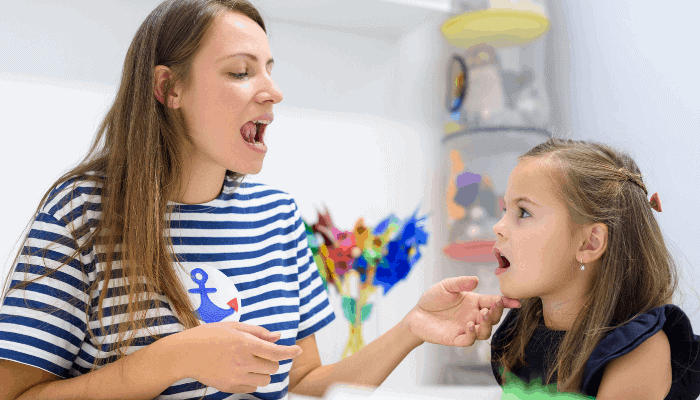 As a fast-growing career with a strong job outlook, speech-language pathology can be a great way to work with children even when you are away from your own family.
Job Description and Duties
A speech-language pathologist works with individuals of all ages who have difficulty communicating.
In addition, because these professionals focus on the functions of the mouth and tongue, they also evaluate and treat swallowing disorders.
They could work with children who are not speaking well as well as with those whose speech has been impacted by an injury or illness, such as a major vehicular accident or a brain injury.
Benefits of This Job for Moms
If you long to feel as if you are truly making a difference in your career, you can rest assured that your hours away from home will really matter as a speech-language pathologist.
You will also love the great hours with few weekend hours required unless you work in a hospital. You may even want to look for a job in a school because many educational facilities hire these professionals.
Wage-Earning Potential
The average annual pay for speech-language pathologists was $79,120 in 2019.
However, those working in residential care facilities rather than in educational settings earn a great deal more at an average of $95,250 annually for full-time work.
Find Speech Language Pathologist Programs.
8. Occupational Therapist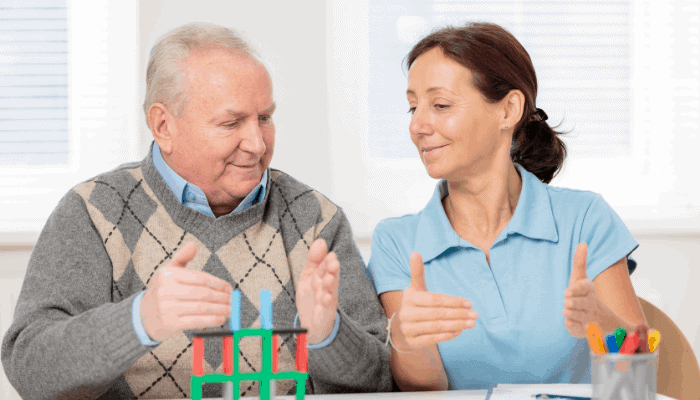 If you love hands-on work that gives you the satisfaction of seeing major results, consider a career as an occupational therapist.
Job Description and Duties
Occupational therapists work with individuals who have trouble performing activities of daily life, such as getting dressed or bathing themselves, following an illness or injury.
They also help those who are disabled come up with better solutions for caring for themselves.
These professionals work in a wide variety of locations, including hospitals, nursing homes, and even educational facilities.
Benefits of This Job for Moms
Much like a physical therapy or speech-language pathologist job, moms will enjoy occupational therapy because it provides real, hands-on results.
Once again, this is also a highly flexible position with work hours that fit well into most mothers' lives.
Some occupational therapists choose to be self-employed, starting their own practices and setting their own hours.
Wage-Earning Potential
Because an occupational therapist usually needs a master's degree to practice, the average annual pay of $84,950 for full-time workers reflects this dedication to further education.
Find Occupational Therapist Programs.
9. Registered Dietitian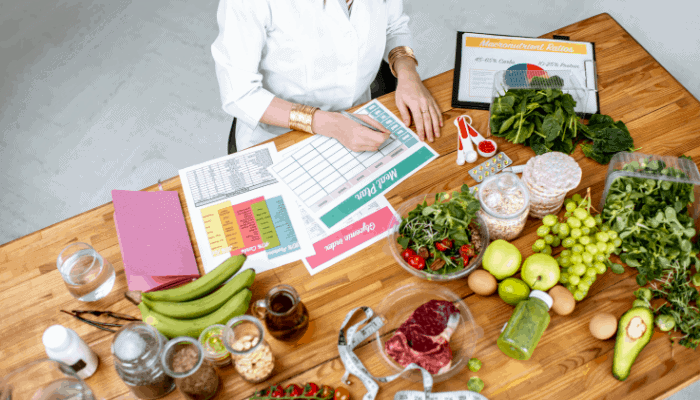 If you love nutrition and frequently find yourself telling your children what they should be eating, a job as a registered dietitian could be a good fit for you.
Job Description and Duties
A registered dietitian works alongside a multi-disciplinary care team to create nutritional plans that meet the current needs of the patient.
Dietitians can work with patients of all ages in hospitals, clinics, educational facilities, residential care facilities, and even remotely from their own homes.
They assess each patient's current nutritional level, provide nutritional counseling and create dietary plans that best support patients diagnosed with acute or chronic health conditions, such as diabetes.
Benefits of This Job for Moms
Registered dietitians usually have weekday hours and are not often on call over the weekend.
In fact, some choose to become freelance dietitians, creating custom nutritional plans for individuals requesting their services.
You can often choose your own hours, working part-time while your children are young and taking on an increased role later in life.
Of course, the nutrition advice you learn as part of your job translates well into caring for your own children's nutritional needs.
Wage-Earning Potential
You typically only need a bachelor's degree to get started as a registered dietitian but can expect to make an average of $61,270 annually when working full-time.
10. Respiratory Therapist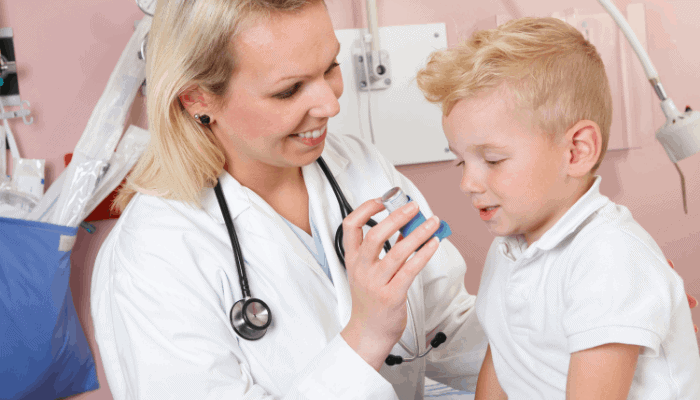 If you want to get into a health care career quickly and not let years of education get in the way of caring for your children, a career as a respiratory therapist could be right for you because it requires only an associate's degree to get started.
Job Description and Duties
Respiratory therapists care for individuals who have difficulty breathing.
For example, they may help individuals who have been diagnosed with asthma, emphysema, or chronic obstructive pulmonary disorder.
They also work with those who are suffering from acute respiratory symptoms, including hospital patients requiring mechanical ventilation.
One huge role of these therapists is educating patients on how to use their medications and avoid complications.
They may also provide chest physiotherapy and aerosolized medications in conjunction with a physician's treatment plan.
Benefits of This Job for Moms
While a few respiratory therapists work in physician offices and nursing homes, the vast majority of them work in hospitals on eight-hour shifts.
Moms will love this job because of the great job satisfaction that most report. Plus, this is a growing sector, meaning that moms will not have to worry about losing their jobs after several years.
Once your children grow up, there are plenty of opportunities for advancement in this field, such as becoming a pediatric or adult critical care specialist.
Wage-Earning Potential
Despite having only two-year degrees, respiratory therapists can enjoy a comfortable annual salary of $61,330 on average.
Those working night or weekend hours often earn additional shift differentials.
Honorable Medical Career Mentions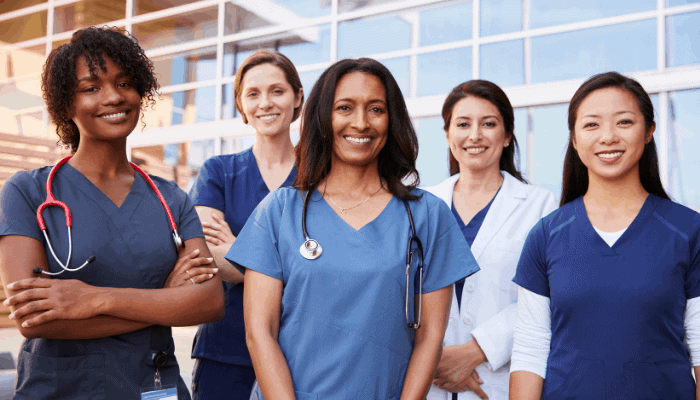 Healthcare is a huge industry with a lot of career opportunities. I picked the ones I picked above based on my experiences, job pay, and how quickly it would take to get into that career.
But of course the options above are not the only options available. If none of the options above appeal to you here are some other options that might peak your interest.
For a point of reference, I've tried to include the average salary in these jobs as well.
Medical Transcriptionist: Medical professionals that listen to voice recordings physicians and other healthcare providers make and then transcribe them into written reports. – $33,380 annually | $16.05 per hour
Radiation Therapist: Medical professionals that treat disease and illness by administering radiation treatments. – $85,560 annually | $41.14 per hour
Radiologic Technologist: Medical professionals that administer imaging diagnostic examinations on patients. – $62,280 annually | $29.94 per hour
Massage Therapist: Professionals trained in hands-on or manual movements of soft body tissues in a person. This could be to reduce stress, relieve pain, or just for general well-being. – $42,820 annually | $20.59 per hour
Scrub Tech | Surgical Technologist: Assists the surgeons and the surgical team in surgical procedures. – $48,300 annually | $23.22 per hour
Occupational Therapy Assistant: Assists an occupational therapist in helping patients develop, improve and recover the skills needed to be able to do normal activities of daily living. – $59,200 annually | $28.46 per hour
Medical Coder: A "translator" that reviews a patient's file and transcribes it into universal codes that are needed for health insurance purposes. – $42,630 annually | $20.50 per hour
Pharmacy Technician: Helps pharmacists with dispensing medications. – $33,950 annually | $16.32 per hour
MRI Technologist: Medical professional that creates diagnostic images using a magnetic resonance imaging machine (MRI). – $62,280 annually | $29.94 per hour
Dental Assistant: Members of a dental team that takes x-rays, make schedules, and do other dental office-related tasks. – $40,080 annually | $19.27 per hour
Genetic Counselor: Studies a person's genetics and asses for their risk of inherited diseases and disorders. – $81,880 annually | $39.36 per hour
If any of these careers interest you, you can start your healthcare career by going here to find that specific program.
Take the quiz below if you need help narrowing down your search for your new profession in healthcare.
Final Thoughts
Depending on your interests and strengths, any of these career paths could be a great option for you even if you're currently busy raising children.
What has your experience with working in health care as a parent been?
Comment below with your stories and tips for success.