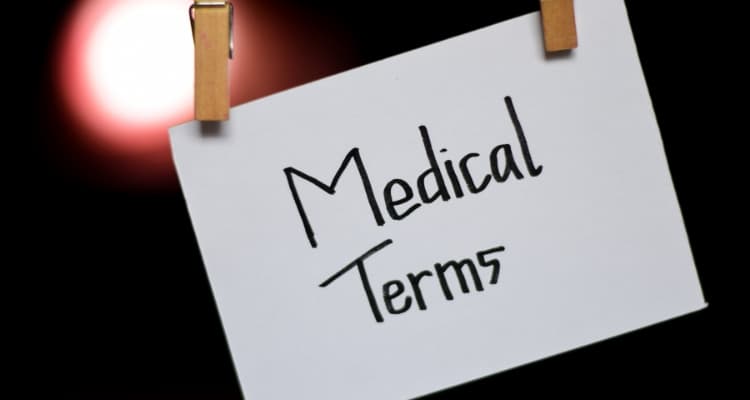 If you're a pre-nursing student or a pre-health sciences student one of the classes you may have to take is medical terminology. This leads many students to ask "just how hard is medical terminology?"
Overall, Medical Terminology is a much easier class than most of your other prerequisite classes. That's not to say you're not going to have to work, but I do think many students will find it easier than anatomy and physiology.
*Disclosure: This article on how hard is medical terminology may contain affiliate links. If you click and make a purchase, I may receive a commission. For more info, please see my disclaimer.
How Hard is Medical Terminology
As I mentioned above many students will probably find medical terminology easier than some of the other nursing school prerequisites like microbiology or anatomy and physiology.
Ultimately this is really going to depend on your school and the instructor for the semester.
Start by asking some senior students who have already taken the class at the school you plan to take medical terminology. Ask them what their experiences were like and most importantly who the instructor was.
Hire a Tutor for School
If you need a tutor for school, you can find one using this online platform. The tutors are vetted, and you pick the time that works for your schedule. Whether it's for nursing school, nursing school prereqs, or any school-related subject, this is a platform you should check out.
What Medical Terminology is Really About
Some might disagree with this but to me, at the end of the day medical terminology is primarily a class focused around memorization.
To be successful in that class it's primarily about coming up with your own tips and tricks to help you memorize the terms.
So if you're really good at memorizing you'll probably do fine in the class if you're not than you'll probably struggle.
Tips for Passing Medical Terminology
If you're getting ready to start Medical Terminology and are worried about keeping up, I've compiled a few study tips to help you succeed.
Take a look through these study tips and pick the ones you feel would work the best for you- with some work you can make it through your semester with ease.
1. Forming Study Groups
Many professors already utilize the psychology behind study groups when they utilize peer to peer instruction in the form of small group work.
By talking amongst other students and teaching (as well as learning) you are much more likely to remember the information you need to know.
When forming a study group, take everyone's learning styles into consideration to make sure that you're getting the most out of your time together.
2. White Boards
Studying for Medical Terminology is much easier when using a whiteboard over pen and paper.
This allows you to get the practice you need by rewriting information and cuts down on your carbon footprint.
Studies have shown that writing information by hand can help you remember it more efficiently.
3. Focus on Prefixes and Suffixes
If you can get down the prefix and suffixes of words, medical terminology becomes a language that is much easier to understand.
Have a deck of flashcards, use your whiteboard, or whatever system you feel works best for your learning style and write down the common words that make up medical terminology.
For example, the word "Hysterectomy" would translate to the removal of the uterus (hyster- translates to uterus while -ectomy translates to "the removal of").
4. Tutors and Office Hours
Many programs have senior nursing students who will "work" for the school by helping less experienced nursing students learn Medical Terminology for free.
If your program doesn't offer this, you can always hire a paid tutor which will help get you plenty of study hours in each week.
Finally, make sure you take advantage of your professor's office hours if you're still having struggles in the class.
Hire a Tutor for School
If you need a tutor for school, you can find one using this online platform. The tutors are vetted, and you pick the time that works for your schedule. Whether it's for nursing school, nursing school prereqs, or any school-related subject, this is a platform you should check out.
5. Flashcard Apps
While writing out your information by hand is one of the best ways to retain information, flashcard apps can help you study on the go.
Certain apps, like Quizlet, also have various learning and testing features to help you make the most of your app experience.
Even if you decide to go the traditional paper flashcard route, utilizing flashcards is a good way to help you pass Medical Terminology.
6. Creating a Study Space
Having a calm, organized study space that fits your learning style is critical to making it through Medical Terminology.
Your designated study space should have everything you need within reach, including pens, papers, sticky notes, flashcards, etc.
Depending on your learning and studying style, having some calming music can also help set the mood for a relaxing study session.
Final Thoughts
Medical Terminology is a lot of information to remember, but after a while, it all becomes a part of your vocabulary and will be easy to remember.
Have you taken this class? Let us know your study tips and opinion on the difficulty of the class in the comment section!
Frequently Asked Questions
Should I take medical terminology?

Even if medical terminology is not required for your nursing program of choice you should really consider taking it because it can make future classes easier to understand.

What do you expect from a medical terminology class?

One of the major things students will learn in a medical terminology class are prefixes and suffixes that can make understanding medical terms easier even if the student didn't know what it was to begin with.

Should I take medical terminology online or in class?

Students should take medical terminology in a setting they are most comfortable in. If you do really well in online classes than take it online. If not then take it in a traditional classroom.

How can medical terminology help prepare you for a job?

Understanding the meaning of medical terms is a skill that will be used everyday once you start working as a medical professional.
Related Articles