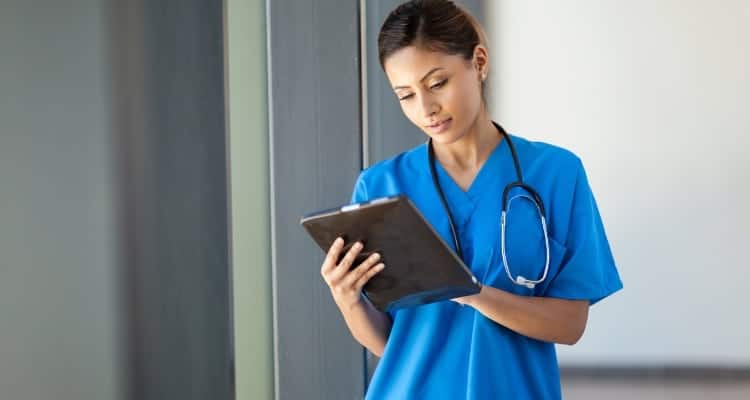 Many ADN nurses have found themselves being pushed out of certain fields due to the increase of BSN demands in hospitals.
If you've experienced this issue, don't fret! There are still plenty of career options available.
Here are the top 8 jobs for ADN nurses!
*Disclosure: This article on the best jobs for ADN nurses may contain affiliate links. If you click and make a purchase, I may receive a commission. For more info, please see my disclaimer.
Best Jobs for ADN Nurses
1. School Nurse
Do you have a passion for helping children with their medical care?
As a school nurse, you'll help students manage their medical conditions while providing education on how to live a healthy lifestyle.
Not only is it a highly rewarding job, but there are also many other benefits to becoming a school nurse with your ADN.
Pros
Cons
Unstable income for those requiring a year-round schedule.
Budget cuts can impact the supplies required to do your job.
Lack of interaction with other members of the medical community as you're often working alone.
Find School Nurse Positions on the nursing job board.
Find Your Next Nursing Job
Use our nursing job board to start looking for and applying to great nursing jobs near you.
2. Doctor's Office Nurse
Working in a doctor's office often requires you to select a specific field to practice in.
In a doctor's office, your workday will primarily consist of documenting patient care, assessing patients, and providing education as needed.
Whether you decide on gynecology, pediatrics, or family practice, a doctor's office is a great position for those with an ADN.
Pros
Cons
Recent graduates may not get the vital experience they need from a hospital setting.
Large patient loads can become tiresome.
Those who want a large variety of cases may not find this position as rewarding as others.
Find Doctor's Office Nursing Positions on the job board.
3. Freelance Nurse Writer
Freelance nurse writers have a unique ability to push past the limitations of a nursing salary.
If you're interested in becoming a freelance writer, your primary job will be to compose content for your clients on a specific topic.
This is an excellent area for those who have chosen to become experts in specific fields of nursing during their ADN program. (→ See 9 Stay-at-Home Nursing Jobs)
Pros
Ability to set your own schedule.
Large income potential depending on how much and how often you work.
Expand your knowledge on current topics through research that may be required for articles.
Cons
During your client build-up phase, you will likely see unstable workloads.
Strict deadlines can create stress.
At times, clients can be difficult to work with.
Find Freelance Nurse Writer Positions on the nursing job board.
4. Home Health Nurse
Many associate degree nurses find work as a home health nurse.
This role requires you to travel to patient's homes, monitor their conditions, administer medications, change dressings, and ensure they're receiving the best care possible from their home health team.
If home health is of interest to you, you'll be pleased to know that home health nurses report job satisfaction resulting from a few very appealing benefits.
Pros
Ability to work as an autonomous nurse, with low oversite.
Many agencies allow you to pick a schedule to work. (→ See 5 Best Nursing Jobs for Single-Moms)
Very rewarding field assisting chronically ill patients who often do not have much human interaction.
Cons
Larger patient volumes can be difficult to keep up with.
Lots of documentation and paperwork.
You may find yourself in unsanitary work conditions depending on the state of the individual's home and illness.
Find Home Health Nurse Jobs on the nursing job board.
5. Hospice Nurse
Hospice nurses are cut from a different cloth, and many ADN nurses find that it's one of the most rewarding positions available.
The primary role of a hospice nurse is providing comfort care during end-of-life, as well as supporting the patient's family.
If you can see yourself providing outstanding care to patients and their families during this time, a hospice nurse position is one to consider.
Pros
Highly rewarding career making a difference in patient's lives.
Lucrative average income of $39 per hour.
Varied type and amount of work to fit your needs.
Cons
Emotionally draining for some.
Family members can be difficult to manage.
If working in a hospice center or nursing home, you'll often have a very large number of patients.
Find Hospice Nurse Jobs on the nursing job board.
6. Travel Nurse
What better way to get paid to see the country (or world) than to do so as a travel nurse!
Travel nurses sign on with agencies who disperse them out to hospitals who are in need of nurses, so your job description will depend on the type of unit you go into.
If you love to travel and want to make a fantastic living as a nurse, give travel nursing a shot.
Pros
Get paid to see the country and experience new healthcare cultures.
Average income between $79,000 and $108,000 per year.
Some agencies offer shorter contracts for those who are unsure about the location they're going to.
Cons
Nomadic lifestyle can become tiresome for those who do not enjoy it.
Heavy workload at understaffed hospitals.
Time away from family and friends.
Find Travel Nursing Jobs on the job board.
Find Your Next Nursing Job
Use our nursing job board to start looking for and applying to great nursing jobs near you.
7. Med-Surg Nurse
Med-Surg nurses experience something new every day, and those who possess an ADN make excellent med-surg nurses!
Due to the variety of cases each day, you may find yourself changing dressings, reassessing a patient's condition, helping them recover from surgery, and more.
If you've been considering a career in med-surg, you'll love the average salary and variety of patient care available.
Pros
Variety of patients keeps things interesting.
Average income of $86,000 per year.
Stimulating environment offers greater learning experiences.
Cons
Larger patient loads can be difficult to manage on these floors.
Higher-acuity patients can cause stress to some ADN holders.
Typical hospital schedule with nights, weekends, and holidays.
Find Med-Surg Nursing Positions on the nursing job board.
8. Psychiatric Nurse
A great psych nurse is able to remain strong and fearless while providing compassionate care to those who are suffering from mental illness.
If you choose to become a psychiatric nurse, you'll be administering medications, talking with patients about their symptoms and feelings, and many other important tasks throughout the day.
Mental health requires strong nursing skills and people skills, both of which many associate's degree nurses possess.
Pros
Ability to work with a population that is often underrepresented or forgotten about.
Yearly income of $51,000-$88,000 depending on location and experience.
Unique ability to learn about patients who experience symptoms that may not be common in the majority of the country.
Cons
Depending on the symptoms being presented, some psychiatric patients may be dangerous.
Larger patient volumes with complex conditions can become stressful.
Schedule generally consists of nights, weekends, and holidays.
Find Psychiatric Nursing Positions on the job board.
Final Thoughts
If you have an ADN, we want to hear from you!
Let us know in the comment section what you do for work (or what your ideal job is).
Frequently Asked Questions
What's the best nursing job board?
Related Articles