8 Best Jobs for BSN Nurses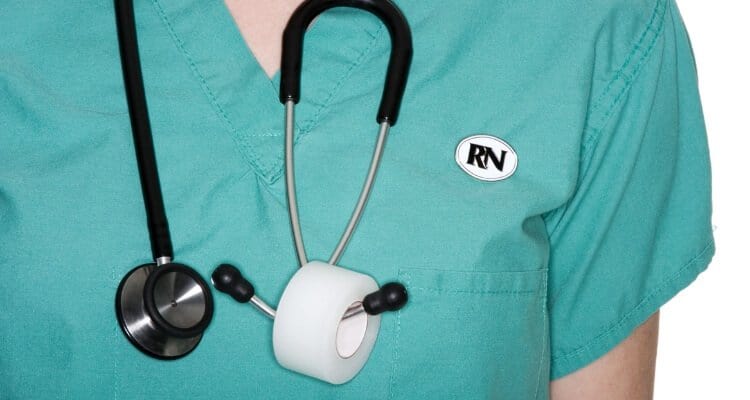 Obtaining your BSN is no easy task, and it's one that takes many years of dedication to complete.
A major advantage of having your BSN is the ability to open new career doors and take advantage of opportunities that weren't as readily available at the associate's degree level.
If you've recently graduated with your BSN and are looking for the perfect job, then this list should definitely pique your interest and help you decide on the right career path.
*Disclosure: This article on the best jobs for BSN nurses may contain affiliate links. If you click and make a purchase, I may receive a commission. For more info, please see my disclaimer.
Best Jobs for BSN Nurses
1. Surgical Nurse
Surgical nursing is a high demand, very technical field which makes it a great fit for a BSN graduate.
If you're interested in this field, you can expect to prepare the OR, manage supplies, and assist the surgeon during procedures.
While it can be a stressful position, the pay makes up for it and many surgical nurses love their job so much they spend their entire careers in the OR.
Pros
The average income is between $60,000 and $81,000 per year, depending on geographic location.
The OR can be a very stimulating environment, which can be very appealing to some nurses.
Ability to help patients going through what is often a very stressful life event.
Apply to Available Jobs for BSN Nurses
If any of the jobs on this list interest you, or you just want to see what else is out there check out our nursing job board.
Cons
As with most nursing jobs, OR nurses tend to work long hours.
Odd schedules if your facility requires being on call.
Standing in the same room all day long can become tedious for some.
More information on OR nursing:
Find Surgical Nursing Jobs on the job board.
2. ICU Nurse
One of the key objectives of a BSN program is learning how to manage high-acuity patients in difficult units.
For this reason, nurses who have obtained their BSN often find themselves being heavily utilized by hospitals to provide top care to delicate patients.
Individuals who thrive in high-stress environments will find this position to be very rewarding.
Pros
ICU can be a very stimulating experience for nurses who enjoy caring for high-acuity patients.
Lucrative income between $81,000 and $111,000 per year, depending on geographic location.
Opportunity to provide outstanding care to fragile patients.
Cons
An ICU environment can be turbulent and stressful. (➔ 10 Least Stressful Nursing Jobs)
Long hours that include weekends, holidays, and night shifts.
The nature of this unit can cause a large amount of emotional stress to a nurse who isn't equipped for the ICU.
Find ICU Nurse Jobs on the job board.
3. Pediatric Nurse
Many nurses find pediatric nursing to be a very fulfilling career.
As a pediatric nurse, you're able to help children and their parents navigate health conditions and ensure they're developing properly.
Your day-to-day will largely consist of assessing your patients, obtaining vital signs, administering routine vaccinations, and ensuring your patient is receiving the best care possible.
If you love kids and want to take an active role in ensuring the health of the next generation, a pediatric nurse position might be the perfect career choice. (➔ 8 Best Nursing Job Working with Kids)
Pros
Opportunity to work with children all day long.
If working in a clinic, you can enjoy a standard workweek.
Ability to help parents and their children navigate a healthy lifestyle.
Cons
Parents can be (understandably) overbearing and difficult to work with.
You may be managing very fragile conditions at times.
Large amounts of emotional stress when caring for a terminally ill pediatric patient.
Find Pediatric Nurse Positions on the nursing job board.
4. NICU Nurse
Working in the NICU gives you access to caring for the smallest, most delicate patients in the medical community.
If you choose to work as a NICU nurse, your job will be to feed your patients, obtain vitals, draw labs, administer medications, monitor for deteriorating health conditions, and more.
Due to the complexity and acuity level of NICU patients, a NICU nurse must be highly educated and experienced.
Pros
You get to work with babies all day long.
The average income is $31.00 per hour.
Fast-paced, frequently changing work environment.
Cons
Handling patient deaths becomes even more difficult in the NICU.
Long hours that include nights, weekends, and holidays.
Fragile patients can deteriorate quickly, requiring expert medical judgment which can be stressful for some.
Find NICU Nurse Jobs on the job board.
5. Med-Surg Nurse
There's rarely a dull moment on a med-surg floor, which makes it an ideal position for the BSN graduate who likes a little variety in their day.
Med-Surg nurses are vital to the medical community, as they provide care for acutely ill patients as well as those recovering from surgery.
If you can handle the constantly changing environment and are interested in expanding your knowledge on a multitude of conditions, med-surg is definitely the field for you! (➔ See Do New Nurses Have to Work in Med-Surg?"
Pros
Every day is something new and exciting.
Enjoy an average salary of $86,000 per year.
Ability to move into a med-surg nurse manager position.
Cons
Large patient loads can be stressful and cause burnout.
Many patients can be demanding due to their conditions.
Poor judgment calls can cause situations to turn south very quickly, making it a stressful position for many.
Find Med-Surg Nursing Positions on the job board.
6. Psychiatric Nurse
Psychiatric nurses must be able to maintain their composure and handle stress with ease while caring for an especially unique population.
The role of a psychiatric nurse is complex but largely involves assessing patients, ensuring patient safety, and requires constant reassessment for seriously ill patients.
Nurses who have a passion for the mentally ill will likely enjoy the workload as well as the lucrative pay that is associated with this role. (➔ see 10 Tips for New Mental Health Nurses)
Pros
Apply to Available Jobs for BSN Nurses
If any of the jobs on this list interest you, or you just want to see what else is out there check out our nursing job board.
Cons
Patients with uncontrolled mental health issues can become aggressive.
Stressful staffing ratios.
Standard hospital hours that include nights, weekends, and holidays.
Find Psych Nurse Positions on the job board.
7. Clinical Adjunct Nurse
Every year, thousands of men and women enter nursing school and must complete clinical rotations in order to graduate.
Clinical adjunct nurses are responsible for supervising students during clinical rotations.
Their job is to make sure the clinical experience runs smoothly and reports back to the school on the quality of the student's progress.
If you want to take an active role in the education of future nurses without working in the classroom, you'll definitely want to get into a position as a clinical adjunct nurse.
Pros
Help student nurses progress in their education.
Refresh your knowledge of concepts you may have forgotten about over time.
Great option for testing the waters to become a nurse educator.
Cons
Certain clinical rotations may be tedious.
Long days that require clinical conferences at the end.
A lot of paperwork required for both the nursing program faculty and the students.
Find Clinical Adjunct Nurse Positions on the job board.
Related: Do Introverts Make Good Nurses?
8. Oncology Nurse
It is estimated that in the year 2020, approximately 1.8 million new cancer diagnoses will be made in the United States.
Oncology nurses provide care for patients who have received a cancer diagnosis by offering support, assessing the patient's condition, making note of any changes, and obtaining vitals.
In addition to this, there are options to continue your education and advance your practice as an oncology nurse.
Pros
Average income of $71,000 per year.
Opportunity to help patients through a difficult diagnosis.
Learning experiences are everywhere and enable you to learn about various types of cancer.
Cons
Family members may be difficult to deal with at times.
Emotionally stressful.
Potential exposure to highly toxic oncology drugs.
Find Oncology Nurse Positions on the nursing job board.
Final Thoughts
Are you a BSN graduate who wants to let us know what you do for a living or a current student with questions?
We'd love to hear from you in the comment section below!
Frequently Asked Questions
How much does a BSN nurse make an hour?
How can I make the most money with a BSN?
To make the most money with a BSN you need to be willing to work nights, weekends, and holidays. You also need to be willing to further your education.
What kind of nurses get paid the most?
The type of nurses that get paid the most are usually your advanced practice nurses (such as CRNA, NP) and specialty nurses such as NICU nurses and Pain Management Nurses.
What jobs can you get with a BSN in nursing?
Some of the jobs you can get with a BSN in nursing includes: nurse manager, director of nursing, clinical research nurse and public health nurse.
Related Articles to Jobs for BSN Nurses