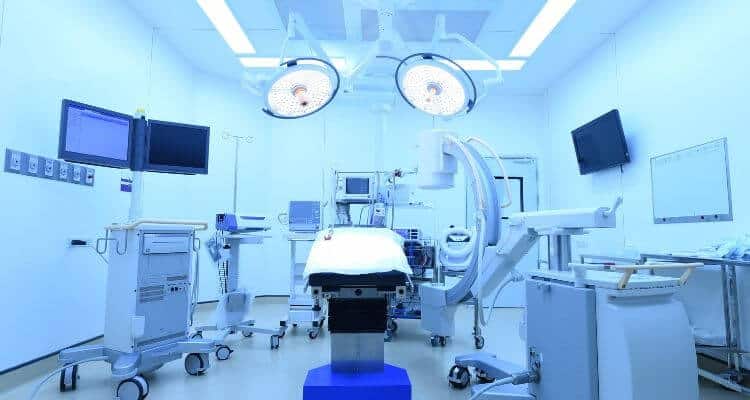 Are you thinking that your dream job would be as an operating room nurse?
Great!
Here is a rundown of what to expect from the job and how to determine if it's a good fit for you.
As straightforward as it sounds, being an OR nurse can be filled with unexpected shifts and a variety of learning experiences.
So, what is an OR nurse? An OR nurse is a registered nurse who is trained and works in the operating room setting. While these nurses are more well known for working in a hospital. OR nurses can also work in outpatient clinics as well. Below we dive deeper into what an OR nurse is and what it takes to be one.
What Is an OR Nurse?
First of all, an OR nurse is a registered nurse, or RN, who works (not surprisingly) in the operating room.
The nurse's primary responsibility is to ensure the care and safety of the patient who is undergoing surgery.
Part of that responsibility involves pre- and post-operative treatment of the individual.
An OR nurse is considered to be a specialty nurse, which means that he or she is an RN who has additional credentials.
Those credentials allow them to do the work that they do and deal with patients in sometimes risky and life-threatening procedures.
Even though it sounds as though operating room nurses only work in hospitals, this isn't true. An OR nurse might work in an outpatient surgical center, a physician's office, a clinic, or in any other facility that offers surgical procedures.
Moreover, OR nurses can do a variety of things. For instance, you might become a first assistant perioperative nurse, which means that you will be tasked with assisting the surgeon.
Your duties might include positioning the patient for surgery, ensuring that he or she is properly draped, controlling blood loss and monitoring vital signs, suturing, and more.
A scrub nurse also teams up with the surgeon but more so on the side of preparing and cleaning surgical instruments.
If you are a scrub nurse, then you need to make sure that all of the necessary tools and instruments are prepared, sterile, and within reach.
You will need to communicate effectively with the surgeon to provide the correct equipment and making sure that things stay as clean/sterile as possible.
Circulating OR nurses are less hands-on but still play a crucial role during the operation.
They need to step in whenever the other nurses need additional assistance, and they also keep a close eye on the patient during the surgery. They can be thought of as patient advocates as well as observational overseers of the entire operation.
Regardless of the position, operating room nursing can require extra schooling and/or certifications, which is something to be aware of if you're thinking that this is something you want to get into.
Find Nursing Programs
Search our school database to find schools and get information on the right programs for you. (Don't worry, it's fast and free!)
What Does an OR Nurse Do?
Operating room nurses aren't off the job once the surgery is over. In fact, they have a whole slew of duties to perform outside of the operating room.
For example, they need to be there for the patients before their surgeries are set to begin.
Some of their responsibilities include answering patients' questions and helping them feel as comfortable as possible prior to their procedures. The OR nurse needs to take their vitals and have them complete any important paperwork too.
They will assist with prepping the patients for their operations by ensuring that they are clean, hooked up to IVs, and have taken any medication they need to take.
After the operation, the OR nurse is again directly communicating with the patient, who may or may not have awakened from the anesthesia.
The nurse is compassionate and informative, helping to keep the patients and their families calm, monitoring their vitals, taking out any IVs, and educating them prior to their discharge from the hospital.
As you can see, an operating room nurse is directly involved with the patients from the moment they get settled in the hospital to the moment they can be released to go home.
Where Do They Work?
You don't have to work in a hospital if you are an OR nurse. Yes, this is the most likely place for such a medical professional, but there are other possibilities and opportunities out there.
Some operating room nurses prefer to work in other environments, such as an outpatient surgical facility. These places typically handle procedures that are less invasive so that patients can go home the same day.
Sometimes OR nurses might work with ambulatory services or in a physician's office. Other times, they might work in a clinic, performing similar duties as they would in a hospital setting.
No matter where they work, they can count on direct patient care being a primary aspect of the job.
Remember that even as an OR nurse, you might choose to spend more time directly with the patient or you might prefer to be beside, or with the surgeon during the operation as a first assistant.
Is OR Nursing Right for You?
You might be wondering if being an operating room nurse is the right vocation for you. After all, it takes a certain kind of person, not to mention lots of education and schooling, to become a successful OR nurse.
Some of the abilities that you should be proficient in include time management, organization, effective communication, collaboration and teamwork, and empathy.
As an OR nurse, you will be part of a team of doctors, nurses, technicians, and surgeons. You will all need to communicate effectively and make the best use of your time.
Since you will be talking with patients and their families, a certain amount of compassion and empathy is required. At the same time, OR nurses need to be able to keep their cool and remain calm for the sake of the patient.
Specific personalities also do exceedingly well as operating room nurses. For instance, someone who has a long fuse, loves working as a team, but also has a sense of autonomy will do well as an OR nurse.
In addition, if he or she has a passion for patient care and a strong sense of empathy, then he or she will probably excel in this role.
Even if these skills don't come naturally to you, there is still a way to learn and strengthen them.
Your nursing education will allow you to get hands-on experience with a variety of nursing scenarios and these will teach you how to communicate efficiently, assess and evaluate a patient, prepare an operating room, and much more.
Don't forget that all medical professionals are constantly learning as medicine and health is something that we're learning more about each and every day.
Therefore, you shouldn't feel intimidated if you think that you are less prepared than other nurses. Experiential learning, internships, and the NCLEX-RN and CNOR exams will prepare you well for this role.
Depending on the role that you want to have in the operating room, some additional certifications may be required.
Typically, after two years of practice and/or 2400 hours of perioperative nursing, you are eligible to take the CNOR, or Certified Operating Room Nurse exam.
Passing this test grants you the gold standard approval for working as an OR nurse. Whether you have an associate's or bachelor's degree, you can take the CNOR exam.
Upon passing, you will receive the certification, and it will give you an edge on other OR nurses, making you a more attractive job candidate.
This is whether you decide to work in a hospital, a clinic, or any other medical facility. It's definitely worth the extra investment.
Find Nursing Programs
Find a nursing program that's right for you.
Final Thoughts
If you're looking for more information on OR nursing. Check out our other articles on operating room nursing.
Let us know what your thoughts or questions are in the comments below. Please don't forget to share this article so we can help others.