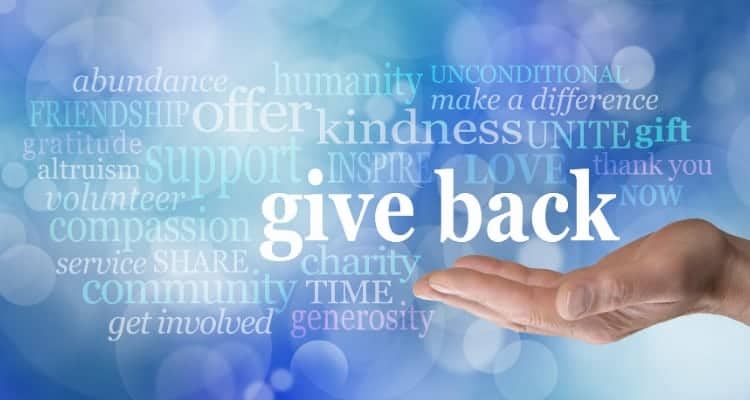 As a nurse, you make a difference in the lives of your patients each and every day.
Continue that difference-making even after you end your shift by volunteering with a charity or other non-profit organization.
To help, we've listed some of the best places for nurses to volunteer in their spare time.
*Disclosure: This article on volunteering as a nurse may contain affiliate links. If you click and make a purchase, I may receive a commission. For more info, please see my disclaimer.
Top Places for Nurses to Volunteer
1. American Red Cross
Since 1881, the American Red Cross has been committed to serving those who are most in need in our communities. American Red Cross volunteers respond to an average of 60,000 disasters each year.
Some of those volunteers assist with collecting life-saving blood donations from people across the nation. Volunteering for the American Red Cross starts with filling out an application and watching a 45-minute orientation video.
There are dozens of ways to volunteer, including greeting blood donors, providing food and shelter to those affected by natural and man-made disasters, and teaching community CPR classes.
If you don't have the spare time to volunteer, but still want to help out, you can donate money to help comfort those in need. Ninety cents of every dollar donated goes directly towards those who need it most.
Find Your Next Nursing Job
Use our nursing job board to start looking for and applying to great nursing jobs near you.
2. Big Brother Big Sisters of America
If you enjoy working with children and making a positive impact on their lives, then Big Brother Big Sisters of America is a great organization to get involved with.
After a thorough process, you'll be matched with a child in need of a positive role model in their life. You'll spend your time doing fun activities with your "little" and encouraging them to pursue their dreams and achieve big things.
What first started off in 1904 as a way to help young men stay out of trouble has turned into one of the largest mentoring programs in the United States.
There are other ways to get involved, too, including giving a monetary donation that will go towards funding the extensive one-on-one process that matches volunteers with a child in need. Volunteers for this organization help shape the future of young children.
3. Habitat for Humanity
Break out your hammer and hard hat and get involved with your local Habitat for Humanity chapter to start making a positive impact on your community.
Volunteers help build or repair homes for families that otherwise wouldn't have a decent place to live.
If you aren't interested in performing physical labor, you can also volunteer at one of their many Habitat ReStore locations, where new and gently-used home decor items and building materials are sold at affordable prices.
Volunteers don't need any prior construction experience to work with Habitat for Humanity. They simply need to bring their energy and a willingness to help those who are less fortunate live in a safe, comfortable home.
You can even get the whole family involved as there are volunteer opportunities for children over the age of five and many opportunities for veterans and seniors to help out.
4. YMCA
One of the biggest non-profits in the nation needs your help achieving their mission of bringing youth development, healthy living, and social responsibility opportunities to your community.
Volunteers for the YMCA assist with things like coaching youth sports teams, helping adults live healthier lives through exercise programs at the Y, organizing community service projects, serving on committees, and more.
Now more than ever, the diverse programs offered at the YMCA and the opportunity to volunteer alongside your neighbors that come from all walks of life, are an important part of growing our communities and bringing about real change.
The community service project, Togetherhood, is one of the best ways for volunteers seeking a way to become actively involved in their community and support their neighbors that have the greatest need.
More information about volunteering can be found online or through your local YMCA front desk associate.
5. Salvation Army
Volunteers help the Salvation Army perform their mission of "Doing the Most Good" for communities across the nation.
There are multiple ways to get involved with this organization, including volunteering at one of their homeless shelters, assisting with disaster relief efforts, donating to their food pantries or retail locations, and supporting victims of domestic violence.
One of the most popular ways to volunteer is to be one of the bell ringers for their annual Red Kettle Campaign.
Every holiday season, volunteers ring bells in front of the signature red kettles to collect donations for this campaign that assists families with providing a memorable holiday season that they otherwise wouldn't have had.
The best part of the monetary donations is that $0.82 of every dollar is kept within the community it's given in. Although the holiday fundraisers are the biggest focus, donations are accepted year-round.
6. Catholic Charities USA
For over a century, Catholic Charities USA has been serving those in need, with a strong focus on helping those in poverty.
Volunteers that work with Catholic Charities USA assist staff members with various tasks related to providing support services to clients, including serving at food pantries, helping those in need of legal assistance, and serving in national programs like AmeriCorps and Senior Corps.
Their mission is to provide social and emotional assistance to immigrants, refugees, and others in need. The work of their dedicated volunteers is highlighted in the quarterly magazine, "Catholic Charities USA (CCUSA)".
All age groups are welcomed to volunteer, and there are several chapters located throughout the United States to volunteer for. If time is an issue, there are other ways to help.
Monetary donations are always welcomed in the form of one-time or monthly donations, IRAs, stocks, and cars.
7. AmeriCorps
Volunteering for the AmeriCorps allows you the chance to "Be the Greater Good." The organization is made up of three primary programs that focus on different ways to help improve communities and the lives of those who live in them.
Needs like youth mentoring, fighting poverty, caring for national parks, preparing and responding to disasters, and more are met by AmeriCorps volunteers.
Over 75,000 people volunteer each year for the AmeriCorps, making it one of the largest volunteer organizations in the nation. There are thousands of volunteer opportunities to choose from so there's something that appeals to everyone.
You have the option of volunteering in your own community or volunteering anywhere across the country.
Volunteering is also an excellent building block towards becoming an employee of the AmeriCorps and enjoying a long career helping others in the community. There are multiple job opportunities for dedicated nurses.
8. Globe Aware
Take a vacation and volunteer at the same time with Globe Aware. You can visit places like Cambodia, Costa Rica, Guatemala, Puerto Rico, Thailand, and more.
There is a minimum contribution fee to become a volunteer, but the fee covers the cost of your meals, accommodations, on-site travel, donations to community projects, the orientation and training needed to become a volunteer, and medical insurance.
Volunteer vacations are short-term adventures that benefit both you and others. Each destination offers a variety of volunteer opportunities, from helping locals with basic hygiene needs to completing home repair tasks.
Families can also volunteer together, so it's a great way to get younger children involved and introduce them to experiences beyond their front doorstep.
For those that don't want to travel but still want to be involved, there are plenty of fundraising options and even employer contribution matching programs available.
9. United Nations Volunteers
United Nations Volunteers offers three ways to get involved- volunteering overseas, volunteering here at home, and volunteering online.
The mission of the United Nations Volunteers (UNV) is to promote peace and development through volunteerism worldwide. The headquarters are located in Germany, but there are over 8,500 volunteers located around the world.
To volunteer overseas, there are minimum requirements that must be met. Volunteers hold positions such as Child Protection Officer and Associate Health and Nutrition Officer.
There are also minimum requirements that must be met to become a local volunteer. Local volunteers play a major role in developing a nation and promoting peace through positions like Gender and Protection Officer and Water, Sanitation, and Hygiene Engineer.
Online volunteers perform tasks like writing and editing, translation, teaching and training, and research. UNV has 17 Sustainable Development Goals, including no poverty, zero hunger, and gender equality.
Find Your Next Nursing Job
Use our nursing job board to start looking for and applying to great nursing jobs near you.
10. American Cancer Society
The American Cancer Society is always in need of dedicated volunteers who show a willingness to help those suffering from cancer and their families.
There are several ways volunteers can help, from administrative and clerical to patient services and support.
Volunteers can do such things as drive cancer patients to and from treatment, participate in events like Making Strides Against Breast Cancer, start a fundraiser, and work in one of the American Cancer Society's many retail shops.
There are also remote ways to volunteer if volunteering in person isn't possible. Virtual volunteers do things like assist with fundraisers and advocate for the rights of cancer patients.
Signing up to volunteer is easy and can be done online. If you're a cancer survivor or know someone who is a cancer survivor, volunteering for the American Cancer Society is a great way to give back.
11. American Heart Association
The mission of the American Heart Association (AHA) is to create a world free of heart disease and stroke, and their volunteers help with that mission.
Health care professionals can volunteer in many different capacities, including helping people within the community manage their blood pressure with the AHA's at-home program, perform health screenings at local events, and participate in fundraisers like the Heart Walk.
There are also ways to help out right from the comfort of your own home, including participating in the Health eHeart study, following the AHA on its social media platforms, and choosing the AHA when shopping through the Amazon Smile program.
Signing up to become a volunteer takes just a few moments and the application can be filled out on their website. You can even get the whole family involved by watching the one-minute hands-only CPR video on their website.
12. Crisis Text Line
Crisis Counselors for the Crisis Text Line are critical volunteers for those in need. The Crisis Text Line is a free, 24/7 text line for people suffering a crisis in the United States.
Crisis Counselors assist those in crisis by actively listening, problem-solving, and safety planning until the person in crisis becomes calm. Crisis Counselors must complete 30 hours of online training, submit 2 references, and pass a background check.
The only thing needed to participate as a Crisis Counselor is a reliable internet connection and a personal computer. Crisis Counselor's are expected to volunteer for at least 4 hours a week and a total of 200 hours within a one-year time frame.
The largest need for Crisis Counselors is between the hours of 10 pm and 6 am EST, so it's an excellent volunteer opportunity for night owls or early birds.
13. American Youth Literacy Foundation
The American Youth Literacy Foundation is a charitable non-profit that's been committed to helping children learn to read since its inception in 2008.
Their volunteers tutor young children within their community and help them learn how to read. Several of their volunteer opportunities involve a new app they're developing that's aimed at bringing literacy opportunities to children who are most in need.
They're in need of graphic designers, community outreach liaisons, web developers, and volunteers to test the app and provide important feedback.
If you're passionate about reading and helping the youth of America develop their full potential, volunteering for the American Youth Literacy Foundation is a wonderful way to do that.
Starting the sign-up process starts with a quick email. If you prefer to make a monetary donation instead, that option is also available on their website via PayPal.
14. Girl Scouts of the USA
Volunteers with the Girl Scouts of the USA play an important role in shaping the next generation of women. Volunteers are mentors and supporters of Girl Scouts participants and assist in many ways by giving speeches and leading and participating in activities.
A majority of those who have volunteered for Girl Scouts of the USA have said they feel like they've made a difference in the lives of young girls and they're happy they participated.
Whether you're the parent of a girl scout, or simply an adult looking to help out, signing up is easy and involves completing a registration form on their website.
Even if you can't commit to volunteering frequently, there are occasional opportunities that come up for special events and trips. Popular volunteer opportunities include being a scout leader, running a cookie booth, and chaperoning field trips.
15. ASPCA
If you love animals and want to help those in need, volunteering with the ASPCA is a great way to get involved.
Opportunities include assisting with pet adoptions, rescuing animals, and advocating for legislation that protects animals. You can also become a foster parent by giving animals that aren't quite ready to be adopted a place to live until they are.
Volunteers are needed across the nation, so there's likely something available in your community.
There are other ways to help, too, including monetary donations and fundraising. The Mobile Action Team is another simple way to get involved that doesn't require a lot of time or money.
You'll receive text messages that alert you to animals in need in your area and give you ways you can help. If you're passionate about stopping animal cruelty, getting involved with the ASPCA is the best way to help.
Related: What's the Best Pet for Nurses?
16. National Park Service
The Volunteers-In-Parks program encourages individuals and groups to help out the National Park Service by participating in one-time service projects and longer-term projects.
Volunteers work alongside park employees to complete tasks that keep the parks across the nation functioning. Some of these tasks require specific skills and a background check, so it's best to check with the specific park you're interested in before signing up to volunteer.
Those that volunteer at least 250 hours receive a Volunteer Pass that allows them free admission to national parks. If you're already a volunteer for the Girl Scouts or Boy Scouts of the USA, you can become a dual-volunteer and participate in service projects with your troop at national parks.
Specific volunteer opportunities are listed online, as are upcoming volunteer events. If you enjoy getting outside and being in nature, volunteer for the National Park Service.
17. United Way
The United Way has been changing and saving lives in communities across the nation for over 125 years. That impact wouldn't have been possible without their dedicated volunteers.
Volunteers use the talents they already possess to help out those in need. Opportunities include delivering meals, assisting people with filing their taxes, tutoring children, providing rides for veterans to doctor's appointments, and more.
There are both in-person and online volunteer opportunities available, many of which only require an hour or less of your time. Signing up is easy and can be done online right through their website.
Monetary donations are also accepted and appreciated. A majority of the donations go directly back into the community in the form of education, income, and health assistance. Loyal Contributors are those who have given for 10 years or more and are recognized in print for their commitment to help.
18. Ronald McDonald House Charities
Ronald McDonald House Charities provides support and resources to sick children and their families during the most difficult time in their lives.
Volunteers for Ronald McDonald House Charities (RMHC) make a real difference in the lives of each family that walks through the doors of one of the Ronald McDonald Houses.
Those that volunteer for RMHC will help with things like preparing meals, welcoming new families, listening to their stories, and providing a nurturing environment.
With the help of it's over 500,000 volunteers, RMHC is able to put more money into the programs and services that desperately need the funding, thus helping families in need even more.
If you're interested in volunteering, start by contacting your local RMHC chapter. If volunteering in person isn't possible for you, you can also start a fundraiser or donate directly online to a global or local chapter.
19. Doctors Without Borders
Doctors Without Borders is committed to providing medical humanitarian aid to the areas that need it the most. The headquarters for the United States is located in New York, with many volunteers assisting with office tasks there.
If you're located outside of New York, you can still sign up to be placed in their volunteer pool to be called upon when events take place throughout the country.
The recent pandemic has brought about a greater need for volunteers in the United States. As Doctors Without Borders responds to this global health crisis, they are still focusing on responding to the humanitarian crisis in Central America and Mexico.
Volunteers that are willing to travel may be asked to spend time there assisting with the humanitarian crisis. Monetary donations are also accepted and greatly appreciated if you'd prefer to help out in that capacity instead.
Find Your Next Nursing Job
Use our nursing job board to start looking for and applying to great nursing jobs near you.
20. Make-A-Wish Foundation
Since 1981, the Make-A-Wish Foundation has been granting wishes to critically ill children and making a lasting impact on the people that love them.
Volunteers for the Make-A-Wish Foundation help keep the charity running and make granting wishes possible. There are many ways that volunteers can help, including meeting with children and their families to determine their wish, helping out at a local chapter's office, and organizing and running events.
More than 34,000 volunteers around the United States play an important role in granting the wish of a sick child every 34 minutes. Those that have volunteered have expressed how meaningful their volunteer time has been, which is why so many of them continue volunteering on a regular basis.
There are other ways to get involved, too, including fundraising, making a monetary donation, donating airline miles, stocks, or a car, and becoming a corporate sponsor.
21. Kiwanis International
Kiwanis International was founded in 1915 with a mission to improve the lives of children around the world. Their motto is "Serving the children around the world", and they do so through the various clubs located in the United States, Canada, and the rest of the world.
There's a Kiwanis Magazine, Kiwanis Convention, and Kiwanis Children's Fund- all of which are geared towards helping children in need.
Getting involved starts with joining a local club and then by volunteering for the Sergeant-at-Arms Committee or Host Committee. The Sergeant-At-Arms Committee provides support at club sessions, conventions, and other events.
The Host Committee helps out at the Kiwanis Convention by advising attendees on where to visit while they're in town and by running the registration desk on convention days.
Indicate your desire to volunteer for either committee when you complete your Kiwanis Club registration form online.
22. Meals on Wheels America
Meals on Wheels America is an organization that provides nutritious meals to seniors along with a quick safety check so that more seniors are able to continue living independently in their homes.
With a significant portion of the American population over the age of 85, the need for volunteers to deliver meals and greet seniors is growing rapidly.
Volunteers can sign up to help out as often as they'd like. Typical volunteer shifts last less than an hour and a half, although you can always help longer if you'd like.
Volunteers are given a route to follow and will deliver meals to seniors along that route. More urban settings will see a higher number of deliveries in a shift while rural settings will see fewer.
Signing up starts with filling out an online form that will then be sent to the local program.
23. Operation Smile
Operation Smile performs medical missions across the globe that help children with cleft palates get the necessary surgery they need to have a beautiful smile.
Medical missions typically last between 10 and 12 days and require traveling to do different parts of the world. A thorough application process is required to begin volunteering for Operation Smile.
Once the application process is complete, you can sign up to volunteer for specific missions.
The entire recruitment process can take between two and four months. Medical volunteers from the United States are required to pay a $500 team fee for all medical missions, but Operation Smile covers the costs of any flights.
There are other ways to help, including setting up a fundraiser or performing a community service project in your area. One of the most popular community service projects involves putting together Smile Bags for surgery patients.
24. Project HOPE
Project HOPE is a vital organization that delivers medical supplies and health expertise to areas in need around the world.
Those that volunteer for Project HOPE will respond to disasters and provide assistance in the form of medical evaluations and life-saving treatment. There are many areas of expertise needed, including maternal, neonatal, and infectious diseases.
In addition to providing direct care to patients, volunteers can also assist with other tasks, including IT services and fundraising.
All volunteers go through a detailed vetting process to ensure they are physically and mentally able to handle their service. Project HOPE provides all the support their volunteers need, including having a main point-of-contact in the area to answer any questions and assist in case an emergency arises.
Signing up to be a volunteer starts with filling out the application online and becoming a part of the General Volunteer Database.
25. Action for Healthy Kids
Action for Healthy Kids is an organization that seeks to create healthier schools by providing children and their parents with the tools necessary to eat healthy and get active so that they're always ready to learn.
By helping children have access to healthy, balanced meals at school and at home, and getting them active for at least 60 minutes each day, they're creating healthy habits that children will carry with them into adulthood.
Volunteers can get involved by organizing events at their local schools- like Every Kid Healthy Week, attend webinars, join a school health team, run a marathon, participate in a fundraising event, or make a donation.
There are dozens of ways to get involved listed on their website. The organization encourages volunteers to start at home by teaching their own children and grandchildren about practicing healthy habits with diet and exercise.
Final Thoughts
The impact of volunteering can be felt long after the volunteering ends. You'll come out feeling fulfilled for helping, and the ones you help will be grateful for your assistance.
There are countless ways to volunteer, so find something you're passionate about and go out there and make a difference.
Frequently Asked Questions
Why is it important for nurses to volunteer in the community?

Volunteering is important because it allows nurses to impact the community they serve in ways they can't at the bedside. On top of that it can give a sense of accomplishment and satisfaction for providing a service to people who would never be able to pay you back.
Related Articles