The Difference Between a Nurse and a Medical Assistant: (Nurse vs MA)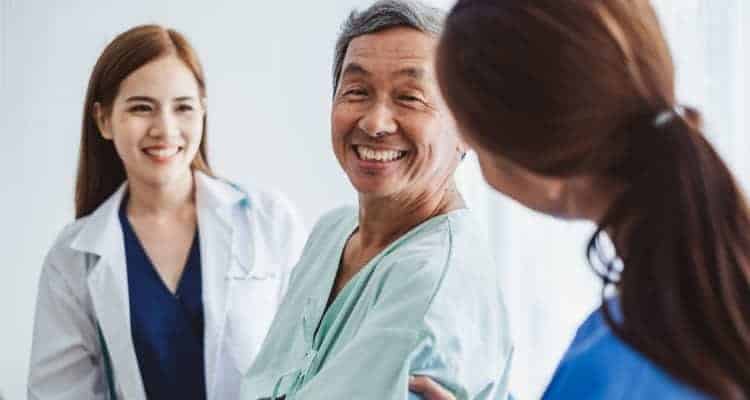 Medical assistant vs nurse ―which one should you choose?
The answer lies in your professional preference as well as career goals. Below we're going to present facts, figures, and general work environment conditions and duties to help you make the right decision.
*Disclosure: This post may contain affiliate links. If you click and make a purchase, I may receive a commission. For more info, please see my disclaimer.
Nurse vs Medical Assistant (RN vs MA) or (LPN vs MA)
Let's look at some of the main differences between a nurse and a medical assistant:
1. Education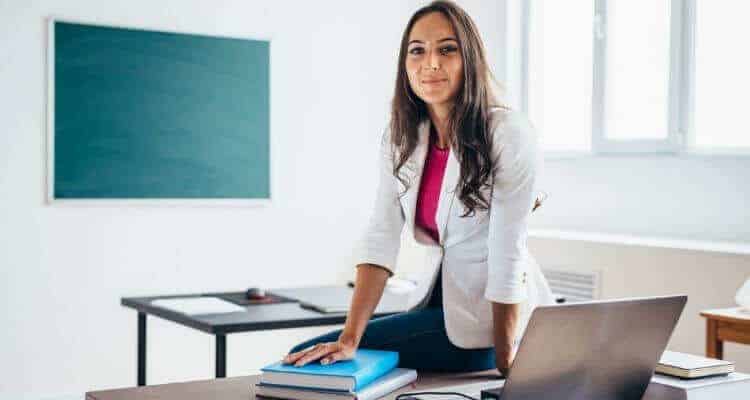 How to become an RN or MA?
The first difference between a registered nurse (or a licensed practical nurse) and a medical assistant is in their education requirements. Nursing programs are typically more in-depth and take longer to finish than those designed for medical assistants.
Here's an overview of the main differences:
Registered Nurses & Licensed Practical Nurses
There are 3 main ways to get a nursing degree/license. There's a bachelor's degree in nursing (BSN), an associate's degree in nursing (ADN) and certificate programs that gets you a licensed practical nursing license.
It takes between two to four years to complete the nursing program depending on the school and which track you're on.
The curriculum consists of academic coursework, practical assessments, and mandatory on-site clinical rotations performed under a supervising nurse (usually an RN).
The graduates then have to pass the NCLEX-RN or the NCLEX-PN before they can become licensed and enter the professional world (source).
Medical Assistants
On the flipside, medical assistants don't require specific degrees to get hired. Most entry-level applicants get employed with only a high school diploma or GED. They are then enrolled in in-house training programs before beginning their job.
However, many medical facilities appoint assistants who have prior training and job exposure. To meet these requirements you can get into a medical assistant school that's accredited by Accrediting Bureau of Health Education Schools (ABHES) or Commission on Accreditation of Allied Health Education Programs (CAAHEP).
These programs train candidates via theoretical and practical work. They often require clinical hours to complete specific courses.
In a nutshell, pursuing a nursing career means investing more time and money to get qualified. While medical assistants can start their career shortly after high school.
Find Nursing Programs
Search our school database to find schools and get information on the right programs for you. (Don't worry, it's fast and free!)
2. Job Duties
What does each job entail?
On the surface, you'll notice that the duties and responsibilities of both professions are very different. The first thing you'll notice is that nurses can pretty much do everything a medical assistant can do. But a medical assistant cannot do everything a nurse can do (more on that later).
The primary reason for this is a nurse works under their own license while a medical assistant is typically working under the license of another medical professional. This and a more extensive educational background gives nurses a greater scope of practice than medical assistants.
First the similarities of what both a nurse and a medical assistant can do:
Providing patient care
Taking vital signs
Collecting blood and urine samples for lab tests
Deliver samples to and from the laboratory
Helping patient meet their diet and treatment plans
Updating and maintaining the patient's medical records
Administer medications
Answering queries related to the patient's condition
This is where the similarity ends. Nurses are higher up in the hierarchy of the hospital because they have more autonomy.
Here's a glance on how their work differs from each other:
Registered Nurses
Registered nurses are primarily responsible for the patient's care. Their sole focus is to provide the best medical care and emotional support to patients.
They do this by:
Monitoring the patient's response to the treatment
Making clinical decisions in the absence of a doctor
Discussing modifications in the patient's treatment plan
Educating the patient on alternative treatment programs
Coordinating between different departments for the case
Perform physical exams and diagnostic tests for treatment
Preparing the patient for surgery or a procedure
Admitting and discharging a patient
Guiding the patient's family on how to support the patient post-surgery/ post-procedure
Assisting doctors or surgeons during surgeries or procedures
Providing post-surgery or post-procedure care before the patient is discharged
Helping patients perform daily activities (e.g. bathing, walking, and eating)
…& many other tasks that serve the patient.
Many nurses also work as managers of their floor/ward. They delegate and supervise the healthcare providers (nurses, nurse aides, medical assistants, other multi-disciplinary members) working in that area. Making sure that the team works according to the doctor's orders.
They have the right to create nursing care plans to ensure that the patient gets the right medical attention.
Medical Assistants
Medical assistants are on the lower tier of the pecking order. They take orders from physicians and nurses working in the departments. Medical assistants can't undertake tests on their own.
Apart from doing the tasks listed in the first list, they perform numerous administrative tasks too.
These include:
Answering phone calls
Scheduling appointments
Greeting patients and escorting them to examination rooms
Filling out health insurance forms
Managing bookkeeping
Filling and filing paperwork
Organizing medical records
Coordinating with hospital admissions and laboratory services
Doing inventory checks
Ordering new equipment on the physician's orders
The bottom line is that medical assistants only assist licensed professionals. In contrast, registered nurses often make clinical decisions on behalf of the patient's wellbeing if the circumstances arise.
Disclaimer: Duties may vary depending on: further education, certification, licenses, the state and the actual facility. For instance, medical assistants and nurses in a clinic will have slightly different responsibilities as opposed to nurses and medical assistants in the ER.
3. Work Environment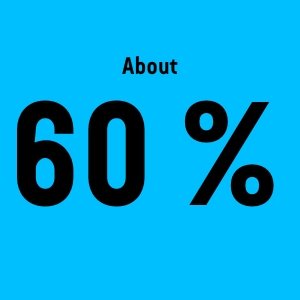 Statistics reveal that 57% of medical assistants work in a physician's office. Others work in healthcare centers and hospitals (source). In contrast, 60% of nurses work in the hospital while the rest of them are employed in nursing care facilities, educational institutes, correctional facilities, etc (source).
These numbers give us a glimpse of their work settings. Most medical assistants are bound to a hospital or clinical setting, while nurses can purse different directions when desired.
The primary reason? Greater scope of practice and further education that provides nurses with a certain level of autonomy that medical assistants don't get.
Here's a breakdown of what happens in a hospital environment:
Registered Nurse
On a typical day, nurses gather at the nurse's station and pick up their assignments. They then perform rounds and check up on patients under their care. Their tasks include the duties listed in the previous section. After the rounds, they'll update medical records and start prepping for procedures or patient care activities that will happen during their shift.
Besides being actively involved in meetings with doctors and other healthcare providers to discuss the patient's treatment, they're also the first to respond during emergencies related to patients under their care.
Medical Assistant
Most medical assistants are inclusively under a physician's supervision. In many ways, they perform administrative duties for medical facilities such as bookkeeping and maintaining medical records. However, they are frequently on their feet―running errands and assisting patients―when they are at work.
They correspond with patients and their families when they are admitted to the hospital. They also contact them to acquire details about the patient's medical history and other contact information. They also collaborate with janitorial, technicians, and nursing staff within the department. Outside the department, they communicate with laboratory officials and accounting team.
What about the work hours?
Both professions require practitioners to work 40 hours per week.
Every nurse will answer this question differently. Some may take 8-hour shifts throughout the week (source). Others will opt for 12-hour rotating shifts (day/night) three times a week. Owing to the medical facilities' hectic schedule and unexpected emergencies, these numbers do vary.
Medical assistants have the same flexibility.
Professionals working in clinics and private practices don't have the same working schedule. That's because those facilities don't operate 24/7.
Related Article: 12 vs. 8-hour shifts
Overview
If we place their work environment side by side, then we'll see that RNs require communication skills and organizational skills. They also need to be resourceful so they may act quickly during emergencies. Empathy and compassion are also good qualities to have in a nurse.
A nurse's close contact with patients often proves to be emotionally taxing. That's why nurses often fail to detach themselves from their jobs after work-hours.
On the other hand, medical assistants need people skills to coordinate with different departments. Their diligences and technical skills allow them to get more involved with paperwork and administrative details. Many of these duties don't require a lot of medical knowledge.
4. Salary and Job Outlook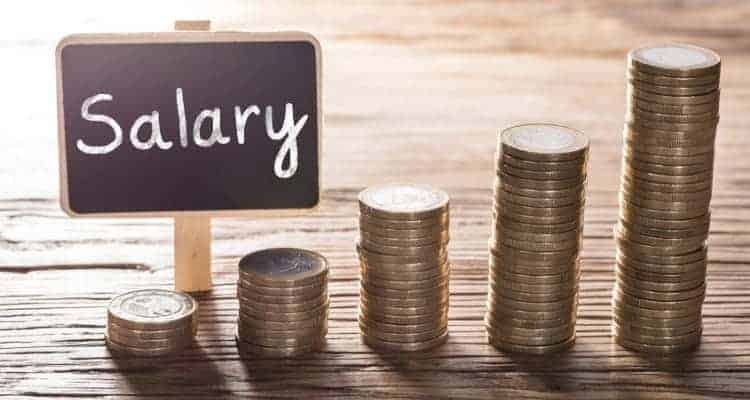 Are they paid equally?
The average salary of a nurse vs. a medical assistant varies greatly. Their earnings are one of the biggest differences between a nurse and a medical assistant's career graph.
That's because the average salary of an entry-level nurse is roughly between $46,240 ($22.23 per hour) and $71,730 ($34.48 per hour) depending on whether you're talking about an LPN/LVN or an RN.
In contrast, the median salary of a medical assistant is $25,000 a year during their first two years of service (source). The Medical Assistant Education Organization's salary chart shows only a $12,000 increase after the employee completes 16-plus years in this position.
The stark contrast in pay is related to their unique job duties diverse qualifications and educational requirements.
Which one of these positions is more in-demand?
Both of them!
Medical assistants and registered nurses are an integral part of the healthcare system. They ensure that physicians and other healthcare providers have all the information required to treat their patients properly.
It's why job openings for both positions are available all year round.
Find Nursing Programs
Search our school database to find schools and get information on the right programs for you. (Don't worry, it's fast and free!)
Frequently Asked Questions
Here are some questions commonly asked when it relates to the differences between an MA and an RN or LPN.
Should I Be a Medical Assistant or a Nurse?
You should pick the career that best suits you and your family. What you do need to keep in mind is that becoming a nurse is a longer and harder road than becoming a medical assistant.
The longer and harder road does reward you with:
A higher salary
A broader scope of practice
Opportunities for career advancements
More career options.
When looking at Nurse vs MA one job is not necessarily better than the other. Both are important to the healthcare system.
But one job might be better for some people based on their life and family circumstances.
Is a Medical Assistant Considered a Nurse?
No, medical assistants are not nurses. Being a registered nurse or a licensed practical nurse involves a separate educational track and the passing of either the NCLEX-RN or the NCLEX-PN.
Final Thoughts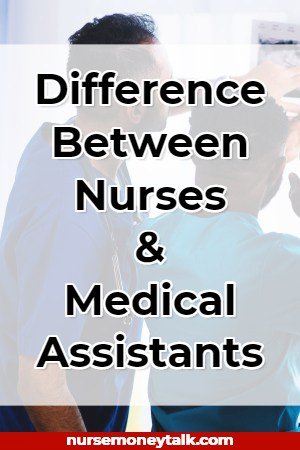 Long story short, medical assistants, and registered nurses lead completely different lives.
They have vastly different educational requirements, duties, and salaries. So if you're planning to choose one of these professions then you should weigh in all these factors before you make the final decision.
Quick Recap:
Nurses:
Are paid more
Have a broader scope of practice
Have more responsibilities
Have more opportunities to practice in non-traditional settings
Nursing school is harder, takes longer to finish, and is more expensive
Medical Assistants
Less pay
A narrower scope of practice
Are usually more limited to direct patient care activities
Can be hired after high school
MA school is cheaper and can be finished quicker than nursing school