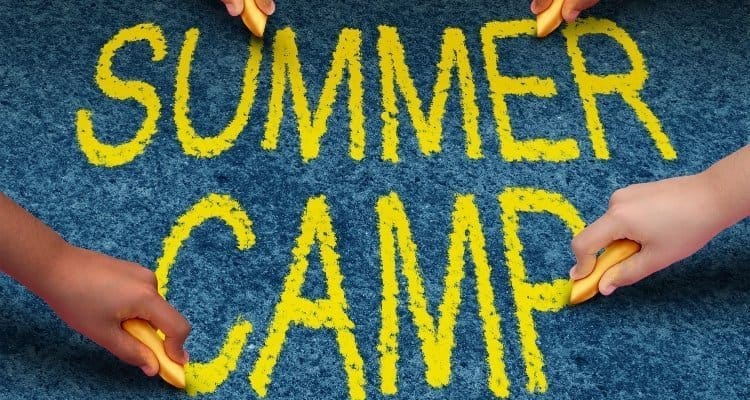 If you've got a love for the medical field and you enjoy the outdoors, then a camp nurse gig might be your true calling.
As the name suggests, these nurses work in summer camps and outdoorsy retreats, keeping campers safe and healthy.
Here's a glimpse of a camp nurse's day-to-day responsibilities.
So, what is a camp nurse? A camp nurse is a nurse that takes care of patients who are in a camp. As a camp nurse, your patients are going to be the campers who are more likely to be children and adolescents.
So, how do I become a camp nurse? To become a camp nurse, you need to apply to and get into an accredited nursing school. You need to pass nursing school and afterward pass the nurse licensure exam called the NCLEX. After passing boards, you can apply to work as a camp nurse.
Below we're going to look deeper into camp nursing.
*disclosure: this post may contain affiliate links. If you click and make a purchase, I may receive a commission. Please see my disclaimer.
Introduction
When I was younger I worked at several different camps primarily in the summer.
Some of these camps had nurses who worked/ lived on-site to assist the campers and the staff with any medical issues.
Some of the nurses participated in the camp activities and really blended in with the rest of the camp staff.
I never thought much of it then until I became a nurse and started looking for nursing job alternatives that were outside the hospital.
Similar to cruise ship nurses this is another nursing job many nurses and soon to be nurses don't know about.
Find Nursing Programs
Search our school database to find schools and get information on the right programs for you. (Don't worry, it's fast and free!)
What Is a Camp?
A camp could quite literally be a camp, or it could be some other type of community environment.
When people refer to a camp nurse, they mean someone who works as the medical professional at a summer or day camp.
As such, these places are usually filled with children and teens with the timeframe ranging from days to weeks and even months in some cases.
This is usually a temporary position as camps tend to be a seasonal thing.
There are also instances in which a camp nurse will work at a company or specialized retreat for adults.
This could take place at an outdoor resort or lodge or out in a mountainous or forested area.
In many cases, the camp may be located miles away from a hospital or medical facility, so the camp nurse is a crucial part of the staff.
Being outdoors and engaging in lots of physical activity means that campers are bound to experience some injuries or illnesses throughout their stay, which is what a camp nurse is there for.
What Is Camp Nursing?
Being a nurse at a camp is naturally going to be a bit different than working in a traditional medical setting.
First of all, the nurse will spend more time outdoors, and his or her office or working space will lack some of the comforts of a more stable nursing facility.
Even so, this doesn't stop a camp nurse from helping campers and staff with any health and safety issues that crop up during their stay.
Problems can range from scrapes and bruises to dehydration, exhaustion, and broken bones.
Other issues might include sprained wrists or ankles, bug bites and bee stings, fevers, nausea, burns, and poison ivy.
A camp nurse is often an educator as well, keeping residents aware of potential dangers and teaching them about things such as fire prevention, sun safety, and staying hydrated.
Essentially, he or she is responsible for ensuring the health and safety of anyone who requires medical care. He or she will also determine when a camper is too sick to stay at camp.
What Does a Camp Nurse Do?
Just as in more traditional nursing settings, every day is unique for a camp nurse.
While it's impossible to entirely predict what could go wrong at the camp, there are a few things that the nurse can do to stay prepared.
First of all, he or she will collect the medical history and immunization records for each of the campers as well as the staff.
If necessary, the nurse will obtain any medications or medical equipment that particular campers might need during their stay.
This is most apparent with kids who have asthma or food allergies and whose parents send over an emergency inhaler or EpiPen.
Sometimes the nurse will work at a camp that caters to a specific group of people, such as those with physical or mental challenges.
This requires a bit of prior research and preparation on the nurse's part so that he or she is prepared to address any concerns or issues.
Once at camp, it will be the nurse's job to maintain adequate medical supplies and equipment and to order replacements as needed.
The nurse should also have a plan for sick campers who become highly contagious, such as having a separate room ready just in case.
It's important to be on the lookout for things such as chickenpox or head lice, which can spread like wildfire throughout camp.
For any younger campers who need daily medications, the nurse will often be the one to administer these.
There is also an emotional support aspect to what a camp nurse does. Younger kids, in particular, may deal with homesickness, anxiety, or wetting the bed, so the nurse often serves as a means of support.
Finally, the camp nurse is an educator, at least to some extent. He or she will be encouraged to talk to campers about how to stay safe outdoors as well as when it's appropriate to seek help from the nurse.
Be aware that camp nurses might not have access to a nearby hospital or medical facility, so professional nursing expertise is critical. While a camp nursing job can be fun, it often requires constantly shifting schedules and jumping from one gig to the next.
How to Become a Camp Nurse
If you're interested in becoming a camp nurse, your first step is to obtain an associate's or bachelor's of science degree in nursing.
After that, it's time for the NCLEX-RN; upon passing the exam, you'll receive your registered nursing license.
Most camp nursing jobs require at least a bit of clinical experience so you might not get a job at a camp right away.
This can work in your favor as it will give you more experience with day-to-day nursing responsibilities such as administering medication, checking vitals, and writing patient reports. You'll also be exposed to a wide variety of injuries and medical conditions.
While there typically aren't any specific certificate requirements, most camps are looking for nurse candidates with adult and child CPR certification, which isn't hard to get. Along with CPR, camp nurses should be trained in basic first aid.
Experience in a pediatric setting is desirable. A background in pediatric care, as well as emergency or trauma care, will make you a strong candidate.
Education and job experience is crucial, but it also takes a certain skill set and demeanor to be a great camp nurse.
For example, you should be good with children since most camps work with a younger clientele. You should also be able to confidently make independent decisions as many camp nurses work alone.
Good management and leadership skills will be helpful, as will adaptability since your work environment will tend to change on a seasonal basis.
Also, your working conditions may be less than ideal, given your location in the middle of the woods. The best camp nurses are communicative, compassionate, and quick on their feet as each day at camp brings new experiences.
From a practical point of view, it helps to be comfortable with the outdoors and knowledgeable about things such as bug bites, poison ivy, and fire prevention.
You should be okay with getting dirty and sweaty too!
Find Nursing Programs
Search our school database to find schools and get information on the right programs for you. (Don't worry, it's fast and free!)
Where Do Camp Nurses Work?
Camp nurses could work at a resort or retreat center, but they are most likely to work at a summer or day camp.
These camps usually sit somewhere in a forest or wooded area, although the proximity to modern civilization will vary.
Some camps are in the middle of nowhere, and some are 20 minutes outside of the city.
In some cases, the camp may be far enough away that the nurse needs to temporarily live on the campgrounds.
Keep in mind that working conditions may vary depending on the geographic location. You may be in a small rural environment or a large, urban one.
Regardless of where you are, you'll be spending a lot of time outdoors.
Pros and Cons of Camp Nursing
The ability to work directly with patients is something that lots of nurses enjoy, and it makes for a fulfilling job.
Plus, the camp nursing role brings something new every day. There are different kinds of camps, such as sports camps, science camps, and more. The camaraderie that nurses experience with camp counselors and the campers themselves can't be beaten.
After all, camps tend to be a lot more fun than hospitals!
On the downside, this is rarely a stable position. While some of these nurses make their living traveling from camp to camp for work, most of them snag temporary gigs throughout the year.
Pros of Being a Camp Nurse:
The camaraderie with campers and counselors
Fulfilling job
More relaxing environment
New experiences every day
Cons of Being a Camp Nurse:
Inconsistent employment
Outdoor environment
Salary and Job Outlook of a Camp Nurse
Since camp nurses don't often work all year round, it's more accurate to look at their hourly rates.
The median hourly pay is $25.82 with the spectrum ranging from $17.86 to $38.19. If you prefer wages written in yearly form, it's $39,000 to $86,000 (source). Pay depends on the camp's budget, the RN's experience and education, and the geographic location.
The job outlook for the nursing field itself is really good and growing every year according to the United States Bureau of Labor and Statistics (source).
So rest assured you'll be able to find a job as a nurse. It's important to note that camp attendance by children have been noted to be on a decline over the years, so that's something to watch out for (source).
Even with the decline millions of kids still attend camp each year, and there are camps all around the country that have to make do without a full-time nurse on hand. Therefore, there are still opportunities to find job openings as a camp nurse.
Related Articles: 15+ Ways to Make More Money as a Nurse
Conclusion
If camp nursing sounds appealing to you, then it can be a rewarding job that gives you a more unconventional way to apply your skills.
It may not be a full-time career, but it will give you valuable insight and experience working with pediatric patients and a multitude of conditions.
If you find the idea of being a camp nurse interesting check out some of the open camp nursing positions.
If you're not a nurse but would like to become a nurse, check out some available nursing schools.