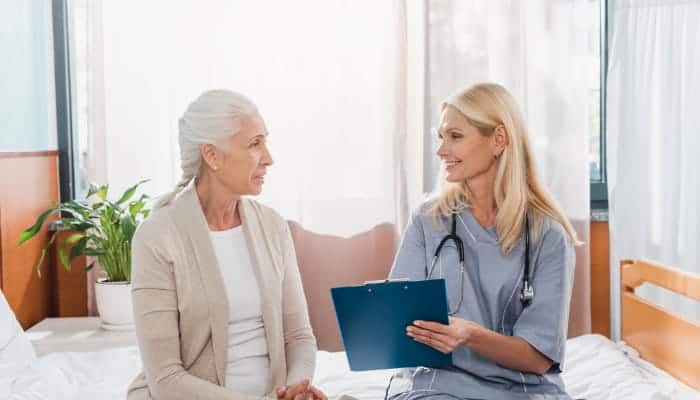 To some, the answer is a no-brainer, but to others, it feels rather nebulous.
Nurses already have to learn so much medical information in order to make sure patients' healthcare needs are met.
Serving in the healthcare field is already incredibly demanding during this era, is it really necessary to add another task – learning Spanish – when nurses often already feel stretched so thin?
*Disclosure: This article on should nurses learn Spanish may contain affiliate links. If you click and make a purchase, I may receive a commission. For more info, please see my disclaimer.
Should Nurses Learn Spanish?
Yes, nurses should learn Spanish. You'll be able to be the best possible nurse if you incorporate Spanish into your everyday life. Anyone who is serving the general population in the US should prioritize learning Spanish, especially those in counties with large populations of Spanish-speakers.
Start Learning Spanish Today
Now that you know that learning Spanish could be beneficial to your nursing career. Start learning Spanish today by using one of these two options. Start learning with…
Make Learning Spanish A Priority
Knowing Spanish is beneficial for nurses and anyone else in the US
In 2019, the population of Spanish speakers in the US peaked at 60.9 million, many of whom don't speak any English.
Latinos accounted for about 52% of all US population growth, so nurses who work in obstetrics would be especially wise to have some Spanish words under their belts.
US counties with the most residents who speak Spanish include:
Orange (California): 4,915,287
Dallas (Texas): 2,035,306
Bronx (New York): 1,907,140
Bronx (New York): 1,379,637
Hidalgo (Texas): 1,323,017
Clark (Nevada): 1,214,445
El Paso (Texas): 1,201,366
Queens (New York): 1,171,925
Tarrant (Texas): 1,135,348
Broward (Florida): 1,088,251
Fresno (California): 1,068,361
Kings (New York): 807,228
Santa Clara (California): 799,915
Kern (California): 701,766
Travis (Texas): 697,411
New York (New York): 639,612
Hillsborough (Florida): 609,236
Pima (Arizona): 593,733
Cameron (Texas): 531,677
Alameda (California): 492,700
(source: Vividmaps.com)
Apart from the statistical information, which is important to know about – anyone who knows Spanish will know that it makes a dramatic difference anytime they help someone who's not an English speaker.
One time, I helped a stranger at an airport book a flight.
I overheard her, and realized that she was struggling to communicate with the airport employee, so I offered to help.
I'm a native English speaker but spent 8 years studying Spanish, including a 5-month stay in Costa Rica, so I'm fully bilingual.
The tremendous relief in her eyes as she received her ticket was worth its weight in gold.
Many nurses enter the healthcare profession to make a real difference and experience a sense of professional fulfillment and knowing Spanish is a skill that will help them accomplish these objectives.
Find Your Next Nursing Job
Use our nursing job board to start looking for and applying to great nursing jobs near you.
This Isn't Just About Language
While it is fantastic when nurses are able to speak with their patients in their native language, it's not just a linguistic concern.
Nurses will also be able to more comprehensively understand and navigate through key cultural considerations as a result of being able to speak Spanish.
For instance, many, perhaps even a majority, of Latinos are deeply religious.
This means that they may be resistant to taking prescribed medications according to their doctor's orders – they may believe that God is always in control and that there's a religious meaning beyond any pain they may be experiencing, not just the medical condition.
While many hospitals in American hospitals offer translation services, this nuance can be lost when dialogue has to be translated back and forth.
Think about it:
The patient says something in Spanish.
The translator communicates it in English to the nurse.
The nurse responds in English.
The translator communicates it to the patient in Spanish.
It's incredibly time-consuming, cumbersome, and doesn't usually lead to meaningful conversation.
I'm not saying you shouldn't use your hospital approved interpreting services.

I'm merely emphasizing that the conversation would go smoother if you were able to communicate with the patient without needing an interpreter.
Nurses who are able to speak with their patients directly are better equipped to understand their concerns, identify any problems, and work towards a resolution much more effectively than monolinguals would.
Find Your Next Nursing Job
Use our nursing job board to start looking for and applying to great nursing jobs near you.
Thinking Towards The Future
In conclusion, did you know that by 2050, the US could have more Spanish-speakers than any other country?
More than 1 in 6 US residents claim Hispanic origin.
Wow!
Right now, it has the second-largest population of Spanish speakers, right behind Mexico.
The US continues to shift culturally with each passing year as everyone adapts to Latinos gaining a larger share of American cultural identity.
Students studying to become nurses and mid-career nurses will exponentially increase their hireability by adding Spanish-speaker to their resumes and LinkedIn profiles.
What are your thoughts on this topic? How would you answer this question?
Have You Read These