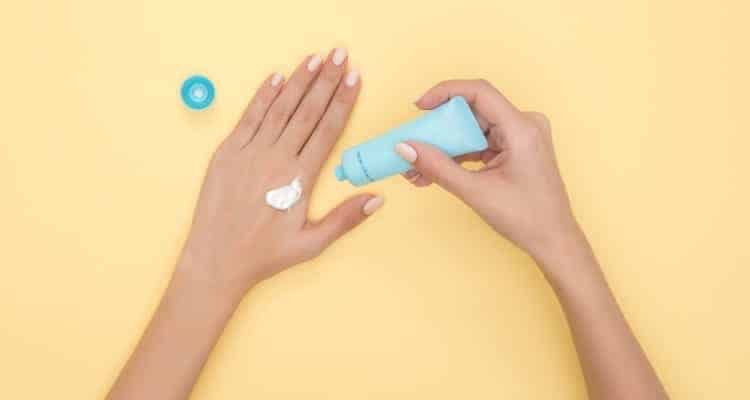 Those in the nursing profession are required to wash their hands frequently in order to maintain cleanliness and prevent the spread of infection.
Constant hand washing can result in dry, cracked, painful skin that may even bleed. To keep your hands moisturized and soft, consider trying these excellent hand creams for nurses.
*Disclosure: This post may contain affiliate links. If you click and make a purchase, I may receive a commission. For more info, please see my disclaimer.
Top Pick
☛ Best Overall Hand Lotion for Nurses: O'Keeffe's Working Hands Hand cream
Best Hand Creams for Nurses
1. O'Keeffe's Working Hands Hand Cream
Sale
O'Keeffe's Working Hands Hand Cream Value Size, 6.8 oz., Jar (Pack of 1)
Concentrated Hand Cream: O'Keeffe's Working Hands Hand Cream is a dry hand repair cream that heals, relieves, soothes, and repairs extremely dry, cracked hands.
Hydrating Hand Cream: Creates a protective layer on the skin's surface that locks in moisture and keeps your skin hydrated.
Leaves Skin Healthy & Soothed: O'Keeffe's dry hand cream makes a difference you will feel within days. When the hands that do the fixing need fixing turn to a workers hand cream.
The brand trusted by hard-working people for over 25 years, O'Keeffe's, brings you this phenomenal Working Hands Hand Cream.
It goes on thick, leaving behind a protective barrier that locks moisture into your hands and keeps dryness at bay.
Hands that are severely cracked and bleeding will see improvement in as little as a week due to the potent, concentrated formula.
It's also unscented so it's safe for those with allergies and sensitivities to scents.
The lack of scent also makes it an ideal lotion to use while at work so patients won't be exposed to potential allergens.
This hand cream can be applied anytime throughout the day. Apply it after showering to lock in moisture all day long. To speed up the healing process, apply it before bedtime and wear gloves overnight.
You'll love how quickly this hand cream works and that it can be used at work because it's fragrance-free.
Pros:
Fragrance-free
Thick, potent formula
Works quickly
Cons:
A bit greasy
Doesn't absorb well into the skin
Comes in a jar
Check out the Working Hands Hand Cream on Amazon.
2. L'Occitane Fast Absorbing 20% Shea Butter Hand Cream
Shea butter is known for its healing properties, and in this L'Occitane Fast Absorbing 20% Shea Butter Hand Cream, it's an ingredient that really delivers.
The addition of honey, almond extracts, and coconut oil provides the perfect combination of moisturizers that soften the skin and leave it smooth and supple.
Nurses that struggle with lotions that leave their skin feeling greasy won't find that problem with this hand cream. It absorbs quickly into the skin, leaving nothing behind but beautiful, soft moisturized skin.
Since the formula doesn't leave behind a greasy residue, nurses can use it during their shift and not worry about smudging up their paperwork or computer screens.
There is a light floral scent that isn't overpowering, but places of employment that enforce a strict perfume-free environment may not allow this product to be used by their staff.
Pros:
Absorbs quickly into the skin
Doesn't leave behind a greasy residue
Nourishing shea butter works fast
Cons:
Not unscented
Thick formula needs to be rubbed in well
Best when warmed before spreading
The L'Occitane Shea Butter Hand Cream is available on Amazon.com.
3. Neutrogena Moisturizing Hand Cream
Sale
Neutrogena Norwegian Formula Moisturizing Hand Cream Formulated with Glycerin for Dry, Rough Hands,...
2-ounce tube of fragrance-free Neutrogena Norwegian Formula Hand Cream works to hydrate and moisturize hands, delivering effective relief for dry, rough skin
This hand moisturizing cream is dermatologist-recommended and features a unique formula with concentrated levels of glycerin that leaves skin feeling softer and smoother
Specially formulated for dry skin, the unique Norwegian formula of our rough hand lotion is fragrance-free and clinically proven to relieve dry skin
The name Neutrogena has been synonymous with skincare for decades, and with good reason. This Neutrogena Moisturizing Hand Cream has been recommended by dermatologists, as have so many other Neutrogena products.
The specially-designed Norwegian formula is highly-concentrated and goes on smooth to provide fast relief of dry, cracked skin.
Just a dab helps even the most damaged skin because the ingredients are so potent. Since such a small amount needs to be used, one little 2-ounce bottle yields over 200 applications.
The glycerin-rich formula works almost immediately, but the best results are achieved when the hand cream is applied regularly.
Apply it after a shower to skin that has been dried to help seal the hands and lock in moisture. Once it's absorbed into the skin, a protective barrier is built throughout the day that endures even the longest nursing shifts.
Pros:
Glycerin-rich formula works fast
Does not have a scent
A small amount goes a long way
Cons:
Leaves hands slightly greasy
Not hypoallergenic
Does not come with a flip-top lid
The Neutrogena Hand Cream is available on Amazon.com.
4. Gloves in a Bottle Shielding Lotion
Gloves in a Bottle Shielding Lotion, Relief for Eczema and Psoriasis, 3.4 ounces (Pack of 2)
RESTORES: Moisturizes dry irritated skin caused by harsh weather, irritants, soaps, and conditions such as eczema, psoriasis, and dermatitis by enhancing the integrity of the outer layer of the skin...
BEYOND HYDRATION: This Soothing body lotion promotes healthy skin from within, lasting from 4 to 12 hours and does not wash off, ensuring long-lasting protection from home and workplace toxins....
SHIELDING PROTECTION: Healing lotion that protects against environmental toxins, sanitizers, frequent hand-washing, and irritants found in cosmetic and cleaning products. Perfect for people with...
Gloves in a Bottle Shielding Lotion is the lotion that all nurses suffering from dry, cracked skin have been waiting for.
It's unique formula bonds with the outer layer of the skin, creating a protective barrier that keeps moisture in and pollutants and irritants out.
It moisturizes skin fast and works for those suffering from skin conditions like eczema, psoriasis, and dermatitis.
Since it bonds with the skin cells once the lotion is fully absorbed, it doesn't require frequent applications to be effective.
Applying it every 4 to 12 hours is recommended, depending on the severity of your skin condition. It's hypoallergenic and recommended by dermatologists.
Since it doesn't wash away easily, the formula lasts for hours and requires fewer applications. Each 3.5-ounce bottle yields at least 150 applications, making it a worthwhile investment for your skin.
Pros:
Hypoallergenic
Lasts through frequent hand washing
Helps eczema, psoriasis, and dermatitis
Cons:
Lightly-scented
Leaves a sticky residue if not rubbed in properly
Works best when applied regularly, every 4 to 12 hours
The Gloves in a Bottle Shielding Lotion is available on Amazon.
5. Gold Bond Ultimate Healing Hand Cream
Sale
This Gold Bond Ultimate Healing Hand Cream offers seven intensive moisturizers with each application, including vitamins B, C, and E.
Gold Bond has been a name trusted within the skincare industry for years, and this hand cream helps the company live up to its excellent reputation. A great hand cream doesn't have to cost a fortune, and this generously-sized 3-ounce bottle proves that theory.
The hand cream goes on thick, but absorbs quickly, forming a protective shield over the top layer of the skin. The protective layer lasts through the frequent hand washing that nurses have to endure.
The non-greasy formula leaves behind a light, fresh scent that isn't overpowering and is actually quite pleasant. It's also hypoallergenic and can be used on all different skin types.
Pros:
Seven intensive moisturizers
Flip-top bottle
Lasts through hand washing
Cons:
Does have a light scent that may cause allergic reactions in sensitive individuals
The thick formula needs to be completely rubbed in
Helps best when applied before bedtime and left on overnight
The Gold Bond Hand Cream is available on Amazon.com.
Hand Cream Buying Guide
Hypoallergenic
Not all hand creams are hypoallergenic. Those that contain harsh chemicals or fragrances may actually cause skin conditions to worsen. Avoid hand creams that contain ingredients like (source):
Alcohol
Parabens
Phthalates
Fragrance
Formaldehyde
BHT
Sodium Lauryl Sulfate
Polyethylene Glycol
Oxybenzone
Dermatologist Recommended
Look for hand creams that bear the notation that they are recommended by dermatologists. Dermatologists know what is best for your skin and wouldn't recommend products that can do more harm than good.
You may want to consult with your own dermatologist to ensure they recommend the hand cream you've selected to try.
Scented or Unscented
Everyone likes to smell good, but some offices- especially doctor's offices that treat patients with allergies- may not allow fragrances in their facility.
Unscented lotions are best for work environments that enforce a strict fragrance-free policy. Even lotions that have a light fragrance may be enough to trigger an allergic reaction in highly-sensitive individuals.
Moisturizers
Some products may claim to contain active ingredients that moisturize the skin, but not all ingredients are created equal. The best moisturizing ingredients include (source, source):
Shea butter
Petroleum jelly
Lanolin
Mineral oil
Almond extracts
Glycerin
Dimethicone
Hyaluronic acid
Prescription vs. Non-Prescription
While many non-prescription hand creams are just as effective as prescription hand creams, for those suffering from severe cases of psoriasis, dermatitis, eczema, and other skin conditions, a stronger formula may be required.
If the hand creams recommended here do not help, consult with a dermatologist to see if a prescription hand cream is necessary.
Greasy Fingers
Nourishing hand creams can sometimes leave behind a greasy residue that can cause smudged paperwork, fingerprints on your computer screens, and an overall unpleasant experience.
To avoid a greasy residue, rub in the hand cream entirely. You can also avoid products that contain ingredients like petroleum jelly and glycerin because they are more difficult to absorb into the skin and leave a protective outer layer that may feel greasy.
Waterproof
Some hand creams advertise themselves as being waterproof or lasting through several hand washes. While this is possible, the only formulas that can achieve this are ones that are completely absorbed into the skin and that bond with the cells underneath.
Although the hand cream may last through several washes, it's still best to reapply hand cream at least three to four times a day for the best protection.
Hand Washing
The way you wash your hands is just as important as the hand cream you put on them. Follow these tips to keep your hands moisturized throughout the day.
Only wash hands when absolutely necessary
Use cold water instead of warm water to wash hands
Use a hand soap that contains moisturizers like aloe vera and avoid ones that contain harsh chemicals
Pat hands dry instead of rubbing them with a towel
Immediately apply hand cream after washing hands
Hand Sanitizer
Nurses don't always have access to a sink in order to wash their hands and may need to resort to using hand sanitizer throughout the day. Hand sanitizers often contain harsh chemicals like alcohol and can dry out the hands fast.
Applying a hand cream every few hours during your shift can help replenish the moisture in the hands that is stripped when these harsh hand sanitizers are used.
Cruelty-Free
Although many companies have chosen to stop testing their products on animals, some still do.
If you are passionate about using products not tested on animals, look for the little bunny symbol on the packaging or a notation indicating that the product is "cruelty-free" or "not tested on animals".
Packaging
Packaging may not seem like a big deal when it comes to hand creams, but when you're a busy nurse who's always on the go and needs to moisturize their hands quickly, it is.
To make applying hand cream an easier task, look for products that come in a handy tube with a flip-top design. Smaller bottles less than 4 ounces can be carried in your pocket and used throughout your shift. Avoid tubs of hand cream and those with a screw-top lid that can easily be misplaced.
Vitamin-Enriched
Hand creams that include vitamins in their ingredients list can be greatly-beneficial to the hands. Vitamins don't only need to be consumed in order to help the body. Some helpful vitamins to look for include (source):
Vitamin A- rejuvenating (reduce wrinkles)
Vitamin D- helps with chronic inflammation
Vitamin E- may help with wound healing
Vitamin B5- helps with skin aging
SPF
A hand cream that contains SPF is an added bonus. Exposure to the sun can cause hands to become dry and also promote aging.
SPF protects the hands from the sun and keeps them moisturized and looking youthful. Even though nurses work indoors, using a hand cream with an SPF is still beneficial when they're outside.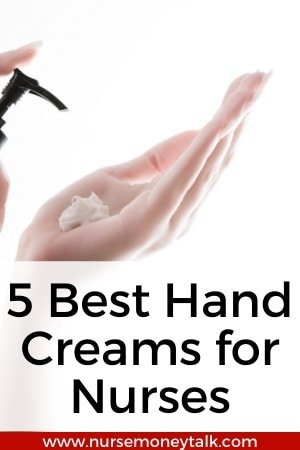 Final Thoughts
Applying hand cream is crucial for anyone that washes their hands frequently. Nurses are particularly at risk for infection in dry, cracked skin due to the nature of their work. Using one or more of these hand creams will address the problem and provide you with soft, supple, healthy skin.
Related Articles on Best Hand Lotions for Nurses