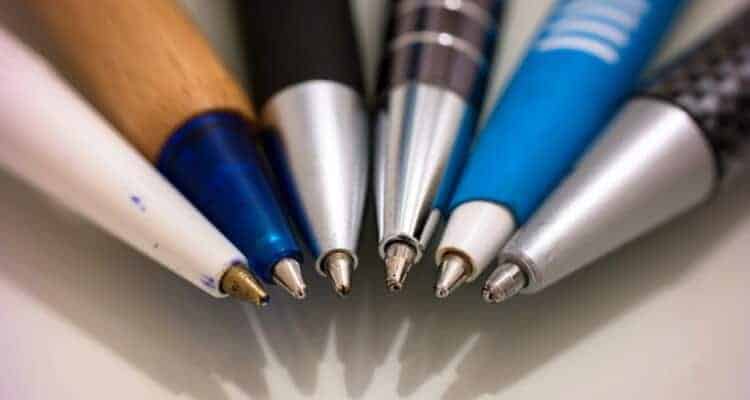 The job of a nurse requires working with your hands- both for healing and for documenting.
Taking proper notes and correctly writing in patient's charts are two of the most important things a nurse does during their shift.
Having the right pen can make performing these tasks that much easier.
*disclosure: this post may contain affiliate links. If you click and make a purchase, I may receive a commission. For more info, please see my disclaimer.
Our Top Picks of Pens for Nurses
☛ Best Retractable Pens for Nurses: Pilot G2
(Customers report having improved handwriting with this pen.)
☛ Top Necklace/Lanyard Pens for Nurses: Optiscribe Ergonomic Lanyard Ball Point Pen
(Customers with arthritis report that this pen has a comfortable grip.)
☛ Best Funny Pens for Nurses: Doctor and Nurse Ball Point Pen
(Customers report it's an adorable design and the pen writes smoothly.)
☛ Best Multi-Colored Pens-in-One for Nurses: BIC 4-Color Ballpoint Pen
(Ideal for color-coding your shift cheat-sheet "your brain" during your shift.)
☛ Personalized/Engraved Pens for Nurses: See the personalized pen selections on Etsy.com
(A custom pen means you can be stylish and be able to keep track of your pen.)
The Best Pens for Nurses
1. Pilot G2 Retractable Premium Gel Ink Pen
Sale
Pilot, G2 Premium Gel Roller Pens, Bold Point 1 mm, Pack of 12, Black
Smooth & Long-lasting: Enjoy a smooth writing experience thanks to the gel ink that glides...
Comfortable Grip: A contoured rubber grip provides ergonomic support, making long writing projects...
Versatile: Perfect for everyday writing tasks such as taking notes and jotting down grocery lists;...
The Pilot G2 Retractable Premium Gel Ink Pen is one of the longest-lasting pens you'll find on the market. Not only does the ink last a long time, but it's also refillable.
The comfortable rubber grip makes holding this pen a breeze and helps avoid the painful hand cramping that can come along with frequent writing.
Although it's a gel pen, the point is thicker than other similar styles.
This makes it easier to write long notes without having to continually lift your hand off the paper to avoid snags and scratches.
You can retract the point when you're done using it, so you don't end up with ink all over your scrubs.
Like other gel pens, it can leak or bleed if the point is left out, but this can be avoided by retracting it when not in use.
Pros:
Long-lasting ink
Refillable
Thicker point
Cons:
A tendency to leak if not retracted
May smear if the ink is not dry
A popular pen that often sells out
Check out the Pilot G2 on Amazon.com.
2. Paper Mate InkJoy Gel Pens
The name Paper Mate is synonymous with excellence in the world of pens, and this Paper Mate InkJoy Gel Pen is no exception.
The ink glides on smooth and dries fast, leaving very little time for smearing.
This is crucial for nurses because patient charts need to be kept neat and tidy.
Like other gel pens, it makes your writing stand out as if you were writing in bold font.
This is a great feature for the nursing profession, where every note counts. Unlike other gel pens, however, this doesn't clump up or bleed on the paper after it's been used for a while.
The ink comes out perfectly each and every time, making your writing clear and concise.
Because the ink flows so freely, it does tend to run out faster than most gel pens, but the cost balances out the need to replace it more frequently.
Pros:
Glides smoothly over paper
Ink dries 3x faster
Bold, free-flowing ink
Cons:
Ink runs out quickly
A tendency to bleed if not retracted
Thicker point not ideal for small print
Check out the PaperMate InkJoy Pen on Amazon.
3. Zebra Pen
Sale
The Zebra Pen is the go-to ballpoint pen for nurses. It has a retractable tip to help avoid unwanted pen lines on your hands and clothing.
The clear plastic barrel lets you know when you're running low on ink.
The sturdy, metal clip can attach to any pocket, so you never lose your favorite pen again.
One of the best features of this pen is the comfortable, latex-free rubber grip. Latex-free items are a necessity for nurses, with so many patients having known latex allergies.
The rubber grip makes writing more comfortable, and the easy-flowing ink means you don't have to press as hard when writing.
All of this saves your hands from unwanted pain so you can focus more on getting the job done and less on rubbing the aches away.
Pros:
Retractable tip
Sturdy, metal clip
Latex-free rubber grip
Cons:
Ink is not refillable
Not a gel pen, so the ink is not as bold
Only for use on standard or thick paper
Check out the Zebra Pen on Amazon.com.
4. Doctor and Nurse Ball Point Pens
If you've been searching for the perfect novelty pen for nurses, your search is over.
These Doctor and Nurse Ball Point Pens are the perfect gift for yourself or for the other nurses in your life.
Crafted from sturdy clay, these pens are not only adorable, they're also functional.
With several cute designs to choose from, everything a nurse uses to identify themselves is covered.
From stethoscopes to face masks to even an adorable nurses' hat, these pens are a must for any nurse.
Their thick, ballpoint tips make writing a cinch- a necessity for anyone in the nursing profession.
Although they are a novelty pen, they're still reliable enough to use during long shifts where constant writing is being done.
Pros:
Adorable designs
Sturdy construction
Smooth, ballpoint tip
Cons:
Non-refillable ink
Ink tends to run out fast
The tip is not retractable
Check out the Doctor and Nurse Pen available on Amazon.com.
5. SunAngel Ball Point Pens
Bold, bright, and fun best describe these SunAngel Ball Point Pens.
They come in three entertaining designs, including a syringe ballpoint pen, a syringe highlighter, and a pill-shaped ballpoint pen.
Their funky colors are ideal for the nurses that really enjoy their job and love to express themselves through their writing materials.
Not only are these pens cute, they're also easy-to-use and get the job done. The syringe pens are larger and perfect for taking notes and writing in patient charts.
The smaller, pill-shaped pens are great for grabbing on-the-go.
They can be tucked into your scrub pocket, so you always have a handy pen within reach. Although they are a novelty pen, the ink lasts as long as other ballpoint pens.
Pros:
Fun, quirky designs
Small, convenient pill-shaped pen for on-the-go situations
Cons:
The ink is not refillable
The ink is black, not colored like the syringe depicts
They tend to dry out fast
Check out the Syringe Pens available on Amazon.
Buying Guide- Best Writing Pens for Nurses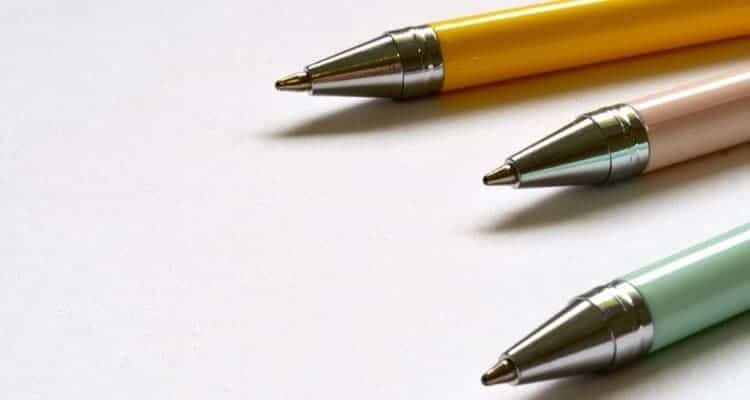 There are many features that should be taken into account when considering which type of pen to buy. Before making your selection, review these features and decide which pen is right for you.
1. Quick-Drying Ink
There's nothing worse than having ink smeared all over the side of your hand and down your scrubs. Quick-drying ink virtually eliminates this problem, particularly for nurses that are left-handed.
Look for pens that state that their ink dries at least three times faster than their competitor's pens.
2. Refillable Ink
Some pens come with the option to refill the barrel of the pen with more ink.
This is a great feature if you have a pen that you really like and don't want to throw it out every time and run out of ink.
These pens are often more expensive the first time you purchase them, but the refillable ink actually saves money in the long run.
3. Point Thickness
The thickness of a pen's point can vary anywhere from fine (0.38 mm) to bold (1.0 mm).
Fine-point pens, which you'll often find with gel pens, are excellent for when you have limited space to write in patient's charts and need to use small letters.
Bold pens, like ballpoint pens, are ideal for when you need your writing to stand out, for instance:
Note-taking
Writing reminders
Signing patient paperwork
4. Retractable Tip
Pens that are not retractable require a cap to keep them closed.
Those caps can get lost easily during a long shift. Retractable tips are great for on-the-go nurses that don't have time to fumble with pen caps.
This feature also makes the pen more entertaining because it's always fun to click a retractable pen.
Nurse Pro Tip:
When possible, opt for a "retractable tip" pen or a "clicky" pen. The reason is you can take out the pen, use it, and cover it back up all in one hand. If you have a pen with a cap, you have to use two hands.
5. Pen Clip
Both retractable and capped pens almost always come with a pen clip at the top or bottom. This allows you to clip the pen securely to your pocket, lanyard, patient charts, clipboards, or other paperwork.
This handy feature ensures that your pen is always within reach. There are several materials the pen clip can be made from, including:
Plastic
Metal
Rubber/Silicone
Clay
Metal is the sturdiest option, making it an ideal choice for busy nurses that frequently need to fasten and unfasten their pens in a hurry.
6. Cleanliness
Nurses are exposed to a lot of germs during their shifts- whether it be from patients or their co-workers. It's important that a pen is easy-to-clean so those germs can be wiped away during and after each shift.
A pen that has a smooth surface without a lot of grooves will be the easiest to clean. You can simply wipe it down with a disinfecting wipe or wash it with soap and water.
7. Versatility
A nurse has to write on a variety of different surfaces, including paper, plastic labels, and even dry-erase boards.
A pen that offers enough versatility to write on all of these surfaces saves the need to carry around multiple pens.
Consider purchasing a pen that is washable or that easily writes on coated surfaces, such as an oil-based pen.
8. Cost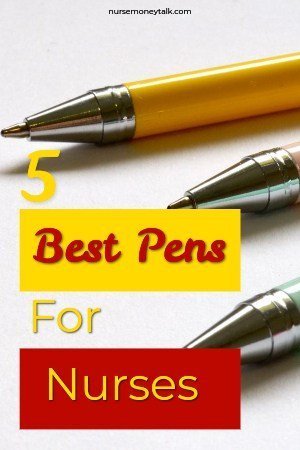 The cost of a pen is almost as important as the features it offers because nurses go through multiple pens in a short period of time.
There are several ways to save on the cost of a pen, including purchasing one that offers:
Refillable ink
A large ink barrel
A thick point that doesn't bend easily
A sturdy clip that's difficult to break
A retractable tip that won't dry out
9. Other Cool Features
In addition to the important features above, you may want to consider pens with cool features like:
Colored ink
A highlighter on the opposite end
A novelty look that is related to the nursing profession
An appealing scent
A flashlight on the end
An attached lanyard
Final Thoughts
Nurses are always in need of pens because their jobs entail a lot of writing.
These pens are all excellent choices for the nursing profession. The only trouble you might have is making sure no one steals your favorite pen.
Related Articles on Nurse Pens