10 Best Medical Bags for Nurses (Nurse Bag & Totes Review)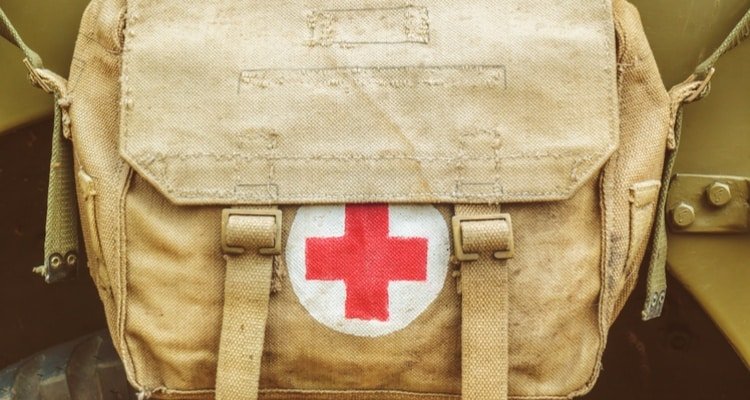 Nurses need a reliable, sturdy bag to carry around all of the necessities for their profession.
Nurses that travel for their job are particularly in need of a great medical bag.
We've reviewed 10 of the best medical bags available to help you determine which one is right for you.
*disclosure: this post may contain affiliate links. If you click and make a purchase, I may receive a commission. For more info, please see my disclaimer.
Our Top Picks of the Best Nurse Bags:
☛ Best Overall: Nurse Mates Ultimate Nursing Bag on Amazon.
(light durable with plenty of color options.)
☛ Best Nurse Bag You Can Personalize: Black Damask Nurse Tote Set on Etsy.
(Comes as a set and easy to clean.)
The Best Medical Bags for Nurses
Keep scrolling to see our personalized bag selections from Etsy.
1. Nurse Mates Ultimate Nursing Bag
This Nurse Mates Ultimate Nursing Bag lives up to its name in that it's truly the ultimate in both comfort, durability, and style.
It boasts several different sized pockets that are perfect for fitting all of your nursing necessities like a stethoscope, blood pressure cuff, pens, a water bottle, and even a tablet.
There are multiple colors and styles to choose from, so you can really express your personality while on the job. It's lightweight which is great for nurses that need to carry their bag often with a lot of personal belongings.
Even with dozens of items inside, it's still lighter than other medical bags on the market.
It's water-resistant, so you don't have to worry about spills or accidents either inside or outside of the bag. You can simply wipe it clean or throw it in the washing machine.
Pros:
Multiple colors and styles
Plenty of compartments for storage
Lightweight and durable
Cons:
Quite large so it may not be right for nurses that don't travel with a lot of items frequently
The nylon material can be a bit noisy when opened
The designs aren't embroidered so they can fade over time
Check out the Ultimate Nursing Bag by Nurse Mates available on Amazon.
2. Nylon Shoulder Bag Handbag
The Nylon Shoulder Bag Handbag from Crest Design is the perfect bag for nurses that desire multiple carrying options with their medical bags.
This bag can be carried over the shoulder, as a crossbody bag, or as a handbag.
Those with shoulder issues will benefit from this bag because you can evenly distribute the weight of the items inside by using it as a crossbody bag or handbag.
It comes in several appealing colors that are ideal for a variety of work environments. The nylon and polyester material looks attractive and is also easy-to-clean.
There are multiple compartments in varying sizes so you can fit everything from a laptop and three-ring binder to small pens and paperclips.
There's even a padded compartment to keep your laptop or tablet secure at all times. Although the bag does not sit up on its own, it is very sturdy and able to sit upright once items are inside of it.
Pros:
Multiple carrying options
Padded laptop compartment
Attractive colors and material
Cons:
Pay close attention to the sizes as some are smaller than advertised
The bag does not sit upright on its own
The zippers are plastic, not metal
Check out the Nylon Shoulder Work Bag by Crest Design available on Amazon.
3. Pursetti Organizing Tote Bag
Sale
Style and durability combine in this Pursetti Organizing Tote Bag.
There are so many great features that come with this bag, including the vibrant designs, multiple compartments, sturdy zippers, and the fact that it folds down for easy storage.
There are 11 beautiful designs that make the durable polyester fabric really pop while also allowing it to be a cinch to clean. Simply wipe it with a damp cloth to remove any spills or stains.
There's a large main compartment that's big enough for storing a laptop.
The main compartment also includes five smaller interior pockets to stash items like a cell phone, keys, and a wallet. Six exterior pockets allow you easy access to all the necessities for your job like pens, paper clips, or even a water bottle.
The bag stands upright when it's full and folds down compactly for easy storage.
It's the perfect size for nurses that are constantly on-the-go and need to have all of their most-needed items within reach.
Pros:
11 vibrant designs to choose from
Multiple storage compartments
Easy-to-clean polyester fabric
Cons:
Only stands upright when items are inside
Water bottles larger than 16oz may not fit in the exterior pockets
Does not include any small zippered pockets for loose items like change or SD cards
The Pursetti Organizing Tote Bag is available on Amazon.
4. Uptown Girl Tote Bag
This Uptown Girl Tote Bag is a great medium-sized bag for nurses that have several items to carry but may not need as much storage space as a travel nurse.
There's plenty of room to store the necessities in one large main compartment and four smaller pockets.
The interior pocket is ideal for storing valuables like a laptop, stethoscope, keys, and a cell phone.
The exterior pockets allow you to always have non-valuable items like pens, water bottles, and snacks within reach.
The designs are elegant, and the polypropylene fabric is beautifully crafted to both look stylish and be functional.
You can easily clean any messes up with a damp cloth, which is important for nurses that are constantly concerned with infection control.
One of the best features of this bag is that the bottom is very sturdy and stands on its own without any items inside.
This makes loading and unloading the bag a breeze- an essential for busy nurses that are always on-the-go.
Pros:
Beautiful polypropylene fabric in a variety of elegant designs
Five total compartments provide just the right amount of storage
Stands upright on its own
Cons:
The exterior pockets do not zipper
The fabric is stiff and tends to crease
May emit a plastic smell until it airs out
The Uptown Girl Tote Bag is available on Amazon.com.
5. Baggallini Avenue Tote
Sale
Baggallini unisex adult Avenue Tote, Apple, One Size US
THE PERFECT CARRY-ON: With a lightweight, roomy design, Baggallini's Avenue travel bag is the...
ZIPPERED POCKETS: A padded 10"x 13" laptop compartment keeps your computer safe, while other...
MACHINE WASHABLE: To wash in a washing machine, remove wristlet, place in a washing bag or...
This Baggallini Avenue Tote is the perfect bag for traveling nurses for so many reasons.
It's made from a durable, lightweight nylon fabric that is easy-to-clean and can be used as a carry-on bag when flying for a travel nursing position.
It also keeps your valuables safe with the amazing RFID feature that prohibits others from stealing your personal data and credit card information.
This bag also meets most safety standards at heavily-monitored places like stadiums, federal buildings, and airports.
Not only are the safety features plentiful, the design of the bag is also gorgeous.
It comes in a wide variety of solid colors and patterns, and the nylon fabric simply wipes clean with a damp cloth.
It includes a removable shoulder strap and two carrying handles so you can wear it in several different ways, including a crossbody style.
There's even a luggage handle sleeve, so you don't have to fumble with your bag while you're checking items at the airport. It's truly the definition of the ideal medical bag for traveling nurses.
Pros:
RFID safety feature
Meets most safety requirements for large buildings
Multiple carrying options
Cons:
The main compartment is angled and may not fit large items
The side compartments are on the smaller side
Ideal for light travel but not large enough to hold a lot of necessities
Check out Baggallini Avenue tote on Amazon.
6. Hopkins Antimicrobial Home Health Shoulder Bag for Nurses
Sale
For the nurse that is always traveling from one job to the next, the Hopkins Antimicrobial Home Health Shoulder Bag for Nurses is the all-in-one medical bag that you need.
It was specially designed to cater to the needs of mobile nurses, including home health nurses and hospice nurses.
It's made from a durable 600D waterproof material that boasts a microban protective coating that's crucial for nurses that are moving from one patient to the next but still need to focus on infection control.
There are several great design features to this bag that make it even more beneficial for nurses who travel.
The front pocket unzips completely, allowing you easy access to your nursing essentials like a stethoscope, thermometer, blood pressure cuff, and bandages.
There's a large inner compartment that can store a laptop, folders, binders, and other paperwork.
The zipper compartments on the side are the perfect size for storing keys, cell phones, and personal items.
There's even a HIPPA-compliant lockable pocket to ensure all patient's records are securely stored.
Pros:
Microban protective coating
Front pocket that opens completely, allowing easy access to the contents inside
HIPPA-compliant lockable pocket
Cons:
The middle section is not as deep as other similar medical bags
The side pockets are zippered but small
Only comes in one color
The Hopkins Antimicrobial Home Health Shoulder Bag is available on Amazon.com.
7. Brooke & Jess Designs Large Nursing Zippered Tote Bag with Pockets
If you are or know a spunky nurse who travels a lot, this Brooke & Jess Designs Large Nursing Zippered Tote Bag with Pockets would make an excellent way for you or them to express their personality while they're working.
It comes in several different colors, all with funny sayings that will perk up any workday. The thick, durable canvas material is machine-washable and built to survive all those long 12-hour shifts.
The 28-inch long webbed handles make carrying the tote to and from work a breeze. You can either throw it over your shoulder or elbow or carry it by hand, giving plenty of versatility to an already great bag.
There's a large, zippered main pocket that includes an inside zippered pocket and three other compartments to organize all of your nursing essentials.
The bag also boasts two side pockets that are perfectly sized for water bottles.
The front pocket fits tablets up to 11 inches and can also be used to store other nursing materials. For a fun and functional bag, look no further than this adorable tote.
Pros:
Humorous sayings about the nursing profession
Durable canvas material
Several compartments for storing items
Cons:
May not be appropriate for conservative work environments
Canvas material must be machine-washed, stains don't just wipe away
Not usable as a crossbody bag
The Brooke & Jess Designs Nurse Tote Bag is available on Amazon.com.
Personalized Nurse Bags & Totes
8. Personalized Heart Stethoscope with Flowers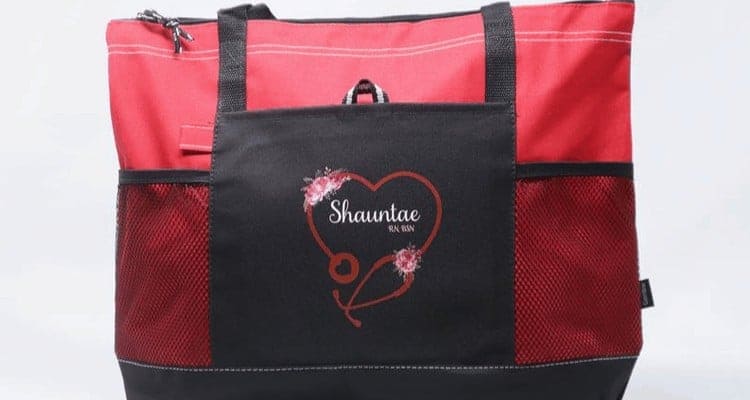 Never get your medical bag confused with someone else's again with this Personalized Heart Stethoscope with Flowers bag that can be customized with your name.
There are seven different colors to choose from, and each bag is made from 600D polyester fabric.
Each handmade bag is stitched to perfection with each thread being carefully placed, ensuring it will last for years.
All of the inks used to personalize the bags are made from the highest-quality materials, making for vibrant colors that truly stand out.
The bag is a great size, sitting 14 inches tall and 20 inches wide. The zippered main compartment is the perfect spot to store nursing essentials and either a laptop or tablet.
There's also a pen loop on the front pocket, so you're never without a pen in reach.
The two mesh side pockets are excellent for storing water bottles and non-valuable items. The entire bag is easy to carry with thick shoulder straps that measure 29 1/2 inches long.
Pros:
Seven vibrant colors to choose from
Name personalization made from high-quality ink
Generously-sized zippered main compartment
Cons:
Only one zippered compartment
No padded area for electronic devices
The shoulder straps are not adjustable
Check out the other reviews of the personalized heart stethoscope bag on Etsy.com.
9. Black Damask Nurse Tote Set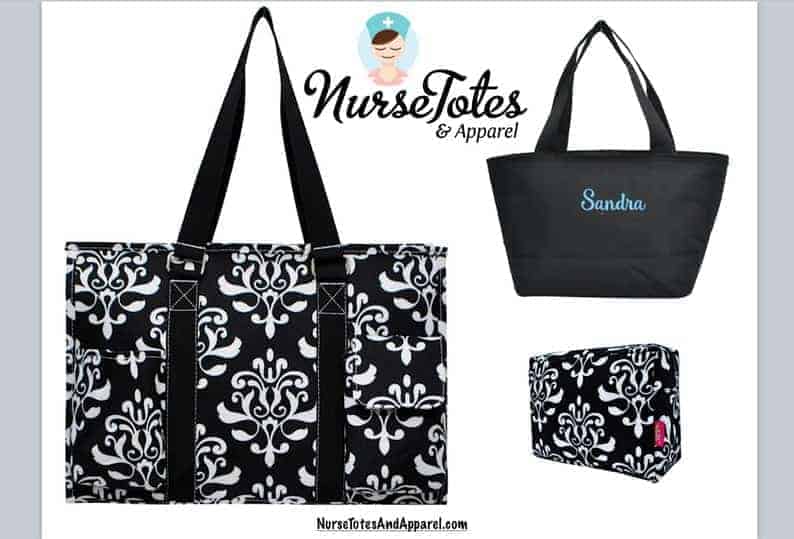 This Black Damask Nurse Tote Set is unique because it comes with not only a medical bag but also a lunch bag, making it an excellent option for the nurse that's always on-the-go.
There are two different size options- both 19 inches and 16 inches- with each coming with a coordinating lunch bag.
The bag can be personalized with a name or even initials so that if your bag is ever lost or stolen, they know who to return it to.
The black and white contrast of colors makes this bag a very attractive option for any nurse.
It's a classic design but also stylish and would be appropriate for all different work environments.
The canvas material is easy-to-clean and sturdy so you can carry everything you need in just one bag.
The tote bag boasts a large zippered pocket, four outside pockets, and two mesh pockets. You can store all of your necessities within reach in the most fashionable way possible.
The coordinating lunch bag is insulated, ensuring your lunch or dinner stays cold or hot and is ready and waiting for you when you're ready to eat.
Pros:
Classic black-and-white design
Two size options
Coordinating, insulated lunch bag
Cons:
Only comes in one color option
Not a lot of smaller compartments to store loose items
The carrying handles can only be worn over the shoulder
Check out the Black Damask Nurse Tote Set on Etsy.com.
10. Monogrammed Nurse Tote Bag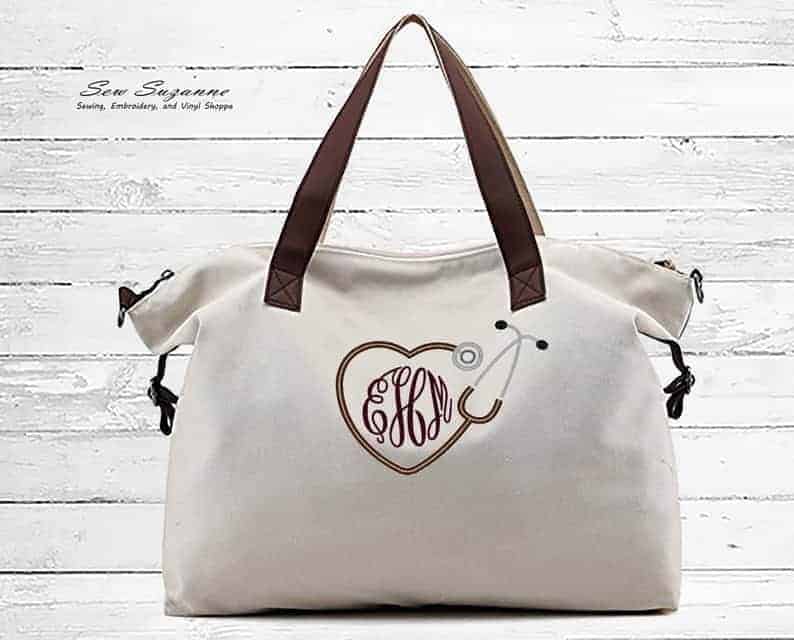 If you've been searching for a durable crossbody medical bag that can be personalized, this Monogrammed Nurse Tote Bag is the one.
You can choose from several different color options and monogram styles so you can really customize the bag to your liking.
There's even the option to choose the thread color for the monogram. This nurse tote bag is made from sturdy canvas material and is both functional and easy-to-clean.
The inside is made from soft cotton, so your nursing essentials are always kept safe and secure.
The zippered closure also helps keep all of your valuables inside where they belong while you travel to and from your job.
The main compartment also boasts an interior zippered pocket so you can keep things like keys and your cell phone away from items like your stethoscope, blood pressure cuff, thermometer, and medications.
In addition to the generously-sized main pocket, there are three slip pockets where you can store a water bottle, snacks, pens, and more.
Pros:
Crossbody bag can also be carried over-the-shoulder or by the handle
Durable canvas material
Generously-sized zippered compartment
Cons:
The canvas material must be machine-washed to remove stains
No cushioned laptop compartment
Cannot customize with your entire name, only initials
See the price of the Sew Suzanne Monogrammed Nurse Tote on Etsy.
Buying Guide: Medical Bags for Nurses
1. Sizing
With so many tools to carry around, a generously-sized bag is essential for a nurse to be able to do their job correctly.
Bags that are too large can be cumbersome and heavy which can be difficult for nurses who are constantly on-the-go.
A bag that can fit all of your essential items neatly but without a lot of excess space is the best option.
2. Design
The design of a bag is almost as important as what's stored inside. A medical bag should have several compartments that fit items of different sizes so that everything has its own space. This makes finding the right tool for a job an easier task.
3. Durability
Nurses often work long shifts so they need a bag that can hold up to the constant hustle and bustle of a busy medical environment. Things to look for in terms of durability include:
Strong, sturdy material that can withstand a lot of weight
Thick, cushioned straps that offer different carrying options
Metal zippers that won't break with frequent use
Machine-washable material or materials that can at minimum be wiped easily to disinfect
4. Cleanliness
The job of a nurse requires them to be continually disinfecting and keeping infection control always at the forefront of their mind.
Being able to clean and easily disinfect a medical bag helps avoid the spread of potentially life-threatening germs and bacteria to other patients.
Medical bags coated with a microban protective coating can prevent the spread of germs even more.
5. Patient Information Safety
HIPPA privacy laws are very strict, and even traveling nurses need to abide by them. Carrying patient paperwork or patient information on a laptop can put patients at risk if their information is not stored properly.
Having paperwork secured in a locked or zippered pocket is the best way to keep patient information safe.
6. Personal Data Safety
Keeping your own personal information safe is also an important factor to consider when purchasing a medical bag.
You'll most likely store items like a cell phone and wallet inside of your medical bag which can potentially expose your personal information to hackers and criminals.
A nurse bag with RFID protection eliminates the possibility of someone scanning your personal information as they walk by, leaving you protected at all times.
7. Personalization
Being able to personalize your medical bag to your liking is a great feature to look for.
For a truly unique bag that will set you apart from others in the nursing profession, look for items that offer:
Multiple color options
Name or initial personalization
Unique or funny nurse sayings
Different carrying options like a crossbody bag, shoulder bag, or carrying handle
8. Coordinating Set
Many nurses also have the need for other types of bags in addition to a medical bag.
Items like a lunch tote or miniature bag for carrying things like pens and paper clips are all useful add-on features.
Having everything coordinated makes you look more professional and put-together which makes a great first impression on patients, fellow nurses, physicians, and administrators.
9. Waterproof
A bag that is made from waterproof material is beneficial because you can throw the bag in the washing machine to easily clean it.
You also don't need to worry if you get caught in wet weather, which can be a concern for nurses that travel to different parts of the country.
You can rest assured that all of your nursing essentials are safely stored inside with a waterproof bag.
10. Safety Requirements
Airports, stadiums, federal buildings, and even some hospitals are getting more and more strict about the types of bags allowed within their facility.
Bags that meet the safety requirements set forth by certain facilities can make traveling as a nurse much easier.
You may even be able to use your medical bag as a carry-on bag when traveling by plane because it's small enough to fit in the overhead compartment or at your feet during the flight.
11. Cushioned Straps
Having to carry a heavy bag on your shoulder all day as you run from patient to patient can be very taxing on your body.
Help alleviate some of the pain by purchasing a bag with cushioned shoulder straps. The cushioning keeps the straps from digging into your shoulder and causing issues like neck pain, headache, or even bruising.
12. Pen Loop
One of the things many nurses complain about is that they're always losing their pens.
Whether they're being stolen or just suddenly going missing, it can be frustrating to constantly be searching for a pen, especially in stressful situations where a patient needs immediate care.
A pen loop on the front of a medical bag means there's always one within your reach, making you more efficient and less frustrated.
As a side note, we've also reviewed some of the best writing pens for nurses, so definitely check it out if you're on the hunt for a new pen.
13. Mesh Pockets
Even though a medical bag is primarily used to store necessary nursing tools like stethoscopes, blood pressure cuffs, thermometers, medications, patient paperwork, and more, it's also convenient to be able to store personal items alongside them.
Mesh pockets on the sides of the bag allow you to keep things like water bottles, snacks, and your cell phone within reach but separate from the items essential to perform your job.
14. Upright Bag
A bag that stands upright on its own without any items inside can make loading and unloading a medical bag a much easier task.
You won't have to worry about the bag toppling over and spilling out all of its contents, which is particularly important for nurses who are in charge of carrying around private patient information.
An upright bag is also useful when traveling because you can set it down on its own or on top of other bags without having to fuss with it.
Final Thoughts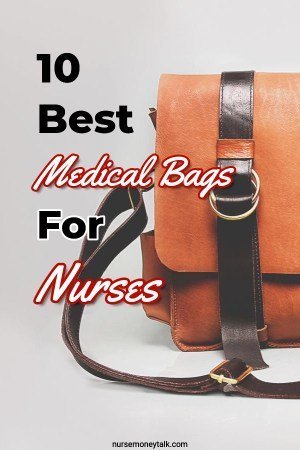 A great medical bag can make the job of a nurse so much easier. When you're able to quickly access the tools you need to perform your job efficiently, you're left with more time to focus on patient care. These medical bags are all excellent options for nursing professionals.
Related Articles on Nursing Bags