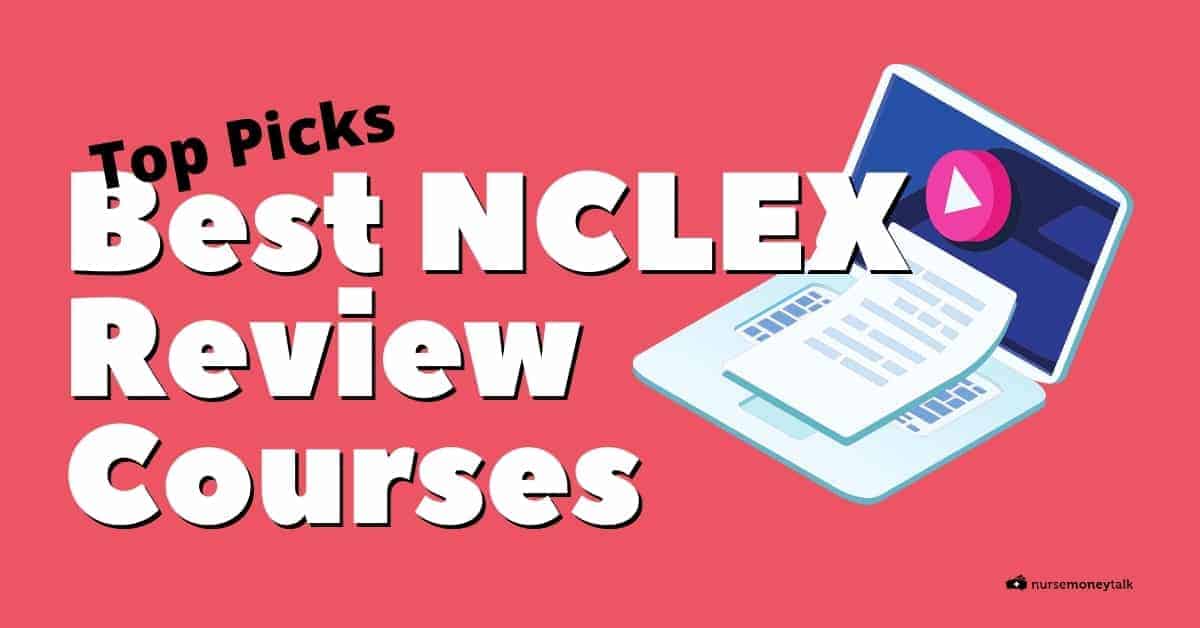 The next step following nursing school is taking the NCLEX so you can receive your state license.
While nursing school prepared you to begin your career, an NCLEX review course, such as one of the eight best-rated options below, can polish your knowledge and give you the confidence you need to pass your boards.
Remember your nurse degree has limited value without the licensure.
*Disclosure: This article on the best nclex prep course may contain affiliate links. If you click and make a purchase, I may receive a commission. For more info, please see my disclaimer.
My Picks
Best for Online NCLEX Review Course: NCLEX Prep Academy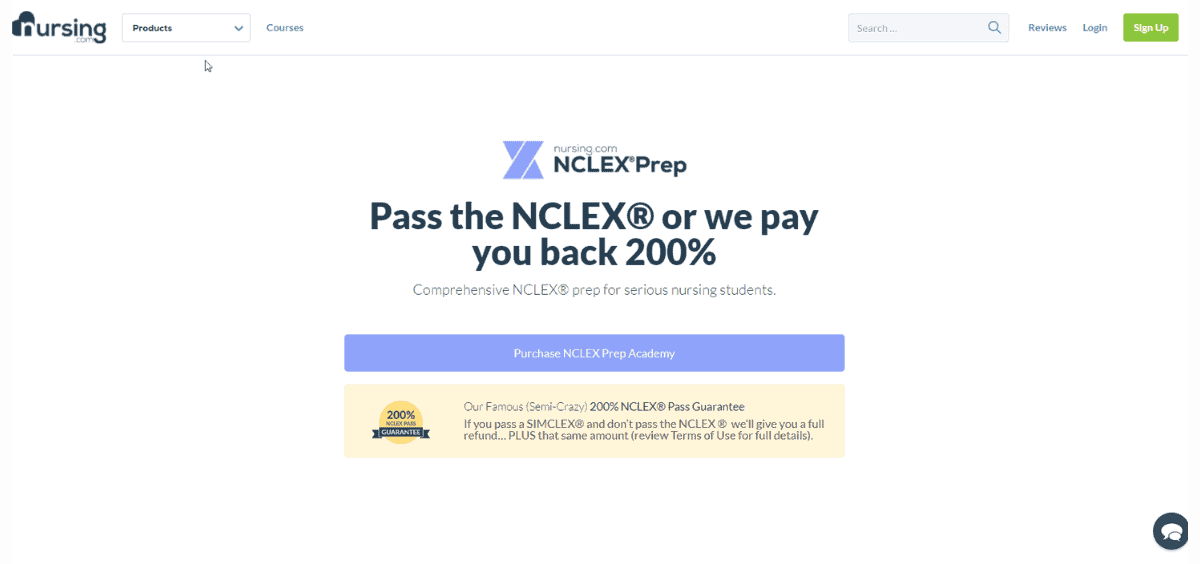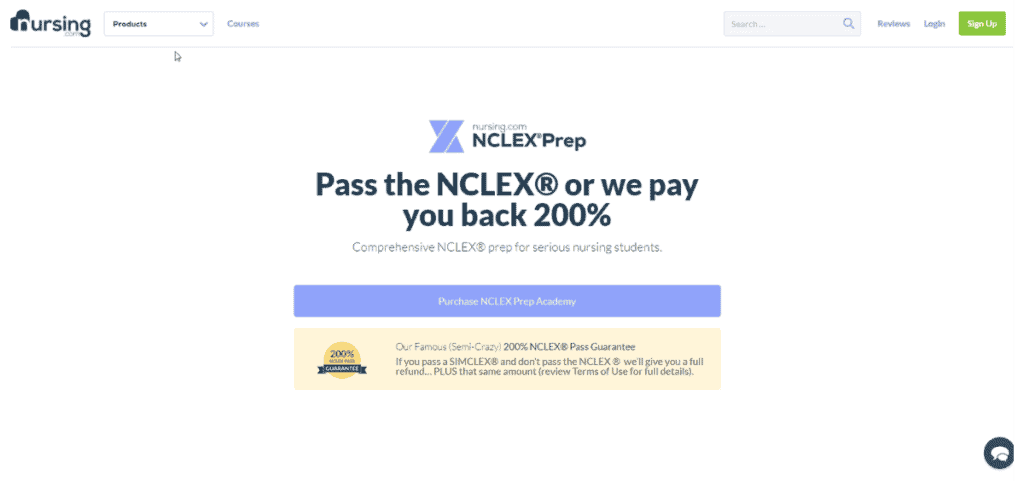 If you're looking for the complete self-paced NCLEX prep course, I'm not sure you can do much better than the NCLEX Prep Academy.
Boasting a 99.86% pass rate you can pay with confidence that the course you're buying has such a long track record of success.
The company behind the NCLEX Prep Academy is so confident that you'll be successful with the course they're willing to offer you a 200% moneyback guarantee if you aren't successful. Go here to read the full details.
Best for in Person NCLEX Review Class: Kaplan NCLEX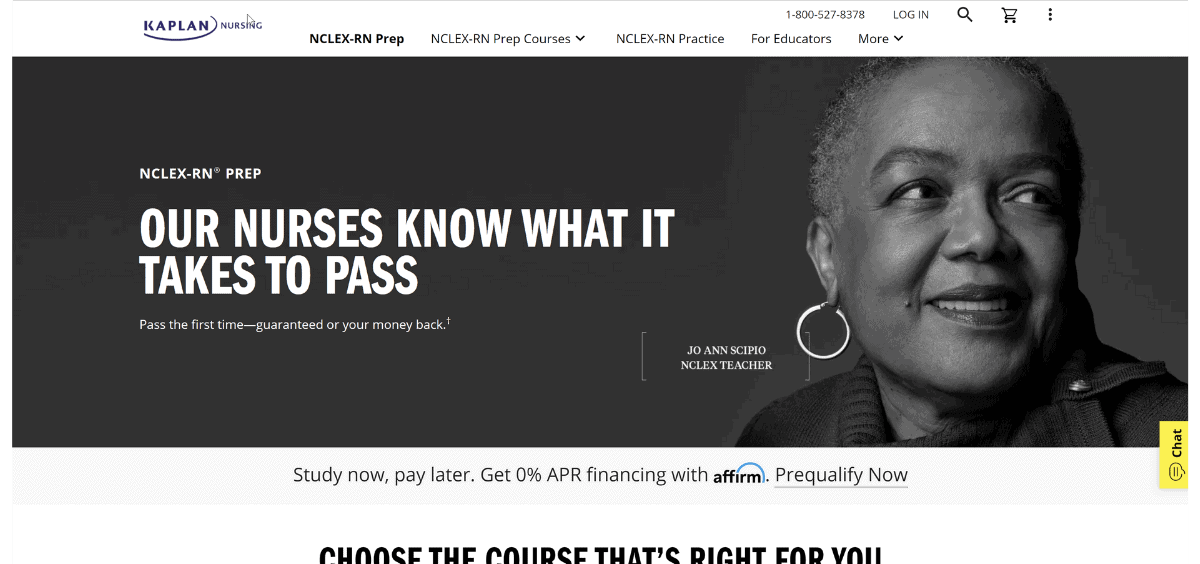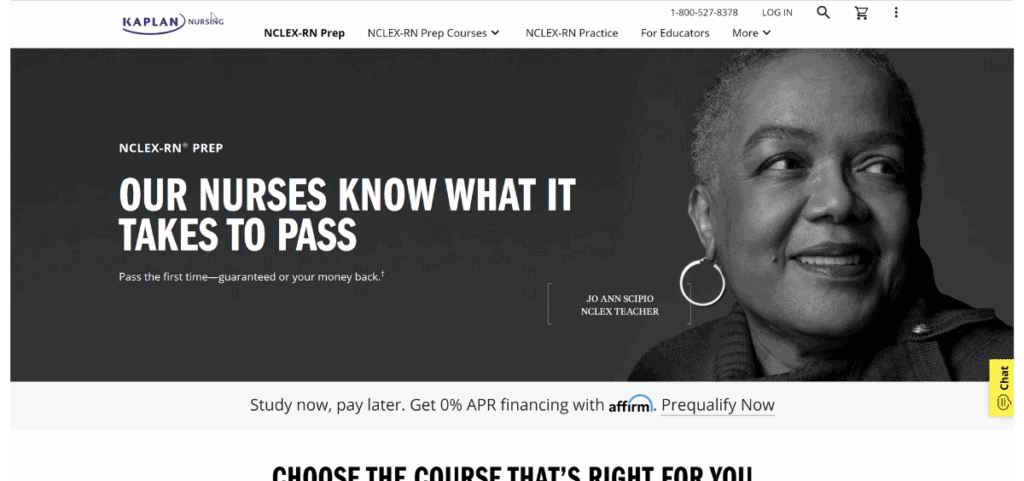 Kaplan NCLEX Review has their own complete NCLEX course that comes with a ton of practice questions, review guides you know the whole nine yard.
I prefer the NCLEX Academy but the major differentiator between Kaplan's NCLEX Review and the NCLEX Prep Academy is that Kaplan doesn't just have a slef=paced option but they also have a live online class option and an in-person class option.
I haven't taken the online portion but I have taken the in-person option and it's definitely a good option if you're looking for a live class option with an instructor you can ask questions to. Go here to find the price and see what other students are saying.
Best NCLEX Review Courses
Below is a detailed review of each NCLEX course.
Please note that it might be worth it to you to consider hiring an NCLEX tutor. If that's the case you can go here to find a tutor.
1. NCLEX Prep Academy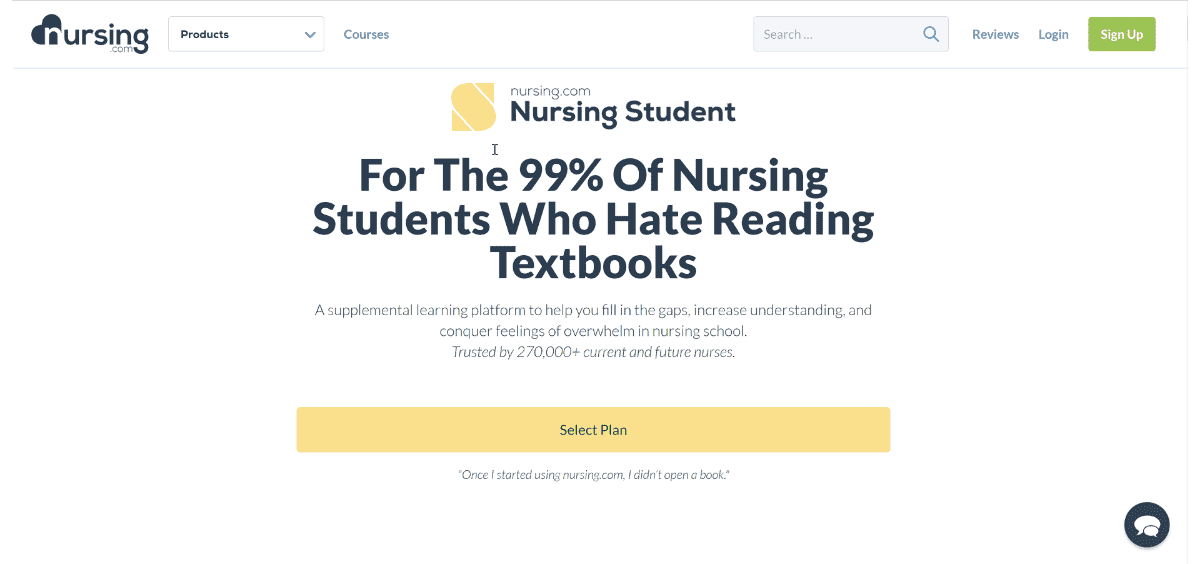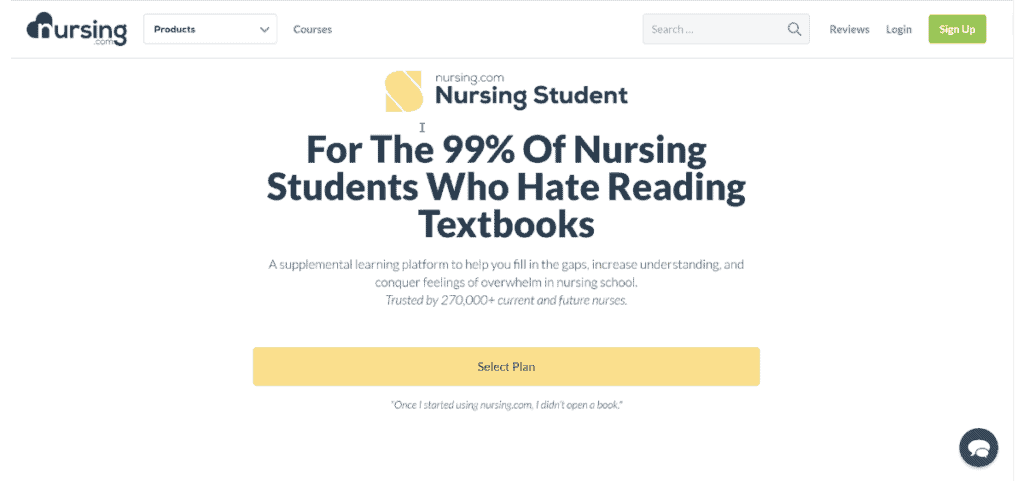 Formerly known as NRSNG.com, NCLEX Prep Academy routinely ranks among the favorites of nursing school students.
Boasting a 99.86% NCLEX passage rate, NCLEX Prep Academy is so sure that it will help you pass the test with flying colors that it offers a 200% money-back guarantee if you fail.
This review course makes it easy for you to work your way through the material, going from easiest to more difficult as you move ahead.
It covers community health, emergency, medical-surgical, maternity, mental health, and pediatric nursing along with pharmacology, nursing communication and peri-operative nursing for a total of well over 300 lessons.
However, there is no need to worry about getting through the material as NCLEX Prep Academy creates multi-week study plans.
Some of the top reasons why students love NCLEX Prep Academy is that it has a mobile app that allows you to watch videos and answer practice questions while on the go.
It uses an NCLEX simulator that mimics actual test algorithms and includes a helpful e-book.
With four plans from which to choose, you can determine how long you want to access the material and how many practice examinations you want to take.
There are very few downsides to this prep course. However, some users have found that the customer service department leaves a bit to be desired.
Know that it may take a few days to get an answer to your questions if you do contact the company.
Pros
Lifetime access option
200% money-back guarantee
Over 99% passage rate
Cons
Sub-par customer service
A newer program with a few known user interface problems
2. CrushNCLEX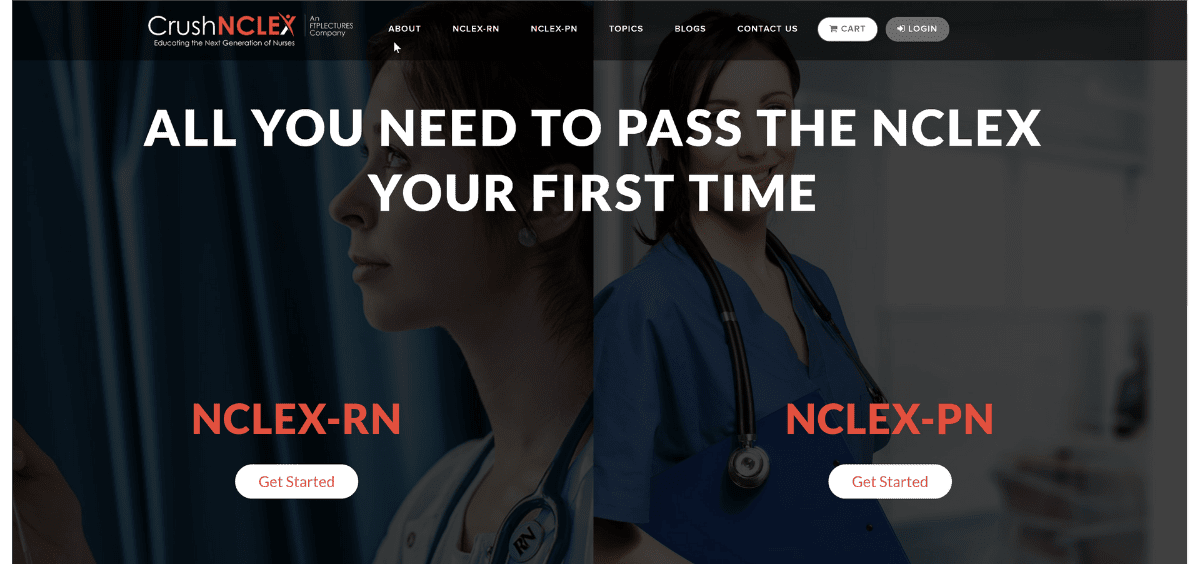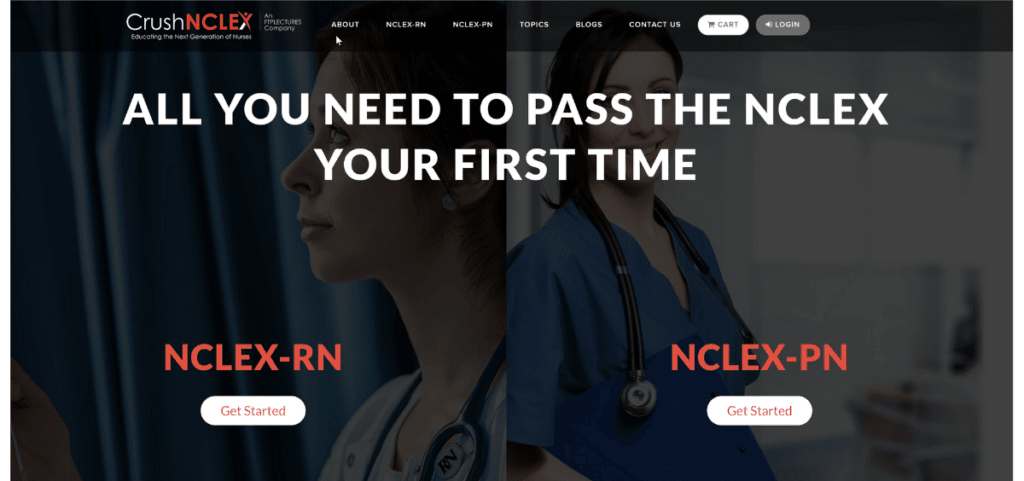 Boasting 100,000 subscribers, 2,000 NCLEX prep questions, and more than 100 video lessons, CrushNCLEX is another great contender for top review courses.
Although you may not have heard as much about this company as others on this list, it does boast a high passage rate of 99%.
Plus, if you do not pass on your first try, the company has a 100% money-back guarantee.
Once again, CrushNCLEX offers mobile review options. Another positive for this course is that it gives you highly detailed explanations for each correct answer, helping you not just memorize material but truly understand it so that you can apply this knowledge to similar questions.
CrushNCLEX also offers four different payment tiers. The basic package provides support for one month but does not provide video reviews as all of the more expensive packages do.
The top package offers lifetime access and is great for current nursing students wanting to brush up before college tests.
The one downside of CrushNCLEX is the cost, coming in slightly higher than some other alternatives that offer similar content.
Pros
99% passage rate
2,000 practice questions
Mobile functionality
Cons
Potentially prohibitive cost
3. Kaplan NCLEX Review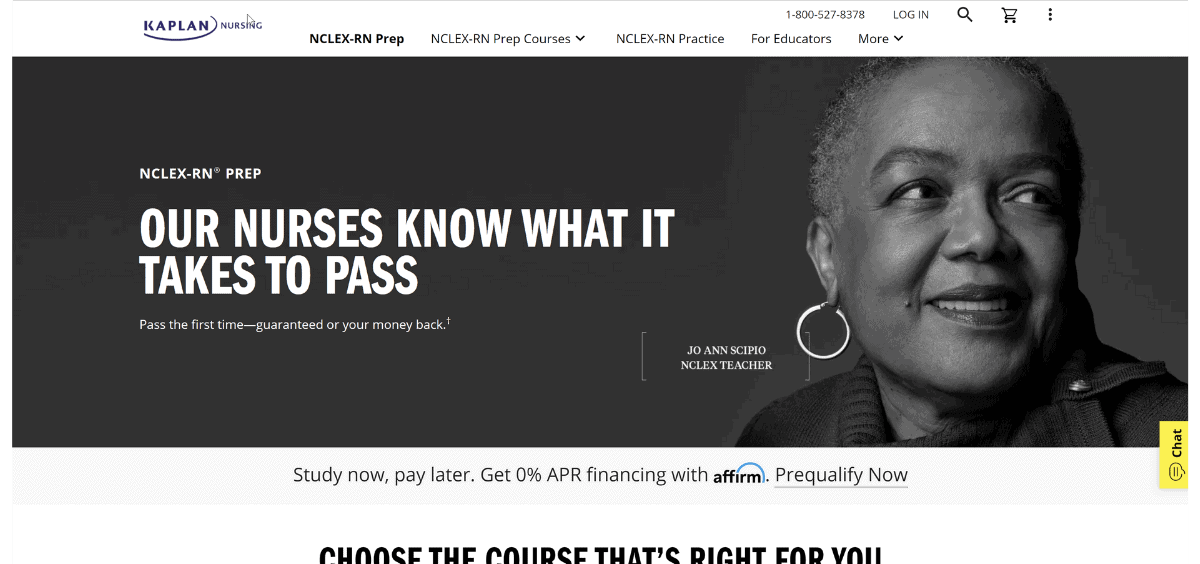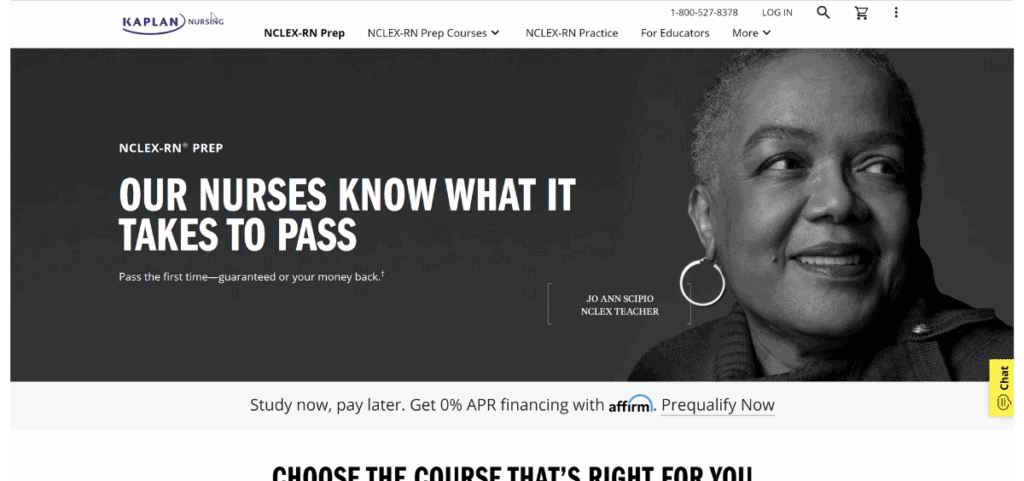 Kaplan NCLEX Review is unique in that it offers live in-person classes for those who prefer more of a personalized feel rather than just an online option.
It's routinely recommended by nursing schools across the United States and is a great option if you want a comprehensive course designed to give you maximum confidence for test day.
Of course, Kaplan also offers a 100% money-back guarantee if you do not pass the NCLEX on your first try.
One thing you're sure to love about Kaplan's course is that it uses CAT, which is computerized adaptive testing, just as the actual NCLEX test uses. This gets you used to question sequences and shows you what the testing algorithms will be like.
Plus, the course gives you helpful hints on how to answer NCLEX-style questions so you're not confused by the notorious choose-all-that-apply questions on test day.
Kaplan is one of the most expensive options for either its self-paced or live options. Plus, it does not have quite as many simulated examinations as other top contenders do, such as Hurst NCLEX Review.
However, it's a solid choice with a long history of success.
Pros
CAT technology used on practice tests
Over 2,000 practice questions
Excellent explanations for test answers as part of Kaplan's Decision Tree
Money-back passing guarantee
Live interactive class options
Cons
Expensive course option
Only a 95% passage rate
4. NCLEX Mastery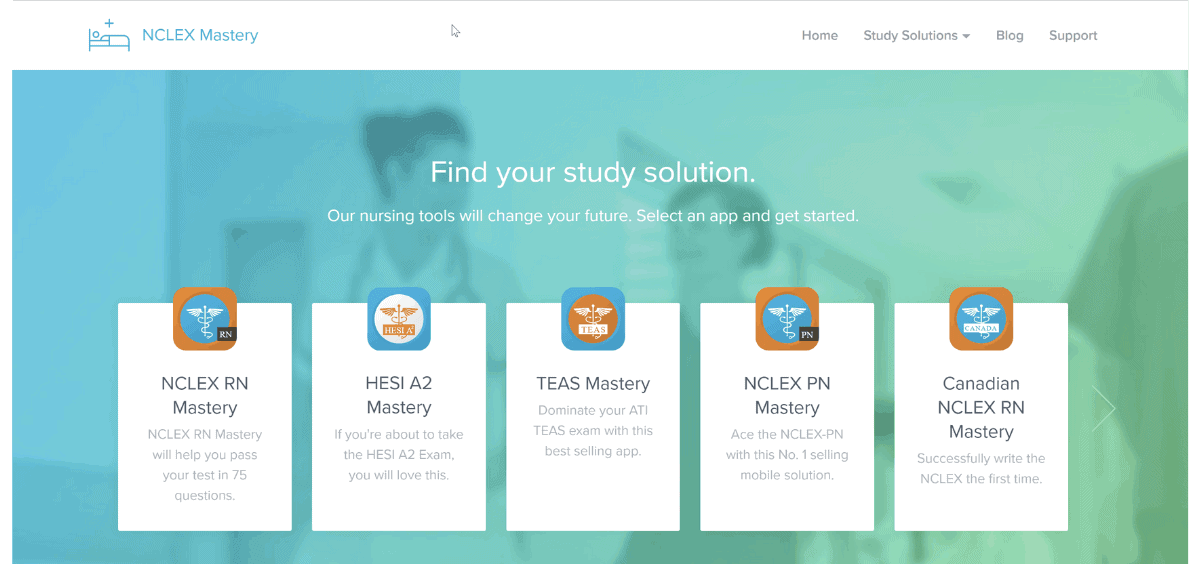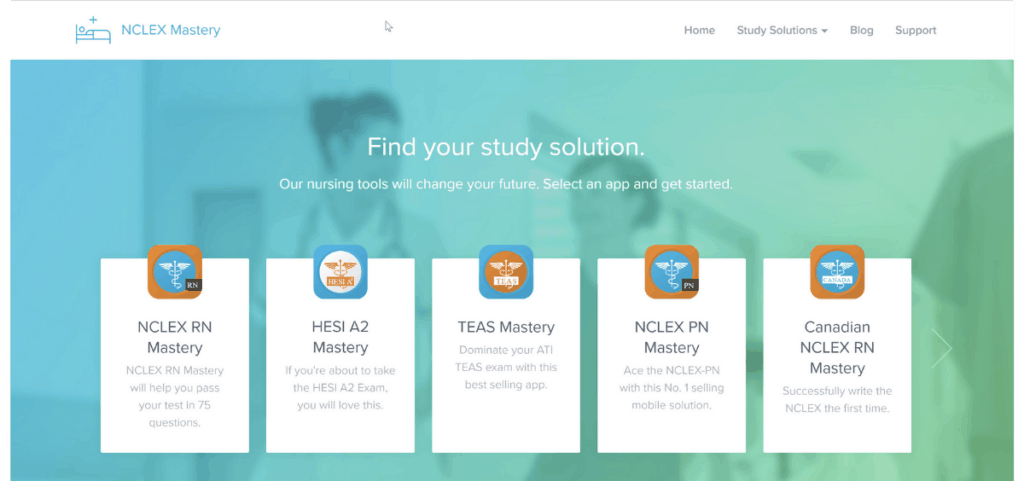 Although NCLEX Mastery may not be known as one of the most all-inclusive prep courses around these days, I still rate it as one of the best because it is an excellent option for the nursing student on a budget.
In fact, one of its course options is completely free. However, keep in mind that you will definitely need to supplement this free version with another course if you want a solid review before the NCLEX.
You may also want to consider one of the paid versions, which range from incredibly affordable to quite reasonable.
Although no review videos are included, you can listen to audio lectures on your mobile device. You can also purchase up to two simulated tests and use the app to learn helpful mnemonics and review difficult nursing terminology.
The app also makes it easy to track your progress in a multitude of categories and view detailed statistics to see how well you're doing.
Pros
One of the most affordable options
1,900 practice questions
Free mobile app
Cons
Simulated tests require an additional purchase price
It Will need to be supplemented with an additional course
5. BoardVitals NCLEX Prep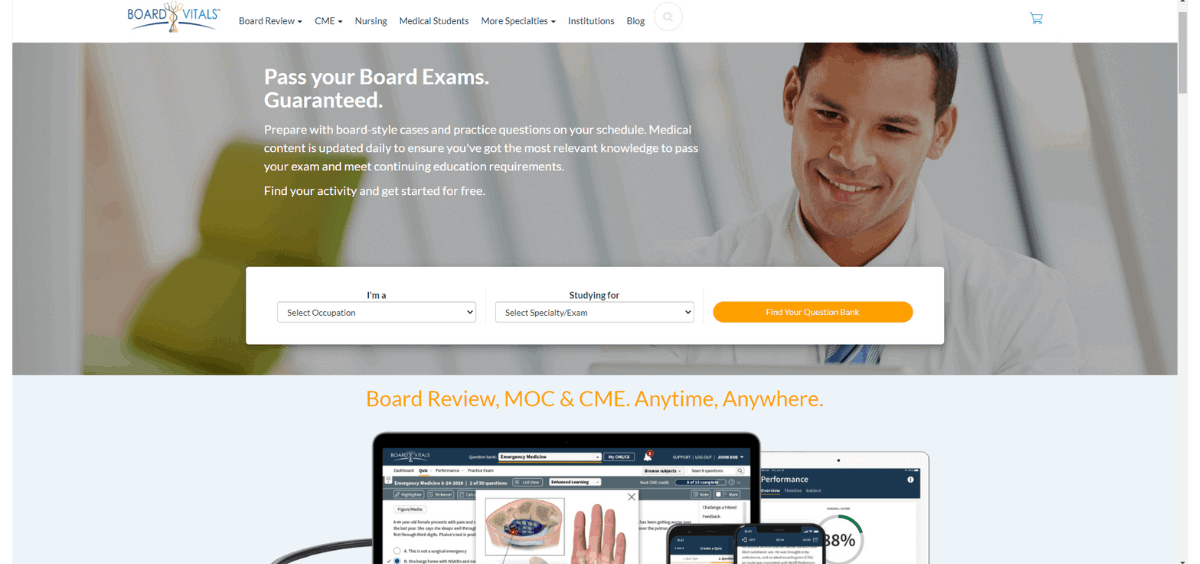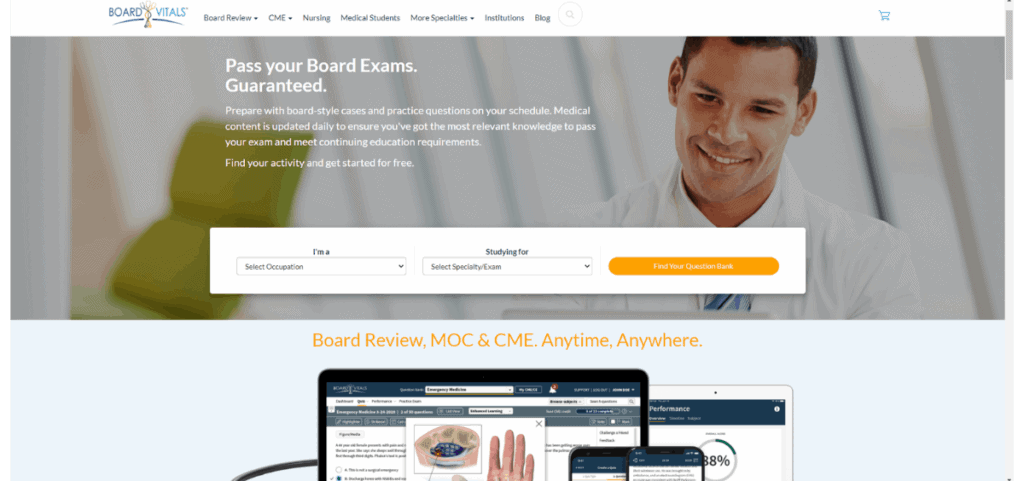 BoardVitals is another affordable option for cash-strapped nursing students. Plus, it routinely updates its questions to best match what you will see on the actual NCLEX examination.
It does this by allowing current clinicians to provide feedback on its 3,500 questions.
You will love the CAT platform that mimics the NCLEX. This feature is available with all three plans.
The only difference between the top two plans is the number of months you'll have access to the material. The lowest-cost plan does not offer the 100% passage guarantee or the clinician question feature.
If you're curious about what BoardVitals has to offer, consider starting with the free trial. However, keep in mind you'll not be able to access all features while on the free trial.
While BoardVitals does not have any live instruction like Kaplan does or even any pre-recorded video instruction, it does allow you to ask real clinicians your questions and get feedback.
This makes it a highly effective platform that is consistently rated highly by both nursing professors and students.
Pros
100% money-back passage guarantee
3,500 practice questions
Frequently updated practice questions
CAT testing platform
Ask-a-clinician
Cons
Distractor answers are often easily spotted
No online video instruction
6. UWorld NCLEX Review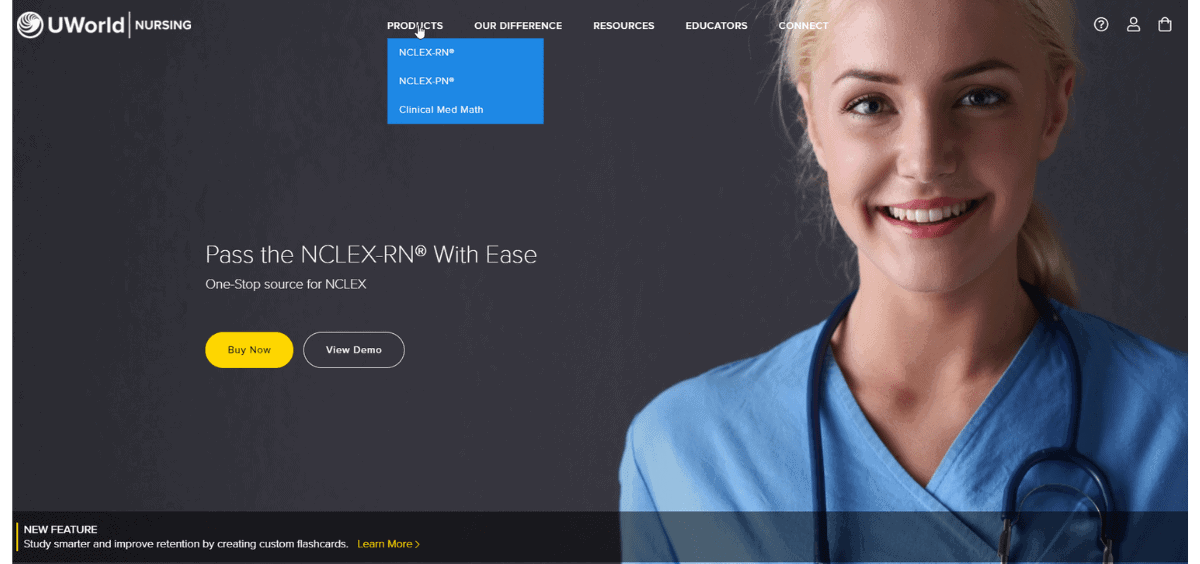 UWorld is more of a minimalistic study and review option that will go along well with another course or set of written study materials.
While it does not have a free study option as NCLEX Mastery does, it is quite affordable and is offered at several price points based on how long you plan on using it.
The focus of the UWorld prep course is practice questions. It currently has over 2,000 questions. However, it does not offer additional content reviews online or on its mobile interface.
On the other hand, it does let you track your progress and shows you statistics that will help you determine what you most need to study.
Because UWorld offers numerous test prep courses on all types of topics, the company knows how to create an easy-to-use interface.
Pros
Over 2,000 practice questions
Many alternate format questions for thorough practice
Content-rich answer explanations
Two simulated examinations
Customizable practice sessions based on what you want to study
Mobile access
Mid-range price
Cons
No video lessons
Less comprehensive than other options
Related: Can You Fail the NCLEX in 75 Questions
7. Hurst NCLEX Review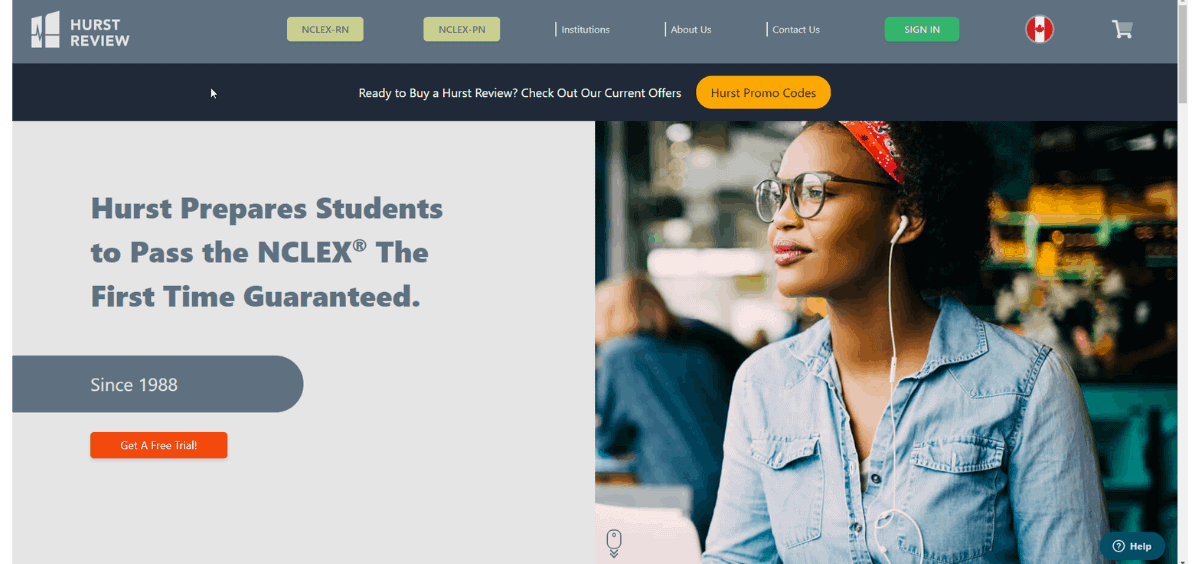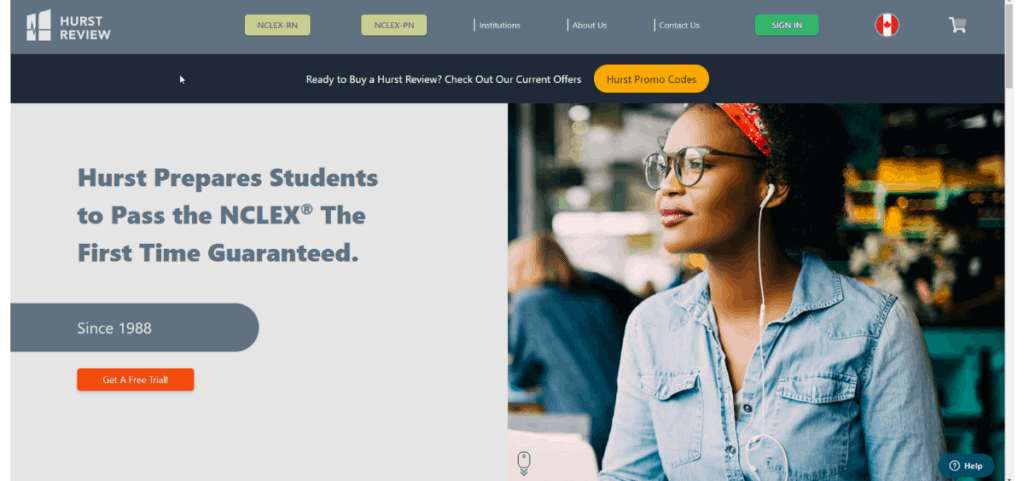 Hurst offers a more traditional NCLEX prep course that might be perfect for you if you're looking for an all-in-one course option.
Plus, the NCLEX is Hurst's specialty area, meaning you can expect to find plenty of resources, updated questions, test-taking strategies, and explanations for the hardest questions you face.
Hurst also has nursing coaches on staff who are always ready to help you with topics you do not understand.
In addition, Hurst is dedicated to helping you pass the NCLEX examination on your first try. It focuses primarily on core content rather than on smaller testing sections that do not have many questions.
However, if you're looking to branch out and also want to increase your nursing knowledge in general, a different prep course may work better.
Like many other companies, Hurst is so sure you will pass the NCLEX on your first try the company offers a 100% money-back guarantee.
Pros
Covers testing strategies
Four simulated examinations included
Solid support from actual nurses
Plenty of learning options, including live and online
Cons
Potentially prohibitive cost, especially for live classes
8. ATI Testing NCLEX Prep Solutions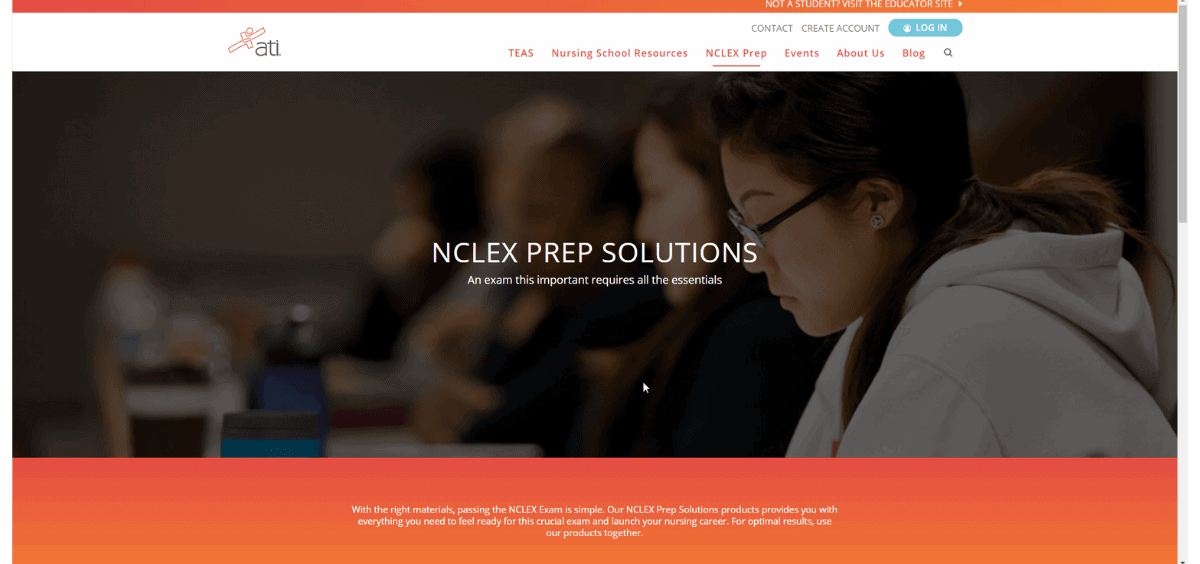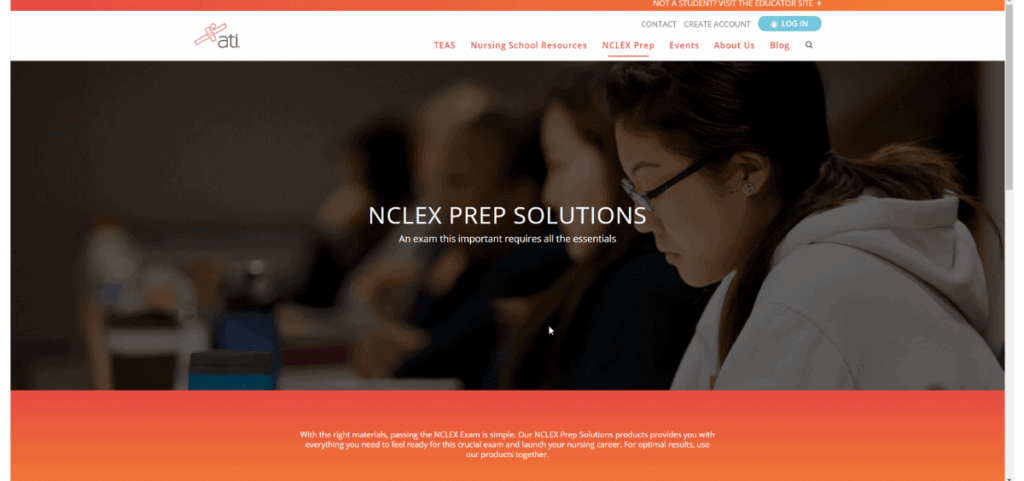 ATI is another traditional option that has been used by nursing students for years and has honed its review process to provide the best possible results on the NCLEX.
Once again, ATI only provides prep courses for nursing students, meaning that this is the company's specialty area.
ATI Testing offers three key prep courses you can use on their own or combined for the best possible experience. One thing you will notice that is different about ATI compared to its rivals is the virtual ATI coaches.
These individuals are psychometricians who understand how different people learn and who are skilled at designing individualized prep courses based on your unique needs.
Of course, you can imagine that this personalized 12-week course option comes with a hefty fee. However, you will also have access to a huge question bank.
ATI has a 98% NCLEX passage rate for individuals who have successfully completed the virtual review program.
Pros
Personalized coaching through the virtual program
Access to a large question bank
Predictor shows your probability of passing the NCLEX and lets you know where you need more review
Live reviews in certain areas of the country
Mobile app for studying on the go
Cons
Virtual coaching program has one of the highest NCLEX prep course price tags
Student complaints of boring material presentation
Student reports of inconsistencies between teaching segments
Buying Guide
Choosing the right NCLEX prep course for you not only is a potentially large financial commitment but also is a huge investment in the future success of your career.
The right option for you may be different than what works best for your classmate.
One of your classmates might do just fine with an NCLEX prep book or study guide. Another one might do better with an online review course, while you could prefer an in-person NCLEX preparation class.
Consider what I just said and the following tips as you make this life-changing decision.
How to Choose the Best NCLEX Prep Course
There are six things you must consider about any prep course before you commit to it.
Prep Course Delivery Options
Overall Access to the Course
Customer and Coaching Support
Material Covered
Additional Resources Included
Passage Rates
The primary course delivery options are self-paced, live in-person and live online. If you trust yourself to study when you need to, the self-paced option may save you money.
The live in-person option holds you to a studying calendar that will ensure you're prepared. However, many students find that the live online option gives them the structure they need while allowing them to join anywhere they have an Internet connection.
Second, consider whether you'll also have mobile access to your course. This option lets you listen to audio or video lectures at the gym or answer practice questions between classes.
Next, you'll want to look at the level of personalized support you will have. If you run into problems, you'll want to rest assured you can quickly get ahold of a coach or customer service representative.
Of course, you will also want to look at how many practice questions are included. Check for those that include test-taking tips. Also, look at additional resources that may be included, such as CAT-based simulated tests, e-workbooks, and even flashcards.
Finally, consider the company's self-proclaimed NCLEX passage rate. Although this does not guarantee success on your first try, it can give you a general picture of how effective the prep course is.
Making the Cut
Each of these top eight NCLEX prep courses are worthy of your consideration, but, ultimately, you will need to choose the one that best meets your goals and budget. Comment below with your past experiences with any of these top options.
Related Articles
If you enjoyed this article on the best NCLEX prep courses you might also like one of these other articles.
Frequently Asked Questions