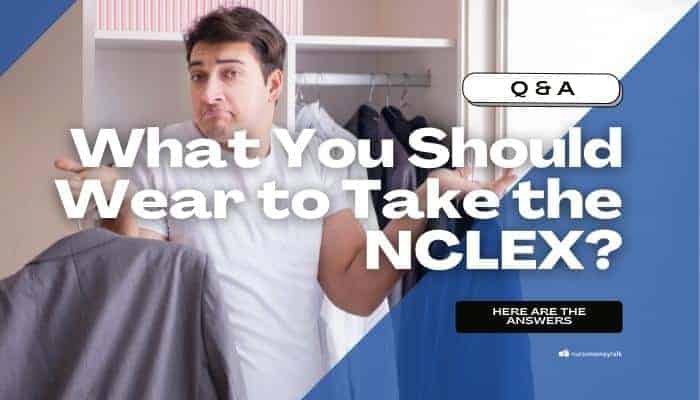 So, the big day of your NCLEX exam is almost here, and you're panicking about what to wear.
Panicking about your outfit may seem unimportant to non-nursing students. Still, considering how important the NCLEX exam is, you know thinking about this ahead of time will only make the day of the exam less stressful.
The less stressed you are, the better your chances of passing the NCLEX.
*Disclosure: This article on what to wear to take the NCLEX may contain affiliate links. If you click and make a purchase, I may receive a commission. For more info, please see my disclaimer.
What Should I Wear to Take the NCLEX?
There's no set dress code, so you should wear something comfortable such as comfortable sweats or jeans and a t-shirt. You typically can't wear a coat, scarves, hats, or gloves into the exam venue, so if it's cold (or you're cold-natured), opt for a sweater or double up on layers.
I'm going to dive in and talk a little more about what outfits or accessories you should avoid wearing to the testing center.
NCLEX Prep Academy
Check out the comprehensive NCLEX prep review that I recommend. Don't bother with other NCLEX preps that over promise and under deliver. Did I mention they have a 99.86% NCLEX pass rate?
Is There a Dress Code for Taking the NCLEX?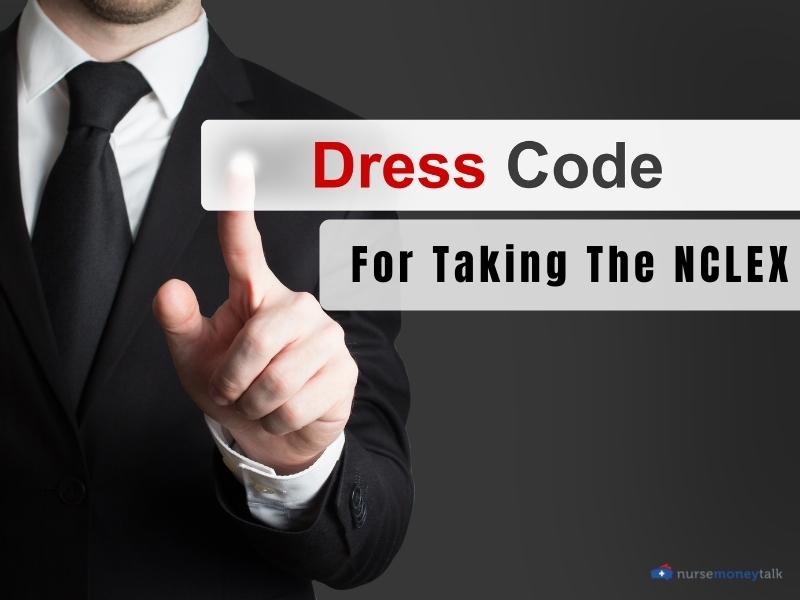 No, there's no formal dress code for taking the exam. However, you should note a couple of things.
Most important is that you feel comfortable in what you're wearing. If you wear something restrictive, bear in mind that the initial mild discomfort may turn into severe pain after some time.
Like that moderately tight waistband of your jeans that feels tight but does not cause significant discomfort when you put them on may turn into a torture device after sitting in the same position for a couple of hours.
The pinching and pain from the clothing will distract you from thinking clearly.
Also, uncomfortable clothing will make you fidget and move in your seat, disrupting students sitting next to you trying to concentrate. Constant fidgeting will make you very unpopular in the venue.
Take care of yourself and others by wearing clothes that will keep you at a cozy temperature and make you feel relaxed.
Your outfit should be so comfortable you forget about what you're wearing and are only concentrating on answering the questions.
Dress For the Weather and the Venue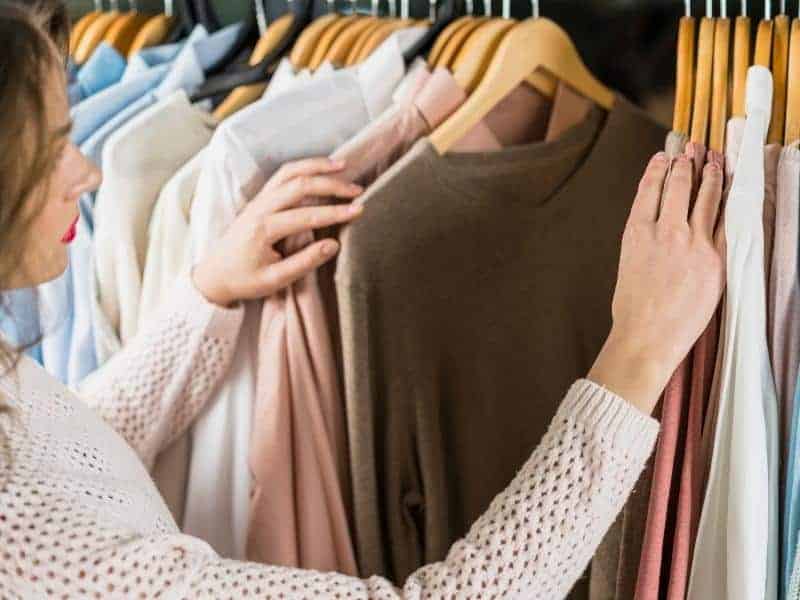 The NCLEX exam can be taken at any time of the year, so make sure your clothes reflect that. Wear cool, breathable clothes in the summer and bundle up warm in the winter.
Also, you may need to consider the venue itself. It may or may not be the optimal temperature for you in the testing room.
If you dress too warm because you worry you will freeze in a cold exam room, you may end up sweating and sweltering in clothes that are too hot.
You may not know what the venue offers until you get there; it's best to wear layers to avoid unpleasant surprises. If it's a hot day, and you're wearing a summer dress, take along a sweater.
Having that extra layer to put on if you start feeling cold as you test will be a godsend. At the same time, if you're too hot, removing a layer will keep you comfy and not interrupt your concentration.
Pro-Tip
When it comes to what you can wear while taking the exam, exceptions are typically made for cultural and religious dress/attire.

If you think you will fall into that category, you might reach out to the Pearson Vue testing center ahead of your test date.
Items You Should Not Wear to the Exam Venue.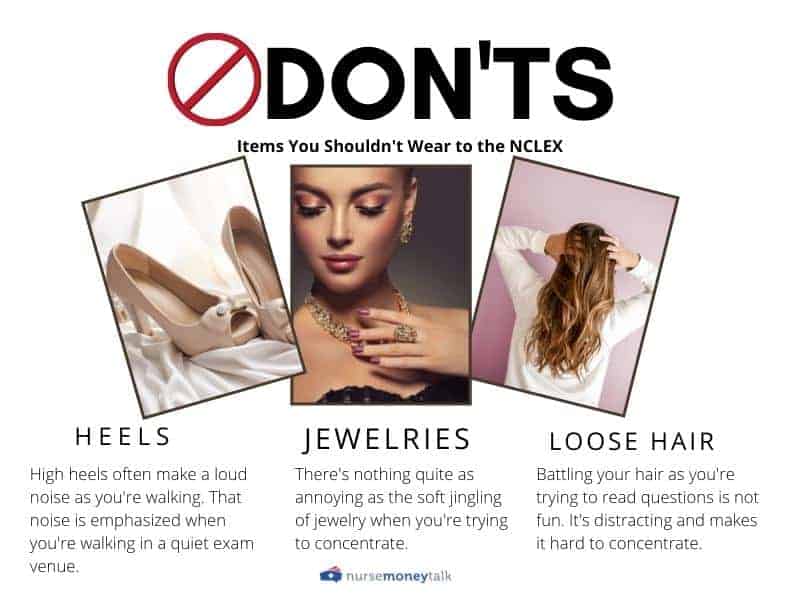 There are a few clothing items you may wear every day, that theoretically, nothing is stopping you from wearing them on test day, BUT having them on can create unnecessary stress.
Therefore, it's best to leave them at home.
1. High Heels
High-heeled shoes look great, and you may want to wear them to make you look good as you enter the room. However, remember that high heels often make a noise as you walk down the isles.
That noise is especially emphasized when walking in a quiet exam venue. It will disrupt everyone that's testing.
And if you need to leave your desk for a toilet break or any other reason, you'll have many pairs of eyeballs staring intently at your back as everyone will be disturbed by the noise you make.
2. Jewelry
Next on the list is jewelry, especially bangles and bracelets.
They may look and sound adorable when you're moving throughout the day, but at the test center, the gentle jingle of bangles as you continuously move your arm when writing sounds like the loudest church bells to those around you.
There is nothing as annoying as the soft jingling of bangles when trying to concentrate. Be considerate to the other candidates and don't wear them, or put them away in your pockets or purse for the duration of the exam.
3. Loose Hair
The last thing you should avoid is to wear your beautiful, long hair loose.
Even though the NCLEX is on a computer and you don't have to look down as much as you used to when it was on paper, I think long hair can be annoying to work with if it's not tied up.
For Example
As you bend your head down, your locks will inadvertently fall forward, eliciting an involuntary sweep upwards with your arm.

The swept-up hair will stay put for a few seconds, at which time it will fall forward again, obstructing your view.

Having to battle your hair is not fun in stressful situations such as exam day. It can make it hard to concentrate.
Consider tying your hair up for the day or even just for the time you spend testing. You may also want to bring a spare scrunchie or elastic, in case the one you have breaks.
Final Thoughts
Everyone stresses about whether they're academically prepared for the NCLEX. However, many nursing school students overlook pre-planning for all the other aspects of the day. Those are just as important for your success.
It's always the silliest (or seemingly inconsequential) thing you didn't think of that makes the difference between successfully passing or failing the NCLEX.
I hope this guide has helped you choose the best outfit to write in. Dress comfortably, and GOOD LUCK ON THE EXAM!
NCLEX Prep Academy
Check out the comprehensive NCLEX prep review that I recommend. Don't bother with other NCLEX preps that over promise and under deliver. Did I mention they have a 99.86% NCLEX pass rate?
Have You Read These Yet?
Frequently Asked Questions