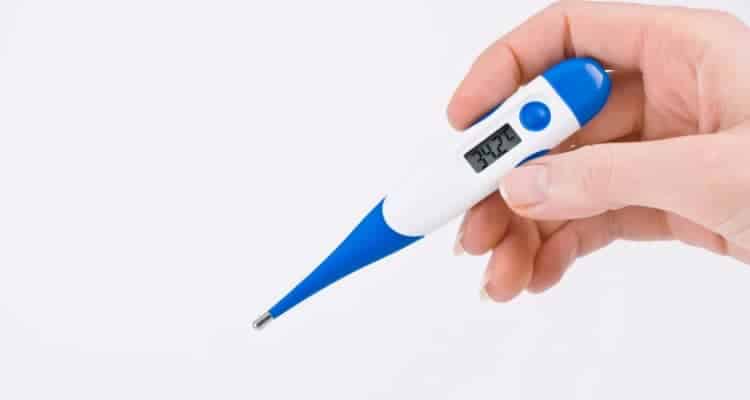 Monitoring a patient's vital signs is a crucial part of the job of a nurse and one of those vital signs is the patient's temperature.
Having an accurate, reliable thermometer that provides a quick read is something every nurse should have.
These are 5 of the best thermometers for nurses.
*Disclosure: This article on thermometers for nurses may contain affiliate links. If you click and make a purchase, I may receive a commission. For info on the best equipment to use make sure to follow your facility protocol and recommendations. For more info, please see my disclaimer.
Quick Picks
5 Best Thermometers for Nurses
Here's our picks of the best thermometers for nurses. If you're a school nurses there's some good picks in here for you as well.
1. TrackAid Medical Forehead and Ear Thermometer
The versatility of the is what makes it one of the best.
You can quickly switch between the forehead detection mode and the ear detection mode with just the click of a button.
The forehead and ear are the two most comfortable areas for patients when taking their temperature.
An accurate reading appears on the digital screen in just one second and is easily recognizable due to a distinctive beeping sound.
The thermometer can also store up to 20 previous readings.
Pros:
Forehead and ear detection
Reads quickly
Stores 20 readings
Cons:
Confusing instructions
Ear mode not suitable for under 3 months
Check the price of the on Amazon.com.
2. LPOW No Touch Forehead Thermometer
LPOW No Touch Forehead Thermometer
Fast and Accurate Thermometer Readings: This forehead thermometer is equipped with exceptional microchip and a sensitivity sensor, the infrared thermometer gives the result of the measurement data...
Fever Alarm and Switchable Unit of Temp: The body thermometer has 3 backlight indicators(green/yellow/red) on the LCD screen, alarm sound when the temperature is abnormal.Press and hold the set button...
No Touch Thermometer: The measuring distance between the thermometer and the forehead must be 1-5 cm. Non-contact thermometer is more convenient than standard thermometer and touch thermometer.
Safe and hygienic, the LPOW No Touch Forehead Thermometer is a great thermometer for nurses who want to minimize the risk of spreading viruses and bacteria to other patients with their nursing tools.
It uses infrared technology to scan the forehead up to 5 cm away from the skin, virtually eliminating the possibility of cross-contamination.
It's easy-to-read and offers a convenient colored indication of a fever.
The display screen lights up green for normal temperatures, yellow for low-grade fevers, and red for high fevers.
It can also store up to 50 temperatures.
Pros:
No-touch infrared technology
Colored indicators for fevers
Stores up to 50 readings
Cons:
Instructions are difficult to read
Material is lightweight and not very sturdy
Check the price of the LPOW No Touch Forehead Thermometer on Amazon.
3. Baby Thermometer, Thermometer for Fever Ear and Forehead
You never have to worry about waking a sick, sleeping baby with this Baby Thermometer.
A forehead reading can be taken quietly in the dark thanks to the HD LED screen that clearly lights up with the reading.
You can also switch to ear detection mode for older children and adults, making this the perfect thermometer for the entire family.
Readings can be shown in both Celsius and Fahrenheit for added convenience. Up to 35 previous readings can be stored for comparing temperatures.
Pros:
Light-up LED display with large, clear numbers
Celsius and Fahrenheit modes
Stores 35 previous readings
Cons:
Battery compartment loosens easily
Beep function doesn't always work
Check the price of the Baby Thermometer, Thermometer for Fever Ear and Forehead on Amazon.com.
4. Metene Medical Forehead and Ear Thermometer
Metene Medical Forehead and Ear Thermometer
Forehead and Ear Mode: Free to switch the detection mode from Forehead to Ear which is the easiest and most practical way to take temperature
Accuracy and Reliability: Equipped with the most advanced medical infrared technology for accuracy and reliability; recommended by experts following its vigorous tests to confirm its consistency and...
Memory Recall: Thermometer can store and recall up to 20 readings for baby and adults, available to help you track the trend of body temperature
The Metene Medical Forehead and Ear Thermometer is a digital infrared thermometer that takes accurate forehead and ear readings on children and adults of all ages.
You can easily switch between the forehead and ear detection modes with just the click of a button.
The large display lights up either green for satisfactory temperatures or red for high temperatures.
A long beep is another indicator of a satisfactory temperature while 7 short beeps alert the user to a high fever.
The modes can also be changed from Celsius to Fahrenheit.
Pros:
Green or red screen indicates whether there's a fever
Beeps change if there's a fever
Celsius and Fahrenheit modes
Cons:
Thermometer material isn't durable
Not suitable for newborns
Check the price of the Metene Medical Forehead and Ear Thermometer on Amazon.
5. iProven Digital Medical Thermometer
Sale
iProven Digital Medical Thermometer
AWARDED BY NY TIMES FOR ITS SPEED AND RELIABILITY - The iProven Oral & Rectal Thermometer is loved by the NY Times Wirecutter, because it only takes 10 seconds to check your temperature and get a...
COMFORTABLE & CONVENIENT - Our thermometer has a soft, flexible tip. This makes checking your temp as comfortable as possible.
TEMPERATURE CHECKING MADE EASY - iProven's DTR-1221A is equipped with a fever alarm, smiley indicators, and finishing beep. Taking the guesswork out of knowing when your temp is normal or a fever.
There's nothing quite like the reliability of an old-fashioned oral or rectal thermometer, and this iProven Digital Medical Thermometer combines both along with updated digital technology for easier reads.
Temperatures can be taken in under 10 seconds for added convenience and patient comfort.
The thermometer's tip is waterproof so it can be cleaned after each use.
There's also a hard case that comes with the thermometer to keep it clean and safe when it's not in use.
An arrow points to a sad face, a neutral face, or a happy face, depending on how high the temperature is.
Pros:
Can be used orally or rectally
Waterproof tip
Hard case included
Cons:
Difficult to switch to Fahrenheit
Hard to change the battery
Check the price of the iProven Digital Medical Thermometer on Amazon.
Thermometer Buying Guide for Nurses
1. Fahrenheit vs. Celsius
Many thermometers come with the ability to switch from Fahrenheit mode to Celsius mode.
Although much of the world uses Celsius to measure temperatures, the United States still uses Fahrenheit- the original way to measure temperature.
Finding a thermometer that measures both units is a convenient feature to have.
Fahrenheit determines that water freezes at 32 degrees while Celsius determines water freezes at 0 degrees.
2. Newborn Temperatures
The ear canal of a newborn makes it difficult to take an accurate reading in their ear.
Since they wiggle so much, it also may be difficult to get an accurate forehead or oral reading.
Rectal thermometers are recommended for infants under 3 months of age in order to get the most accurate reading.
3. Cleaning and Safety
Whether or not you're using the thermometer on one patient or multiple patients, it's important to keep it clean to prevent the spread of germs and bacteria.
Whenever possible, use a probe cover to cover the tip of the thermometer- whether it be the ear, forehead, rectum, or mouth.
Probe covers should be removed and disposed of after each patient and then the probe should be thoroughly cleaned with a disinfectant.
4. Fevers
A normal body temperature is considered 98.6 degrees Fahrenheit. Anything over 100.4 degrees Fahrenheit is considered a fever.
Children under 3 months of age need medical attention for fevers 100.4 degrees Fahrenheit or higher.
Final Thoughts
An accurate temperature reading could mean the difference between life and death for some patients, which is why having a reliable thermometer is so important.
These thermometers could be beneficial to nurses looking for a reliable and accurate thermometer to use when taking vital signs.
Frequently Asked Questions
What is the best thermometer for nurses?

The best thermometer for nurses is one that is both reliable and accurate for nurses to use.
Related Articles