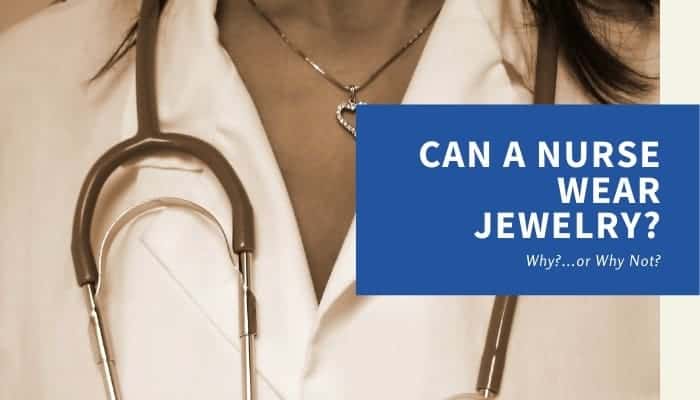 It can be hard to imagine deadly germs living on your beautiful engagement ring or dangling from your necklace.
However, because research has shown this can sometimes be the case, it's important to make sound choices about the jewelry you wear before you head into work as a nurse.
*Disclosure: This article on can nurses wear jewelry may contain affiliate links. If you click and make a purchase, I may receive a commission. For more info, please see my disclaimer.
Can Nurses Wear Jewelry on the Job?
Nurses employed by health care facilities are typically allowed to wear some jewelry although the exact allowances made may be stipulated by company policy. However, for their own personal safety as well as the health of their patients, some nurses choose to forego certain types of jewelry.
Are There Any Rules About What Jewelry Nurses Can Wear?
The rules that govern a nurse's apparel and other things he or she chooses to wear or use while on the job are usually governed by each specific health care organization.
As far as I know, there's no state board of nursing that lays down any requirements of their own.
The organization's manual may be quite clear about colors and types of scrubs that have to be worn and even about nail polish and acrylic nails but may not focus or even touch on jewelry.
In many cases, it is left up to the nurse's good judgment to determine what is best in her line of work.
In other cases, the nurse may only be guided by the principle of non-flashy, conservative jewelry as being appropriate.
When I worked in critical care, I was never told what jewelry I could and could not wear although scrubs and shoe color choices became quite a major discussion on the unit.
My coworkers and I routinely wore conservative necklaces, earrings, and wedding bands.
However, your decision must be guided by your organization's policies, the requirements of the unit on which you work, and the type of work you perform daily.
Related: Can Nurses Wear Earrings?
Potential Problems with Jewelry in Health Care
If you're a nurse working behind a desk, such as in case management, or working in an outpatient environment, such as in a clinic, your jewelry choices will be far easier to make than they will be for those practicing at patients' bedsides.
When working in a faster-paced environment that requires more physical labor, you may find that certain pieces of jewelry become more of a liability than an asset.
One of the biggest problems that has been amply researched over the years is jewelry's potential to harbor deadly germs.
Some Studies on Healthcare Workers Wearing Jewelry
One study from 2020 showed that numerous types of bacteria, including Bacillus, Staphylococcus, Streptococcus, and even Diphtheroid, decreased significantly on ICU nurses' hands when they stopped wearing jewelry.

A 2014 study of operating room personnel acknowledged that bacteria can remain lodged in finger rings even after a surgical scrubbing.

Other studies have looked at watches and bracelets and have determined that this wrist apparel could also negatively impact patient health.
Current guidelines state that hospital personnel should wash halfway up their forearms whenever they wash their hands, but this cannot be adequately completed when wearing a bracelet or wristwatch.
Plus, items on the wrist can prevent the area from being completely dried, potentially increasing the growth of bacteria in this area.
However, it is not just your patients who could be at risk from the type of jewelry you wear. Dangling jewelry, such as bracelets, necklaces and hoop earrings, could become lodged in moving equipment or wires.
These pieces could even be pulled by confused patients, leading to pain and unwanted wounds.
Work Story
Having worked in mental health there was a situation where a staff member wore hooped earrings only for a patient to yank the earrings from their ear.

Needless to say, it was an unpleasant situation for this particular staff and was a patient risk.
Tips for Staying Safe
To keep yourself safe, keep the jewelry you do choose to wear to a minimum.
You may find your health care organization is okay with you wearing a wristwatch with a second hand to help you measure each patient's heart rate and respiration.
An unobtrusive, smooth wedding band is the best option for preventing the growth of bacteria on your hands. If you have pierced ears, focus on wearing only smooth, small pieces that will not catch on other items around you.
Some good examples of jewelry that is ideally suited for nurses include this affordable watch.
This plain sterling silver band.
BORUO 925 Sterling Silver Ring
PURE STERLING SILVER PLATED WITH PLATINUM: Solid Sterling Silver w/ 925 stamp. Platinum plating OVER STERLING SILVER , give the look of white gold and platinum, Tarnish resistant .Comfort Fit Design....
VERSATILE - Add a touch of chic with these 925 sterling silver rings layered with other ring designs. The sterling silver rings women love are fashionable, functional, forever, and go well with other...
GREAT AS A GIFT: Because of its meaningful motif, you can give this beautiful ring as a lovely present to your loved ones to honor your bond. It comes with a minimalist bag ready for gifting.
Also these simple stud earrings.
Sterling Silver Stud Earrings
♥♥Simple Geometric Stud Earrings♥♥Minimalist tiny geometric stud earrings set, comes in 4 pairs per set, include circle stud, triangle stud, bar stud and square stud earrings. Simplistic and...
♥♥Material♥♥Made of sterling silver, nickel free and lead free, no worry about the irritation and rashes. EPIRORA tiny stud earring set is the prefect accessories to expand your fashion...
♥♥Size♥♥Circle 2 mm, Square 3mm, Triangle 5 mm, Bar 7 mm, 10mm sterling silver posts and butterfly earring backs, easy to adjust and keep secure. Multiple choices to meet you daily wearing...
For safety reasons, I've started to prefer wedding silicon wedding bands at work such as these Qalo silicone wedding bands.
They're comfortable, come in also sorts of different designs and colors. Plus if the silicone band gets stuck on any equipment I would much rather the silicone band breaks than my fingers.
QALO Women's Silicone Wedding Ring Stackable Sets
COMFORT, FLEXIBILITY & STYLE: Express yourself with the all new fashion-forward QALO Stackable Silicone rings. A refreshing look with unique designs, you can mix and match for multiple possibilities....
HIGH QUALITY MATERIAL & DESIGN: Our Medical Grade Quality Silicone Rings are ideal for anyone whether it's for everyday use, work or any physical activity. Our silicone material is temperature...
FIT & SIZING: Our QALO silicone rings are made from medical grade silicone, breathable and measures 3.3mm wide and 2mm thick. Our silicone rubber stackable rings for women run true to size. Be sure to...
Tips for Keeping Your Patients Safe
If you do choose to wear some of these simple pieces to work, look for ways to keep your patients safe.
Wash your hands often, focusing particularly on washing thoroughly around any rings you may be wearing.
Clean your jewelry and wristwatch regularly when at home to keep small crevices as clean as possible.
Never wear a dangling bracelet because it could inadvertently get into a patient's wound, leading to an infection.
Related: Can Nurses Have Colored Hair?
Final Thoughts
As a nurse, your greatest concern is the welfare of your patients.
You may find that changing up your jewelry-wearing routine is a good way to keep you and your patients safe no matter what hospital policy states.
Comment below with any jewelry tips and tricks you have.
Related Articles
Frequently Asked Questions
Here are some faqs related to the question "can nurses wear jewelry?"
Can nurses wear necklaces?

Nurses that do direct patient care should avoid necklaces especially long dangling necklace as they could pose an infection risk to patients and others.