Can Nurses Have Long Nails and Wear Nail Polish?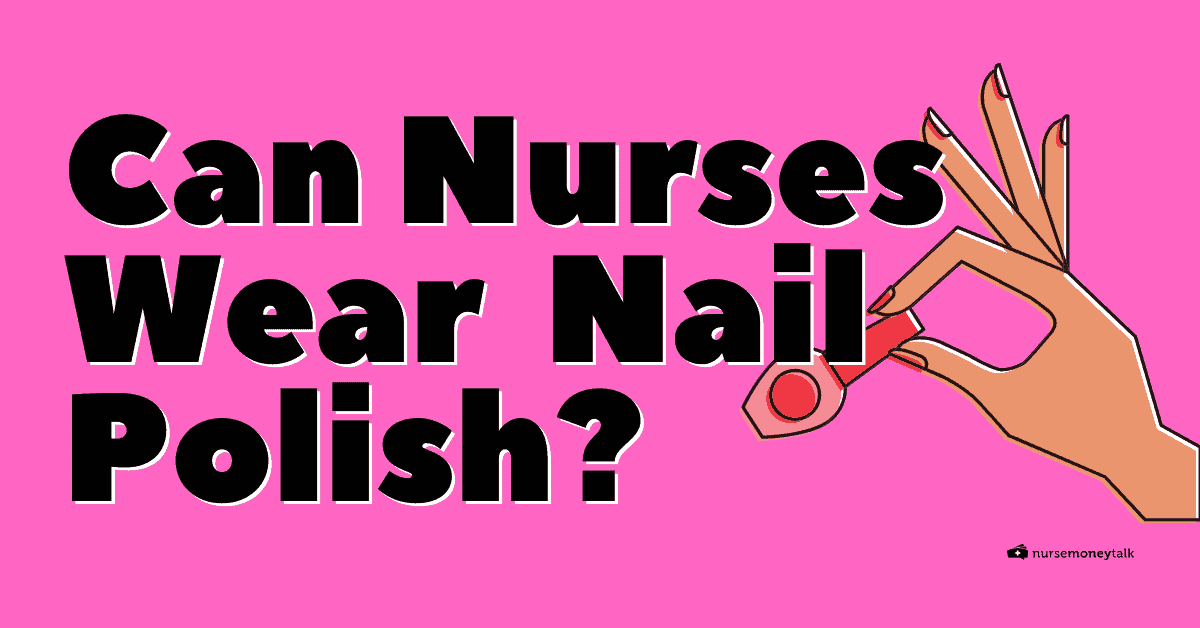 If one of your favorite self-care routines is getting your nails done, that may have to change once you get into nursing school or become a nurse.
Certain types of manicures are forbidden in all health care institutions while other types depend on organizational policies.
*Disclosure: This article on can nurses have nails and wear nail polish may contain affiliate links. If you click and make a purchase, I may receive a commission. Check the laws in your jurisdiction and the rules of your facility before following anything mentioned. For more info, please see my disclaimer.
Can Nurses Have Nails and Wear Nail Polish?
For hygienic and safety purposes many types of manicures, including natural long nails, acrylic nails, and gel nails, are not allowed by health care organizations across the country. Some hospitals and clinics do allow nurses to wear regular nail polish as long as it's chip-free.
Are There Rules About Nail Length, Polish and Acrylic Nails for Nurses?
Health organizations in the United States do not allow nurses and many other health care workers to have long fingernails or to wear gel nail polish or acrylic nails.
In fact, many of these rules are well-supported by years of research and are also recommended by the United States Centers for Disease Control and Prevention (CDC) and the World Health Organization (WHO).
However, there is one rule that is not followed across the board. Many health care organizations do allow their nurses to wear regular nail polish or even shellac nail polish as long as it is not chipped.
It's important that you check your organization's policies and procedures manual to determine which rules apply to you.
In my organization, chip-free nail polish was allowed. Unfortunately, I saw that some nurses did not abide by these rules and did not always remove their nail polish when it began chipping around the edges.
It's difficult for managers to police the nail hygiene of every nurse. This is why it's vital that you allow your own moral compass and sense of duty to your patients to guide you as you make personal decisions in these and similar areas.
How Do Job Duties Affect These Rules?
The majority of these rules are put into place for nurses who come into contact with patients.
However, if you work as a nurse in an office environment, such as in a clinical nurse management role, you may find that the rules are different for you and that you have more leeway in the length of your nails and the type of polish you can use.
The Reasons Behind the Rules
These fingernail rules were not put into place simply to make your life miserable.
In fact, like many nurses, there were times that I wanted to get my nails done, but I could not because I was scheduled for an upcoming shift.
Keep in mind the key reasons for these rules are to keep your nails as hygienic as possible and to decrease the chance of hospital-acquired infections in the patients for whom you care.
Plus, clean, short, well-kept nails simply look more professional than chipped or long acrylic nails do.
What the Research Shows
These reasons are also strongly backed by science.
The CDC recommends that nail length be no more than a quarter of an inch and that artificial nails never be worn in high-risk environments, such as the operating room or intensive care unit.
Research has shown that approximately 70% of hospital-acquired infections could be easily preventable and that improved hand hygiene is one of the most important steps that can be taken.
In a 2018 study of gel nails worn by nurses, the most troubling thing found was that these nails were quite difficult to clean with hand sanitizer, which is frequently used by busy nurses.
There have been several reviews of existing literature also undertaken on this topic. In one review published in 2020, researchers determined that while nail length was more important in the control of infection than nail type was, most acrylic nails are longer than two millimeters, effectively banning them.
Answers to Your Most Pressing Questions
Now that we have gotten through the nitty-gritty of the question of nails in nursing, you may still want clear answers to your most pressing questions.
After all, you probably don't want to remove your fresh manicure if you do not have to.
While you should certainly check with your organization's policies and procedures manual, which could differ from the general guidelines listed below, here are some basic rules that are common in a lot of health care centers today.
1. How Long Should a Nurse's Nails Be?
My nursing school had a rule that my fingernails had to be kept so short that I could not see them if I was looking at my hand from the palm side.
Thankfully, rules for licensed nurses are not usually this strict, but you should keep your nails to a moderate length to reduce the number of germs living on the underside of your nails.
Generally, a quarter of an inch is the longest you should go.
2. Can Nurses Wear Nail Polish?
Your health care facility may allow you to wear nail polish. If so, be sure you remove it as soon as it becomes chipped. You may want to apply a long-lasting clear coat over your polish color to keep it chip-free as long as possible.
3. Can Nurses Have Acrylic or Gel Nails?
Both acrylic and gel nails are generally frowned upon by health care facilities as they're often long and are typically quite difficult to clean around, especially with hand sanitizer. If you absolutely love acrylic nails, save them for your vacations when you'll have a longer period away from work.
4.What About Wearing Gloves?
One thing that I have wondered about and that may raise a question in your mind is the ability of gloves to protect against patient infection if you do have longer nails or wear acrylics.
Unfortunately, any germs that are on your fingernails as you put on these gloves can get onto the outside of the latex and still be transferred to the patient.
5. Can Nurses Wear Shellac Nail Polish?
Because of the way shellac nail polish is made depending on your jurisdiction and your facility policy nurses are allowed to wear shellac nail polish.
Keeping Your Nails Looking Their Best As a Nurse
Although you may miss your brightly colored nails or your one-of-a-kind nail art when you first start out in nursing, you will quickly find that there are still plenty of ways to keep your nails looking their best.
Consider applying nail oil, such as this jojoba-infused option or this milk and honey cuticle oil, to keep your nails shiny and strong and to prevent your cuticles from peeling.
Jojoba Oil & Vitamin E for Healthier, Stronger Nails
Made from a CND blend of four naturally light oils (Jojoba, Vitamin E, Rice Bran and Sweet Almond)....
The sparkling scents of fresh raspberry, cherry, strawberry, and grape become enriched with a...
Vitamin E is an antioxidant known to neutralize free radicals associated with premature aging of the...
In addition, invest in a nail buffer, such as this one, to amp up the shine of your nails.
Professional Nail Buffer Block for Shaping Polishing
❤ Magical Nail Buffer: Professional Nail File and Buffer set is a new manicure tool that files,...
❤ Unique design: The nail buffer set is made of plastic case + sandpaper. It has a boat-like...
❤ 4 Simple Steps - Shape. Grind. Smooth. Polish. First trim and shape the length and shape of the...
Check out this video below for more tips for healthy and natural nail care.
Final Thoughts
While it may feel difficult to go without your favorite acrylic nails or gel polishes, you can still enjoy manicures on vacation and can feel good about giving your fingernails the break from polish that they deserve.
Comment below with your experiences in nail hygiene as a nurse.
Related Articles