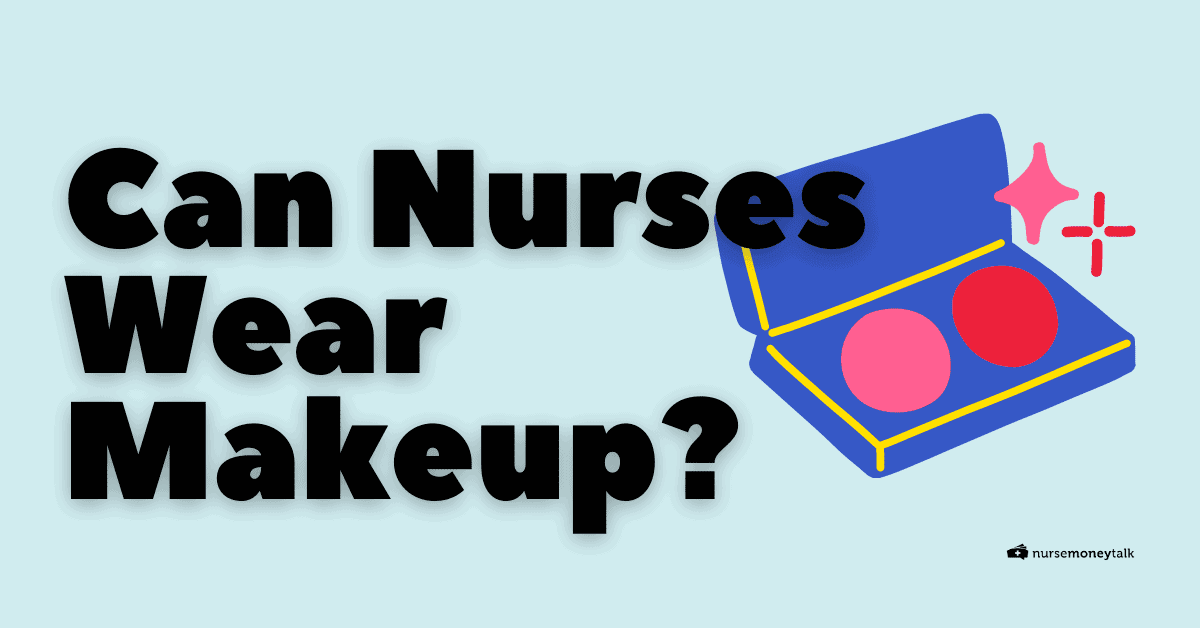 Many female nurses like to look their best on the job, but they may not be sure about wearing makeup.
Here are some ways for you to know whether makeup is allowed at your workplace and some tips for looking your best even during your longest and most tiring shifts.
*Disclosure: This article on can nurses wear makeup may contain affiliate links. If you click and make a purchase, I may receive a commission. For more info, please see my disclaimer.
Can Nurses Wear Makeup?
Virtually any licensed nurse is allowed to wear makeup on the job. However, there are a few times when nurses may prefer to opt for a bare-faced look, such as in the operating room or any time mask-wearing is required. The rules may differ for student nurses.
Are There Any Rules About Nurses Wearing Makeup?
While you should always check with your health care facility to determine if there are any specific policies that apply to wearing makeup, most nurses are allowed to wear cosmetics on the job.
In my experience, more than half of the women I worked with routinely wore makeup during both day and night shifts.
This is typically true of those individuals working in the emergency room, at the patient bedside, in a clinic, and most other places in the hospital.
However, there may be stricter limitations for nurses working in the operating room where a sterile field is vital, and you should check with your manager to see if this is the case.
When makeup is mentioned in an organization's policies and procedures manual, it is usually in relation to how the makeup appears.
Most health care organizations prefer their practitioners to have a more conservative appearance with tattoos covered and no loud colors, large jewelry, or outlandish makeup.
Therefore, it is best to opt for a more natural look and to save the bright colors and glitter-filled makeup for your next night out.
Should Your Makeup Routine Change When You Wear a Mask?
One question that has arisen more frequently in recent months is how makeup could affect masks.
When makeup gets onto a surgical mask or an N95 mask, it is considered to be contaminated, and it cannot be sterilized and reused.
In addition, some makeup could actually decrease proper air filtration and damage the material from which the mask is made.
If you do choose to wear makeup under your mask and your facility currently allows you to do so, you will want to opt for a natural look without foundation that could smear and reduce air filtration.
If you do use a product that contains SPF, opt for a thinner formulation rather than a thick one.
Related: Can Nurses Have Long Nails and Wear Nail Polish?
Can Nurses Wear Makeup During Work in Government Clinics, Hospitals and Nursing Homes?
The policies and procedures for wearing makeup when working in a government health care facility are generally the same as they are for private or public facilities. However, in some cases, rules may be stricter or more highly enforced.
If you're not sure what the policies are in your facility, ask your manager or someone in human resources.
Tips for Wearing Makeup as a Nurse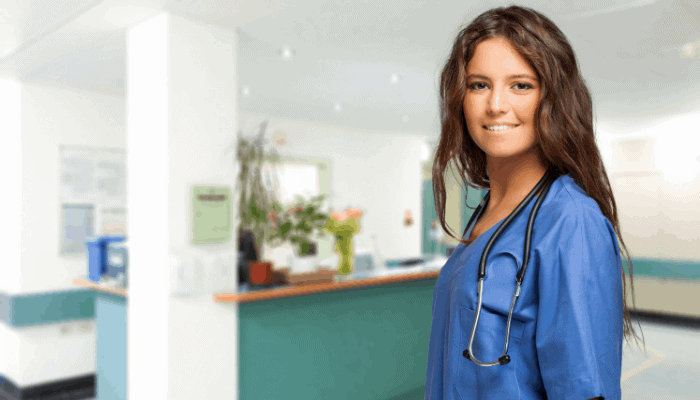 Some nurses choose to go makeup-free while at work either because of personal preferences or because of unit policies.
On the other hand, the majority of female nurses do choose to wear some level of makeup, such as primer, foundation, powder, eyeshadow, mascara, or lipstick.
Looking great while wearing makeup even through a 12-hour shift can be difficult at first, but it is certainly not impossible.
Follow these tips to keep your makeup looking fresh until you get home again.
1. Stick With a More Conservative Look
As already mentioned, opt for a conservative and natural look. Stay away from bold colors, glitter, incredibly dark eye makeup and other looks that would be more appropriate to the nightclub than to the job.
2. Opt for a Concealer
As a nurse, you're probably as familiar as I am with loss of sleep, especially between your shifts. Use a yellow-based concealer to cover dark circles under your eyes.
If you have very light skin, you may instead need to try a pink-toned concealer. If you need to cover up acne or red spots, opt for a green-toned concealer.
3. Choose a Tinted Lip Balm or Gloss
Most lipstick colors may end up looking more bold than you would want. It may be best to choose a nourishing lip balm that has a hint of color in it instead.
This will prevent your lips from becoming chapped or cracked particularly in the dry hospital atmosphere. However, like me, you may find that you need to carry your lip balm or nourishing gloss in your pocket so you can reapply it throughout the day.
If you do decide to go with lipstick instead of a balm, be sure to choose a matte variety, such as this one, that will not fade quickly, or dust a bit of powder over a glossy lipstick to make the color last as long as possible.
4. Find a Matte Foundation That Will Last Your Entire Shift
Matte foundations best help you reduce the look of oil and shine on your face and are your obvious choices if you're working a 12-hour shift.
Another good option would be to wear a primer either under your foundation or on its own.
Primer helps to even out your skin tone and provides all-day hydration while keeping oils and shine at bay. Try this favorite amazon link="B00HVI8WYU" title="primer" /] that hydrates all day long.
Hydrating Face Primer
PRIMER FOR LONG-LASTING MAKEUP: This e.l.f. primer transforms your face into a flawless, smooth canvas ideal for long-lasting makeup application.
HYDRATING FORMULA: The formula is infused with grape and vitamins A, C, & E to help boost complexion and hydrate your skin.
GREAT FOR ACNE-PRONE SKIN: Great for acne-prone, combination, and oily skin.
Looking Great on the Job
Even as a nurse, you can still look amazing and feel good about yourself by wearing a moderate amount of makeup.
Comment below with how you keep your makeup looking great all day long.
Related