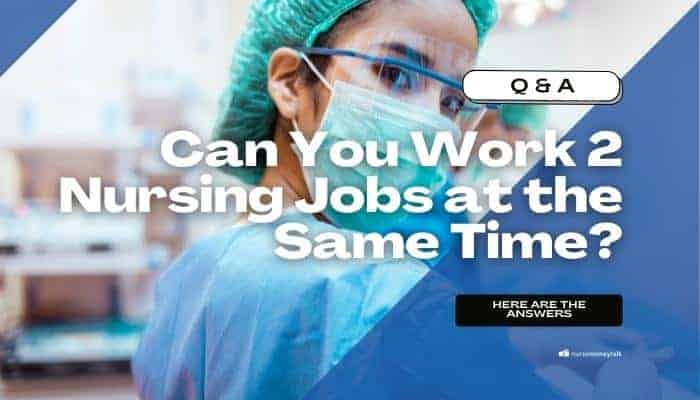 Many nurses looking for opportunities to make more money but not pick up extra shifts at their current job often wonder if they should get a second nursing job.
From someone who's had at least two jobs for years, here's what my thoughts are.
*Disclosure: This article on can you work two nursing jobs at the same time may contain affiliate links. If you click and make a purchase, I may receive a commission. For more info, please see my disclaimer.
Can You Work 2 Nursing Jobs at the Same Time?
Yes, you can work two nursing jobs at the same time. It's hard and can be emotional and physically stressful, but it can be done for nurses looking to make extra money but not pick up extra shifts at their current job. Some nurses even manage to have more than two jobs.
Find Your Next Nursing Job
Use our nursing job board to start looking for and applying to great nursing jobs near you.
Many Nurses Have Multiple Jobs
According to Becker's Hospital Review, as many as one in five nurses have more than one nursing job.
Without a doubt taking on a second nursing job is a very common practice. But, it begs the question of whether it is a safe practice?
Is Getting Another Job a Safe Practice?
According to the same survey I mentioned above, 1 in 5 nurses says working more than one job has a negative impact on their nursing practice.
Furthermore, 2 out of 5 nurses say that they also noticed a negative impact on their overall quality of life.
Benefits of holding a second job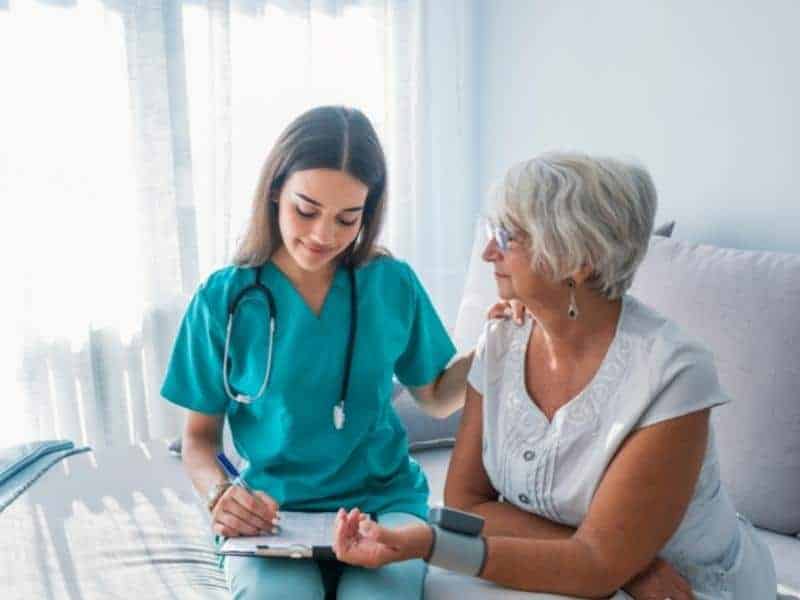 Having a second job can have an upside if you can work both jobs without getting tired or burned out.
1. Improves Your Professional Network
For one, it widens your networking circle.
With more than one employer and many more colleagues who know you and know your skill levels, you have more opportunities to meet someone who can help you land your ultimate dream job.
If you feel that your chosen nursing specialty is not really what you want, you may consider getting a second job in the career you want to pursue. Doing that will help you decide whether this new field is something you really want.
For instance, you're working on an adult general med-surg floor but love working with children.
You may want to pick up some extra shifts in the pediatric ward to test the waters and decide whether making a permanent switch to pediatric nursing will be worth the effort.
2. You Develop Other Skill Sets
Another benefit of holding more than one job is developing new skills (for example, better time management skills).
To make sure you can be present for both employers, you need to run your schedule like a tight ship, which requires tremendous time management skills.
3. See Otherways Things Are Done
Being exposed to two different work environments lets you see other ways of doing things, which helps to widen and grow your nursing experience.
4. Make More Money
Of course, the main reason nurses get a second job is to make more money.
Find Your Next Nursing Job
Use our nursing job board to start looking for and applying to great nursing jobs near you.
Cons Of Working Two Jobs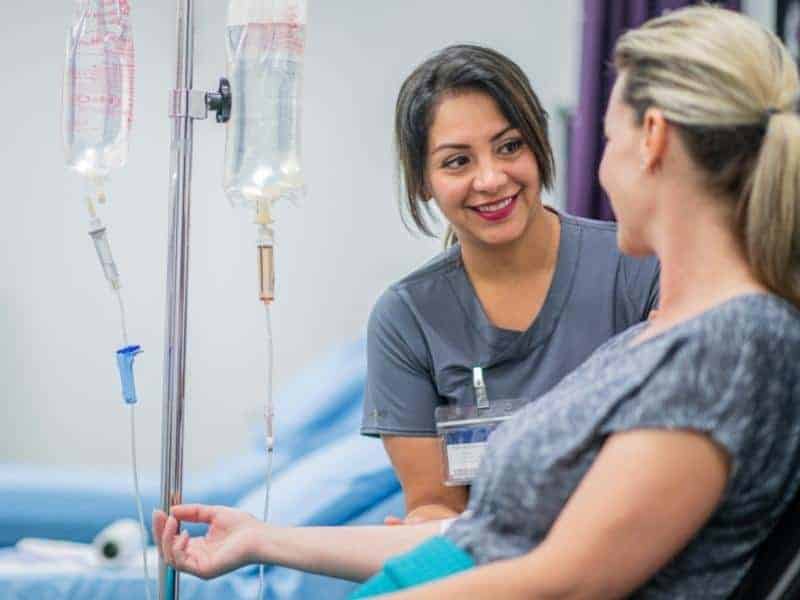 1. You Could Be Fired
If your current employer finds out you're working in two places, you may be fired if such behavior is not allowed.
Before taking on a second job, you need to clear it with your HR department and check your employment agreement that moonlighting is allowed at your hospital.
If allowed, make sure you understand all the rules regarding getting a second position.
It may be that you will only be allowed to work in another department at the same hospital, so you will not be able to accept that part-time position offered to you from another hospital.
2. It's Stressful and Tiring
Although it's possible to work two full-time positions, especially for a short, finite time, it is not advisable for extended periods.
You need to make sure you're resting enough and practicing good self-care.
Working with patients every day is demanding, and you cannot provide safe care to them when you are so tired that you're falling asleep on your feet.
3. Becareful of Continuously Changing Jobs
Be careful of continuously changing jobs. This could be seen as a red flag when you're applying to new nursing positions.
Choose Non-Nursing Second Job
Since nursing is such a demanding career, but you feel you still need that extra income from a second job, consider working in a less stressful non-nursing field.
For instance, some nurses knit and sell their scarves and other garments on Internet marketplaces like Etsy and Amazon.
There are other ways to make more money as a nurse. For instance, one nurse I've heard about drives an Uber on her off days and makes good money, especially during her town's holidays and sporting events.
If you have a good feel for writing, you could try your hand at writing? There's a big demand for health care writers, and nurses are more than qualified to fill those positions.
Related: How to Make 6-Figures as a Nurse
What About Nurse Practitioners and CRNAs?
For providers (which is what NPs, and CRNAs are) it's a little different.
For advanced practice nurses juggling two or more nursing positions can be a very tight balancing act.
Employers know many of their providers may be working part-time or even full-time for competing hospitals.

It may become a conflict of interest, especially when the additional position interferes with the duties of the primary position.
Usually, whether a hospital allows this practice or not is stipulated in the employment agreement that a nurse practitioner signs when commencing work. It's often called the moonlighting clause.
The terms and conditions under which an APRN may or may not moonlight will vary depending on where you work.
Some employers allow their staff to moonlight at another hospital, doing a similar job as their full-time employment, while others will not allow their staff to work for the competition.
However, those same institutions may allow their providers to work at a different department in the hospital or pick up extra shifts as overtime.
Key Takeaway
It's common for nurses to take on second jobs to supplement their income.
Although this practice is allowed, individuals need to decide whether they can and should follow this trend.
Having a second job is demanding both physically and mentally, and working so hard for extended periods will take its toll on the person.
Find Your Next Nursing Job
Use our nursing job board to start looking for and applying to great nursing jobs near you.
Have You Read These Yet?
Frequently Asked Questions