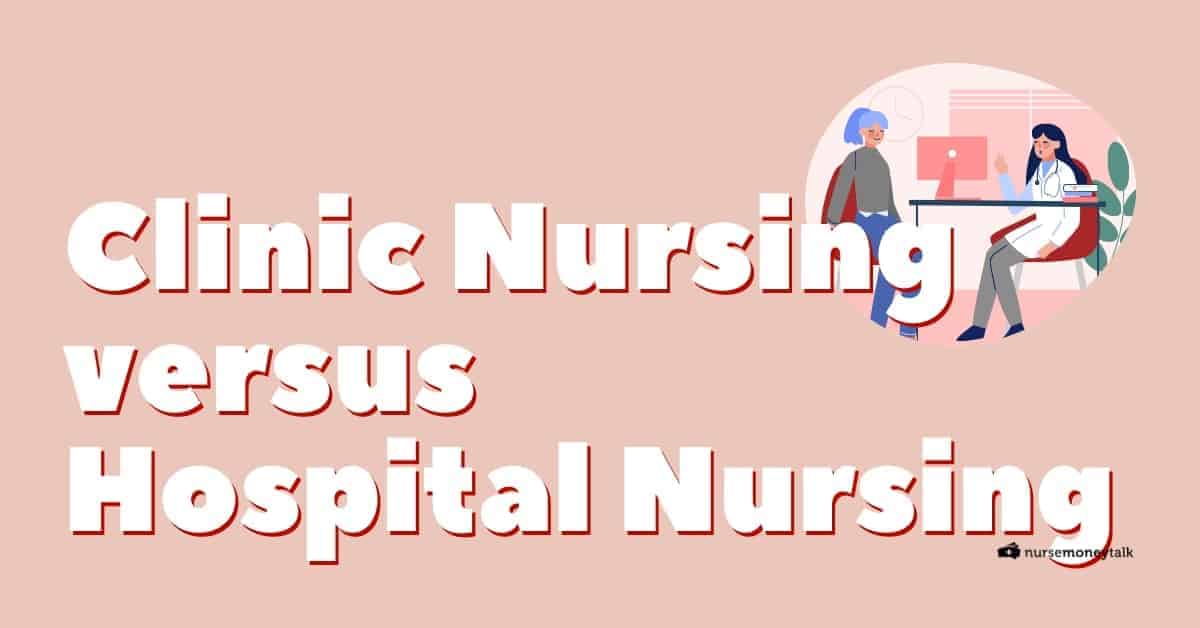 As a registered nurse, I have worked in both clinics and hospitals. You may think nursing is nursing – but there is a definite difference between clinic and hospital nursing.
That does not mean one is better than the other – they are both equally important, especially to the patients I provide care for.
*Disclosure: This article on clinic nurse vs. hospital nurse may contain affiliate links. If you click and make a purchase, I may receive a commission. For more info, please see my disclaimer.
Clinic Nursing vs Hospital Nursing
Clinic Nursing
Note!
Please note that clinic nursing, like hospital nursing is very diverse. I will try to speak as general as possible to cover many aspects of clinic nursing or things shared in most clinic settings.

But ultimately, general clinic nursing can look vastly different from specialty procedural clinics like gastroenterology and cardiology.
Nurses who work in a clinic work with ambulatory patients. These patients either make an appointment to see a healthcare provider or walk in and wait to see a provider. When they have been seen and treated, they are free to leave.
There are several types of clinics. The most common is a general medical clinic. A general medical clinic is where patients would go if they were sick or injured and didn't want to go to an emergency room. I personally avoid the emergency room unless I am in an ambulance that refuses to stop at the clinic!
Then there are specialized clinics where patients are seen and treated for specific health conditions or receive preventive medical care. Some of these specialties include the following:
Mental Health
Gastroenterology
Obstetrics
Cardiology
Orthopedics
Pediatrics
Drug/Alcohol Abuse
The list of specialized clinics is rather long. It includes all the specialty care a patient can receive in a hospital. With the exception of certain emergency care treatments such as
Traumas (automobile accidents, burns, severe wounds, etc.)
Heart attacks
Strokes
And any other medical emergencies that come on quickly and usually without warning.
The clinic nurse is one of the first people a patient sees. As a clinic nurse, I collected the patient's chief complaint, any medical history leading up to a new onset acute problem or a chronic problem that had returned.
If the chief complaint was severe, such as signs of a heart attack, stroke, premature labor, hemorrhaging during pregnancy or bowel movements (life-threatening) signs, or complaints of any kind. I would immediately call for the physician or primary care provider who was working at the time.
If time allowed, before the physician arrived, I did vital signs, provided emotional support for the patient and family members, and set up any needed emergency equipment.
Become a Clinic Nurse or a Hospital Nurse
If you're not a nurse here's an opportunity to find a great school using my school search form. If you're a nurse check out my job board for some awesome clinic nursing and hospital nursing positions.
Once the primary health care provider entered the room, I assisted in whatever needed to be done, which could have been any of the following.
Started an IV
Drew blood for labs
Administered medication/oxygen
Assisted in CPR or other life-sustaining procedures
If necessary, call for an ambulance
In life-threatening situations, clinics do not always have the correct equipment to sustain life, such as ventilators. Therefore, it's necessary for the patient to be transferred by ambulance to a local hospital.
If the patient comes into the clinic complaining of a sore throat and an overall feeling of being unwell, then I may do a viral swab or, if the patient has a sore throat, a throat culture will be done to check for strep throat.
There are several tests and procedures that can be done in a clinic. If a patient was complaining of coughing and shortness of breath, this is an indicator of an upper respiratory infection or bronchitis, so a breathing treatment could be done and/or a chest x-ray.
If the patient shut their finger in a car door or fell off their porch steps and injured a body part, then x-rays were done, and ace bandages for strains and sprains were applied. If a bone was broken, a cast was put on with instructions to follow up with an orthopedic specialist.
What does a clinic nurse do?
A clinic nurse performs basic nursing duties such as: taking vital signs, addressing the patient's complaints, doing swab tests, urine tests, drawing blood, starting an IV, giving supplemental oxygen, giving injections, assisting the physician with onsite care such as simple medical procedures (decompaction, cyst drainage, etc.) or injury care such as cleaning wounds, stitches, casts, etc.

This is all in addition to educating the patient and family about prescription medications and care instructions.
As a clinic nurse, I experienced all the above examples. FYI, it's true what they say about full moons – If you're going to see an overflow of patients or strange injuries, that's when you will see them…Be leery of the full moon!
FYI
This is more or less a joke. No research supports increased ER visits during a full moon.
Who Does a Clinic Nurse Work With?
A clinic nurse works with one or two physicians, physician assistants, or nurse practitioners. There are generally two providers at the clinic during the busy daytime hours, and during the slower times, there is only one provider.
There are a few nurses. Depending on the size of the clinic, there may be two nurses or 10 nurses. It usually works out to 6-8 patients per nurse.
There is usually a receptionist on duty. There's also a phlebotomist, an x-ray technician, and an EKG technician on site. If the clinic does ultrasounds/CT scans or other specialty tests, a technician for each specialized test will also be available.
Related: The Complete List of Nursing Specialties
PROs of Working in a Clinic
Most medical clinics are open Monday through Saturday. Some clinics are open for a few hours on Sunday.
Clinics are not generally open 24 hours a day like a hospital. Most clinics usually close between 9 am-11 pm.
They are usually closed on major holidays (Thanksgiving, Christmas, and New Year's Day) or have limited hours of 9-5 and clinic nurses only work 4-hour shifts.
Develop solid relationships with the physicians, nurses, and support staff.
A good place to work for nurses who have families, other jobs, or nursing students furthering their education due to flexibility.
CONs of Working in a Clinic
It doesn't pay as much as working in a hospital.
Sometimes you'll be faced with emergency situations the clinic is not prepared to handle.
You will see a lot of the same medical conditions/injuries. They can become mundane. It doesn't allow you to expand/use your nursing abilities as much as working in a hospital.
How Much Does an RN Clinic Nurse Make?
Demographics play a large role in the average income of a registered nurse working in a clinic, as does the amount of experience. According to the U.S. Bureau of Labor Statistics, the median is $75,330 for an RN – clinic nurse.
Become a Clinic Nurse or a Hospital Nurse
If you're not a nurse here's an opportunity to find a great school using my school search form. If you're a nurse check out my job board for some awesome clinic nursing and hospital nursing positions.
Hospital Nursing
Most of the patients I've worked with in the hospital setting were inpatients. They were admitted to the hospital and stayed for at least 24 hours. As a registered nurse in a hospital, I did everything I did as a nurse in a clinic, plus more.
In addition to the clinic duties, I performed (starting an IV, drawing blood for labs, administering medication/oxygen, and assisting in CPR or other life-sustaining procedures). I also did the following tasks.
I took in-depth patient history and physical.
Did an initial assessment on my patients when I admitted them and throughout my shift.
Reported changes in the patients' conditions to their physician or the physician on call.
Based on the collected information and the doctor's orders (treatments, medications, etc.), I created a care plan that included everything needed to provide the best physical and emotional care for the patient during their stay.
Once they were ready to discharge from the hospital I prepared the needed discharge paperwork and packet and educated them (if needed their family member and caregiver) prior to discharge.
What does a hospital nurse do?
A hospital nurse takes vital signs and medical/family history upon admission. They assess the patient throughout their hospital stay (sometimes multiple times a shift).

They address the patient's concerns. They start an IV, administer supplemental oxygen, give medications and injections, and assist the physician with medical procedures.

The hospital nurse also supervises LPN's and certified nursing assistants. Informs the physician (healthcare provider) of changes in the patient's condition. Assists in any necessary life-sustaining procedures (including CPR, medication, and placing on a ventilator).
Working in a hospital allowed me to choose the type of nursing I wanted to do. For example, I could have worked in any one of the following areas.
Medical
Surgical
Cardiac
Pediatrics
Labor and Delivery
Behavioral Health (not all but a lot of hospitals have an inpatient behavioral health unit)
Oncology
Day Surgery
Emergency Room
End of Life
Geriatrics
Much like clinics, hospitals have specialty areas where specific types of care are provided, such as the following.
Intensive Care (Adults 18 and over)
Pediatric Intensive Care (Infant to 18 years)
Neo-Natal Intensive Care (Newborn)
How Much Does an RN Hospital Nurse Make?
According to the U.S. Bureau of Labor Statistics, the median is $81,680 for an RN – Hospital Nurse. A critical care nurse (CCRN) can add an additional $10,000 to the median yearly salary.
PROs of Working in a Hospital
In a hospital, you have more flexibility with the hours you work. While I was earning my master's degree, I was able to work 16-hour shifts on Saturdays and Sundays and have the rest of the week to attend classes.
Hospitals have 8 hour, 12 hour and 16 hour shifts. You can work days, evenings, or nights. Many nurses find the ability to choose which shift or number of hours they work beneficial.
There is always a need for overtime. When I was hired to work part-time but needed full-time hours, I could work more hours to make up the difference.
CONs of Working in a Hospital
Most hospitals require nurses to work weekends and holidays, usually every other time. If you have a family, these hours may not fit into your family life.
Mandatory overtime I personally do not care to be told I have to stay for an extra 8-hour shift because the hospital is short-staffed.
Nurses sometimes get moved from the unit they work to work on a different unit because they are short-staffed.
Nurses often have 10-12 patients to provide care for at once. I found this type of caseload stressful and unfortunate for my patients because I didn't feel they were getting the amount of my time they deserved.
Clinical Nurse VS Hospital Nurse Summary Chart
| QUESTIONS | CLINIC NURSE | HOSPITAL NURSE |
| --- | --- | --- |
| What hours do you work? | Typically works Mon-Fri 9am to 5pm. | Hospital is open 24hrs a day, 7 days a week, so mornings, evenings, and nights are available. |
| Do you have to work the holidays? | Has major holidays off – the clinic is closed. Depending on the clinic, you may have rotating calls. | You have to work at least every other major holiday. |
| How much do you make? | Income in the $60,000 to $70,000 range. It could be much less or much more depending on licensure (LPN vs. RN) and specialty. | Income in the $75,000 to $85,000 range. It could be more depending on specialty and tenure. |
| Who do you work with? | You're going to work with a limited number of co-workers. Typically will be the same people every day. You'll be working with the doctors closely. | You're going to work with several co-workers. You could work with a completely different set of coworkers from one shift to the next. You also won't work as closely with the doctors. |
| What are the job duties? | Job duties are limited to basic nursing care. Depending on the specialty, you could be doing much more. | Job duties can be extensive. It's inpatient nursing. You could even get a total care patient. |
| What degree do I need? | Usually requires an associate degree or just an LPN licensure. | Generally, it requires a bachelor's degree in nursing. Registered nurses are preferred in the hospital setting. |
| How many patients do I have? | Responsible for one patient at a time, depending on the specialty. | Responsible for several patients at a time. |
| How sick are the patients? | Evaluates and treats common illnesses and injuries. | Evaluates and treats more complex illnesses and injuries. |
| QUESTIONS | CLINIC NURSE | HOSPITAL NURSE |
If you're not a nurse yet, go here to search for schools. If you are a nurse, go here to search for a clinic or hospital nursing jobs.
Is a Clinic or Hospital Right for You?
Which is the better place to work, a clinic or a hospital? Ultimately, the decision is up to you based on your family and personal needs. Here are some last-minute things to help you decide which one is the better option for you to work at.
If you're a family person looking to work set hours and be off during the major holidays and be home every evening, then a clinic would be the better option.
If you are more career orientated and looking to further your career and work in a specialty or become a nurse practitioner or even a doctor, then a hospital setting offers more opportunities to help you achieve your goals.
Find Your Ideal Job
Nursing is a rewarding career and one that will always be around assuring job security. If you're considering a career in nursing, there are several excellent schools. Please take a look at my school search form for the perfect nursing school for you!
If you're already a nurse, make sure to go to the NurseMoneyTalk Job Board to find your ideal job.
Have You Read These Yet?
Frequently Asked Questions