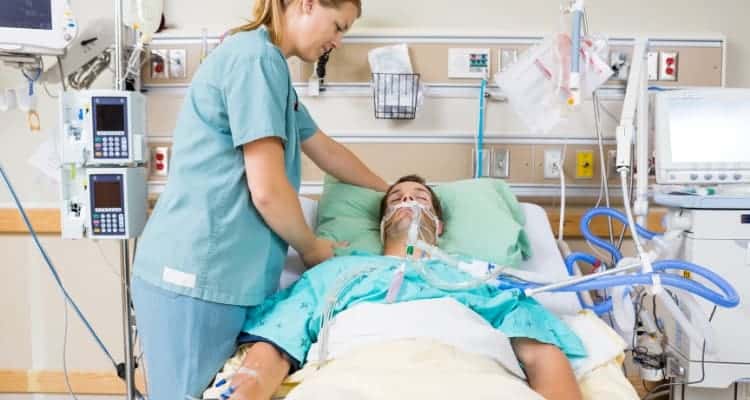 You probably already know that the Intensive Care Unit of any hospital is reserved for the sickest patients who need the most hands-on care.
What you may not be aware of is the many distinctive care areas found in some larger ICUs.
In this article, I'm going to compare two of those ICU specialties the medical intensive care unit (MICU) vs the surgical intensive care unit (SICU).
Areas of the ICU (SICU vs MICU)
Smaller or rural hospitals generally have a single Intensive Care Unit designed to hold all of their sickest patients.
However, in larger hospitals, I have frequently seen the ICU separated into distinct sections with nurses either moving between the sections depending on the shift or working solely in one area for every shift.
Some of the most common areas of the adult ICU include the following:
Medical ICU (MICU)
Surgical ICU (SICU)
Cardiac ICU (CICU)
Trauma ICU (TICU)
Burn Unit
Neurological Unit
Mid-sized hospitals may have a 20 to 40-bed ICU that is evenly divided into three or four sections situated around a central nurses' station.
Large hospitals or hospitals with major trauma sections may make even more of a distinction between areas, putting the MICU, SICU and CICU on different floors.
It is often easy to switch between different areas of the ICU as your interests change.
You may also want to consider doing what I did and cross-train to a new unit. This allows you to work there occasionally and develop new skillsets over time.
Find Your Next Nursing Job
Use the NurseMoneyTalk job board to look for and apply to great nursing jobs near you.
What Is the MICU?
One of the most familiar areas in the ICU is the MICU, or Medical Intensive Care Unit. This unit hires primarily registered nurses with some certified nursing assistants as helpers.
In this unit, you will see a wide range of diagnoses and conditions. You will be on your feet most of every shift and will find that the environment is both fast-paced and exciting.
Patients must be closely monitored and regularly assessed for changes in their conditions. They will need an array of medications and therapies during each shift.
The MICU is primarily used for unstable patients who need more hands-on treatments than do patients on the floor. Nurses will work closely with doctors, respiratory therapists, physical therapists, dietitians and other professionals to create care plans for their patients.
Patients are often on advanced equipment, including ventilators, continuous dialysis and multiple intravenous lines. A variety of physicians see patients here depending on primary and secondary diagnoses.
What Is the SICU?
The SICU, or Surgical Intensive Care Unit, has many of the same resources as the MICU but focuses on different patients. These patients are either going into surgery soon or have recently completed surgery. Unlike the recovery area of the Post-Anesthesia Care Unit, however, the SICU is for patients requiring longer-term care.
Depending on the hospital, the SICU may care for all surgical patients or it may care for everything except thoracic surgery patients, who will go to the cardiac ICU.
Once again, the environment is fast-paced, and doctors complete rounds frequently. There will be many additional members on the care team, including social workers who help with discharge considerations for post-surgical patients.
Key Similarities Between the MICU and the SICU
As I mentioned, there are actually many similarities between the MICU and SICU, which is why they are often grouped together in smaller hospitals.
Nurses typically begin with similar training, and you may even be able to land a position in either unit as a new graduate depending on the hospital system.
You will also work with much of the same equipment. Numerous patients will have multiple intravenous lines running simultaneously, and many will have additional central lines and arterial lines for close hemodynamic monitoring.
You will also see ventilators, cardiac monitors, temporary pacing wires, dialysis units and other specialty equipment used on certain patients.
Both units are generally set up with centrally located nurses' stations, and doctors frequently make rounds. The atmosphere is busy and can become frenetic when new patients are admitted. All patients are closely monitored at all times, and nurses perform frequent assessments and take vital signs often.
While patients may occasionally be discharged home, most are sent from either ICU setting to a step-down unit or medical-surgical floor for further recovery.
Key Differences Between the MICU and the SICU
Despite these numerous similarities, you will quickly see just how different these two units are if you begin working in one of them. In fact, I have found that the energy is often completely different between these units thanks to the different patient types most frequently seen in each.
The key difference between the MICU and the SICU is the type of patient admitted to each.
The Medical ICU takes patients with any type of medical diagnosis who need to be stabilized. I have frequently seen patients with gastrointestinal, respiratory, and oncological concerns as well as with blood disorders and infections admitted here.
On the other hand, the SICU is often known as the clean unit because of the sterile atmosphere associated with surgeries. I have rarely seen patients with serious infections, such as sepsis, admitted here although some patients develop blood infections following surgery.
Infection in the SICU is a very serious thing, and a study showed that outcomes following infection are far more dire in the SICU than they are in the MICU.
Depending on the hospital, the SICU may have surgical patients who have undergone open heart, thoracic and gastrointestinal procedures as well as the occasional organ transplant patient.
Patients often come directly from the operating room and may require resuscitation. You may also see patients with hypovolemia or hemorrhage.
Keep in mind that in the case of an overflow on one unit, the other unit may accept additional patients. The biggest concern when doing this in my experience is making sure that infectious medical patients are not given to a nurse who is also caring for "clean" surgical patients.
Choosing the Right Unit for You
Both the MICU and the SICU offer an array of benefits to nurses wanting to make a difference in the lives of critically ill patients.
Nurses in either unit will have to work quickly, think on their feet and have amazing communication skills for sharing changes in medical condition with doctors as well as family members.
Choosing the right area in the ICU depends more on your personal interests and the way you like your typical day at work to progress rather than on any difference in educational level or continuing certifications.
Nurses in both areas frequently continue to study and become Critical Care Registered Nurses.
Remember that no one can make this choice for you. I have found that relying on my instincts in making this choice has been far more effective than listening to what my nursing instructors or other nurses thought.
While it is good to ask questions and get counsel from others, you are the only one who can make this important decision.
Related: Should New Nurses Only Work in Med-Surg
Choosing Based on Nursing Skills Needed
As you consider whether MICU or SICU is right for you, consider the nursing skills you will need for each. In many ways, both areas are similar.
As a new graduate, you will probably have 12 weeks of a unit orientation and mentorship program during which you will work closely with an existing nurse on the unit to learn more about caring for patients there.
If you have already been a nurse for several years, your orientation may be shortened to six weeks or longer based on how quickly you become comfortable taking care of ICU patients on your own.
Other skills that you will need for working on either unit include the following:
Stamina
Critical thinking
Effective communication
Focus
Confidence
Effective time management
Dedication to learning
In the MICU, depending on the layout of your hospital, you may be caring for trauma victims, and you will often not know exactly what is around the corner.
Some individuals in the MICU become long-term patients, and you may care for the same patient during every shift for several weeks in certain cases.
In the SICU, you will need significant post-operative recovery skills as you will frequently be dealing with patients who are waking up from anesthesia.
You may also see more hemodynamic changes here and may need to be skilled at reading EKGs if you are working with open-heart patients.
SICU nurses must also be skilled at changing surgical wound dressings, getting patients ready for surgery and speaking with family members who are waiting for the patient to arrive back from surgery.
However, many patients in the SICU recover more quickly than do those in the MICU.
Choosing Based on Patient Population
In both ICU areas, you will find similar patient ratios with nurses usually getting two patients on every shift.
However, because the SICU more frequently transfers patients to the floor following recovery than the MICU does, you may actually see more patients every week in the SICU.
I have also found that patients in the SICU tend to be older than those in the MICU because of the wide range of comorbidities that frequently lead to surgery.
Some patients in the MICU are younger adults who are dealing with acute illnesses or injuries.
Find Your Next Nursing Job
Use the NurseMoneyTalk job board to look for and apply to great nursing jobs near you.
Choosing Based on Your Personality
For me, the biggest thing to consider when picking which area of the hospital you wish to work in is your personality.
If you are like me and prefer a more ordered work environment and love knowing what you can expect, the SICU may be the perfect place for you.
Nurses in the SICU often have the following traits.
Analytical
Highly organized
Detail-oriented
Appreciate control over environment
Compassion
Courage
If you prefer spontaneity, frequent changes and constant challenges, the MICU may instead be the place for you. Nurses in the MICU often have the following traits.
Bold
Up for a challenge
Adventurous
Great sense of humor
Willing to ask questions
Assertive
Of course, there is much overlap between nurses in both of these areas. I have seen many nurses successfully switch between areas in the ICU, and they enjoy the change and do quite well.
Both types of nurses love to learn new things, need to remain non-judgmental and must be able to relate well to all types of people.
Neither the SICU nor the MICU are better than the other. Both simply offer different challenges and different learning and growth environments for nurses.
Choosing Based on Work Schedules and Pay
Not so surprisingly, typical schedules and pay scales are similar in the MICU and the SICU.
The majority of nurses rotate between days and nights and work 12-hour shifts. Depending on the hospital, you will probably have to work certain weekends and holidays as well.
Related: What is the Baylor Schedule?
In my experience, the only way to get out of rotating shifts is to switch to a solid night or weekend schedule. By taking these shifts that are less favored by the majority of nurses, you can at least maintain a semblance of a regular schedule.
The average annual pay for both MICU and SICU nurses in the United States is $65,870. The highest pay goes to those with over 10 years of experience as well as those living in major metropolitan areas on the West or East Coast.
Find Your Next Nursing Job
Use the NurseMoneyTalk job board to look for and apply to great nursing jobs near you.
Final Thoughts
While the MICU and SICU are similar in many ways, they definitely have different patient populations that can significantly impact your daily work.
Which option sounds the most interesting to you?
Be sure to check out our job board to find MICU and SICU positions that are currently open.
Frequently Asked Questions
Some frequently asked questions related to SICU vs MICU.
What is the MICU in a hospital?

MICU stands for medical intensive care unit. It's a unit in the hospital that provides care to critically and acutely ill geriatrics and adults.

What is the SICU in a hospital?

SICU stands for surgical intensive care unit. It's a unit in the hospital that provides care to patients post surgery.

Which one is better to work in MICU or SICU?

Both MICU and SICU have their pros and cons. Depending on the individual nurses personality and preference they could be attracted to one field over the other.
Related Articles to SICU vs MICU
These are some r/t articles on the surgical intensive care unit vs the medical intensive care unit.