Do I Need a New ATT to Retake the NCLEX?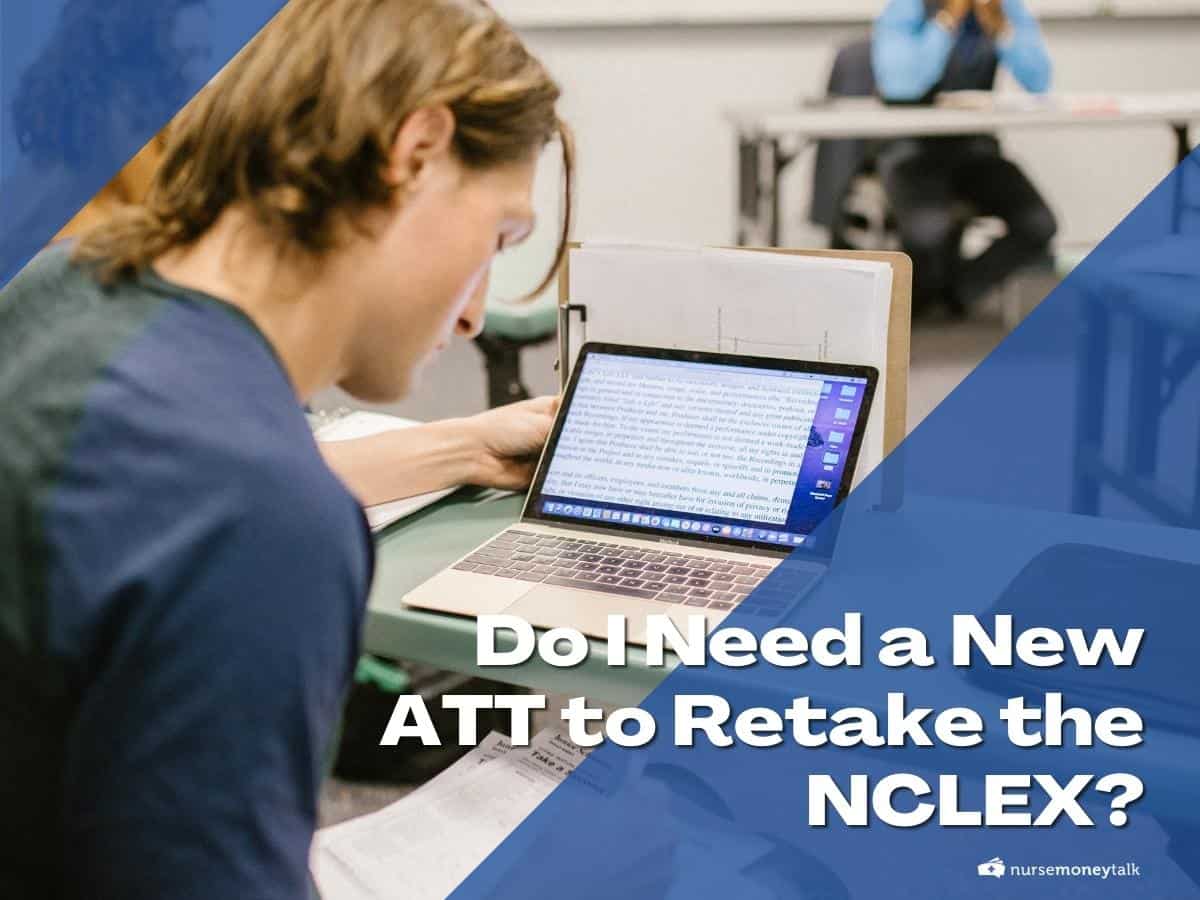 I get a lot of questions about the NCLEX.
One of the many questions nursing school graduates ask regarding the NCLEX is whether or not you need a new ATT to retake the NCLEX.
Here's the answer.
Do I Need a New Authorization to Test (ATT) to Retake the NCLEX?
If you're retaking the NCLEX, you need a new ATT. If you haven't had much luck passing the NCLEX, read until the end. I have some helpful resources and a link to the NCLEX prep course I recommend so you can pass the next time you take the NCLEx.
The only NCLEX prep you'll need. Check out the nclex prep course that helps graduate nurses pass their state board.
What does it cover?
Just to name a few.
What is an ATT?
An Authorization to Test (ATT) is an essential document issued by the Board of Nursing (BON) or regulatory body that grants you permission to take the NCLEX.
The ATT contains important information, but honestly, all you'll care about is that you can take the NCLEX.
Obtaining a New ATT for Retaking the NCLEX
To retake the NCLEX, you must follow the same process as you did for your initial exam. Here are the steps you need to take to obtain a new ATT:
1. Wait for the mandatory waiting period
Each jurisdiction has a specific waiting period before you can retake the exam, typically 45 to 90 days.
Check with your BON or regulatory body to confirm the waiting period for your jurisdiction.
2. Reapply for licensure
Submit a new application for licensure to your BON or regulatory body.
This process may include completing new paperwork, providing updated documentation, and paying the application fee.
3. Register for the NCLEX
Once your application for licensure has been approved, you'll need to re-register for the NCLEX.
Visit the Pearson VUE website and pay the required examination fee. Be sure to register within the time frame specified by your BON or regulatory body.
4. Receive your new ATT
After your registration has been processed, you will receive a new ATT via email.
This document will include new authorization and candidate identification numbers and the validity dates for scheduling your retake.
It's crucial to schedule your exam within this time frame; otherwise, your ATT will expire, and you will have to reapply and pay the fees again.
Tips for Success on Your NCLEX Retake
Retaking the NCLEX can be stressful, but you can increase your chances of success with the proper preparation and mindset. Here are some tips to help you prepare for your retake:
1. Reflect on your previous attempt
Analyze your performance on the previous exam to identify areas where you struggled. Focus on improving your knowledge and understanding of these topics.
2. Develop a study plan
Create a structured study plan that covers all areas of the NCLEX.
Allocate enough time for reviewing content, practicing questions, and taking practice tests. Stick to your study schedule to ensure you cover all necessary material.
3. Use varied resources
Utilize various study resources, such as review books, online courses, and practice exams.
Engaging with different materials can help you reinforce your understanding and improve your retention.
4. Practice test-taking strategies
Familiarize yourself with the NCLEX's computer-adaptive testing format.
Make sure to practice effective test-taking techniques, such as time management, reading questions carefully, and eliminating incorrect answer choices.
5. Get an NCLEX prep course
NCLEX prep courses provide a structured learning approach.
Instead of coming up with a study plan or finding your knowledge gap, a good prep course helps you with all that.
These courses enhance your preparation and improve your chances of passing. This is the NCLEX prep course I recommend.
NCLEX Prep Academy
Check out the comprehensive NCLEX prep review that I recommend. Don't bother with other NCLEX preps that overpromise and underdeliver. Did I mention they have a 99.86% NCLEX pass rate?
Have You Read These Yet?