Does Your Clinical in Nursing School Count as Work Experience?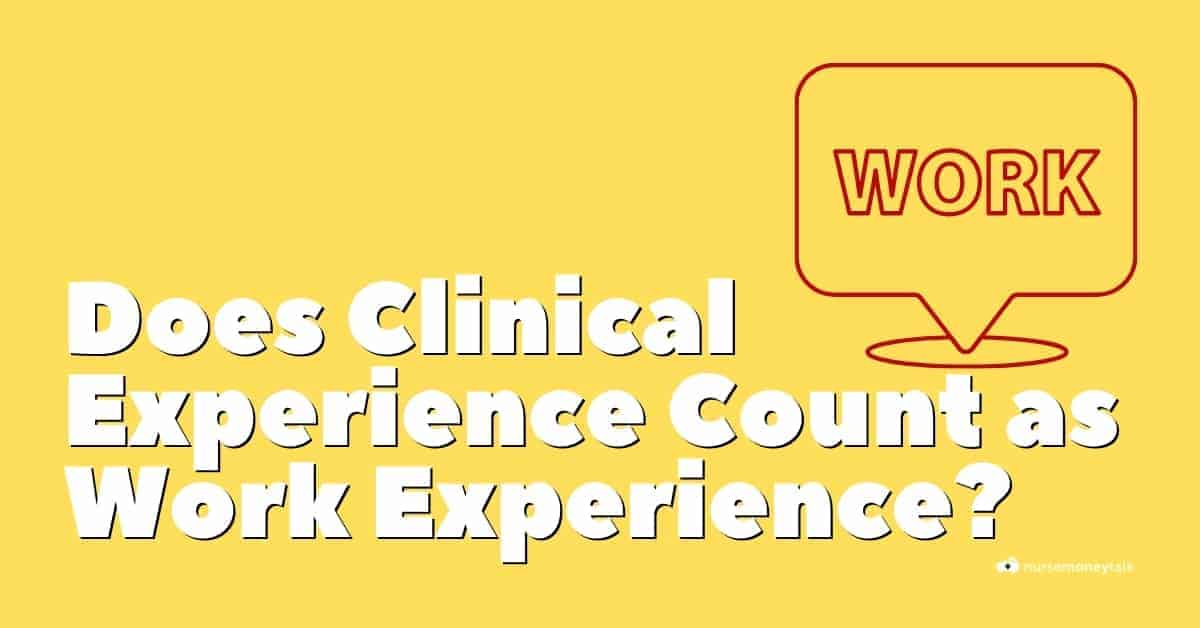 I've seen this asked several times, so I'm going to discuss this question on whether or not you can put your clinical in nursing school as work experience on a resume.
Make sure to read until the end because I'm going to tell you what you can do to get even better work experience while in nursing school.
*Disclosure: This article on does nursing school clinical count as experience may contain affiliate links. If you click and make a purchase, I may receive a commission. For more info, please see my disclaimer.
Does Nursing School Clinical Count as Experience?
Usually, nursing school clinical doesn't count as work experience. Hiring managers already know nursing students have to take clinical, and they know that all students take the same clinicals. Consider including your clinical experience if something interesting happened that enhances your resume.
Why Nursing School Doesn't Count as Work Experience
Nursing school clinicals won't help you that much because every nursing student will have the same clinicals. This doesn't mean you'll have the same clinical experiences, but for the most part, it's going to be relatively the same (for the schools in the same area/state).
For example, if you're going to a nursing school in Oklahoma. You're going to have a mental health rotation, a med surg rotation, critical care rotation, and so forth. I think you get the point which is it's pretty much going to be the same.
The other thing is that employers are looking for people who've had jobs in an actual employment situation. If you think about it, going to a clinical and going to work are very different. I've done both while in nursing school, and I can tell you first hand that it is.
With that said, I don't think there's anything necessarily wrong if you list some of your clinical experiences. I just wouldn't unless there was something really interesting or unusual that happened. Or you got to see and do something you think would enhance the quality of your resume.
Otherwise, don't expect it to give you a huge advantage (if any) when your resume is being reviewed.
Nursing Student Academy
Check out the comprehensive supplemental course nursing students are taking to improve their grades and pass nursing school.
How You Can Get Work Experience While in Nursing School
So now that I've told you nursing school clinicals don't count as experience, you're probably wondering now what.
Rest assured, there are ways you can get work experience while in nursing school, and I'm going to share four of them.
Related: 10+ Most Asked Questions about Nursing School Clinicals Answered
But in short, I believe nursing students should get a job as a CNA in the facility they want to work in after they graduate.
At the minimum, you should get a job working in a hospital. I think it will give you the work experience that will help you in nursing school and after.
One of the points I made in that article was getting your LPN allows you to start working as a nurse and start gaining some valuable experience that few nursing students are going to have.
Most states don't allow this, but if you're in one of the few, consider taking advantage of it.
3. Volunteer in the Medical Community
There are always opportunities for nursing students to volunteer at hospitals, nursing homes, charitable organizations, or other healthcare/medical agencies.
Volunteering can be a great way to gain some experience outside of your nursing program while also showing on your resume that you like to give back to the community.
Nursing Student Academy
Check out the comprehensive supplemental course nursing students are taking to improve their grades and pass nursing school.
4. Write For a Nursing Blog
One good way to gain experience is to take what knowledge you have now and write a paper and get it published in your university newspaper, your local newspaper (yes, those still exist), or an established online website or nurse blog.
Clinicals Don't Count, But They Do
Even though clinicals in nursing school probably won't help you that much as far as getting a job is concerned it will help you be a better nurse.
Clinicals were some of my favorite times in nursing school so make sure to take it seriously show up prepared and ready to learn.
Related Articles
Frequently Asked Questions