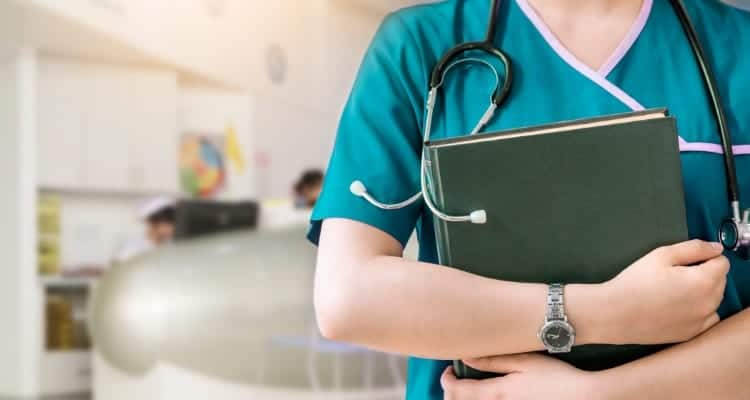 Utter the word "nursing clinical" around any seasoned nursing student or graduate and watch them scatter.
For many, clinical was a terrifying, grueling, teeth pulling experience. However, it doesn't have to be that way!
We've put together these tips from current and previous nursing students to help you make the most of your clinical experience.
*Disclosure: This article on pass nursing school clinical may contain affiliate links. If you click and make a purchase, I may receive a commission. For more info, please see my disclaimer.
What is Nursing School Clinical?
Nursing school is broken up into two learning types: Lecture and Clinical. While lectures teach you how to pass your NCLEX exam to become a Registered Nurse, clinical teaches you vital hands-on skills to use in your career.
Clinical and lectures are coupled together.
This means throughout your nursing school career, you'll be in clinical sites that match what you're learning in class.
While there are hundreds of different tasks you'll perform, a few of them are:
Assisting with delivering babies
Resuscitating patients
Starting IVs
Assessing cognitive levels
Administering medication.
All under the supervision of your clinical instructor or precepting nurse.
Hire a Tutor for School
If you need a tutor for school, you can find one using this online platform. The tutors are vetted, and you pick the time that works for your schedule. Whether it's for nursing school, nursing school prereqs, or any school-related subject, this is a platform you should check out.
10 Tips for Passing Clinical in Nursing School
1. Get a Good Nights Sleep
A standard clinical day is 12 hours, and nurses don't take many breaks.
Being exhausted while trying to make it through the day is tough enough, but studies have shown that sleep deprivation can lead to a variety of negative symptoms.
In one study, over half of patient errors occurred due to sleep deprivation.
2. Prep the Night Before
While clinical can be a fun learning experience, it can also be extremely stressful.
Start your day out right by prepping your necessities the night before.
This includes having your scrubs laid out, breakfast (and lunch….and dinner…) packed, and any extra supplies you need in a bag ready to walk out the door.
Pro-Tip
Make sure you come prepared.

Make sure you have everything you need in a bag ready to go the night before.

If you need help we've prepared a helpful guide on the must-have nursing student gear.

Lastly, not being prepared with what you need to have will get you on the wrong side with your clinical instructor.
3. Follow Orders
Nursing school is an entirely different world, with strict rules and minimal tolerance for disregarding them.
Deviating even slightly from what your assigned nurse asks of you can have serious, even deadly, consequences.
Even if you don't harm a patient, not following orders is grounds for immediate removal from the clinical site and even expulsion from your program.
→ Related: I Failed Nursing School: Now What?
4. Go Through Charts
If you've found yourself in a rotation that has a pretty slow workflow (and trust us, they happen!) make sure you're using the free time to continue learning.
If you've completed your assigned work from your instructors, read through the patient charts (if the clinical site allows this).
Not only does this show your instructors you're taking an active role in your education, but it can introduce you to many new medical terms and conditions you may not have learned about yet.
5. Participate in Daily Briefings
You get out of clinical what you put into it. Throughout your day, make note of the important events you would like to share, or questions you may have.
These can be discussed in a group setting and allows for open discussion about things that came up during the day.
Most importantly, pay attention to the other student's experiences. Clinicals are a time to learn with, and from, each other.
6. Know Your Team
Knowing who you should be running your questions to and which person you should be shadowing is important. These are the key players during your clinical rotation:
Clinical Site: This is the location that you will be working at to gain hands-on experience.
Clinical Coordinator: An individual, usually a professor, that oversees the entire clinical experience for the students.
Clinical Instructor: The "head honcho" of that clinical site. They may be contracted through the school or already working there as an employee. This is who you'll report back to before, during, and after your clinical.
Nurse: You're generally assigned to one nurse that is already working at that facility. They'll be assisting you with hands-on teaching, assigning you various tasks, and monitoring your actions to ensure safety and proficiency.
While you may find yourself working with respiratory, dietary, occupational, or physical therapists, the clinical instructor and your assigned nurse are going to be your main guides.
Pro Tip:
This doesn't mean you should ignore them.

Other specialties can give you valuable insights on different things that you may not get from the nurse you're following.

For example, a respiratory therapist is a great resource for learning all about ventilators if you're in the critical care clinical.
Hire a Tutor for School
If you need a tutor for school, you can find one using this online platform. The tutors are vetted, and you pick the time that works for your schedule. Whether it's for nursing school, nursing school prereqs, or any school-related subject, this is a platform you should check out.
7. Interact With Your Patients
Doctors can tell you how to treat a disease, and nurses can tell you how to use that information to heal a patient, but only the patient can tell you what the entire experience truly feels like.
While they may not know medical terminologies related to the diagnosis, they can give you a first-hand account of their experience.
Hearing directly from a patient about how their cancer diagnosis impacted them, how they're coping, and what treatments they're receiving can't be found in a textbook.
Related: Does Nursing School Clinical Count as Work Experience?
8. Do Not Be a Complainer
Please, please, please do NOT complain about nursing school, professors, classes, classmates and life struggles to hospital staff.
Remember in a clinical you're following nurses and dealing with staff whose job is to take care of patients.
Educating nursing students slows them down from doing their ACTUAL job. Many of them love doing it or are willing to do it but a negative nursing student makes that even harder.
Also, not only does the hospital staff probably not care about your nursing school struggles, many will let you know how much they don't care about your problems (in a not very nice way).
Some will avoid you altogether. Others will notify your instructor that they don't want you on their floor.
We're not trying to scare you about nursing school clinical, but it is worth saying so you can put things into perspective when you're in a clinical site.
9. Make Life Easier for the Hospital Staff
This kinda goes along with the previous point, but it's worth emphasizing. Work hard and (within reason) do what's asked of you.
Do what you can to make things easier for the nurse you're following.
When you make things easier for them, many of them are more than willing to go out of their way to make sure you have a good clinical experience.
10. Ask Questions
We've saved the best for last, and that is: ask all the questions!
It's important to remember that you are looking at these scenarios with brand new eyes, while your clinical instructor or nurse predecessor has been seeing them for years or even decades.
Don't be afraid to ask questions and get the clarity you deserve. You owe it not only to yourself but to your current and future patients as well!
Final Thoughts
Are you nervous about starting your first clinical?
A seasoned student who wants to share their experience?
We want to hear from you! Let us know your secrets to clinical success in the comments below.
Frequently Asked Questions
When you're a nursing student going through nursing school clinical you're not getting paid for it. On the contrary, you're paying tuition and fees for being in nursing school.

Are nursing clinicals scary?

Many nursing students do get nervous about being in clinical. It's important to note that with proper preparation many students will find nursing school clinical enjoyable.

What do you do during nursing clinicals?

When you're in clinical as a nursing student you're following a registered nurse getting real world practical experience under supervision.

How long do clinicals last in nursing school?

Nursing school clinicals will last anywhere between 8-12 hours in a given day. They can last from a couple days to several weeks depending on the class and the nursing school.

Staying motivated in nursing school is hard. It requires setting solid SMART goals and remember the "why" you started this journey in the first place.
Related Articles on Passing Clinical as a Nursing Student