How to Become a Burn Care Nurse: A Definitive Guide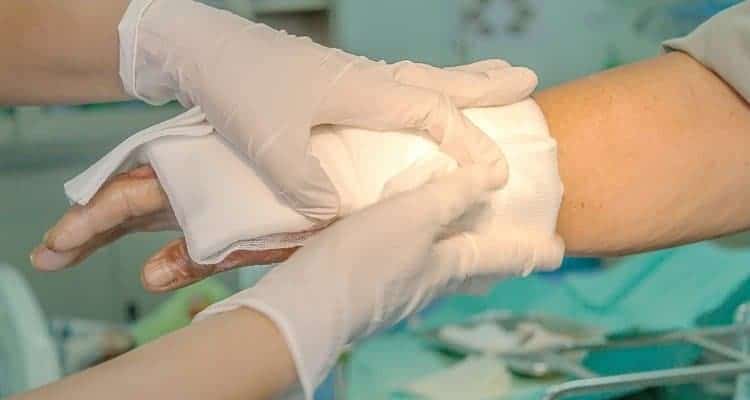 Whether you're thinking of becoming a burn care nurse or you're just curious about what they do, here's a complete guide to their job duties, specialties, and the pros and cons of their career.
Learn what a burn care nurse's daily routine looks like, as well as the salary outlook.
So, what is a burn care nurse? A burn care nurse is a registered nurse that takes care of patients who have experienced severe burn trauma, usually in a burn care unit of a hospital.
So, how do I become a burn care nurse? To become a burn care nurse, you need to get into and pass an accredited registered nurse school. After school, you will need to take and pass the registered nurse licensure called the NCLEX-RN. After passing boards, you can apply to work in a burn unit.
Below we're going to dive deeper into burn care nursing.
*disclosure: this post may contain affiliate links. If you click and make a purchase, I may receive a commission. Please see my disclaimer.
What Is a Burn Care Unit?
A burn care unit, or BCU, is often part of a hospital's emergency or trauma department.
While the size of the burn unit will vary depending on the specific hospital, most BCUs include a multidisciplinary burns team (source). The team could consist of:
Consultants
Clinical nurses
Residents
Nurse coordinators
Occupational therapists
Nutritionists
Physiotherapists
Social workers
…and other specialists.
A burn unit may also be part of a rehabilitation facility or other medical clinic.
For instance, service members of the military may suffer burns from explosions, so a burn unit or nurse will be part of the medical staff.
What Is Burn Care Nursing?
In a general sense, a burn care nurse is there to treat and monitor burn victims as they come to the hospital or medical facility.
The BCU nurse will assess the severity of the burn(s), how much of the body's surface area is wounded, and the mental/emotional wellbeing of the patient.
Often, burn victims have experienced other forms of trauma, so the burn care nurse will have to perform other critical care procedures, such as checking vitals, dealing with fluid or blood loss, and checking for cardiovascular and respiratory failure (source).
Burns might result from cooking fires, contact with chemicals, electrical devices, or automobile accidents, so the ensuing wounds could be quite vast.
Besides treating and monitoring the burns and wounds, the BCU nurse should educate the patient and their caretakers throughout their stay in the hospital.
Burns can be particularly lethal for children and elderly people, so a burn care nurse might have to use basic life support and advanced pediatric life support skills while on the job.
That being said, these nurses see patients of all genders, ages, and backgrounds.
What Does a Burn Unit Nurse Do? (Roles, Duties & Responsibilities)
While a burn unit nurse will carry out some procedures that are common among the emergency or critical care team, they will also have specific responsibilities.
One of these is a burn assessment, in which they will determine the total body surface area (%TBSA) that sustained burns.
A %TBSA under 10% is considered a minor burn, while over 10% is a major burn (will vary depending on whether it's an adult or a child).
Some BCU nurses use the Lund and Browder chart, which considers the patient's age (source).
Others use the Rules of Nines to make quick estimations of total affected surface area and burn severity.
In addition to a burn assessment, the BCU nurse will do a preliminary check on the patient, looking at their airways and breathing, as well as checking their circulation and pain levels.
Given the nature of the burns, the nurse will also have to help with wound care and any ensuing medical conditions, such as fluid and electrolyte loss or preparation for emergency surgery.
Part of the nurse's job is to work with the burn care unit team to provide the best care for the patient, as each situation and individual is unique. Throughout their shift, the burn unit nurse may use a variety of techniques and equipment to stabilize and monitor the patient.
One of the most important duties of a burn care nurse is to change the burn dressings, which can be a painstaking job.
Depending on the patient's condition and their emotional state, removing the dressings and putting on new ones can be especially painful or anxiety-provoking. Even so, regularly changing the dressings will ensure faster and safer wound healing.
Empathy, compassion, and communication will come in handy in the burn unit, as the nurse will have to monitor the patient's pain levels, administer medication, and record the individual's physical and mental state.
The nurse is often the point of contact between the patient and their family or caregivers, so it's up to them to provide education, information, and sympathy.
The nurse will also discuss with the rest of the burn unit team to decide what the patient's next steps should be, such as different forms of therapy, rehab, nutrition, and discharge instructions.
Related Articles: 5 Important Emergency Nurse Skills
How to Become a Burn Care Nurse?(Education, Certifications)
For those who want to become a burn care nurse, the first step is to obtain an Associate or Bachelor of Science degree in nursing.
Upon completing the nursing degree, they will then have to pass the NCLEX-RN exam to get their RN license. An active RN license will be necessary to continue working as a BCU nurse.
Their education should have taught them about patient care and how to communicate with patients and their families.
They should also be well versed in basic nursing practices, including burn care. Some people opt for a master's degree, so they can further their knowledge in emergency or trauma nursing.
This will prove useful in the burn care unit and will give them an edge in the workforce.
Depending on the employer, certain certifications may or may not be required. Still, it helps a nurse to have some certificates under their belt.
These include Advanced Burn Life Support, Basic Life Support, and Advanced Cardiovascular Life Support.
Speaking specifically to the BCU, a nurse should have a full understanding of burns and how they affect physiological processes, and they should know how to accurately perform a burn assessment.
They also need to be skilled at wound care, classifying burns, and changing dressings.
They must understand the complications that can occur as a result of a burn, such as obstructed blood flow and respiratory failure.
Thorough knowledge of fluids and electrolytes is also important, as these can be lost to sustained burns.
It's common for nurses to start working in the ICU or trauma department before transitioning to the burn unit.
This is because most employers want their burn care nurses to have experience in trauma and critical care. The job will require a firm grasp on pain management, triage and critical care, and trauma recovery.
Finally, a burn unit nurse should exhibit compassion and empathy, and they should possess strong communication skills, both with their medical team and the patient and their family.
The nurse should have the ability to stay strong when faced with gruesome accidents, as burns can lead to disfigurement and other intense conditions.
Find Nursing Programs
Search our school database to find schools and get information on the right programs for you. (Don't worry, it's fast and free!)
Where Do Burn Care Nurses Work?
These nurses usually work in a hospital's burn care unit or intensive care unit. They could also work in the trauma department or emergency room, especially if the facility doesn't have a designated burn unit.
Even though the majority of burn care nurses work in a hospital setting, some also work in outpatient facilities or rehab centers.
Here, they will also work along with a patient care team of therapists, nutritionists, consultants, and other specialists. In these cases, they may be helping a patient who was discharged from a hospital, but still has a ways to go on the road to recovery.
Also, a burn care nurse may work with the military, as servicemen and women are prone to burns from different kinds of explosions.
Those who wish to become a burn care nurse should decide where they would like to work so they know which certifications if any, they will need.
Pros and Cons of Burn Care Nursing
As with most medical careers, working as a burn unit nurse can be incredibly rewarding.
It can fill a nurse with pride and relief to see one of their patients recover and move on with their life, even if things are different now.
The job is also a team-oriented one, which can provide a sense of camaraderie and organization, as everyone is striving for the same goal.
Most people enjoy the fast pace and the fact that each day is different, which keeps things interesting.
Of course, one of the greatest things about working as a nurse is meaningful work and interpersonal connections and experiences.
On the downside, the pay for burn unit nursing is on the lower end compared to other medical professionals.
The pay isn't terrible, but money shouldn't be a driving force for becoming a burn care nurse.
Another downside is that burn care nurses are exposed to many horrific and gruesome situations, so a strong stomach and calm demeanor are necessary.
Pros of Burn Care Nursing:
Fast-paced and different each day
Meaningful work and interpersonal connections
Rewarding to see patients recover
Working in a team environment
Cons of Burn Care Nursing:
Exposure to many horrific situations
Lower-paying medical career
Salary and Job Outlook of a Burn Care Nurse
The median salary for a burn care nurse is $68,395. The low end falls at $58,178 and the high end is at $83,277 (source).
Nursing, in general, is a growing career field and a job that is always in demand. Salary depends on geographic location, experience, and education, but nursing jobs are expected to increase by 16% between 2014 and 2024, according to the United States Department of Labor (source).
Related Article: How Can I Make More Money as a Nurse?
Conclusion
Hopefully, this provided some more information and insight into the career and daily responsibilities of a burn care nurse.
It's not a job for everyone, but it is a rewarding and meaningful path that makes a difference in people's lives every day.
If you found burn nursing interesting check out some of the open burn care nursing positions.
If you're not a nurse but would like to become a nurse, check out some available nursing schools.