ICU vs OR Nursing: Which One Should You Pick?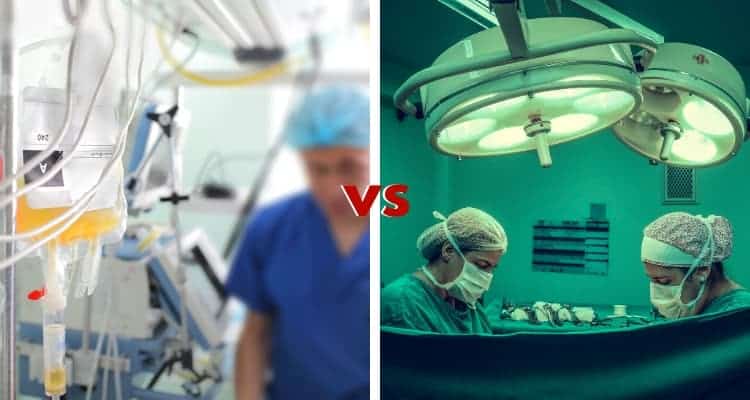 Over the years, the medical field has become more complex.
Choosing the right area of nursing in which to specialize can assure you of a rewarding career and great job satisfaction.
Here are a few things to consider as you choose between ICU and OR nursing.
*Disclosure: This article on icu vs operating room nursing may contain affiliate links. If you click and make a purchase, I may receive a commission. For more info, please see my disclaimer.
ICU vs OR Nursing
Here are some things you should think about.
ICU vs OR Nursing Typical Job Duties
Understanding the typical duties of an OR or ICU nurse can help you understand if the pace, environment, and responsibilities are the right fit for you.
Ideally, you will not feel overwhelmed by your job but will instead feel the right level of excitement and intensity that allow you to feel fulfilled as you go home after each shift.
ICU Nurse
An ICU nurse typically works on the intensive care unit in an inpatient hospital with very sick patients whose health has not yet stabilized.
There are several specialty areas within the ICU, including the:
Medical ICU
Surgical ICU
Cardiac ICU
And even Pediatric ICU
Comparisons
For a deeper dive, I compare the Surgical ICU and the Medical ICU in the linked article.
These specialties allow you to choose a field that meshes best with your knowledge and skills.
ICU nurses usually have only one to two patients during each shift depending on the medical needs of each.
This allows them to spend plenty of time at each patient's bedside, providing hands-on care through medication adjustments, regular assessments, and specialized nursing care.
These nurses must also communicate regularly and clearly with the patient's physician, especially as the patient's health status changes.
Implementing changes in the care plan quickly is important.
Additionally, ICU nurses must be able to use cutting-edge medical equipment. They will usually attend several continuing education classes on managing high-tech equipment each year.
OR Nurse
On the other hand, an OR nurse works in the operating room or possibly in the pre-operative or post-operative recovery area.
Pre-operative nurses prepare patients for upcoming surgeries by collecting vital signs, starting intravenous lines, and filling out paperwork.
The post-operative nurse monitors patients for potential problems and helps discharge the patient home or to a hospital floor.
The peri-operative nurse is probably the type you most often consider as this nurse is able to work with surgeons throughout a surgical procedure. Peri-operative nurses may have a variety of roles in the surgical suite.
Circulating nurses ensure that surgeons have what they need throughout the surgery. Some nurses are needed to document the surgery completely. Others scrub in and have a hands-on role during the procedure.
Wherever the OR nurse works, she must be able to:
Keep thorough documentation
Know how to use specialty equipment
Coordinate care with surgeons and floor nurses
Ensure completely sterile fields in the OR
And communicate readily with the patient's family members.
Apply to ICU or OR Nursing Jobs
If you know which nursing job you want, you can start applying to those jobs in your area on our nursing job board.
ICU & OR Nurse Typical Work Flow
ICU Nurse
For the ICU nurse, the flow of the day will depend on what type of patients are on the floor.
However, the day is usually centered on the regular assessment intervals as well as on any testing or procedures the patient is scheduled to have.
If you're an ICU nurse, you'll be expected to perform hourly vital signs and assessments at least every four hours on each patient.
At the end of your shift, you'll give the oncoming nurse a thorough report on your patient to pass off care.
OR Nurse
However, for the OR nurse, work flow centers on the surgical schedule for the day.
Some nurses will participate in only two or three lengthy surgeries during their shift while others will see half a dozen or more patients come through the OR doors.
Of course, pre-operative and post-operative nurses will not care for their patients long-term.
Instead, they'll develop very brief yet important relationships with individuals who are on their way into or out of the hospital.
OR nurses must work quickly and will certainly spend more time documenting patient care than most other floor nurses do.
To sum it up, the daily workflow for the ICU nurse centers on caring for one set of patients for an 8 or 12-hour period.

Workflow for the OR nurse centers on staying on time with the operating room schedule or in working quickly to accept emergency OR patients.
Think About Your Desired Work Hours
OR Nurse
In general, OR nurses generally have easier work hours to handle.
Because most surgeries are not scheduled on evenings, weekends, or holidays, you may find that you can achieve a better work/life balance as an OR nurse than you could as an ICU nurse.
However, keep in mind that you may have to be on call for emergency surgeries during the night or over some weekends if you work in a hospital surgery center.
If you're looking for the most stable hours, consider accepting a job in an outpatient surgery center instead.
ICU Nurse
ICU nurses often work 12-hour shifts three days each week to provide the best continuity of care for their patients. However, some do work 8-hour shifts instead.
Depending on your job description, you may work straight days, straight nights or an alternating schedule of days and nights.
It can be difficult for your sleep schedule and for your family life to alternate from days to nights.
However, you may find that you like the relative peacefulness of night shifts.
Like the OR nurse, ICU nurses must also take on-call hours occasionally to cover incoming patients.
When on-call, the nurse must stay a short distance from the hospital and must be able to arrive within 30 minutes to care for patients.
ICU Nurse vs OR Nurse Salary Differences
Because both OR and ICU nursing jobs are considered to be specialized positions that require additional skills and knowledge, both positions command excellent annual pay.
As of 2019, the median pay for registered nurses, in general, was $35.24 per hour or $73,300 per year.
The OR nurse makes between $25 to $46 per hour with $32.90 per hour being the average pay.
On the other hand, an ICU nurse makes slightly lower at only $31.05 per hour on average. However, extra on-call hours can sometimes make up the difference.
Salary differences are also obvious between states of employment.
In general, the southeastern United States has the lowest salaries while the eastern seaboard offers much higher hourly wages.
Clearly, salary differences are not that important to consider when choosing between OR and ICU nursing as both positions are specialized and command good pay.
However, you would want to check with your desired facility for its set hourly wages.
Pro-Tip
It's not just about the higher or lower wages you need to think about.

You need to also consider the cost of living.

Some areas of the country may pay higher wages but when cost of living is factored in you might be better of living in an area that pays you less but has a lower cost of living.
Consider Your Personality
While it is certainly vital to consider work schedules, average salaries and daily tasks before committing to a nursing position, it is even more important to consider your personality.
The most important thing to consider is how much pressure you can thrive under during a typical day on the job.
Of course, both ICU and OR nursing positions can be stressful at times.
OR Nursing
However, the OR is often a more controlled environment with most surgeries being scheduled.
The OR is also a great place to be if you enjoy the documentation side of nursing or if you prefer a methodical approach.
You must be very organized and must enjoy working in a quiet environment.
In addition, you will probably have fewer chances to talk to patients and their family members while working here, making this a great place for the introverted nurse.
Apply to ICU or OR Nursing Jobs
If you know which nursing job you want, you can start applying to those jobs in your area on our nursing job board.
ICU Nursing
The ICU certainly has its own set of stressors and is the perfect place to be if you thrive under pressure and like the adrenaline rush of dealing with very ill patients who come to you from the emergency department or who are coding.
In this area, you'll need to communicate more with patients and family members and may even be called on to have difficult conversations with loved ones.
ICU nurses must also be organized and must be able to manage their time well to stay on task.
The ICU should never be a place of chaos.
These nurses must be able to see both the big picture of the patient's health as well as the smaller details.
The need for critical thinking in this department is huge, and ICU nurses must be able to work quickly and accurately under the guidance of a physician.
The ICU is the perfect spot for an extroverted nurse with good leadership qualities.
Final Thoughts
Both ICU and OR nursing hold great potential for advancement, and both are sure to offer you plenty of personal and professional rewards.
If you know which nursing job you want an ICU nurse or an OR nurse you can start applying to those jobs in your area on our nursing job board.
Comment below, and let us know which option you favor and why that is the best choice for you.
Frequently Asked Questions
Should I be an ICU or OR Nurse?

Deciding on whether you want to be an ICU or OR nurse will come down to personality and what you prefer. For example, ICU nurses rarely take call while it's a requirement for many OR nurses.

Do ICU nurses make more than OR nurses?

Based on our research on average OR nurses make slightly more than ICU nurses. But pay shouldn't be the only determining factor on which nursing specialty you pick.

ICU nursing harder than OR nursing?

Both ICU and OR nursing are both difficult nursing specialties. It's just a matter of how each one is different. For example, OR nursing can have a lot more documentations, but ICU nurses have a lot more assessments they have to do.

Is OR nursing better than ICU nursing?

Both OR and ICU nursing are great nursing specialties. It's just about finding which type of nursing suits your individual preferences.
Related Articles on OR vs ICU Nursing