Is Being a CNA Dangerous? Answer From a Former CNA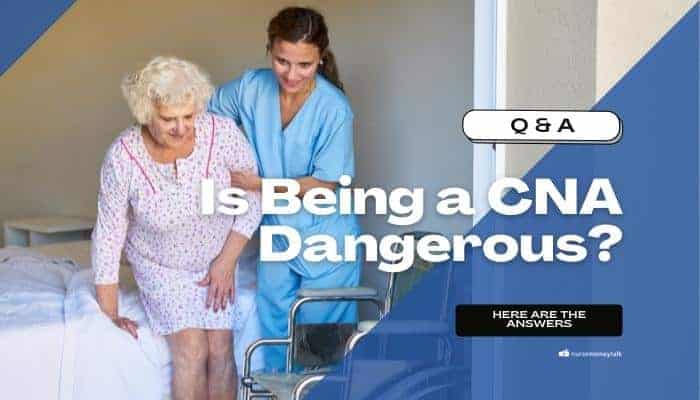 If you're thinking about being a CNA, you might be wondering if being a CNA is dangerous?"
The answer is not very clear-cut and will depend on many factors, but here's my answer.
*Disclosure: This article on is being a CNA dangerous may contain affiliate links. If you click and make a purchase, I may receive a commission. For more info, please see my disclaimer.
Is Being a CNA Dangerous?
Being a CNA can be a very dangerous job. Some of the risks include injury from routine workplace activities that involve transporting and turning patients (many of whom are obese). On top of that, there's a risk of workplace physical assaults.
Find CNA Programs Near You
Use our school search to find schools and get information on the programs that's right for you. (Don't worry, it's fast and free!)
Why is Being a CNA Dangerous?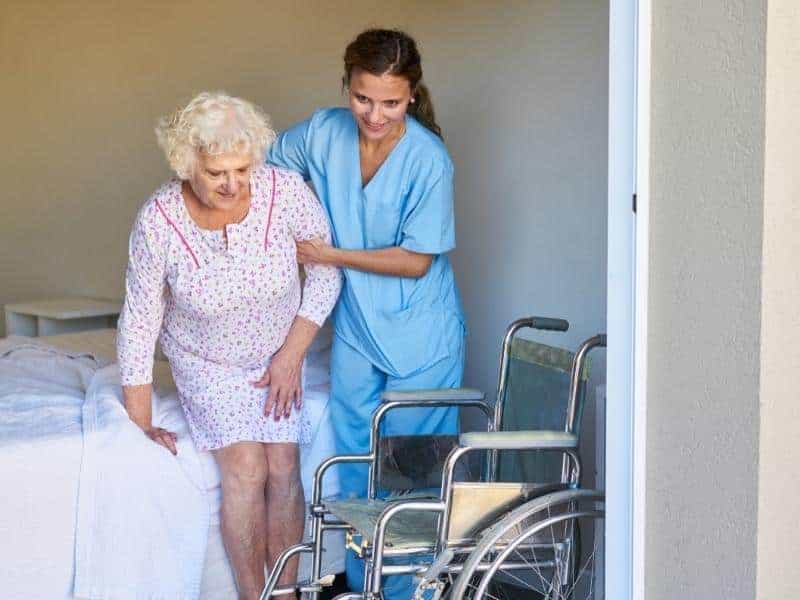 Nursing is consistently ranked as one of the most dangerous professions in the country. CNAs (nurse aides, patient care techs, etc.) routinely work alongside registered nurses and licensed practical/vocational nurses, so it makes sense they too would also be dangerous jobs.
To put things into perspective. Forbes ranked nursing assistants as one of the most dangerous jobs in America. So as you can see, CNAs sit side by side with other healthcare workers.
You might be wondering why that is. What makes working as a CNA so dangerous? Here are just a few of the workplace hazards CNAs have to deal with.
1. CNA Jobs are Physically Demanding
CNA job duties are by nature physically demanding and pose bodily injury to the worker.
When I worked as a CNA, I was tasked with:
Transporting patients.
Helping patients get up and out of bed.
Helping patients get to the restroom or bedside camode.
Turning patients.
All of those tasks might not seem so bad until I add that many of the patients will be overweight/obese or unable to help you when you're trying to move them.
Even with good body mechanics, There is still a high risk of injury.
Pro-Tips
If you're wondering about "no-lift facilities," those are often empty statements facilities give.

On top of that, many facilities do not adequately provide ALL the resources you will need.

For instance, you may have lifts, but the lifts may or may not work. Or, with poor staffing, the staff might feel like they need to manually move the patient since it's often quicker than messing with ceiling lifts or any other equipment.
2. Poor Staffing Means Your Doing Many Things Yourself
It's bad enough you're turning and moving patients manually, but because of inadequate staffing, you often have to do it yourself or with less than the ideal number of staff.
3. Exposure to Bodily Fluids, Diseases and Other Chemicals
Working as a CNA, you will be at an increased risk of exposure to unsafe substances. This risk will range from bodily fluids exposure to dangerous infectious diseases.
4. Hostile and Combative Patients
If environmental concerns weren't bad enough CNA's will be at risk for getting verbally and physically assaulted by patients.
Pro-Tip
Depending on what area in healthcare you work in will determine which workplace hazard you'll be exposed to.

For example, when I worked in mental health, the risk of physical assault was very high, and unfortunately, very common.
Should You Become a CNA?
Being a CNA can be a dangerous job. But it can also be a fulfilling job where you get to make a difference in patients' lives when they are most vulnerable.
There are safety measurements in place, and it's important to note that some facilities do a great job at protecting their staff.
So if becoming a CNA is your dream, go here to find CNA programs.
Find CNA Programs Near You
Use our school search to find schools and get information on the programs that's right for you. (Don't worry, it's fast and free!)
Have You Read These Articles?
Here are some more articles that will help you if you want to explore more about being a CNA.
Frequently Asked Questions