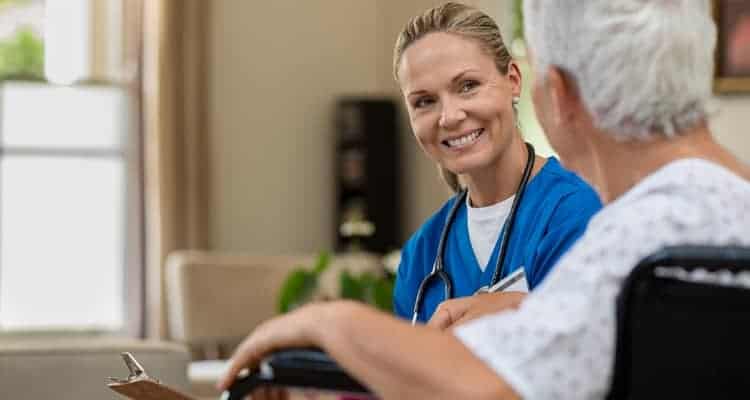 For the past two decades, assisted living facilities have increased their hiring of registered nurses.
In the past, nursing assistants and orderlies were primarily responsible for the day-to-day care of residents.
With a record number of seniors moving to assisted living facilities, there is more demand for specialized care.
What Is the Role of a Nurse at an Assisted Living Facility?
Assisted living facilities (ALFs) are the fastest-growing senior housing options in the United States.
The role of nurses at these facilities has evolved in recent years to address the needs of the seniors living in ALFs.
The standard job description for an assisted living nurse includes the following duties:
Administer health assessments
Create wellness programs
Monitor the status of chronic illnesses
Manage resident medication schedules
Coordinate with external health care providers
Educate residents on the management of their illnesses
Conduct therapy or provided skilled care
RNs may also help residents with exercise and general wellness.
This may include assistance with physical therapy or rehabilitation exercises.
Nurses also frequently correspond with family members to keep loved ones informed.
Registered nurses handle more than just the basic needs of residents; they also provide critical care to improve patient wellness.
There are currently over one million seniors living in ALFs. About 42% of residents are in poor or fair health and require frequent medical care (source).
Find Assisted Living Nursing Jobs
Now that you know what an assisted living nurse is, if you're already a nurse you can start applying to job postings.
What Type of Facilities Offer Assisted Living to Seniors?
There are many types of assisted living facilities that provide varying levels of medical supervision and care.
Some of the places where an assisted living nurse may seek employment include (source):
Adult homes
Independent living apartments
Enriched housing
Assisted living program (ALP)
Family-type homes
Continuing care retirement communities
Nursing homes (skilled nursing facilities)
The range of senior housing options ensures that seniors in most states can find a place to stay that matches their lifestyles and medical needs.
Do You Need to Be a Registered Nurse to Work at an ALF?
You do not need a nursing license to seek employment at an assisted living facility.
Skilled nursing is available in 60% of assisted living facilities, typically through a contract with home health care agencies (source).
These facilities still require staff to assist with the day-to-day care of residents, administrative work, and custodial work.
Some of the positions available at assisted living facilities include:
Staff nurses

Registered Nurses (RNs)
Licensed Practical or Vocational Nurses (LPNs & LVNs)

Nursing assistants (CNAs)
Orderlies and personal assistants
Custodians and maintenance staff
Depending on the size of the facility, it may also staff chefs, physical therapists, and other professions to assist in the care and overall welfare of the residents.
Certified nursing assistants (CNAs) and personal attendants are directly involved in the daily activities of residents.
They assist with their needs and are trained to watch for changes in health.
CNAs work under the RNs and report health concerns to the staff nurses.
How Much Does an Assisted Living Nurse Make?
A registered nurse (RN) on staff at an assisted living facility averages between $30.11 and $30.59 per hour (source).
The average annual salary is about $71,500 for an assisted living nurse (source).
CNAs earn less, averaging about $12.70 to $13.21 per hour.
What Are the Educational and Training Requirements for Nurses?
The training and education requirements depend on the nursing position.
Assisted living facilities often hire the following types of nurses:
Registered nurses (RNs)
Licensed practical nurses (LPNs)
Nurse practitioners (NPs)
Certified nursing assistants (CNAs)
The bulk of nursing jobs at ALFs are filled by RNs.
To become a registered nurse, you must first earn an Associate Degree in Nursing (ADN) or a Bachelor of Science in Nursing (BSN).
Earning an ADN typically takes two to three years, allowing you to start working as a nurse sooner.
However, nurses who earn BSNs tend to have brighter career prospects and may earn more.
Many nurses who earn associate degrees also choose to obtain BSNs later in their careers.
After earning a two-year or four-year degree, you need to pass the NCLEX exam to obtain a nursing license in your state or county.
CNAs have the shortest training path.
CNA programs typically last about six weeks and prepare nursing assistants for a supportive role.
What is the Career Outlook for Nurses in ALFs?
Nurses remain in demand at assisted living facilities, providing a stable career outlook.
As with most healthcare fields, ALFs face a growing need for skilled nursing.
By 2030, over 20% of the US population may be age 65 and over(source).
With over 80 million seniors, the United States will likely require a larger workforce in the healthcare industry.
A substantial portion of the healthcare jobs created by the growing senior population should include nursing positions.
Find Assisted Living Nursing Jobs
Now that you know what an assisted living nurse is, if you're already a nurse you can start applying to job postings.
Conclusion
A couple of decades ago, assisted living facilities staff mostly included workers without nursing backgrounds.
Things have changed due to the growing need for skilled nursing for seniors that require assisted living.
This gives future nurses an opportunity to obtain secure employment while filling the need for trained nursing.
Frequently Asked Questions
What's an assisted living?

An assisted living is a facility were seniors or people with disability and cannot live independently live.

What's an assisted living nurse?

An assisted living nurse is a nurse who takes care of patients who live in an assisted living facility.

How much do assisted living nurses make?

An assisted living nurse makes on average $71,500 annually.

Do assisted living facilities have nurses?

Yes, but not all assisted living facilities have full time staff RNs. Check with the assisted living facility first.

What does an RN do in assisted living?

An RN performs many tasks in an assisted living such as administering medications, monitoring assisted living residents and supervising nurse aides.
Related Articles to Assisted Living Nurse