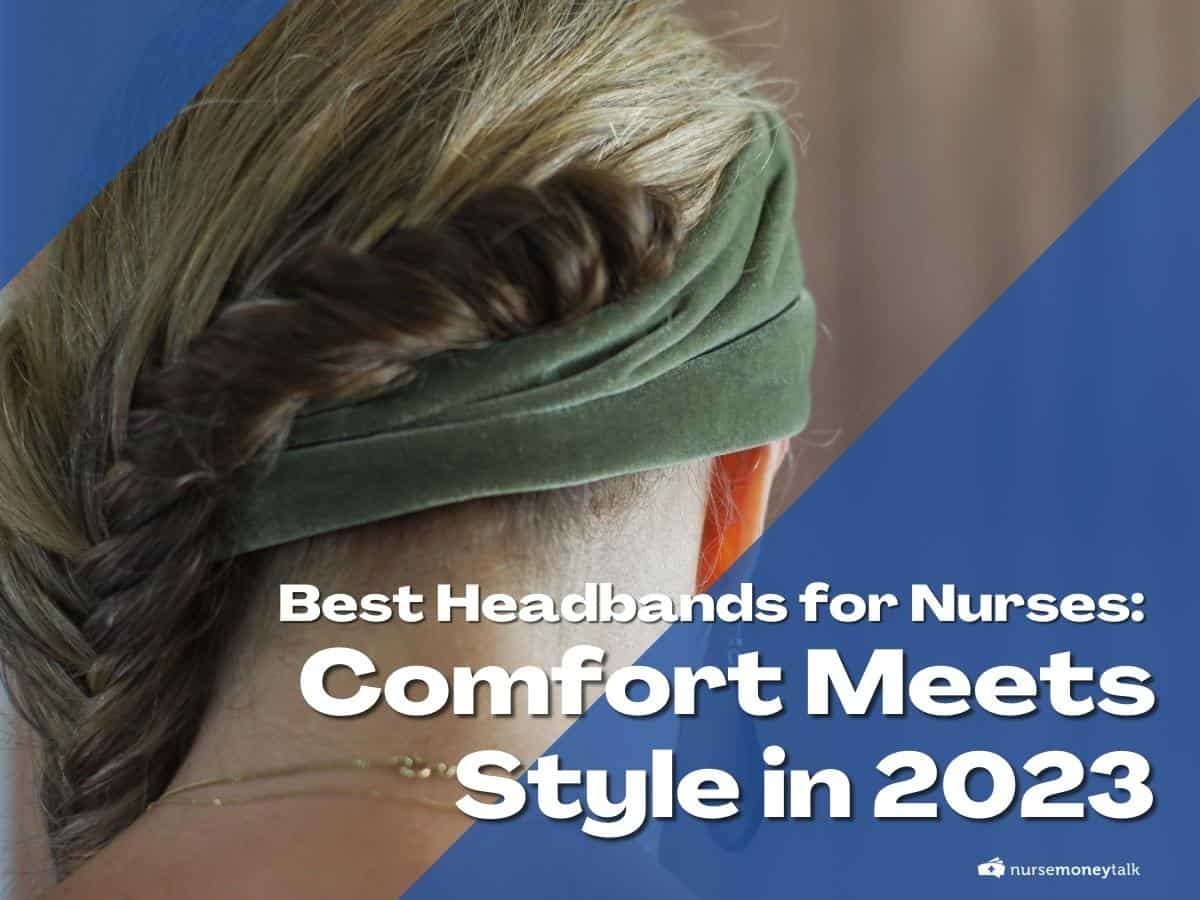 As a nurse, you want to stay comfortable and focused on your patients without being bothered by hair falling into your face.
This is where headbands come in, providing a functional solution and a fashionable accessory to your nursing uniform.
My Top Picks
My top pick for the best nurse headband is the WILLBOND 8 Piece Nursing Headband Set.
The Headband is both comfortable and functional. It keeps hair out of your face, which is what you would expect from any headband.
But it also has the added benefit of including buttons to hook your mask to them instead of your ears.
If you don't want to hook your face mask to the buttons, they have the added benefit of not being overly obvious or visible.
The last thing I like about these headbands is that they come in an 8-pack with different colors and designs making it easy to mix and match with just about any scrub or work attire.
Best Headbands for Nurses
We've gathered the top headbands for nurses to keep you comfortable and stylish during your long shifts.
Check out our list below to find your perfect fit.
1. YONUF Headbands for Women and Nurses with Buttons
These YONUF Headbands offer a stylish solution for nurses and other professionals who need to wear masks for extended periods.
The sewn-in buttons on these headbands can save your ears from discomfort by holding the mask loops, allowing you to work in ease throughout your shift.
Not only do these headbands provide functionality, but they also look great while doing so.
With four different solid colors in the package, matching these headbands to your scrubs or daily attire is easy for a stylish touch.
The versatile design allows you to wear them for various activities like yoga, running or working out, making them a perfect accessory for any occasion.
Pros
Ear protection with sewn-in buttons
Versatile use for various activities
Adjustable width for a customizable fit
Cons
Buttons may not be strongly attached
Inconsistent stretchiness between pieces
Some sizing issues
2. Chuangdi 6 Pieces Headband with Buttons
The Chuangdi 6 Pieces Headband with Buttons is a fantastic choice for nurses looking for a comfortable and stylish way to ease the strain of wearing masks all day.
You'll receive a pack of 6 headbands in various colors, allowing you to mix and match them with your outfits and hairstyles.
These headbands will surely make you look more charming and energetic while working long hours.
Although these headbands are widely applicable for various occasions such as vacations, beach trips, and casual outings, some users may not find the buttons necessary for their needs.
Additionally, the headbands might not stay in place for everyone, and the bold designs could be too much for those with more conservative tastes in accessories.
Pros
Rich quantity with 6 different colors
Adjustable and elastic for various head shapes
Durable and comfortable fabric material
Cons
Buttons might not be needed by everyone
May not stay in place for all users
Some designs might be too bold for certain preferences
3. Huachi Button Headbands for Nurses
TheHuachi Button Headbands for Nurses are designed to bring comfort and style to healthcare workers.
With a unique button design, these headbands allow you to hang your face mask, alleviating ear pain caused by wearing masks for long hours.
This feature makes them a practical and thoughtful accessory for daily use.
The pack comes with four different headbands, making it easy to match them with your outfits and share with your colleagues.
However, some users may find the button attachment to be weak, requiring reinforcement for long-term use.
While the headbands fit most people, they might feel tight for individuals with larger heads.
Pros
Button design to hang face mask
Comfortable and lightweight material
Stretchable and suitable for different head sizes
Cons
Button attachment might require reinforcement
Limited to four color packs
Might feel tight for some users
4. Jexine 20 Pcs Nurse Headbands with Button
These Jexine Nurse Headbands feature a combination of fashion and function.
With 20 different patterns included, you will have plenty of options to choose from to match your attire, adding a spark of color to your daily routine.
These headbands measure 9 x 4 inches (23 x 10 cm) for a comfortable fit on most head sizes.
Perhaps the most helpful feature for nurses and medical professionals is the addition of two buttons on either side of the headband.
This allows you to attach your face mask directly to the headband, relieving any discomfort or strain that comes from wearing a mask for an extended period.
Not only are these nursing headbands useful for those in the medical field, but they can also be worn for various activities such as running, yoga, cycling, or just as a fashionable accessory to keep your hair in place.
Pros
Comes with 20 pieces in different patterns
Comfortable and stretchy polyester material
Convenient button design for mask attachment
Cons
One size may not fit all head circumferences
Color may slightly differ from screen displays
Manual measurement may lead to size errors
5. Zoldag Headbands with Buttons
Zoldag Headbands with Buttons are made from a blend of spandex and fabric material, ensuring a gentle and snug fit.
The high-quality materials offer good air permeability and sweat absorption, keeping you comfortable during long shifts.
As a nurse, your need for a functional and easy-to-wear headband is met with these headbands.
A standout feature of Zoldag Headbands is the buttons designed for attaching mask straps, reducing the strain on your ears.
While some users have found the buttons to be in an inconvenient location or needing additional reinforcement, most appreciate the relief these headbands provide during long hours of mask-wearing.
Pros
High-quality materials – Spandex and fabric blend for elasticity and comfort
Elastic band at the back for a secure fit on most head sizes
Buttons for attaching mask straps and easing ear pressure
Cons
Buttons may need re-securing over time
Not as wide as they appear in pictures
Some users report discomfort with button placement
6. Jexine 20 Pcs Nursing Headbands with Buttons
Jexine Nursing Headbands come in a pack of 20 pieces, each having a unique style and pattern inspired by the nursing theme.
These headbands not only add charm to your outfit but also help you stay organized and focused at work, thanks to their good wrapping feature.
The button design on both sides of these headbands allows you to hang your face mask and minimize earache problems that arise from prolonged mask wear.
They are perfect for nurses, dentists, and other workers who need to wear masks for extended periods.
Pros
Comes with 20 various styles and nurse-themed patterns
Elastic and breathable cotton material provides comfort
Button design allows hanging of masks, relieving earache issues
Cons
Might not be suitable for everyone's taste in style and pattern
One size may not fit all head sizes perfectly
Buttons on some units may be less durable
7. WILLBOND Nursing Headbands
These WILLBOND Nursing Headbands are designed specifically for nurses or anyone who needs to wear a face covering for extended periods.
Made from soft milk silk fabric, these headbands are stretchable and comfortable, ensuring they won't give you a headache or feel too tight.
The button design on these headbands allows you to attach the straps of your face covering, providing additional ear protection and a more comfortable wearing experience.
You no longer have to worry about your ears becoming sore or irritated from wearing a mask all day.
Pros
Comfortable and stretchable milk silk fabric
Button design for face covering ear protection
Cute and diverse patterns
Cons
Some buttons may be poorly placed or missing
Material might be thin and translucent
Logos and patterns might not be centered
8. Hoteam 16 Pcs Button Headband for Nurses
Hoteam 16 Pcs Button Headband is a thoughtful product made especially for nurses and doctors who must wear masks for long periods.
With 16 pieces in various colors, you'll have plenty of options to match your outfits, and even some to share with your colleagues.
The size, approximately 5.5 x 9.4 inches, fits head circumferences of 19.7-31.5 inches.
The headband features buttons on both sides, enabling you to attach the mask without causing discomfort to your ears.
This ear protection design is essential for those who wear masks all day, such as nurses and doctors.
The headband is wide enough to keep your hair in place, and the back knot adds a touch of style to the simple design.
Pros
Ample quantity and color variety
Built-in ear protection design
Wide and stylishly knotted
Cons
May not fit all head sizes
Some colors may differ slightly from images
Manual measurements can have slight errors
9. Jexine 12 Pieces Nurse Headbands
These Jexine Nurse Headbandscome in a pack of 12 with various nursing-themed patterns, allowing you to show off your profession with pride.
The comfortable elastic fabric ensures a good fit and prevents slipping during long shifts or workouts.
However, there are some concerns about the durability of these headbands.
Some users have reported that the buttons tend to fall off easily, and the elastic may stretch out quickly.
The material quality could also be better, according to a few reviews.
Pros
Comfortable elastic fabric
Ear pain relief with button feature
Festive nursing-themed patterns
Cons
Buttons may fall off easily
Elastic may stretch out quickly
Material quality concerns
10. CODACE Nurse Headbands with Buttons
CODACE's 3-pack nurse headbands with buttons are designed specifically for those in the healthcare and nursing field.
The headbands come in three different colors: black, blue, and grey.
These stylish yet functional accessories help keep your hair securely in place while reducing ear discomfort caused by wearing face covers for extended periods.
Aside from holding your face cover, these headbands are also great for various physical activities such as running, hiking, cycling, or even yoga.
The headbands' elastic and flexible fabric ensures a comfortable fit, catering to both long and short hair without being too tight around your head.
However, some users have reported concerns regarding the durability of the buttons that hold the face cover in place.
It's essential to be careful when handling your headbands, especially while putting on or removing the face cover.
Additionally, the bands might be wider than expected, so it's crucial to consider how you want the headband to sit on your head.
Pros
Includes buttons for holding face cover
One size fits most with stretchy fabric
Suitable for various activities
Cons
Buttons may come off with heavy use
Somewhat wider than expected
One design may appear odd to some users
Buying Guide
Comfort and Fit
When choosing a headband for nurses, it's important to consider its comfort and fit.
You'll be wearing it for long hours, so it's essential to find one that doesn't cause headaches or feel too tight around your head.
Look for headbands made of soft, stretchy materials such as elastic, cotton, or bamboo fabric that can accommodate different head sizes.
Functionality
Think about the purpose of the headband you're looking for. Some features to consider are:
Sweat-wicking: To manage perspiration during long shifts, choose headbands with sweat-wicking materials.
Non-slip: To ensure the headband stays in place throughout your shift, look for one with a non-slip or grippy texture on the inner side.
Buttons or loops: Some headbands come with buttons or loops to secure face masks, which can help reduce pressure on your ears.
Durability and Care
Ensure that the headband you choose is durable and easy to care for, as it will likely experience frequent washings.
Materials such as cotton and bamboo are good options, as they can be machine washed without losing their shape or elasticity.
Also, consider headbands with reinforced stitching for added durability.
Style and Personal Preference
Lastly, you'll want to pick a headband that reflects your personal style or matches your uniform.
Since there are various colors, patterns, and designs available, you should be able to find one that suits your preference. Some options include:
Solid colors: Choose from various colors to match your uniform or personality.
Prints: Consider fun patterns, such as floral or geometric designs, to add a touch of personality.
Keep these factors in mind as you browse for the perfect headband to support you during your nursing shifts.
Have You Read These Yet?