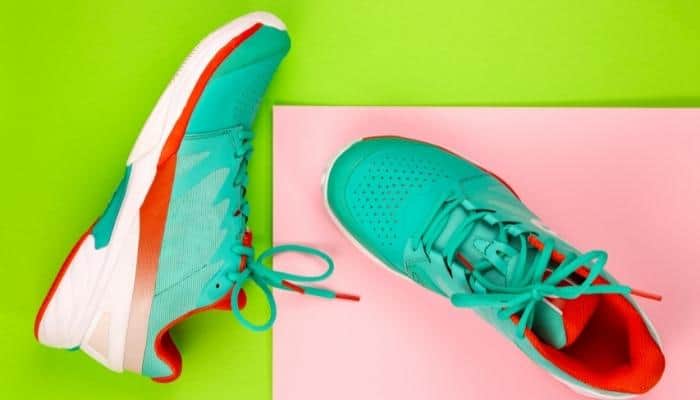 If you do any shift work, you'll spend a lot of time on your feet.
Because of that, you need comfortable shoes because they can make the difference during your shift (aches and pains) and after (swelling feet).
What Are the Best Shoes for 12-Hour Shifts?
Dansko Clogs make my pick as some of the most comfortable shoes for a 12-hour shift. A good shoe should be comfortable (allowing your toes to expand naturally) and supportive (providing ample arch support).
While Dansko is more popular with women, guys should check out the New Balance Men's Trail Running Shoe. While it's not the coolest looking shoes you'll find, what it lacks in looks, it makes up for in comfort.
Best Shoes For 12-Hour Shifts
1. Brooks Ghost 12 Running Shoes
The Brooks Ghost 12 is a lightweight, durable running shoe that uses BioMoGo DNA and DNA LOFT cushioning to ensure you're running great no matter how far you go.
It provides just the right amount of responsiveness and support, so you can take any 12-hour shift with ease.
The mesh upper moves with the foot, keeping it cool and comfortable when running.
Extra shock absorption from the Segmented Crash Pad and the shoe's overall design makes it smooth and effortless to take every step.
2. Dansko Women's Professional Clog
The beautiful detailing on this Dansko professional clog sets it apart from the rest.
Clogs are known for being some of the most durable and comfortable shoes available.
There's a reason why they have been a staple of choice for nurses (who are on their feet a lot) for years.
The embossed details on the genuine leather upper make them a standout pair of shoes.
3. HKR Work Shoes
If you're looking for a sneaker that gives a slightly jazzier look than the average pair, take a peek at these HKR Walking Shoes.
The stretchy fabric upper is more loose and skinny than what you might expect to find on some other walking shoes, but we like how streamlined it makes the design look!
There are memory foam inserts in the shoes with plenty of arch support to keep your feet happy and comfortable during those busy 12-hour shifts.
Lastly, there's a rubber outsole that provides plenty of traction if you're going to be on any slippery surface.
4. Allbirds Tree Dasher 2
The Allbirds Tree Dasher 2 is a lightweight, breathable shoe designed to help you move with confidence.
The Tree Dashers went through over 9 months of testing with over 90+ participants to ensure the shoes are both durable and supportive.
Made from FSC-certified eucalyptus trees, the Tree Dashers are flexible, lightweight, and breathable.
Like the other Allbirds shoes on this list, the Tree Dasher is machine washable.
I've owned several pairs of Allbirds, and I can tell you from first-hand experience that the ability to just throw the shoes in a washing machine is nice compared to other shoes.
Just make sure not to put it in the dryer.
5. New Balance 990 Sneaker (version 4)
The New Balance 990 is as durable and stylish as any shift worker could ask for.
The running shoe is made with suede and mesh upper materials, as well as ENCAP technology that absorbs shock like a sponge.
It's great for all the walking and standing you'll have to do throughout your shift.
The mesh design helps to keep the shoe lightweight, breathable and comfortable.
The way the upper material is put together looks great and helps ensure long-lasting quality that can be relied upon when you need this shoe to get you through your workday.
6. ASICS Men's Gel-Kayano 24 Running Shoes
These ASICS Gel-Kayano 24 Running Shoes keep your feet comfortable and supported with a flexible mesh upper that hugs the top of your foot.
These running shoes feature an Impact Guidance System that maintains a smooth transition from heel to toe for a more efficient run.
The midsole is cushioned for lasting comfort, and the durable rubber sole provides excellent traction on varied surfaces.
The shoe I have listed above is for men, but there is a Women's Gel-Kayano with solid reviews.
7. Allbirds Wool Runners
These Allbirds Women's Wool Runners are the perfect shoe for shift workers looking for something long-lasting.
These shoes are versatile enough to be worn from work to the gym, then out on an evening with friends, and all from shoes made with 100% recycled polyester.
The upper is made from soft, cozy merino wool, while the outsole is a plant-based material made from Brazilian sugarcane, which provides resilience and excellent slip resistance.
There are 5 classic colors and twelve (yes, I said 12) limited-edition options.
The entire shoe is designed with moisture-wicking technology, so your feet stay dry during high activity periods.
The upper features four eyelet lace holes so you can easily adjust the shoes' tightness to fit perfectly against your foot.
8. Brooks Levitate 2
Feel like you're walking on air when you slip into the Brooks Levitate 2 running shoes.
The Levitate 2 is designed with a lightweight, breathable knit upper and a cushiony midsole.
A lace closure gives your feet flexibility while creating a custom comforting fit.
Brooks patented DNA technology (included in this shoe) helps it adapt to every step you take.
These running shoes are built so well that you'll find that your feet are not as tired after a long hard shift.
9. Crocs Work Clog
Crocs have earned their name as a symbol of comfortable and creative fashion due in part to the Croslite construction.
The clogs are lightweight, easy to wear and boast a simple design that comes together in a clean way.
With a sturdy, heat-resistant outsole and slip-resistant bottoms, these flats can easily transition from fitness wear outside the home to being shoe staples once inside.
Do you want to know the best part…at least as far as I'm concerned?
Like the Allbirds shoes, I've thrown crocs in the washer without a problem. Also, similar to the Albirds, I would avoid putting them in the dryer.
10. Nike Revolution 5 Running Shoe
The Nike Women's Revolution 5 Running Shoe is designed to accommodate longer shifts on the job.
A non-restricting upper made from breathable fabric helps keep you cool and comfortable even during long hours of work.
The midsole is cushioned for double the protection against foot fatigue due to its added shock absorption abilities.
A unique tread design provides traction in almost all surface types for users who move about often and want to be prepared for anything.
Shoe Buying Guide For Shift Workers
Here's a quick buying guide you can use if you're buying a shoe.
Look for something that's machine washable.
Look for something that has a wide enough toe box.
Check out slip resitant the shoe is.
Make sure the shoe has plenty of arch support.
Consider how environmentally friendly the shoe is.
Check out this article for a deeper shoe buying guide.
Key Takeaways
To summarize, here's my list of the 10 best shoes for people working 12-hour shifts.
Brooks Ghost 12 Running Shoes
Dansko Women's Professional Clog
HKR Work Shoes
Allbirds Tree Dasher 2
New Balance 990 Sneaker (version 4)
ASICS Men's Gel-Kayano 24 Running Shoes
Allbirds Wool Runners
Brooks Levitate 2
Crocs Work Clog
Nike Revolution 5 Running Shoe
I hope this blog has given you a few things to think about the next time you go shoe shopping.
If you've been disappointed in the past with the shoes you've bought, just remember you can always return them.
Related Articles
Here are some related articles to the best shoes for 12 hour shifts.