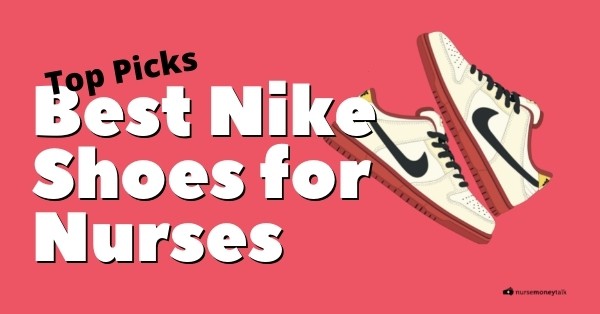 Let's talk about the best Nike shoes for nurses.
As a nurse myself, I know the problems that can occur going through an 8-, 12-, or 16-hour shift standing on your feet with the wrong pair of shoes.
It sucks!
I've tried being cheap about the shoes I wear, and at the end of my shift, I'll have swollen and sore feet or ankles to show for it.
Don't be me.
Be smarter than that and make sure you actually get some quality Nike shoes to help protect your feet.
*Disclosure: This article on the best Nike shoes for nurses may contain affiliate links. If you click and make a purchase, I may receive a commission. For more info, please see my disclaimer.
My Top Picks
Here are my top picks of the best shoes Nike makes that would absolutely work for any busy nurse.
The Nike Renew In-Season Running Shoes is my pick of the most comfortable shoes Nike shoes for nurses. The shoe has a built-in soft, memory foam sock liner which helps support your feet from impact.
The shoe comes in many colors, which is really nice for nurses who like to accessorize with their scrubs.
While I do like the arch support on these shoes, if you're someone who does require a lot more arch support, you might want to check out our runner-up.
A wider toe-box and better arch support are just some of the things I like about the Nike Women's Reax Running Shoe. It has that nice mesh upper which makes it breathable and pretty lightweight.
If you're someone who doesn't really like heavy shoes, this one might be worth checking out.
One of the things I don't like about these shoes is that you don't get as many color options as you do with the Nike Renew In-Season. It may or may not be as big of a deal to you, but it is something I look for in shoes.
Best Nike Shoes for Nurses
It's not just that nurses work a lot of long shifts. It's that those long shifts involve standing or walking for hours at a time.
Without the right shoes, a perfectly fine day on the job can turn nightmarish (I know this from personal experience). Proper support, padding, and traction are necessary to ensure nurses stay safe and comfy while they work.
If you've been looking around for a while and you're just tired of still looking, let me help you out with my complete list of the most comfortable Nike shoes for nurses.
1. Nike Women's Air Max Torch 4
Nike Women's Air Max Torch 4
A comfortable and lightweight athletic shoe. These have plenty of cushion and are pretty lightweight because of the mesh.
The Nike Women's Air Max Torch 4 is an athletic shoe with lightweight cushioning and mesh detail. Its upper design keeps things airy and cool with mesh ventilation.
The heel has the distinctive Air Max support for shock absorption. Some extra cushioning at the forefront of the shoe provides more support without the added bulk.
The shoe has a padded tongue and a rubber sole with a waffle fill outsole for multi-surface traction. There are also reflective design components on the shoes to make them stand out in dimly lit settings.
The breathable mesh is great for people who are constantly on the go. Pair that with the mesh design, and this is a lightweight shoe that won't get burdensome over time.
Nurses need to be on their feet all day, so they don't want heavy, clunky sneakers.
The Nike Air Max Torch heel support is also ideal for those who spend a lot of time standing up or walking. Plus, this shoe has good traction, so that it could be a nice replacement for a slip-resistant shoe.
It comes in a variety of colors, including variations of white and black, so it should be suitable for a nurse's attire. Overall, this shoe combines support and comfort.
On the downside, it's not waterproof. Some customers aren't happy with the shoe's arch support.
➡️ Check out the other reviews of the Nike Women's Air Max Torch 4 Running Shoe on Amazon.com.
2. Nike Women's Air Zoom Pegasus 36
A sleek, sophisticated design gives the Nike Women's Air Zoom Pegasus 36 style and comfort. Its name comes from the Zoom Air technology located underneath the shoe. This helps with shock absorption while providing extra cushioning.
Unlike the Air Max Torch 4, the Air Zoom Pegasus 36 has midsole support in addition to a rubber sole.
The Air Zoom Pegasus 36 has ample support, perfect for a nurses' long shift. They're made for running, so they hold up well and help to improve gait.
For nurses who spend hours each day on their feet, this shoe should be able to last. Moreover, the rubber soles are meant to withstand regular pounding on hard pavement and other surfaces. This makes them quite a catch for those running around on the hospital floor.
At first try-on, these sneakers may seem too tight, especially for people with high arches. Just as with any other kind of shoe, it takes some time to break them in.
After that, they should fit like a glove. Some buyers suggest purchasing half a size up from your normal size.
Another potential downside or upside depending on your personal taste, is that these shoes come in a lot of flashy and bold colors. If you love bold shoes, you'll like this one. If you don't like your shoes in bold colors, don't worry, these shoes come in more muted colors.
➡️ Check out what others are saying about the Nike Air Zoom Pegasus 36 on Amazon.
3. Nike Men's Lunar Fingertrap Cross Trainer
The Nike Men's Lunar Fingertrap Cross Trainer is designed to provide a snug yet comfortable fit, thanks to its Dynamic Fit technology.
It features a criss-cross outsole pattern, which is supposed to help with traction. Speaking of which, the outsole is made of rubber, making these sneakers slip-resistant. They won't scuff up floors either.
The inner sleeve is made of mesh, adding to that glove-like feel while providing breathability and ventilation.
These men's shoes are built with deep wide-flex grooves to ensure that athletes (yes I'm referring to nurses 😊) get the range of movement they want without skimping on support.
The Nike Lunar Fingertrap Cross Trainer has the comfort and quality of a pair of Nikes without the vivid colors. The shoes come in four color variations: black, black/white, black/red, and black anthracite, which is more of a matte black version.
They also easily slip on and off, sort of similar to a sock, so they're comfy enough for a long nurse's shift. The rubber is durable and adds to the support that feet need.
There are a few things to consider before buying these sneakers.
First of all, they do require a short break-in period. They might seem to be the wrong size at first, but a few uses should stretch them out a bit.
Secondly, this Nike model tends to run narrow, which could be an issue for many customers. Some guys have trouble sliding them on and off, and the last thing nurses want during a long shift is tight shoes.
➡️ Check out the price of the Nike Lunar Fingertrap Cross Trainer on Amazon.com.
4. Nike Women's Core Motion Cross Trainer Shoe
These cross trainers have a Phylon midsole to create more cushioning to support the arches. Combined with the rubber pods on the outsole, these shoes have plenty of added support while still being lightweight.
To enhance natural movement for running and just everyday use, there are multidirectional flex grooves all over the shoe. The collar lining is soft and plushy, and the sneakers have good traction on a variety of surfaces.
One thing that instantly stood out about these shoes was that they come in all white. There are also black/pink options available.
They're very lightweight, which is perfect for on-the-go nurses. The midsole helps to provide arch support, and the overall design maintains the foot's stability in the shoe.
Several customers have bought the Nike Women's Core Motion Cross-Trainer Shoe specifically for clinicals.
As with most Nike shoes, these sneakers tend to run small, so this is something that nurses should be aware of.
Those with foot problems may want to add inserts or insoles to these shoes just to have a bit more extra padding. While these Nikes do have supportive cushioning, there isn't a ton. This is to keep the shoe lightweight.
➡️ Check out the price of the Nike Women's Core Motion Cross-Trainer Shoe available on Amazon.com.
5. Nike Downshifter 9 Running Shoe
Nike Downshifter 6 Running Shoe
I'm showing you a picture of the brown version, but these also come in other color variations. About 16 color variations. Check it out these are comfortable shoes.
The Downshifter 9 Running Shoe is a Nike sneaker that comes in low and mid-top designs.
The shoes come in a wide range of colors including variations on black, white, and grey. Its mesh material adds some breathability and stretch, which complements the snug fit well.
There's some added cushioning in the upper part of the shoe that is soft yet adaptable.
The shoe features a molded insole for arch support, and it's made of lightweight materials. Some interspersed gripping lugs allow for greater traction.
Overall, there are lots of positives for this sneaker. It has adequate padding without feeling heavy, and this allows for more freedom of movement.
This is a shoe that could transition from work to leisure to a weekend trip. The toe and heel sections are slightly curved to allow for a more natural range of motion too.
➡️ Check out the Nike Downshifter 9 Running Shoe on Amazon.com.
6. Nike Women's Air Max Invigor Low Top Lace
This shoe has breathable mesh on the upper part paired with synthetic overlays for added support. A reinforced toe box will keep the toes protected. Of course, the distinctive Air Max unit is visible in the heel and adds greater shock absorption.
The interior padding keeps the foot in place while adding some snugness. The outsole is super flexible and durable, with grooved rubber for additional traction.
The Nike Women's Air Max Invigor sneakers come in neutral colors, so they're easy to incorporate into a nursing job. There are four style options:
Grey,
Port wine/wolf grey
Grey/emerald/white
Black/Metallic Silver/Pink
It is a stylish option that pairs well with a nurse's scrubs or a pair of joggers.
Even though they're a low-top sneaker, they have enough cushioning to provide the support your feet need.
The vast majority of customers have found that these sneakers fit just as they had expected. These are fashionable, lightweight Nikes at a relatively affordable price.
One of the downsides to this shoe — or any Nike sneaker in general — is that they tend to be narrower than other athletic shoes.
Nurses with wide feet or who need some extra padding on the sides might want to invest in another pair of sneakers.
➡️ Check out the Nike Air Max Invigor Running Shoes available on Amazon.
7. Nike Women's Revolution 5 Running Shoe
The Nike Women's Revolution 5 Running Shoe was made with safety and comfort in mind. The rubber outsole provides maximum traction on hard or slippery surfaces, while the unique tread layout allows the shoe to move with you while you walk or run.
The upper is made from breathable knit fabric that keeps heat and moisture out and allows cool, dry air to flow in. It also feels lightweight and non-restricting for even more comfort while you're working.
The upper comes in nearly a dozen colors, all of which feature the famous Nike swoosh symbol on the side. A soft, foam midsole offers plenty of support and cushioning for those long, 12-hour shifts.
They tend to run a bit small, so sizing up a half or full size is a good idea. The upper is flexible enough to be broken in over time for comfort, even if they feel a little tight at first.
While the rubber outsole is excellent for traction, it may cause a loud squeaking noise when you walk on hard surfaces. This noise should decrease over time as you wear them and break them in.
➡️ Check the price of the Nike Women's Revolution 5 Running Shoe on Amazon.
8. Nike Women's Reax Run 5 Running Shoe
The heel technology is what sets this Nike Women's Reax Run 5 Running Shoe apart from the rest. It has special features that keep the heel in place while walking, so each stride is smooth and comfortable. The platform heel is also open, so you can see the technology working for yourself.
A mesh upper is breathable and lightweight- ideal for those long nursing shifts when feet can get particularly hot and sweaty. It comes in four color combinations, all with a black or white base, so it goes well with any scrub set.
The rubber outsole keeps feet firmly planted on the ground, an excellent safety feature for nurses who work in chaotic environments where spills occur frequently. The added traction that the rubber provides can make a big difference on slippery floors.
The shoes fit true-to-size and feature a nice, wide-toe box. Toe boxes that are too narrow can lead to blisters, ingrown toenails, and other painful foot conditions.
While these shoes are a bit more cumbersome than shoes with a sleeker profile, their comfort, safety, and durability more than make up for it.
➡️ Check the price of the Nike Women's Reax Run 5 Running Shoe on Amazon.
9. Nike Renew in-Season TR 9 Women's Running Shoe
A cute and comfortable shoe, the Nike Renew in-Season TR 9 Women's Running Shoe is great if you like the look of a tennis shoe with the support of a running shoe.
The thick band across the top featuring Nike's name is very bold and makes this shoe stand out. It gives it kind of a unique look. It's a bit different, so I think this shoe will stand out on your feet when you're at work.
While the band is stretchy, it isn't removable, which can make tying or adjusting the shoelaces difficult. Once you get the laces adjusted to where you like them, it may be easier to slip the shoes on and off with the laces still tied.
The inside of the shoe features a soft, memory foam sock liner which adds even more comfort. The midsole is very responsive and perfect if you frequently run, whether during a nursing shift or while exercising.
There is also enough arch support for those with a variety of arches, including normal and high. If you have flat feet, you may need additional arch supports.
The shoes run on the small side, so sizing up a half or full size is smart, especially if you have wide feet.
➡️ Check the price of the Nike in-Season TR 9 Women's Running Shoe on Amazon.com.
10. NIKE Men's Tanjun Sneakers
Modern simplicity best describes the Nike Men's Tanjun Sneakers. The mesh and fabric upper features a no-sew design that gives the entire shoe a clean, streamlined look.
The famous swoosh symbol boldly stands out on both sides of the upper, giving the shoe an athletic edge. Offered in dozens of colors, you can pick the perfect one to coordinate with your favorite scrubs or uniform.
When it comes to comfort, Nike has you covered. The soft footbed provides just the right amount of cushioned support that you need for a long nursing shift. The midsole is injected with foam for the ultimate responsiveness and shock absorption.
There is minimal arch support, so you may need additional supports if you suffer from flat feet or high arches. The insole is removable, which makes placing additional arch supports in the shoe even easier.
The upper's mesh fabric makes the entire shoe light and airy, allowing feet to breathe comfortably.
The fabric is also super stretchy and moves with you, leading to greater flexibility when you're running from patient to patient. It feels like you're wearing a sock, but with the support your feet need.
➡️ Check the price of the NIKE Men's Tanjun Sneakers on Amazon.
11. Nike Women's Air Max 90
If you want to feel like you're walking on air, then these Nike Women's Air Max 90 shoes are for you. You can see the technology for yourself right through the clear window in the heel of the shoe.
Nike's Air Max technology responds quickly with each step, so your feet are fully supported every time you wear them and you never end up with tired, sore feet.
They come in a classic black and white color combination, which goes well with any outfit. These basic colors satisfy most workplace dress codes, as long as sneakers are allowed.
A mesh upper makes this shoe breathable, so you can wear it all day without worrying that your feet will end up sweaty or uncomfortable.
There's also a reinforced toe so the upper will last longer than other shoes, no matter how hard you work.
The shoes do tend to run large in terms of sizing, so unless you have wide feet, you may want to size down a half size. The lace-up design allows you to tighten them if necessary.
A breaking-in period isn't required because these shoes are comfortable from the start.
➡️ Check the price of the Nike Women's Air Max 90 on Amazon.
Nike Shoe Buying Guide for Nurses: What to Look for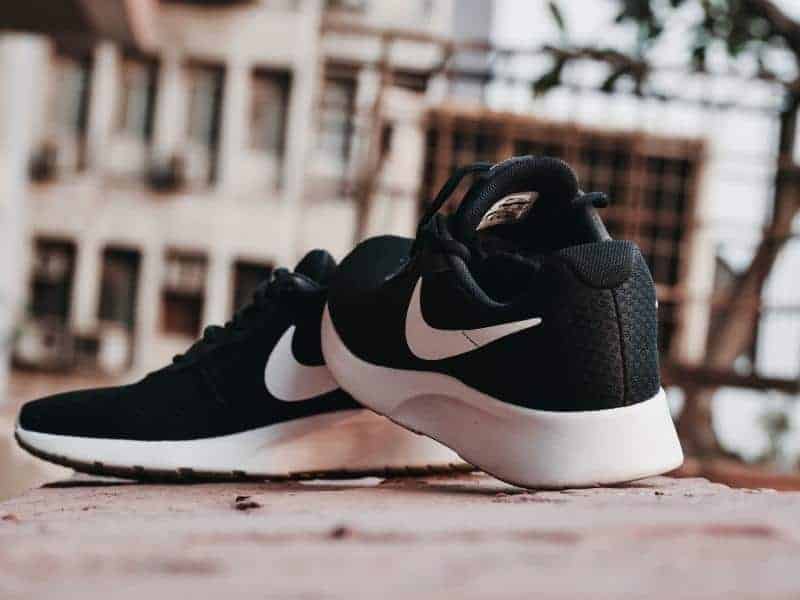 Going into a shoe store with a purpose is important. Otherwise, you might end up buying a pair of shoes (or several) that don't even meet your needs!
Plus, those in the nursing profession need to take careful considerations before purchasing any old sneaker.
There tends to be a lot of talk around what kind of footwear nurses should have, so here's a shopping guide to make the process a bit easier.
1.Take Recommendations with a Grain of Salt
First of all, you should only take recommendations at face value. Everyone is different, and this means that their feet are totally unique.
Just because one pair of sneakers fit your colleague great doesn't mean that they'll feel as if you have marshmallows on your feet.
It's completely fine to ask for shoe suggestions but consider other factors too. Don't simply buy a pair just because your co-worker swears by them.
2. Find Out Your Actual Shoe Size
Well, a good place to start is by knowing your feet. Visit a shoe store or even a pharmacy with a shoe sizer.
Figure out if you have high arches or not, whether you're flat-footed, the size of your toes, the length of your feet, and the width of your feet.
Yes, it's a lot to think about, but once you know, it will make your shoe buying experience so much better. Plus, there are shoe store associates who can help you with this.
Knowing about your arches, instep, and other foot statistics makes a world of difference when it's time to buy shoes.
You now know what to look for in a sneaker, be it for leisure or work. Speaking of which, consider the types of activity that you'll be doing in your new shoes.
Are they going to be just for work?
Do you want them to transition to the gym?
Are they going to be your go-to pair of sneakers?
Knowing this will help you pick out a pair that can work double duty if need be. Some shoes are great for nursing shift work, but they don't transition well to a fitness class.
I know for me I have a pair of shoes just for work. I have another pair just for going to the gym.

Lastly, I have another pair for leisure activities (ex. running errands, going to the store, and so forth.).

Each one feels different and serves that particular activity well.
3. Make Sure You Know the Return Policy
Another consideration is checking out the shoe store's return policy. Are you going to be able to return the shoes in a month if you're dissatisfied?
You should also check to see if the shoe brand offers half sizes. If you're a size 6.5, but the shoes only come in a 6 or a 7, you're stuck.
Also, refer to the dress code policy of your hospital or doctor's office.
Do nurses' shoes need to be in neutral colors?
Are designs or patterns allowed?
Do shoes need to be all black or all white?
Can they have laces?
Do they need to be non-slip?
If you're unsure, check with your manager because it would not be good if you shelled out $100 on a pair of shoes only to find out that you can't wear them at work.
Just in case you missed our Nike nurse shoes table, here it is again…
4. Shoe Accessories
Lastly, don't forget the shoe inserts/shoe insoles if you need them. Some people just need shoe inserts, I'm one of those people.
Make sure to change your shoe inserts when you change out your shoes. If you need help with those also, I wrote a pretty good article on the best shoe inserts for nurses, feel free to check that out.
Conclusion
Finally, keep in mind that the perfect shoe doesn't exist. Rarely does a person find a shoe that he or she is 100% in love with.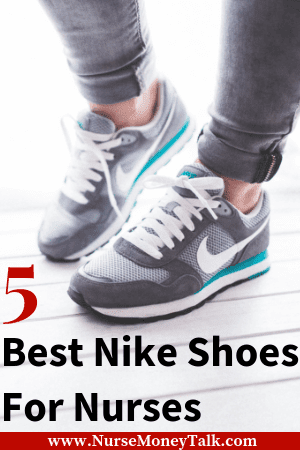 Maybe you aren't crazy about the color or don't like the laces. It could be it's a brand you're not fond of.
Perhaps you need to put an insole in the shoe for extra arch support (that's what I do).
Just remember as a healthcare professional you're feet are important, so make sure you're taking care of them by buying the right shoe.
Related Articles to Best Nike Shoes for Nurses
For more shoe options check out the articles:
Frequently Asked Questions