10 Best Shoes for Nurses with Plantar Fasciitis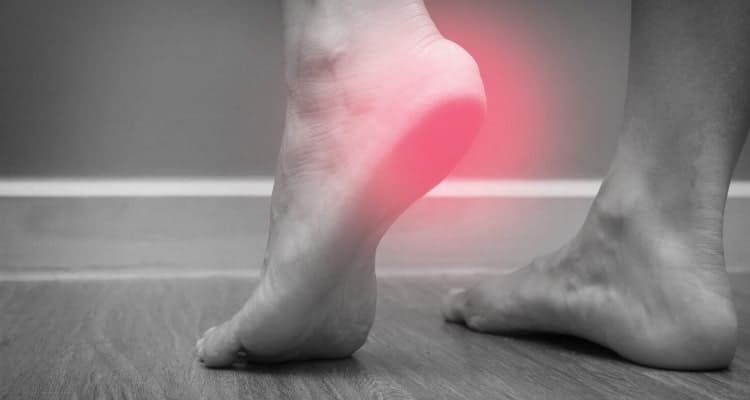 Do your feet ache whenever you clock out after a grueling shift?
Wearing the right footwear can make a huge difference for nurses with plantar fasciitis.
A good shoe should provide you comfort, support, and flexibility to move about with ease.
To help you out, we've rounded up the best shoes for nurses with plantar fasciitis.
*Disclosure: This post may contain affiliate links. If you click and make a purchase, I may receive a commission. For more info, please see my disclaimer.
Top Pick
Best Shoes for Nurses with Plantar Fasciitis
1. Asics Women's Gel-Venture 6 Running-Shoes
ASICS Women's Gel-Venture 6 Running Shoes, 7.5M, Black/Island Blue/Pink Glow
Rearfoot GEL technology cushioning system - Attenuates shock during impact phase and allows for a smooth transition to midstance.
AHAR Outsole - Acronym for ASICS High Abrasion Rubber. Placed in critical areas of the outsole for exceptional durability.
Removable Sockliner - A sockliner which can be removed to accommodate a medical orthotic.
Do you have flat feet?
Then look no further than Asics Women's Gel-Venture 6 Running-Shoes.
These shoes come with all the bells and whistles we generally associate with plantar fasciitis footwear.
The features include a removable insole, shock-absorbent cushioning system, and comfortable design.
All of which allow you to walk in these shoes for hours a day without any trouble.
We also like how they're available in an assorted range of colors. Which makes it easier to pair them off with your scrubs.
Another good thing about these shoes is that they're not that pricey.
However, two things hold these shoes back.
First, they're too wide in the heel area, which causes it to slip off if you have narrow feet.
Secondly, some customers complained about sizing issues.
Knowing this, you should probably order a size smaller than what you usually wear.
Pros
Highly durable.
Absorbs shock effectively with the help of its advanced gel cushioning system.
The removable sock liner makes it easy to place medical orthotics inside the shoe.
The design offers good stability.
They work well for nurses who have flat feet.
They are available at an affordable price.
Cons
Not suitable for narrow feet.
Some Amazon customers have complained about incorrect sizing.
Check the price of the Asics Women's Gen-Venture 6 Running Shoes on Amazon.
Related Article: 5 Top Asics Shoe Recommendations for Nurses
2. Reebok ZigWild TR 2 Running Shoes
Reebok introduced the Reebok ZigWild TR 2-M as the next generation shoes from their trail running line.
Like most athletic shoes, we found this pair to be very good for the hectic routine and schedule of nurses.
They're also really convenient for NASCAR nurses and flight nurses due to their outdoor schedules.
These shoes are breathable, they're super comfortable to wear, and they come with built-in memory foam that molds to your feet.
These features are helpful for nurses with plantar fasciitis as it helps to alleviate the discomfort you might feel after standing on your feet for hours.
We also love the zigzag outsole.
The design looks cool and prevents the wearer from tripping when they're walking on a slippery floor or uneven surface.
This element works for both indoor and outdoor shifts.
Overall, they're a solid investment for nurses with plantar fasciitis.
Pros
The zigzag outsole offers a great grip.
Breathable upper keeps your feet dry and sweat-free.
It provides flexibility and comfort during your busy shift.
The superior memory foam helps ease the pressure placed on your heels.
The midsole is shock absorbent and highly responsive.
Cons
The hefty price might be a concern for budget-conscious nurses.
Tread might wear off in a few months.
Check availability of the Reebok ZigWild TR 2-M on Amazon.
Related Article: 5 Best Reebok Shoes for Nurses
3. New Balance Women's Cushioning Trail Running Shoe
New Balance WT410v5 is part of the brand's trail running shoe line for women.
This model is a great choice for nurses who suffer from plantar fasciitis.
The shoes are light, breathable, and super comfy to wear. These qualities make them a perfect fit for nurses with extended shifts.
One of the biggest benefits of this model is its superior cushioning system and Acteva midsole.
These elements act as a barrier for the heel and prevent it from getting affected when you've been walking for hours.
The combination of this design helps ease the pain when you're continuously walking.
You'd also appreciate the sturdy grip of the rubber outsole that keeps you steady on the slipperiest surface.
According to other buyers, these shoes are excellent for wearers with high arches and wide feet.
Not only could they ease your pain, but they may prevent plantar fasciitis from escalating.
The best part is that they're a real steal for nurses on a budget.
Pros
Lightweight and easy to wear.
Great arch support.
The cushioning system protects your feet.
Well-engineered midsole that reduces the impact on your heels.
Designed for people with wide feet.
Affordable shoes.
Cons
The size runs small.
It might be uncomfortable for people with narrow feet.
Check the price on the New Balance WT410v5 Trail Running Shoe on Amazon.
Related Article: 5 Recommended New Balance Shoes for Nurses
4. Hoka One One Women's Cavu Running Shoe
Hoka is one of our favorite brands for nursing shoes.
Their smart design, breathable material, and hard-wearing outsole make them a solid choice for work.
You can find all these signature characteristics in Hoka One One Women's Cavu Running Shoes.
Nurses with plantar fasciitis will love these shoes because of their super comfy padding that prevents blisters and soreness.
The sturdy outsole ensures you don't slip or twist your ankle when you're rushing to attend an emergency case.
Something to keep in mind is that some users have complained about the material getting frayed.
From my experience Hoka shoes tend to come in larger sizes, so you might want to keep that in mind when you're ordering the Hoka Cavu Running Shoes.
All things considered, these shoes are worth a try, even if they're pricey.
Pros:
Made from stretchy nylon that makes it easier to wear.
Adjustable lacing provides a custom fit.
Moisture-wicking lining and breathable mesh upper prevents sweaty feet.
A sturdy rubber outsole keeps your feet steady throughout the shift.
Comfy padding offers full-body support to wearers.
Cons:
Durability issues noted by some.
The shoes may not be true to their size.
Slightly expensive.
Check availability of the Hoka One One Cavu Running Shoes on Amazon.com.
Related Article: Our 5 Favorite Hoka Nurses Shoes
5. Nurse Mates Women's Bryar Slip-On Clog Shoes
Sale
Nurse Mates Bryar-Black/Grey Paisley, 10 B(M) US
Pillow Top footbed conforms to your foot and provides long-lasting, comfortable cushioning.
Lightweight polyurethane outsole delivers superior shock absorption and slip resistance.
Side elastic inserts provide you with a comfortable fit and easy on / off.
Are you looking for something extra stylish?
Nurse Mates Bryar Slip-On Clogs are a sensible and stylish option for nurses.
The outer surface is made from sturdy leather that gives it a professional look.
You'll also be delighted to see that these clogs have a 2.5 inch heel attached to it.
Despite the fancy design, these shoes manage to work well for nurses with plantar fasciitis.
The main reason for this is its superior shock resistant technology that cushions the blow.
You'll also love the Pillow Top footbed that offers comfort all day long.
Also, the elastic bands ensure you don't have any problem slipping it on and off during your shift.
Plus, they're available in black and white shades. This is advantageous for nurses who might have to follow a dress code.
Overall, these clogs protect your feet without dampening your style. They also cost less than some of the other options we have listed.
Pros:
Stylish design.
Elastic sides allow you to slip it on and off easily.
Excellent shock absorption technology.
Pillow Top insole provides a great cushioning effect.
Inexpensive.
Cons:
The shoe might be uncomfortable for nurses with wide feet.
The outer surface might start creasing after some time.
Check the price and availability of the Nurse Mates Bryar Slip-On Clog on Amazon.com.
6. Dansko Women's Professional Clog
The Dansko Women's Professional Clog presents a trendy and practical design for professional women.
It's an excellent choice for nurses who prefer clogs over other shoe styles. You'll like the seamless leather design and padded collar as soon as you put them on.
They come with an in-built cushioning system that keeps your feet comfortable throughout the shift.
Then there is the shock absorbent technology and arch support that minimizes the impact felt on your feet and ankles when you're working for 12 hours each day.
One of our few complaints is that the Dansko Professional Clogs are pricey compared to some of the other shoes we reviewed on this list.
Pros:
Stylish handcrafted shoes.
Made from high-quality leather.
Breathable insole keeps your feet dry at all times.
Reliable arch support and cushioning technology to prevent discomfort.
Padded collar and roomy toe box for comfort.
The wide heel provides stability.
Cons:
The shoes are pricier compared to some of the other shoes reviewed.
Some customers have complained about visible scuff marks may appear after a few months of use.
Check the price of the Dansko Women's Professional Clog on Amazon.
Related Article: 5 Best Dansko Shoes for Nurses
7. Alegria Women's Paloma Flat
Looking for something old-school?
Nurses with plantar fasciitis typically stick to orthopedic footwear, which can be dull sometimes.
If you want to switch things up then try wearing the Alegria Women's Paloma Flat.
These vintage Mary Jane come in an array of patented designs that amp up your style.
The thick flatform sole cushions the impact of uneven surfaces. It also provides stability and comfort when you're running to and from your nursing station.
Apart from this, the footbed is designed to mimic the shape of your feet, which increases the comfort level.
You'll also like how the shoes have a perforated insole that stops your feet from feeling confined, unlike other strapped shoes.
The sturdy straps let you adjust the fitting, which is convenient for women with swollen feet. Plus, the straps make it easier to slip them off and on whenever you want.
One thing to keep in mind is that the Alegria Paloma Flat might not proper arch support to the wearer. This can cause mobility issues for nurses with high arches.
You can easily recover from this setback by replacing the flat insoles with orthotic footbeds. That way, you can move around with ease.
Pros:
The flat slip-resistant design provides stability.
The cushioning system offers the utmost comfort.
The perforated leather insole doesn't let your feet get sweaty.
Removable inserts allow you to slip in orthotic insoles for arch support.
A hardwearing rubber outsole increases durability.
Cons
The Alegria Women's Paloma Flat is available on Amazon.com.
Related Article: 5 Best Alegria Shoes for Nurses
8. Z-Coil Pain Relief Women's Slip Resistant Clog Sandal
Z-CoiL Women's Toffler Slip Resistant Black Leather Clog Sandal 9 C/D US
A patented coil in the heel reduces impact by 50%, reducing foot, leg and back pain.
A built-in rigid orthotic protects and supports your foot, eliminating foot pain, plantar fasciitis, and heel spurs.
Extra cushioning is added in the front of the shoe to protect the ball of your foot and toes.
Z-Coil Pain Relief Women's Slip Resistant Clog Sandal is a nice addition for nurses who prefer clogs over trainers.
These clogs are constructed with soft leather, breathable lining, and toe pads for comfort and flexibility of movement.
We also love how the brand accommodates your orthopedic needs with an advanced shock-absorbing system that offers you pain-relief whenever you put them on.
Adding to this is a reliable arch support feature that keeps your movement stable.
Moreover, the shoes have contoured insoles to help with plantar fasciitis issues.
You'll also like the grooved rubber outsole that keeps you steady when you're walking on wet floors.
Pros:
Made from high-quality leather.
Breathable nylon lining lets the air pass in and out.
Grooved rubber outsole prevents slips and accidents.
Features a special Z-Coil shock-absorbing technology for pain relief.
Contoured orthotic provides arch support to protect plantar ligaments.
A wide toe box that has sufficient space to wiggle your toes.
Cons
Pricier than some of the other shoes we reviewed.
Check the price of the Z-Coil Pain Relief Leather Clog on Amazon.
9. Orthofeet Men's Sneakers
Orthofeet Proven Plantar Fasciitis and Foot Pain Relief. Arthritis Diabetic Shoes. Extended Widths....
GUARANTEED COMFORT! Test our shoes for up to 60 DAYS and see for yourself why Orthofeet is regarded by millions as the WORLD'S MOST COMFORTABLE and stylish orthopedic shoes. Try RISK FREE: Walk...
PLANTAR FASCIITIS? HEEL PAIN? FOOT PAIN? NEUROPATHY? Orthofeet orthotic shoes offer the BEST ORTHOPEDIC SHOE solution. Lightweight SOLE with ERGONOMIC design and SUPERIOR CUSHIONING along with premium...
EXTENDED WIDTHS - These SUPER COMFORTABLE women's casual shoes with soft, non-binding uppers are available in Medium, Wide and Extra Wide widths, offering a PERFECT FIT. The UNIQUE THERAPEUTIC...
These Orthofeet Men's Sneakers were specifically designed to treat plantar fasciitis and other foot problems in men.
The non-tie up lacing system, breathable mesh, and unique colors caught our eye from the get-go.
The shoes are engineered to provide you with extreme comfort and mobility.
It's got an advanced air cushioning system that reduces pressure felt on the bottom of your feet.
That cushioning technology is supported by a built-in gel padding that alleviates discomfort and reduces the chances of getting blisters.
The anatomical arch support system molds to your foot's natural shape. This feature makes sure your weight is equally distributed on your feet.
Overall, it's a practical option for male nurses with plantar fasciitis.
Pros:
The orthopedic insoles provide anatomical arch support.
It comes with a cutting-edge air cushioning system for extra comfort.
It's an ideal design for men with flat feet.
It includes extra space in the toe box to accommodate wide feet.
Innovative gel pads prevent muscle fatigue.
It offers great arch support for men with flat feet.
Cons
Some customers have complained about the durability of the shoes.
Some nurses may find the shoe heavy on the feet.
Check the price and availability of the Orthofeet Men's Sneakers on Amazon.
10. New Balance Women's 1080v8 Running Shoe
New Balance Women's 1080v8 Running Shoe is one of our favorites from this list. Like most running shoes, they provide nurses with the flexibility and comfort to move around with ease.
They also look great under scrubs due to their soft color scheme.
As far as comfort is concerned, then you're going to love how soft and plushy they are.
The cushioning system shields the heels from unwanted impact and doesn't hurt your sensitive spots. They've also added extra room in the toe area which makes it convenient for nurses with wide feet.
The mesh upper makes sure your feet are dry and sweat-free at the end of your shift. While the tough rubber soles prevent them from getting worn out after excessive use.
Pros:
Lightweight, plush, and breathable.
Great for wide feet with a roomy toe area.
A custom-fit prevents the trainers from slipping off.
Sound cushioning technology offers comfort everywhere you go.
Hardwearing rubber outsole withstands the toughest shifts.
They come in a variety of soft colors to match your style.
Cons:
Kind of expensive.
Many users experienced sizing issues.
Check the price of the New Balance 1080v8 Fresh Foam Running Shoe on Amazon.
Buying Guide: Frequently Asked Questions about Plantar Fasciitis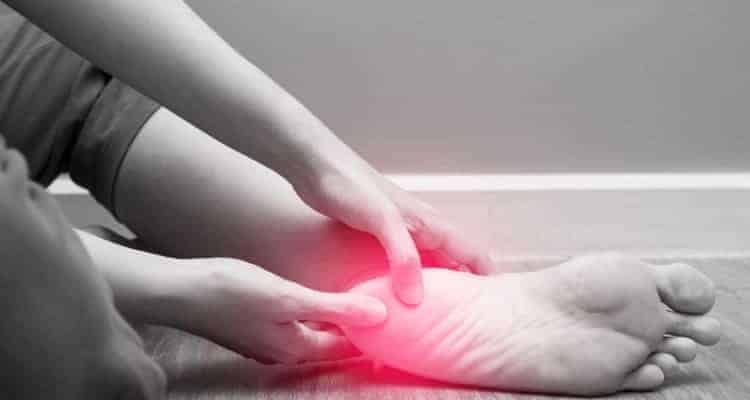 With so many options, purchasing the best shoes for plantar fasciitis could be confusing.
The best idea is to consider your condition and select shoes that ensure you don't get achy, sweaty, and blister-ridden feet at the end of your shift,
Here are the things you should consider:
1. What Is Plantar Fasciitis?
Plantar fasciitis is a foot condition that targets the connective tissues (plantar fascia) located at the base of your feet.
The constant pressure placed on your heel causes stabbing pain caused by tissue inflammation (source).
The risk factors include:
Age: Nurses aged 40 and above have more chances of developing plantar fasciitis in comparison to younger nurses.
Foot structure: Individuals with high arches or flat feet are more likely to suffer from this disorder.
Active professional life: If you're up on your feet for prolonged periods, then it can put a strain on your heels. This eventually leads to plantar fasciitis.
Obesity: Excess weight puts undue pressure on your heels which leads to tissue damage
Besides this, wearing the wrong shoes could add to your pain. It's why doctors may ask patients with plantar fasciitis to wear orthopedic insoles or special footwear.
2. What Are the Tell-Tale Signs of Plantar Fasciitis?
Plantar fasciitis is a common foot disorder in the nursing profession, that shouldn't be ignored (source).
Your 12-hours shifts and continuous movement could aggravate the problem.
It's why you should see your primary care provider and consider changing shoes as soon as you notice the first signs of this foot order (source).
The common symptoms include:
Sharp pain at the bottom of your heel
The pain increases after a busy day
Stiffness felt in your heel which restricts your movement
Inflammation and discomfort
If the disorder goes undetected then it might develop into chronic heel pain. This could damage tissues and make walking more difficult for you.
3. What Are the Criteria for the Best Shoes for Nurses with Plantar Fasciitis?
Remember to always seek the medical advice of your primary care provider before following any information you see on the internet.
Orthopedic shoes are engineered to treat foot conditions like plantar fasciitis. You can, however, purchase regular shoes that display similar features in the design.
These shoes are typically made for runners and other athletes.
Here are the most important things you should look for:
1. Removable insoles:
You might need extra arch support due to the shape of your feet.
This condition can be treated with special orthopedic insoles you can place inside your regular trainers. These then provide support to your arches and help reduce pain while you're working.
Shoes with removable insoles allow you to easily slip the medical orthotics on whenever you need them, otherwise, you'd have to carry around two different shoes for this purpose.
Pro-Tip:
Removable insoles make it easier to replace the footbed with a new one when it starts to wear out.
2. Contoured insoles
Contoured footbeds are designed according to the shape of your feet. They're provided to plantar fasciitis patients who have high arches or extremely flat feet.
In recent years, multiple studies have investigated the benefits of contoured insoles. Research reveals that custom-made orthopedic insoles help to reduce plantar pressure (source).
This ensures your weight is properly distributed across your feet.
3. Proper arch support
Shoes with little or no arch support can cause problems for the wearer.
The lack of support results in soreness, tenderness, and instability. It's why you should only select shoes with good arch support when you're out shopping.
Trainers and clogs with strong arch support help to ensure your feet stay steady when you're at work. That's because the contoured insoles keep your posture aligned and prevent muscle fatigue.
4. Shock absorption
Too much pressure and strain on your heels can cause plantar fasciitis. This could be due to constant activity, improper posture or unaligned feet.
Luckily, many shoes are built with shock absorption technologies present inside the midsole.
This feature minimizes the impact of walking and running on your feet so you don't feel any pain during movement.
If you already suffer from plantar fasciitis then the shock absorption system works as a pain-relief treatment.
It provides your inflamed tissues with comfort and protects it from further distress.
5. Breathable material
Trainers make it easier to rush around the hospital without any slips or stumbles. One of the problems is that shoes made from leather or other tough materials don't allow any air to pass inside the shoes.
Due to this, your feet get sweaty and sticky when you take them off.
The best idea is to select shoes that are made from breathable material (e.g. nylon or mesh) that have tiny holes in them.
The holes allow air to circulate inside the shoe, and prevent your feet from feeling stuffy.
Pro-Tip:
If you prefer wearing shoes made with non-breathable material and you have sweaty feet then you should consider using shoe deodorizers to help reduce the smell of "stinky feet."
4. What Else Should You Consider?
You should always think about personal preferences and the shape of your feet while buying shoes.
Even if you get the best shoes for plantar fasciitis, they might not be right for you. So it's better to try them on at the shoe store before you make the purchase.
That or make sure you know what the return policy on them is.
Here are the questions you should ask yourself when you buy new shoes:
Do they fit your feet?
Do they feel comfortable?
Are they durable for long shifts?
Will they last a long time?
Are they your style?
Do they ease the pain?
If the answers are all "yes," then feel free to make that purchase.
Final Thoughts
In the end, the best shoes for nurses with plantar fasciitis are those that allow you to complete your shifts with ease.
All the shoes from our list have features that cater to this need.
Some of them like the Orthofeet Orthopedic Men's Sneaker claim to be specifically designed to treat your foot condition.
So which one of these nurse shoes are you going to get?
Related Articles: