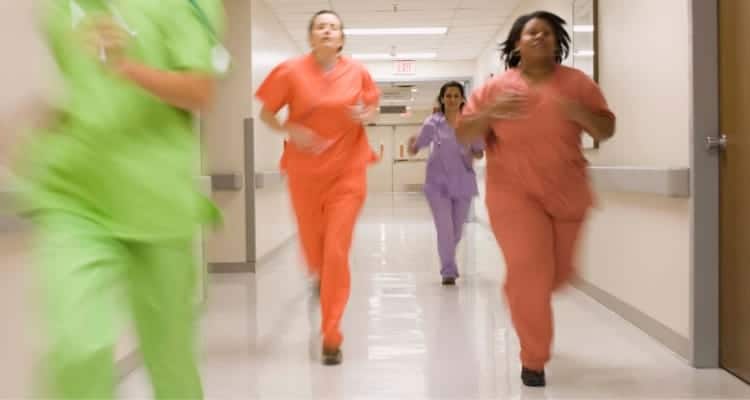 The perfect nursing shoe should possess three things- comfort, support, and durability.
Dansko shoes offer all three of those things and more.
Built to provide support to the most sensitive areas of the foot, these options are some of the best Dansko shoes available for nurses to choose from.
*Disclosure: This article on the best Dansko shoes for nurses may contain affiliate links. If you click and make a purchase, I may receive a commission. For more info, please see my disclaimer.
Top Picks
Best Dansko Shoes for Nurses
1. Dansko Women's Professional Clog
The Dansko Women's Professional Clog was created with safety and stability in mind.
The wide heel offers more surface space with each step so you have less risk of losing your footing on uneven ground and injuring yourself.
The rocker bottom provides plenty of shock absorption and fully supports the foot from heel to toe with each stride.
A generous 2″ heel gives some height without risking instability.
A rubber outsole prevents slippage on wet surfaces.
The leather upper looks great and is appropriate enough for a medical office setting.
Pros:
Rocker bottom with 2″ heel
Rubber outsole
Stylish leather upper
Cons:
Stiff material
Tight across the top of foot
Complaints that color fades quickly
Check the price of the Dansko Women's Professional Clog on Amazon.com.
2. Dansko Women's Patti Clog
The waterproof Dansko Women's Patti Clog is an ideal shoe for busy nurses who work in a hospital setting where they are more prone to encountering spills.
The soft leather upper looks great but is also resistant to liquids so your shoes won't get ruined when accidents occur.
Arch support comes in abundance with this shoe, with a triple-density footbed for maximum shock absorption.
If further arch support is needed, standard and custom orthotics will fit securely underneath the removable footbed.
Sweaty and smelly feet will no longer be an issue thanks to the moisture-wicking fiber and CleansportNXT odor control.
Pros:
Waterproof leather upper
Triple-layer footbed
Superior moisture and odor control
Cons:
Only 4 color options
Slip-resistant but not slip-proof
Seams separate easily
Check the availability of the Dansko Women's Patti Clog on Amazon.
Related Article: 5 Best Clogs for Nurses
3. Women's Paisley Waterproof Outdoor Sneaker
A sneaker that can take you from work to the gym and anywhere in between is what you'll find with this Women's Paisley Waterproof Outdoor Sneaker.
The 100% leather upper is waterproof so you can wear them both indoors and outdoors without worrying about ruining them.
Seven great color choices go perfectly with any scrub or other nursing uniform.
The footbed is removable so you can easily place orthotics underneath for additional support if the triple-density footbed isn't enough for you.
A supportive, slip-resistant outsole and moisture control technology make this one nursing shoe that's worthwhile to try.
Pros:
Waterproof leather upper
7 color options
Slip-resistant outsole
Cons:
High collar may cause skin irritation
Squeaks loudly when walking
Insole may slide around
Check the price of the Women's Paisley Waterproof Outdoor Sneaker on Amazon.com.
4. Dansko Men's Professional Clog
Stylish men's clogs are sometimes difficult to find, but this Dansko Men's Professional Clog delivers just the right amount of style and durability for male nurses.
The leather upper comes in both shiny and matte finishes and is offered in a variety of colors, including black and brown.
The rocker bottom offers a smooth stride from heel to toe for maximum support.
Squished toes will no longer be a problem with the wide, reinforced toe box.
A padded instep collar offers even more comfort and cushioning while walking so you don't end up with tired, achy feet at the end of a shift.
Pros:
Rocker bottom
Wide toe box
Padded instep collar
Cons:
Sizing runs small
Top of shoe is tight
Stiff material
Check the price of Dansko Men's Professional Clog on Amazon.
Related Article: 10 Most Comfortable Shoes for Male Nurses
5. Dansko Women's Ingrid Open-Back Clog
If you like versatility in a shoe, you'll love this Dansko Women's Ingrid Open-Back Clog.
It easily converts from an open-back clog to a clog with a backstrap when the buckle is moved from the front of the instep to the back of the heel.
A 2″ heel is the perfect height for nurses looking for a bit of a boost while still being appropriate for a medical setting.
The leather upper includes a reinforced toe box that is wide enough to provide plenty of room for the toes.
The rocker bottom is slip-resistant and offers a smooth stride.
Pros:
Convertible buckle
Conservative 2″ heel
Reinforced toe box
Cons:
Sizing runs small
Tight across the top
Buckle strap may break easily
Check the price of the Dansko Women's Ingrid Open-Back Clog on Amazon.com.
Shoe Buying Guide for Nurses
1. Sizing
Clogs fit differently than sneakers so care should be taken when choosing the appropriate size.
A size chart can assist with this, but some general rules include:
Toes should be some distance away from the front of the clog.
There should be a pinky-width of space at the back of the heel.
The heel should move up and down freely when walking.
Related Article: Tips for Buying the Right Shoes for Nurses
2. Open Back Vs. Closed Back
An open-back shoe does not have anything covering the heel while a closed-back shoe does.
Open-back shoes are ideal for those who prefer a slip-on shoe that doesn't rub against the heel, creating issues like blisters and rashes.
Closed-back shoes are safer and more appropriate for a nursing position that requires a lot of walking and frequent exposure to situations where safety may be a concern, such as lifting patients or transporting patients to different rooms.
3. Polyethylene Heels
Lightweight shoes are ideal for people that suffer from foot conditions like plantar fasciitis because the force you are placing on the bottom of the foot while walking is less than with heavier shoes.
Shoe bottoms made from wood and other solid materials can become quite heavy.
Choose a shoe with a sole made from polyethylene or other lightweight materials if you suffer from a painful foot condition.
Related Article: 10 Top Nurse Shoes for Plantar Fasciitis
4. Removable Inserts
Inserts that are removable are great for people that require additional arch support like standard or custom orthotics.
Since the insert is removable, the orthotic can be placed inside of the shoe without adding additional height.
If you prefer to wear the orthotic underneath the insert for added comfort and cushioning, that is also possible because of the removable insert.
5. Leather Shoe Maintenance
Leather uppers require a bit more maintenance than other materials, but it's still fairly easy to clean.
If the leather becomes dirty, first try to remove any debris with a soft cloth or bristled brush.
If a deeper clean is necessary, create a solution of mild dish soap and water.
Then, follow these steps:
Use a soft cloth to rub the solution on the shoe, removing any debris.
Completely remove the solution with another soft cloth and allow to air dry.
Condition the leather periodically to help prevent stains and keep the leather soft and supple.
Never allow leather shoes to sit in the heat or the sun as it may fade or shrink the leather.
We also wrote a detailed article on cleaning your nurse shoes, check it out if you want more info.
6. Waterproof
Waterproof shoes are a bonus for nurses who encounter messes throughout the day.
Waterproof shoes are typically made from materials that either wick the moisture away or allow it to bubble up and drop off of the shoe without every penetrating the material.
If your shoes are not waterproof, you can add a protectant spray to the exterior to create a protective layer.
Shoes will need to be sprayed periodically for optimal protection.
Final Thoughts
Whether you're looking for clogs with an open back, closed back, or sneakers, all of these Dansko shoes are ideal for a busy nurse.
Comfort and quality are what you'll find with each Dansko shoe.
Keep your feet supported and safe by investing in one of these great shoe options.
Related Articles on Best Dansko Shoes for Nurses